Part two: A reviewer in Disney World
According to Brenda's Fitbit, both her and Neil covered 107 miles during their two week stay! Here Neil shares his top tips for exploring the parks and what to expect as a wheelchair user at Disney World.
Continued from Part one: Travelling to Walt Disney World >>
Part two – Exploring Walt Disney World
The Magic Band
The 'Magic Band' that you get at check in gives you entry to your room and parks, fast passes, and it holds your meal entitlements and can have shopping charged against it. The ticket also includes the Disney World Photo pass. This allows you to get your photos taken be one of the many Disney World photographers throughout the parks. Just ask them to take your photo, scan your Magic Band and then the photos are uploaded to your account for you to share or download up to a month after your holiday. An excellent service if there are only two of you. For fun, Disney characters are added, along with frames and one off small .mp4 clips.
Transport
If choose to stay in one of the Disney World hotels, we hope that you find the Disney transport system as good as we did. From the hotel, we used the frequent Disney bus service which we found to be excellent. The buses could accommodate either two wheelchairs or a combination wheelchair and scooter. If there were more than two waiting or the bus was busy, another bus was called on. Going between parks and hotels and Disney Springs, you can use the buses, water taxis or monorail – all wheelchair and buggy accessible as shown here. Please note that to go from hotel to hotel (as we sometimes wanted to do) you have to go to a park first on most destinations.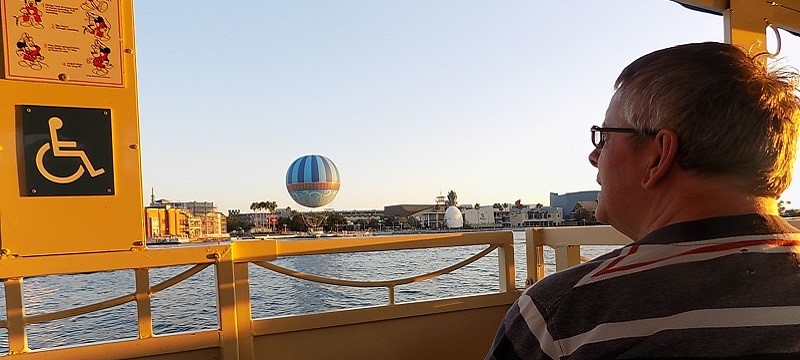 Photo: Neil travelling via the Water Taxi to Disney Springs.
Visitor guides
Before entering any or the parks, be prepared to have all of your bags checked by security. Once you are through the security and Magic Band checking, I would implore you to pick up a map of the park and the guide for guests with disabilities on entering the park as well as the show/parade times listing. I cannot guarantee that they will not stop you getting lost or debating what you are going to do, but they do make life easier, especially the guide for guests with disabilities as it gives access information on every ride as well advice for Mobility, Hearing and Visual disabilities.
Toilets
The guide also highlights viewing areas for the parades, toilets (including companion toilets) and so much more. I cannot stress how useful it is.
On companion toilets, these worked really well as Brenda could push me in and retrieve me when I was done. Unfortunately, these are only found within the parks and Disney Springs but not at hotels. The locations are shown on the guide.
Unlike the UK where disabled toilets are independent of the men's and women's, here disabled toilet cubicles were within the men's and women's. This caused a problem for me as I cannot self-propel the wheelchair and Brenda couldn't go in. Once when I really needed to go, a helpful cast member pushed me in and retrieved me afterwards. Not ideal though.
Hollywood Studios
Here we enjoyed a number of shows such as Indiana Jones Stunt Spectacular, Muppet Vision 3D, and The Little Mermaid. For anyone into Star Wars, Hollywood Studios is a must with a lot of the attractions based on it. Like all Disney shows, there were good viewing points for wheelchair users, with a seat beside for their partner.
The ride we remembered fondly from our last visit was the 'Toy Story Midway Mania', a 3D indoor shooting gallery ride. This is one of the many rides in Disneyworld that one can stay in their wheelchair. The staff on this ride are excellent, and quickly adjust a carriage for a wheelchair. For shooting, there are two options – pull a cord or press a button. We found that if there was not another wheelchair user waiting to use the carriage, we were asked if we wanted to go around again! This applied to a number of 'wheelchair adapted carriages' (shown below). Great stuff, even although Brenda scored better than I did.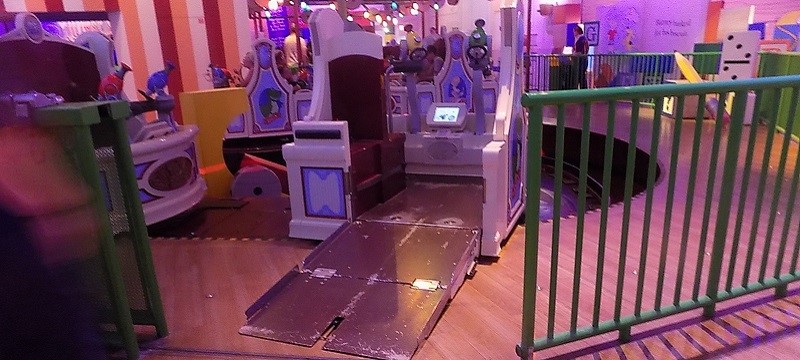 Photo: Ramped access to Toy Story Midway Mania.
There are a few rides, such as Tower of Terror, that we did not go on but do remember doing so five years ago and I was able to take the wheelchair to the entry to the ride. Hollywood Studios also have an excellent evening show called Fantasmic! This is a 25-minute night time fireworks and water show starring Mickey Mouse! This is another show that a fast pass is recommend for as the queues can be very long. Wheelchair viewing areas are excellent.
Animal Kingdom
The Disney World website gives good detail, but I would say that all the shows we visited - Festival of the Lion King, Flights of Wonder, It's Tough to be a Bug, Finding Nemo, The Musical - had good viewing areas for wheelchair users; although I would recommend transferring to a seat if you can for 'It's Tough to be a Bug' to get the full 4D effects. For me, Festival of the Lion King has to be the best show that Disney put on – acrobats, singers, dancers and 'big animals'. I think we only visited thrice but I could have happily gone daily. Again, wheelchair and buggy users are well looked after.
We were too chicken to try such rides as 'Exhibition Everest and Kali River Rapids', although we were brave enough to go on the Dinosaur ride. To get on this ride, there was a lift down to it and you can take the wheelchair to the side of the car where you have to strap in and hang on. We were in the back, hanging on for the bumpy ride in the dark, surrounded by dinosaurs!
To recover, we thoroughly enjoyed going on the Kilimanjaro Safari where one sees animals such as giraffes, elephants, rhinos, lions and so many more on a Savanna. We did this trip a few times in the two weeks we were there. The trucks accommodated my wheelchair, which was well anchored down.
We also went on the 'The Wildlife Express Train' which lets you see 'behind the scenes' as well as an area to see animals up close and learn about the team that looks after them and the superb conservation program that Disney are involved with.
Epcot
Like Animal Kingdom, this park is really spread out and involves a lot of walking.
Spaceship Earth is a journey back in time with commentary from Judy Dench. Disabled visitors enter at the side of the building but wheelchair users must transfer from their wheelchair, although you get to take it up to the carriage and the walkway is stopped to help get in and out of the carriage.
Ellen's Energy Adventure is the longest ride, time wise, within Disney World and takes you on a carriage journey learning about energy, encountering Dinosaurs on the way. Wheelchair users are well catered for on this ride, as shown here: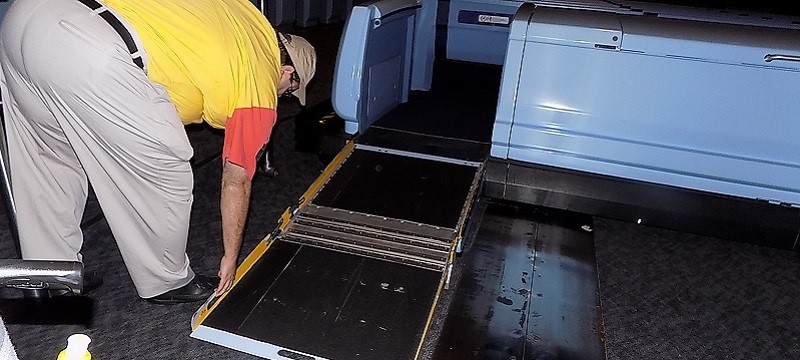 Photo: Ramp access to Ellen's Energy Adventure.
Journey into Imagination with Figment is a harmless ride through Dr Channing's (Eric Idle) laboratories. There is a carriage which allows you to stay in your wheelchair.
Living with the Land is a tranquil ride taking you through different lands, focusing on crop growing and ending up going through laboratories and new growing procedures. Wheelchairs are well catered for, including a separate line. Something that has been introduced since our last visit.
A short(ish) walk from the 'Land Area' of Epcot and you start going to the 'World Showcase' where eleven countries are represented in different ways – Culture, music and food. Don't miss the Grand Fiesta Tour in the Mexico Pavilion which has a 'boat' that can accommodate a wheelchair.
In the evenings, there are designated viewing areas for disabled people to watch the superb 'IllumiNations: Reflections of Earth' show which is a combination of fireworks, laser lights and images being projected onto a massive sphere.
Magic Kingdom
The place where it all happens….
If you haven't been before, I would recommend firstly getting on the Walt Disney World Railroad and take a circular trip round. From the train, you will see most of the areas within Magic Kingdom to get your bearings. It's a bit of a push up to the station but once there you will be assisted onto the train and arrangements made for assistance at whatever of the stops you wish to get off at. There was easily room for two wheelchairs/buggies and their accompanying travellers.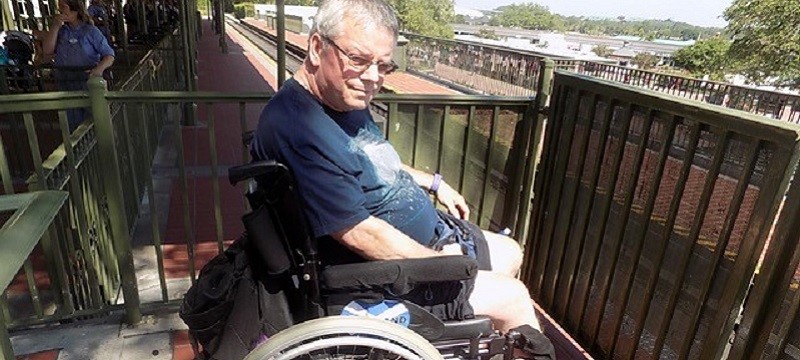 Photo: Neil waiting to board the train.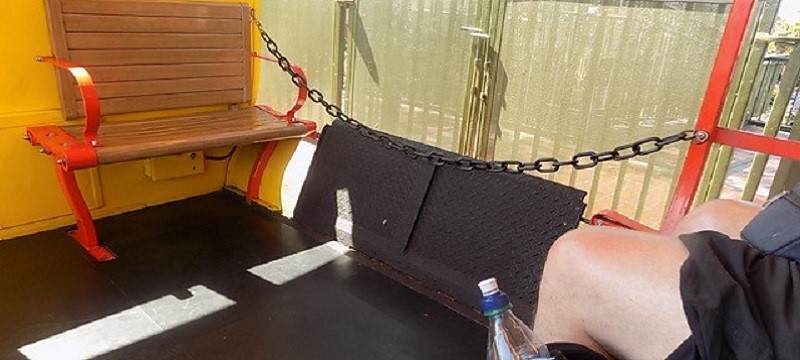 Photo: Travelling on the train.


Photo: Alighting the train.
If you don't fancy the train ride, I would just make your way down Main Street, using one of the Disney photographers to capture yourself with the castle in the back ground and see where you get to.
Now for what we got up to whilst in Magic Kingdom…
The Carousel of Progress is a ride that revolves around you covering the changes a family encounter over a number of decades. This is totally wheelchair accessible, although you are sitting right at the front. A word of warning – the song 'It's a great big beautiful tomorrow' can get to you after few renditions.
We managed 'The Pirates of the Caribbean' ride, just! There is no wheelchair boat on this and you have to be able to step into the boat, which I managed. I confess to getting stuck on exiting but a lovely American couple came to our assistance and I didn't have to become a fixture of the boat. If you are up for it, I would give this a try as it is a good ride/
A trip to Magic Kingdom would not be complete without a boat trip at 'It's a Small World'. Although seemingly aimed at children, the place was full of adults. This is one of the few rides that still have a wheelchair entrance and you can remain in it if you require. This is a Disney classic not to be missed. Around three hundred dancing dolls all belting out variations of the song 'It's a Small World'. I think we went on it three or four times.
And to 'The Haunted Mansion', a spooky ride through a haunted mansion, as the title suggests. We were able to take the wheelchair up to the 'carriage' and the walkway was stopped for getting in and out. The first time we did the ride we had a fast pass and the next, the wait time was only around 20 minutes.
After 'The Haunted Mansion, we opted for a pleasant sail on the Liberty Square Riverboat which sailed around Frontierland. Access was good, although restricted to being on the main deck.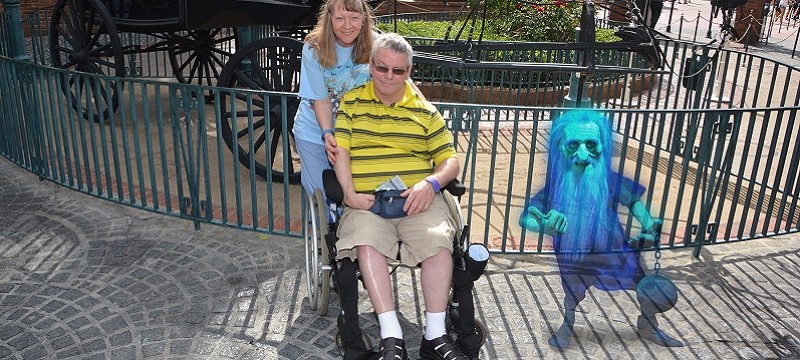 Photo: Neil and Brenda with a Haunted Mansion ghost.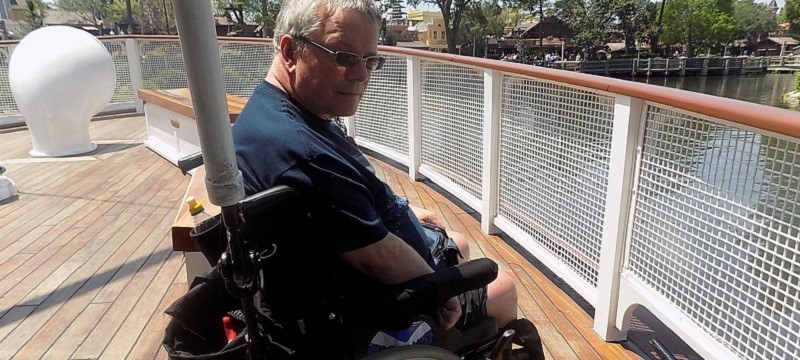 Photo: Neil taking in the scenery from the Liberty Square Riverboat.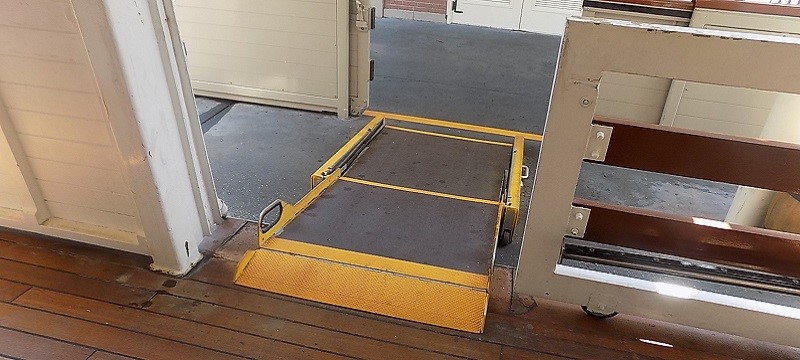 Photo: Ramp access onto Liberty Square Riverboat.
Next up was the famous 'Jungle Cruise'. For those requiring to remain in their wheelchairs, there is only one boat that can accommodate them. With the ride lasting about seven minutes, the wait is not too long though. The ride itself? It is the 'skipper' of the safari boat who makes it fun with the corny commentary and jokes. That said, there are still plenty of things to look out for and I would never tire of it.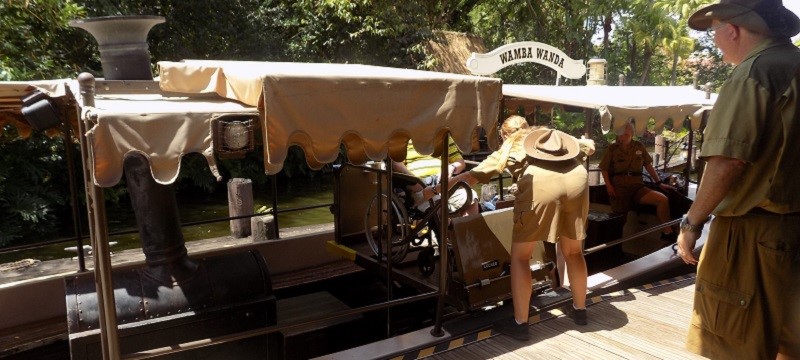 Photo: Neil moving onto the hydraulic swivel platform to access the Jungle Cruise.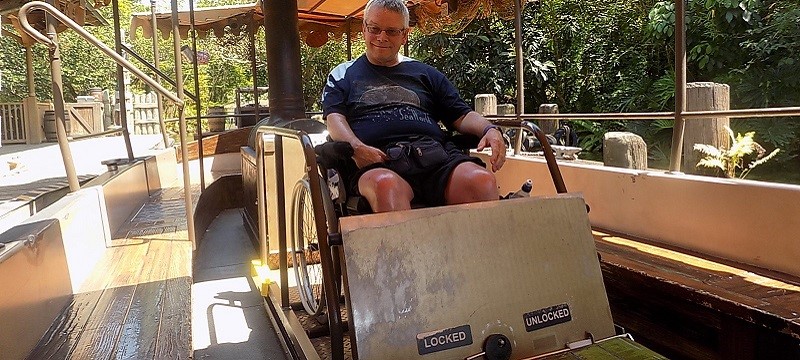 Photo: Neil has been turned around and lowered down onto the Jungle Cruise.
Disney Springs
One of the big attractions at Disney Springs is the Cirque du Soleil's show 'La Nouba'. If you are going to Disneyworld before the end of December 2017, when the show ends, I would highly recommend going to see it. On turning up beside the lift, we were escorted to the top tier (but not too high, then to our seats right in line with the middle of the stage!
For the show itself, I don't have enough superlatives. Amazing acrobats, jugglers and fantastic choreography. At times I just did not know where to look as there was so much happening. All this backed up by live musicians and singers for a pulsating 90 minutes. It has to be the best performance I have ever seen on a stage
Some general observations about our stay in Disney World
The 'Cast Members' really go the extra mile to make your visit memorable and a pleasure to visit. I don't think I could be as pleasant as them for the day. They will always ask if you can transfer to a ride or stay in your wheelchair. The latter is never a problem and you will be advised on an approximate wait time for the necessary carriage to be available. On one occasion, I had to wait longer than estimated and was given an additional fast pass to be used on any other ride that day. As mentioned previously, if there is not someone waiting on the wheelchair accessible carriage, you are often given the opportunity to go around again.
The transport system was superb, even although I felt a bit guilty as wheelchair users always got boarded first, leaving big queues of people to wait. In certain months, heavy rain showers are inevitable but don't last long and have a 'cooling effect'.
There are loads of interesting trips outside Disneyworld. We just chose to remain within.
And that's our visit to Disneyworld in Orlando and I hope that you find this useful.
Locations: Orlando