Press Release: 30,000 Red Cord Cards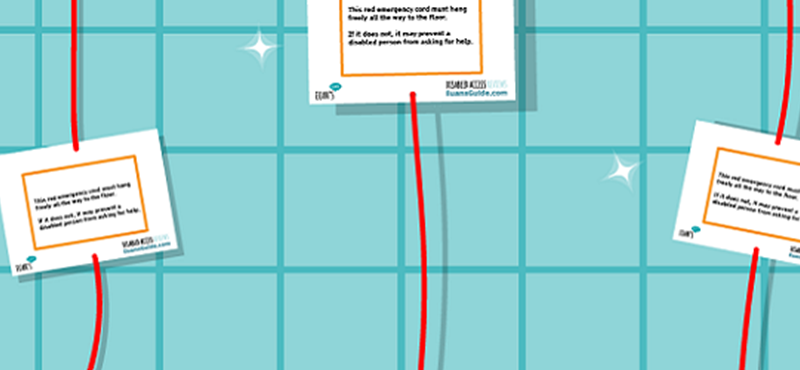 Press Release
The charity campaign quietly making accessible toilets safer for disabled people
Digital charity, Euan's Guide, is helping everybody understand why emergency cords in accessible toilets shouldn't be tampered with.
Euan's Guide, the charity used by disabled people to review, share and discover accessible places to visit, is celebrating 30,000 requests of its popular Red Cord Card. The cards were created by the charity in 2015 to educate the public and increase awareness around safety in accessible loos.
Contrary to common perception, many public accessible toilets are used not only by disabled people, but by non-disabled people, parents with young children, staff members and cleaners. Not all members of the public fully understand the components of an accessible toilet and this lack of awareness can make accessible toilets dangerous.
The most common problem appears to be the disregard for emergency alarms in accessible toilets. Many toilets have been found with emergency cords that are tied up out of reach or cut short entirely. This was highlighted by members of the Euan's Guide review platform in their disabled access reviews, a concern that was quickly addressed by the charity.
The text on each card says: 'This red emergency cord must hang freely all the way to the floor. If it does not, it may prevent a disabled person from asking for help.'
Disabled people have been quick to respond to the campaign and there are now 30,000 Red Cord Cards in accessible toilets around the UK. The 30,000th card is making its way to Caernarfon in Wales. The charity is now calling on its supporters and members of the public to help release 50,000 Red Cord Cards to accessible toilets around the country to help 'set the cords free.'
Euan, Co-founder of Euan's Guide, said:
'We were overwhelmed by the initial response to our Red Cord Cards and never imagined they'd becomes as popular as they have. It makes me very happy to think that this small card has potentially improved the safety of tens of thousands of accessible toilets. I look forward to seeing where the 50,000th card ends up!'
Paul Ralph, Founder of Disabled Access Day, said:
'It's great to see the Red Cord Campaign hit 30,000 cards. I'm certainly aware that many of the places and spaces who celebrate Disabled Access Day have come on board in the effort to raise awareness of the importance of alarm cords being the correct length, untied and easy to use. I encourage disabled people and their friends and families to get involved by placing cards in accessible loos as and when they can. I look forward to seeing the photos people take and the reviews they write as the campaign spreads across the UK.'
The Red Cord Card campaign has been backed by organisations including the Changing Places Consortium who have been campaigning since 2006 on behalf of over ¼ million people who require access to Changing Places toilets.
Members of the public can request Red Cord Cards at no charge from the charity by going to www.EuansGuide.com/redcord. Public places and businesses can also request Red Cord Cards for their premises in return for a small donation to the charity.
• For more information visit www.EuansGuide.com
• Request Red Cord Cards here: www.EuansGuide.com/redcord
• Join the Facebook group here: https://www.facebook.com/groups/redcordcards/
• Follow the campaign with #RedCordCard and #SetTheCordsFree
With thanks to the The Leathersellers' Company for their generous support of the Red Cord Card campaign.
-ENDS-
For media information contact press@euansguide.com.
Download photos here:
https://www.dropbox.com/sh/1xvj68lj8ua5oja/AAD0szO4kg4vg_trSRQIUVVXa?dl=0
Notes to Editors
About Euan's Guide
Euan's Guide was founded in 2013 by Euan MacDonald, a powerchair user with Motor Neurone Disease, and his sister Kiki when they were looking for recommendations on accessible places to visit. The website features thousands of friendly and honest disabled access reviews and listings in the UK and internationally.
Euan's Guide is an award-winning charity which has been endorsed by many high-profile people including author JK Rowling and the late Professor Stephen Hawking.
Stephen Hawking said Euan's Guide makes "a huge difference for people across the UK, giving them a reliable source of information to help plan their leisure, personal and business activities".
Author Ian Rankin, parent of a young adult wheelchair user, described Euan's Guide as "Trip Advisor with wheels on".