Press Release: Red Cord Cards Have Made 50,000 Accessible Toilets Safer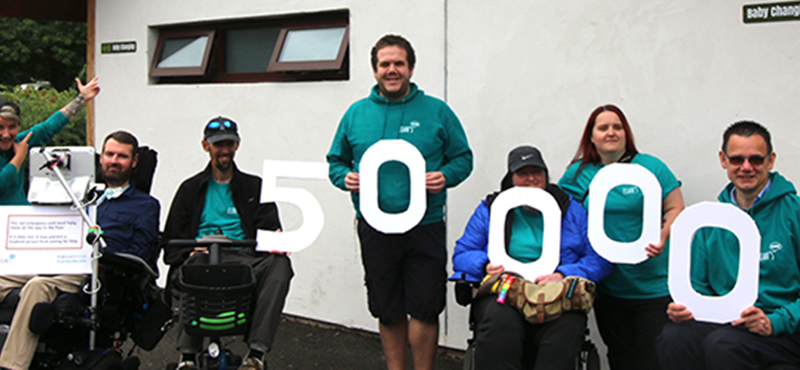 The disabled access charity Euan's Guide has now sent out their 50,000th Red Cord Card. These pocket-sized cards are placed on emergency red cords in accessible toilets to remind the public that, for safety reasons, these cords should hang freely all the way to the floor.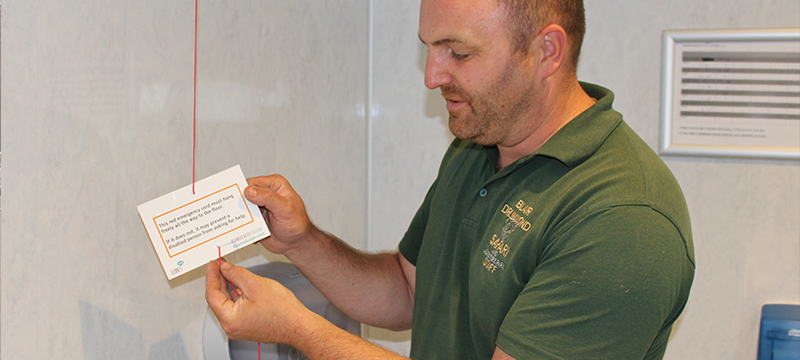 Photo of: a member of staff putting a Red Cord Card on the emergency red cord at Blair Drummond Safari & Adventure Park
Emergency red cords are designed to save lives, but this is only possible when they are functioning correctly and can be reached by those in distress, whether they are standing, sitting or lying on the ground. Far too often the cord gets cut short or is tied up out of reach, rendering the emergency cord useless. Euan's Guide, the home of disabled access reviews, have been the driving force behind the production and distribution of Red Cord Cards, a simple solution to prevent this problem from occurring and make accessible toilets safer.
The 50,000thcard is now in position at Blair Drummond Safari and Adventure Park in Stirling, a popular visitor attraction that has recently invested in its facilities to make the park more welcoming and accommodating to disabled visitors. Marketing manager Liz Gunn said: "We're committed to improving the accessibility of the Safari Park for all our visitors and this has included upgrading our accessible toilet facilities.   
"Euan's Guide have helped us to understand how important it is that the emergency cords in our accessible toilets hang all the way to the ground, and we're happy their Red Cord Cards will help make sure of this.  
"This is a very positive campaign and it's wonderful news that 50,000 cards have been sent already."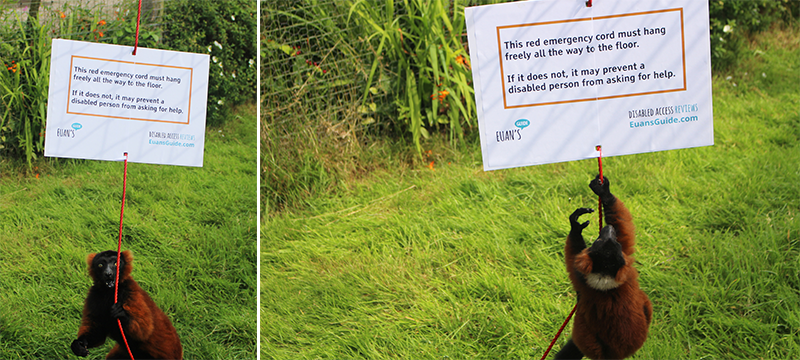 Photo of: red ruffed lemurs pulling and climbing on an emergency red cord
Euan's Guide have been producing Red Cord Cards since 2015 with almost 20,000 cards being distributed in the past year alone. Cords can be tied up or moved by anyone, such as parents with young children, cleaners or other members of staff, which is why these small cards have been designed as a friendly way to inform everyone on how the cords should be left. 
Euan MacDonald, co-founder of the charity Euan's Guide said: "We're delighted to hear how many people now carry Red Cord Cards around with them wherever they go, untying cords and adding our cards to all the accessible toilets that they visit. It is also great to see that venues are ordering their own Red Cord Cards to alert all of their toilet users to the importance of these cords. Our aim is to have a Red Cord Card in every accessible toilet across the UK, but this is only going to be possible with the help and support of more people and businesses across the country."
Members of the public can request Red Cord Cards at no charge from the charity by going to www.euansguide.com/redcord. Public places and businesses can also request Red Cord Cards for their premises in return for a small donation to the charity.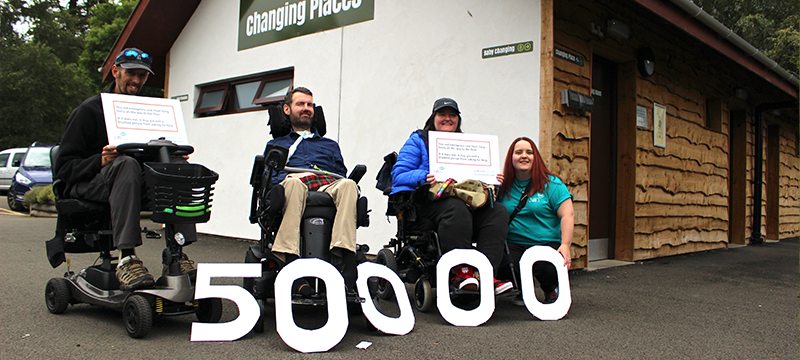 Photo of: Euan's Guide co-founder Euan MacDonald with Jon Watkins (left), Karine Mather (right) and Sarah Mather (far right) 
-ENDS-
Notes to Editors:
 For further information please email press@euansguide.com or call 0131 510 5106.
Red Cord Cards
Red Cord Cards have been designed to fit easily onto emergency red cords without setting off the alarm. The text on them reads simply: 'This red emergency cord must hang freely all the way to the floor. If it does not, it may prevent a disabled person from asking for help.' 
For more information visit: www.euansguide.com/redcord
Euan's Guide
Euan's Guide makes it easier for disabled people to find great places to go. The charity was founded in 2013 by Euan MacDonald, a powerchair user, and his sister Kiki. The website has been described by author Ian Rankin as 'Trip Advisor with wheels on' and was built as a friendly and honest alternative to hours of web searching and phone calls before visiting somewhere new. Euan's Guide now has thousands of disabled access reviews and listings for places all over the UK and beyond. To find out more go to: www.euansguide.com 
Blair Drummond Safari and Adventure Park
Located just outside Stirling, Blair Drummond Safari Park is one of Scotland's most popular attractions with over 400,000 visitors each year.
Blair Drummond Safari Park is home to over 350 rare and exotic animals, including Scotland's only giraffes, tigers, lions, rhinos and chimpanzees. The Safari Park is part of a worldwide network of zoos which cares for rare species and part of the Endangered Species Breeding Programme. The Safari Park supports conservation projects in the UK and around the world.
Tickets priced from £13.50 are available from www.blairdrummond.com
Locations: Stirling