Reviewer Story: Emma experiences an Edinburgh Bus Tour!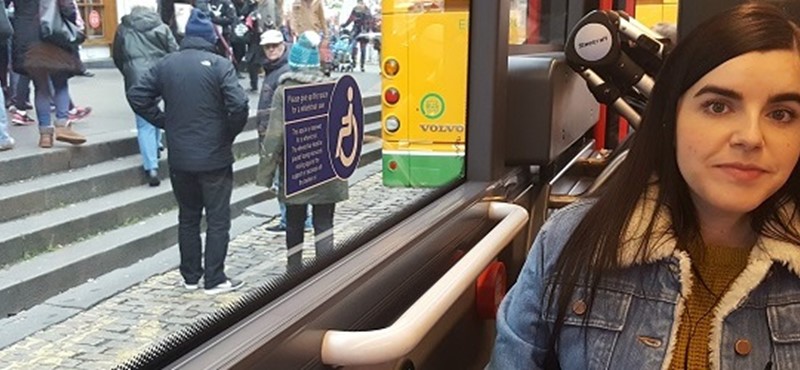 Last year Edinburgh Bus Tours unveiled their brand new accessible bus fleet across the city. The bright, colourful buses are a familiar sight around Auld Reekie, but we were curious to find out what made this fleet extra accessible. Of course, the buses aren't just a way to get from A to B, they are also a moving attraction that tell the story of the city. One reviewer, blogger and local, Emma, told us about her experience of the new buses and their excellent accessibility!
Emma
I'm a Scottish girl, born and bred in a small town near the big city, Edinburgh. I spend a lot of my weekends and spare time in Edinburgh whether it's going to gigs, restaurants, museums and other attractions. So it's quite surprising that I've never been on an Edinburgh Bus Tour until now.
There are four tours to choose from, all of which last about an hour apart from the 3-hour Bus & Boat Tour. Keen to try out the new accessible fleet and learn more about the places I roll past on a regular basis, I opted for the City Sightseeing tour of Central Edinburgh. The route covers many of the city's main points of interest, such as Edinburgh Castle, Royal Mile and Palace of Holyroodhouse.
We headed to Waverley Bridge to begin our city tour and it seemed luck was on our side as the bus arrived just as we did. No waiting required, which was perfect given the typical Scottish weather in December….baltic!
We approached the ticket agent to ask if we could board the bus, she immediately went and spoke with the bus driver before pulling out the ramp allowing me to quickly board. It was a relief to get out from the cold.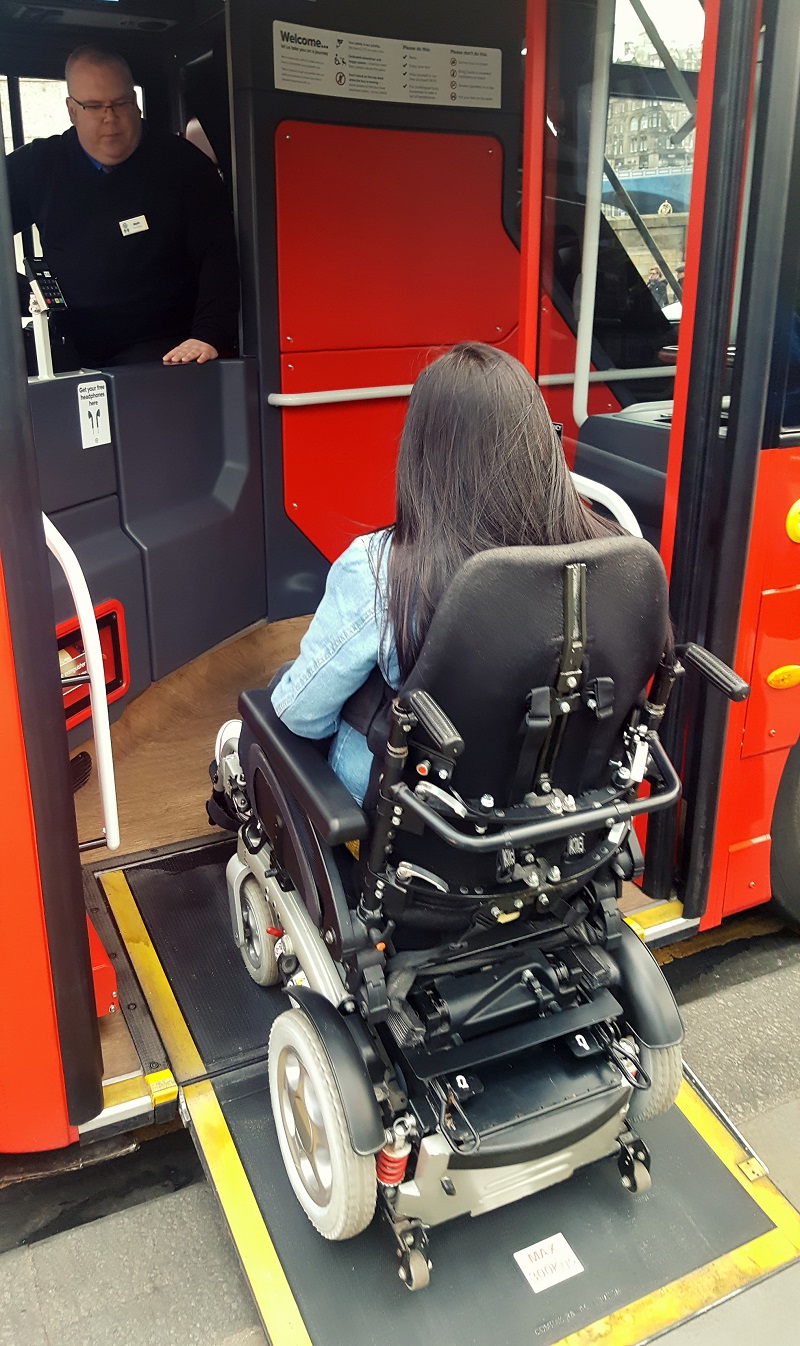 Photo: Emma boarding the bus.
The friendly driver spoke to me straight away and let me know how to position my powered wheelchair. I found boarding quick and hassle-free.
There are two dedicated wheelchair spaces on the bus, each with its own display screen showing live footage so you'll never miss what's happening outside from the front of the bus. This is a great feature to have as it allows wheelchair users to see exactly what others can see and share in the experience.
The display screens also have subtitled commentary running throughout the tour, which is helpful if you have difficulty keeping the earphones in or have hearing difficulties. One of the earbuds kept falling out my ear, but I was able to follow along with the subtitles.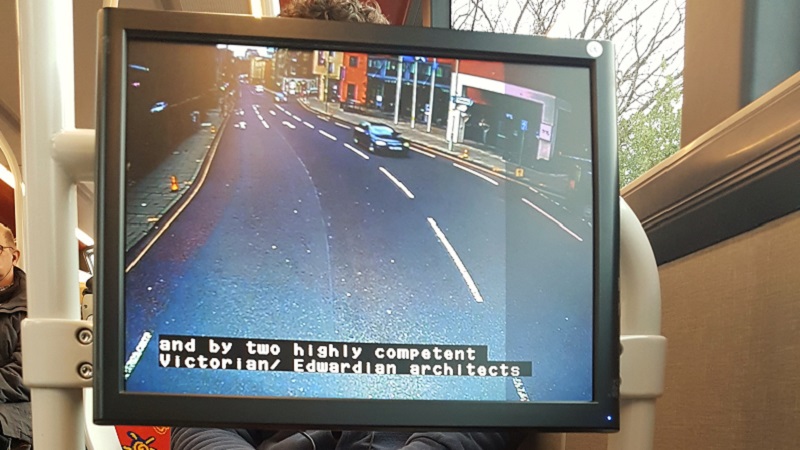 Photo: Subtitled commentary on the display screens.
Edinburgh Bus Tours have installed the fantastic Quantum wheelchair securement system in their new accessible fleet, which works by safely and firmly holding wheelchairs in place. As I got myself positioned into the wheelchair space the driver made sure everything was alright and explained how to secure my wheelchair.
The driver activated the system for me, but there is also a button within easy reach beside the wheelchair space. Once activated the system only takes around 25 seconds for the rubber arms to grip hold and secure your wheelchair in place. It's quick, easy and doesn't disturb other passengers. I was able to relax and enjoy the bus tour knowing that my wheelchair wasn't going to move or tip over.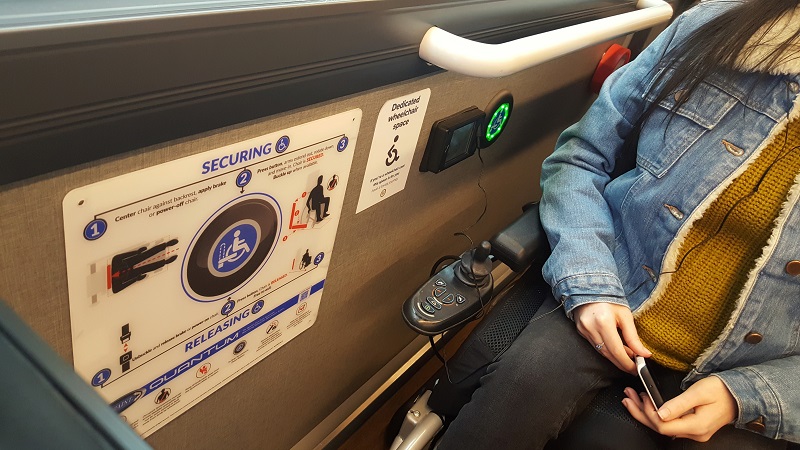 Photo: The Quantum wheelchair securement system.
As our tour was coming to an end I began to plan in my head how I was going to get out of the wheelchair space. Past experiences on buses have resulted in me having to do a million manoeuvres just to get out of the space, but thankfully it wasn't an issue on this bus as there was a little extra space to turn my powered wheelchair.
We pushed the button to deactivate Quantum to release my wheelchair and by the time I reached the door the driver already had the ramp down for me, which was good as I didn't have to wait and the other passengers weren't held up either.
My first experience on an Edinburgh Bus Tour was very enjoyable and the accessibility was seamless from beginning to end. It was fun to be a local tourist for an hour and learn things I never knew about Edinburgh. I would definitely go on another bus tour and recommend other wheelchair users give it a try too.
Check out Emma's lifestyle, travel and disability blog, Simply Emma!
Have you been on an Edinburgh Bus Tour?
We'd love to hear what you thought of accessibility on the new fleet! Write a review >>
Locations: Edinburgh