Seven Summers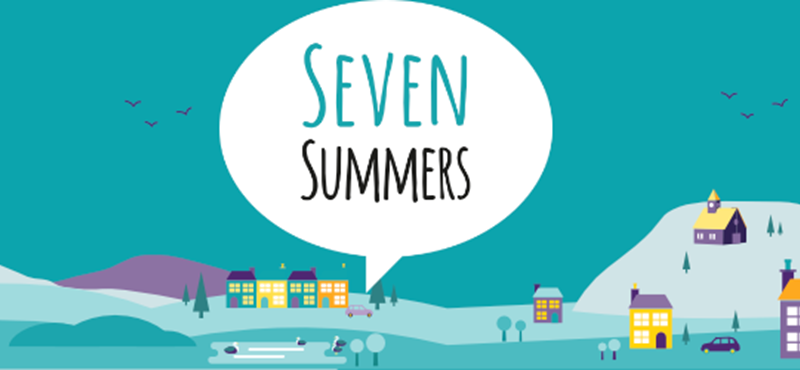 As we approach Christmas, I am reminded that Euan and my many friends at Euan's Guide celebrate their birthday. It has been seven summers since Euan and Kiki set out their idea for a disabled access review website.
I have been lucky enough to bear witness to the seven summers and the amazing work that Euan's Guide has done to raise awareness of disabled access and the importance of getting reliable and trusted information out about places and spaces for disabled visitors.
Let me paint a picture of some of my highlights from this incredible journey:
2013 
Like many other disabled people, I spend a considerable amount of time trying to find out about places before I can make a visit. In May I saw a curious post on Twitter asking about access at the National Museum of Scotland in Edinburgh. I replied and shared my experience of visiting. Little did I know that this was Euan and friends testing out their ideas and the start of an incredible journey!
Autumn of 2013 and I attended the launching of the Euan's Guide website and saw first hand the power that one review can have in making it easier for so many people.
2014 
A busy year passed and in the late Summer of 2014 I recall vividly the excitement at Borough Market as people from all walks of life gathered to eat cupcakes, meet new friends, raise a glass and celebrate Euan's Guide one year on.
I recall Euan's words when he said: "The site was born out of personal experience and that continues to motivate us. I have had MND for over 11 years now. I have slowly progressed from being ambulant to using a manual wheelchair and now a powerchair. I still love going out and I have family, friends and carers to thank for making that possible. But we have faced the same problem that many have - finding accessible places that can cater for our needs.
"The focus of the site is on the experiences and opinions of disabled people. Tick boxes aren't enough and rarely give the complete picture. Nobody knows more about accessibility than disabled people and family, friends and carers - the actual experts! Euan's Guide fulfils the need for user generated information about disabled access. It provides a first hand experience from someone in a similar situation to you."
How those words resonated with me. Life as a powerchair user comes with many challenges and to have something like Euan's Guide to refer to, and to share information with, is a beacon in an otherwise difficult journey.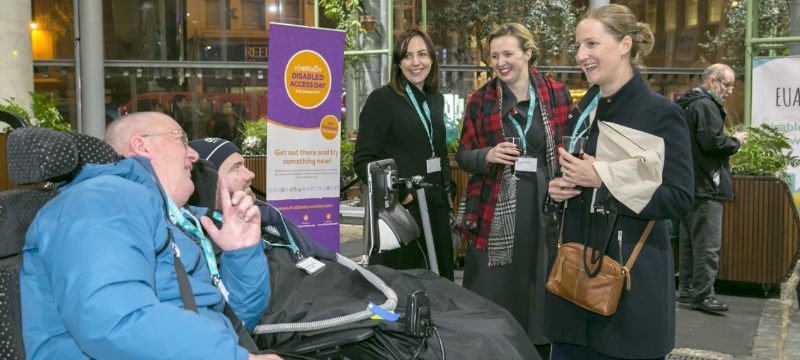 Image of: Euan chatting to people at our first birthday celebration at Borough Market
2015 
In the last weeks of 2014 Euan, the team and I talked about another crazy idea of mine. What would it be like if we could create opportunities for disabled people to try something new? But to do this in a spirit of cooperation, friendliness and fun. Out of this coffee table chat came Disabled Access Day, which launched as a pilot in January 2015.
Over two hundred places took part and it was a memorable start to an event that now covers over one thousand places and attracts over twelve thousand disabled people and their friends and families.
2016 
In the late summer of 2016 Kiki, Euan's sister, and I had a wonderful opportunity to share the message of our work. A European conference on Accessible Tourism took place in Edinburgh, and we got to speak to so many like-minded people from across the continent. We made friendships and links which continue to this day. Euan's Guide now has content from over sixty countries.
Sometimes, you get to speak to an audience that 'get it' and our experience on conference day was just that. To top it off, we also got to take a ride on the city's brand new tourist fleet of buses with a quick whirl around the city! Quite something to get two powerchairs on a bus with no hassle. It's often the simple things that make the most difference as we had a fun time playing the tourist in our home city. We love buses!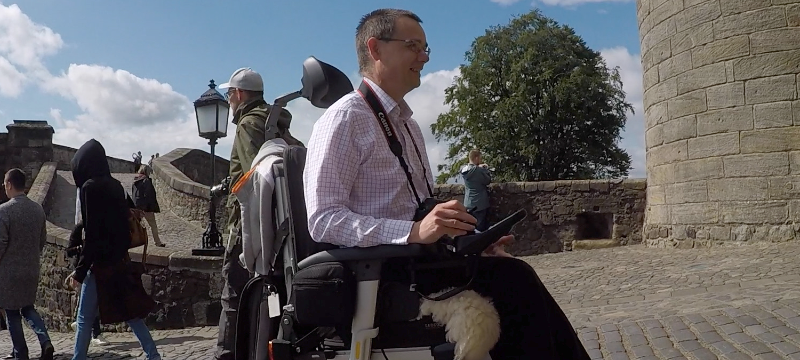 Image of: Paul at Stirling Castle
2017 
Euan's Guide supporters love talking to people about what we do. It's great when places and spaces are interested in how they can become as accessible as possible. In the summer we went to beautiful Stirling to speak with Historic Environment Scotland staff about their visitor attractions and the experiences of disabled visitors. It proved to be a humorous and informative experience, as a couple of years later we told the world about how castles can often be more accessible than pubs!
Edinburgh is world renowned for its festivals and the amazing experience that is 'edfringe' - the Edinburgh Festival Fringe. In the summer of 2017, Euan's Guide was proud to play a role in the behind-the-scenes work of the Edinburgh Festival Fringe Society. We delivered a series of Disability Equality Workshops to staff, volunteers, and venue operators. A great time to help the fringe live up to its aim of being the world's largest open festival; open to everyone be they performer, volunteer, venue team or visitor.
We topped off the summer with our Edinburgh Accessible Festivals Awards, which have since become something of an institution.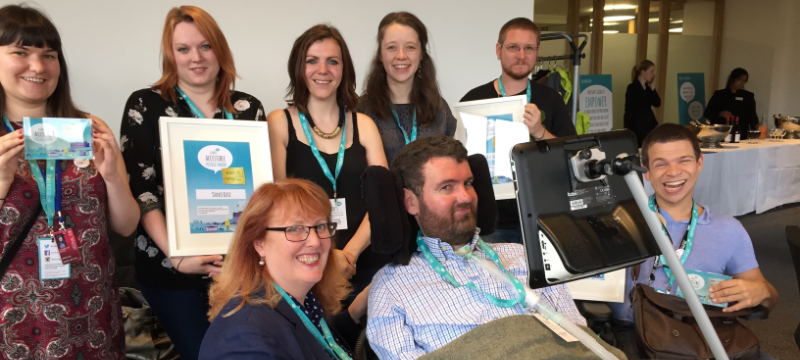 Image of: Euan (centre) giving out the Edinburgh Accessible Festivals Awards
2018 
Many disabled people tell us about the problems they encounter with the red emergency cords in accessible toilets. A problem many of our team encounter daily and so we created our Red Cord Cards to hang on the alarm cords to stop them being tied up, cut short or used for knotting practice. The summer of 2018 saw us give out the 30 thousandth of these cards! It was exciting to think about how a small change can make such a big difference.
2019 
Sometimes we get asked to do things that aren't our normal run-of-the-mill activities. In the summer of 2019 we spoke at Edinburgh's Product tank. We shared our experiences of working to create an accessible service. Another meeting where, just for once, the access was superb. It's not every day you get invited on a stage to speak and they had thought about how to get you there as a powerchair user.
A very memorable and thought-provoking time talking about how it is important to involve disabled people in the design and development of products and services from the very beginning. The difference between being designed for disabled people and designed with and by disabled people. Something we are all passionate about as the Euan's Guide journey progresses.
2020 
We then come to the glorious summer of 2020 or as I often say the 'summer that never was' as we all faced the ongoing pandemic. We went virtual and set up a forum for people to share and chat about social things. We recognised the concerns of disabled people and not being able to wear face coverings and launched our Face Mask Exempt badge. We shared our heartfelt stories in our Voice of Covid series. We tried not to feel alone ...
2021 
The New Year is on the horizon, but the pandemic remains. Many of us remain shielding and all of us look forward to better times. We use this time to dream of things to come and the adventures yet to be had. I think about wild open spaces, the aromas of distilleries, meeting friends and breaking free from the confinement of Coronavirus. I yearn for trees, the seashore and serenity of knowing all will be well ...
Good luck everyone and take care in these difficult times, Paul
| | |
| --- | --- |
| | Written by Paul Ralph, Access and Inclusion Director |