Top 6 accessible castles in Britain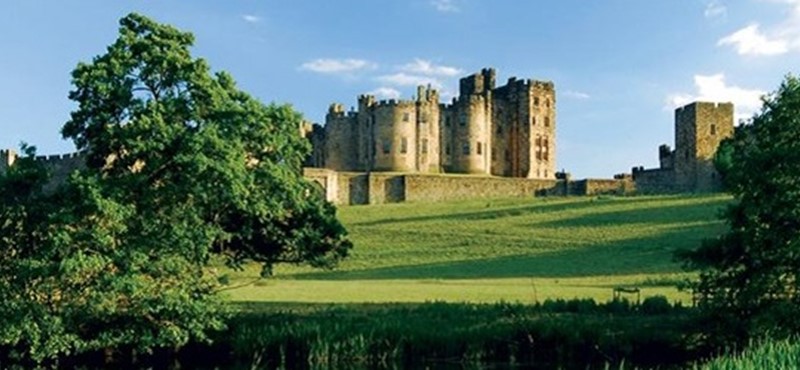 Fair maidens and chivalrous knights, it's time to take a tour of six of the UK's prettiest and most accessible castles. From imposing hilltop fortresses, visible from miles around, to stumpy relics of power hidden throughout the countryside; you'll find castles here of all varieties from all corners of Great Britain. With over six-hundred castles scattered around the UK, you'll never be too far away from uncovering a wealth of accessible history!
Leeds Castle, England
Not many castles are as beautiful as this one near Maidstone, Kent – despite its name, it's not actually in West Yorkshire! This amazingly formidable castle is perched across two islands and has become known as the 'ladies castle'. This comes from over one-thousand years of medieval queens being at the helm, most famously Henry VIII's first wife, Catherine of Aragon. You will never struggle for things to do as this vast estate is filled to the brim with accessible attractions, from woodland walks to falconry demonstrations - to even the world's first dog-collar museum! 
One powerchair user gave this castle a 4.5 star review saying:
'Initially a bit daunting using their adapted bus, but they help hundreds of visitors daily and getting on/off the bus is easy stuff. There is loads to see in the gardens and the shops there are all easily accessible'. Read review >>
Windsor Castle, England

Explore royal history dating back one-thousand years at the awe-inspiring Windsor Castle - the world's oldest and largest occupied castle. It's so majestic that it is commonly used for state occasions and is even the Queen's favoured weekend residence; if she's at home! You'll get to step inside the stunning St. George's Chapel, the burial place of Henry VIII, as well as seeing Queen Mary's incredibly intricate Dolls' House! If you visit at 11am you will also witness the changing of the guard, a fabulous spectacle, with triumphant tunes and a lot of foot stamping!
A wheelchair user gave this castle a 5 star review and was impressed with the accessibility:
'Most of the castle was accessible, even got to use the Queen's personal lift'. Read review >>
Edinburgh Castle, Scotland

Arguably the UK's most famous castle, this Scottish stronghold stands atop a volcanic rock, dominating the city skyline! Marvel at its enormous size and stature from below, before winding your way up to the castle floor. Inside this national treasure, you'll find architectural styles aplenty, reflecting this iconic building's evolution from a defensive citadel to a national monument. Built to dazzle – its walls once echoed to the sound of royal celebrations and ceremonies and if you visit just before lunchtime and you'll witness the famous One O'clock Gun roaring its daily salute.
A powerchair user gave this castle a 5 star review saying:
'When planning to visit a castle the last thing you expect is to be able to get around and see most of it. It's just the nature of old buildings that means wheelchair access is tricky at the best of times if not impossible. Edinburgh Castle changes the expectation as they have been very creative in making as much as possible accessible for everyone'. Read review >>
Urquhart Castle, Scotland

Wild natural beauty and one-thousand years of history - Urquhart Castle offers a taste of the Highlands at their most dramatic. Uncover the drama and experience a glimpse of medieval life and enjoy stunning views over Loch Ness from the ruins of the greatest castle in the Highlands. Urquhart Castle is also a popular Nessie-hunting hot spot for visitors who think they can catch a glimpse of this Scottish mythical creature!
One wheelchair user gave this castle a 4 star review explaining:
'Pleasantly surprised to see great deal of thought had gone into access' and 'best of all we could take our friend in their wheelchair down and into the castle site.' Read review >>
Alnwick Castle, England

Alnwick Castle is the great northern stronghold of the powerful Percy family, the Dukes of Northumberland. If you are a film and TV fanatic, this is the place for you as it starred as Hogwarts in the early Harry Potter films, as well as a backdrop in British comedy series Blackadder. If film and TV isn't your thing, you can soak up the extravagant display of Italian paintings, including the world famous Titian's Ecce Home and many of Canaletto's work.
One powerchair use had a great day out and gave this castle a 5 star review saying:
'How nice it was to be able to access a castle on a family outing. They have definitely worked hard to make this venue accessible to everyone.' Read review >>
Hever Castle, England

This charming Castle was once the childhood home of Anne Boleyn and now looks as if it has leapt right out of a fantasy film set. After years of renovation, this thirteenth century romantic castle is now home to spectacular award winning gardens, mazes, cafes and romantic walks. Despite its beauty, some people claim that the ghost of Anne Boleyn still wanders the magnificent halls of Hever Castle…
One wheelchair user gave this venue a 5 star review saying:
'The gardens were really easy to get around' and 'Hever castle has a really helpful disability statement on their website which gives details of exactly how far things are and what assistance is available'. Read review >>
Have you visited any spectacular Castles?
Tell us what access was like at the castle you visited! Get started by writing a review!