Being able to shop for myself stopped overnight when Covid-19 arrived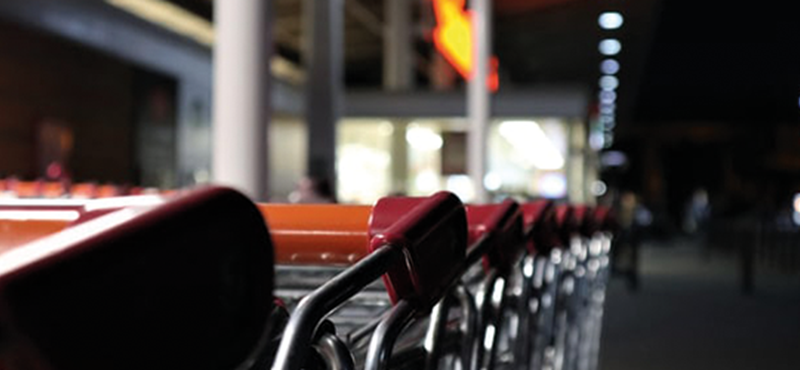 Coronavirus has resulted in unprecedented demands for home delivery shopping. As supermarkets fail to meet the demand, many disabled people are being disproportionately affected. Euan's Guide Ambassador Tina Hodgkinson shares her experience:
I started using online home delivery shopping several years ago, because I didn't have a car, so it was a convenient way to shop. In 2015, I started to experience chronic lower back pain, due to a slipped disc, and shortly afterwards I had a fall. Overnight, I became disabled, I now walk with a crutch, which means I can only carry one light bag of shopping, so online shopping has become a lifeline to me. 
Up until the panic buying started, this met my access needs brilliantly. I was able to place a regular main food order with Sainsbury's, usually once every 2 – 3 weeks to take care of the heavy and bulky items. I would submit my order and the delivery person would bring it to the door, and I when I explained my disability, they would ensure that the shopping was left on my kitchen worktops, as I struggle to bend down. In between I visited my local supermarket and topped up with bread and milk, until my next big on-line shop. 
At the start of lockdown, Sainsbury's blocked me from even looking at their home delivery slots' page. The first few weeks of lockdown I spent ridiculous amounts of time trying to book home delivery slots and trying to get through to Sainsbury's helpline, which after 3 days I finally got through only to hear a recorded message. I had similar responses from other supermarkets. The message was clear if you're not on the government's list we can't prioritise you with home deliveries. 
I, like many disabled people, decided to voluntary self isolate before lockdown officially started. I'm doing this because I was diagnosed with womb cancer last year, and although I'm not on the 1.5 million government's vulnerable people/ shielding list, I'm at higher risk than the general population that if I get Covid-19 as I will probably seriously ill from it, so I haven't left my home. Even if I wasn't shielding, I would struggle to stand in a queue, bend down or stretch to reach items and carry my shopping home, so instore shopping in its current form doesn't meet mine or many disabled people's access needs. 
When Covid-19 started it became quickly very obvious that the supermarkets didn't know who their disabled customers were and they didn't reach out to ascertain our needs. The government stepped in to assist by sharing the vulnerable person's database with the supermarkets. They passed on the sensitive, personal information of 1.5 million people without asking the people on their list if they agreed for their details to be passed on to private businesses. 
Supermarkets seem to be adopting the approach that they only have a duty of care towards the 1.5 million people on the government's vulnerable people/ shielding data base, and can ignore the access needs of the UK's 13.3 million disabled people.
This seems to be part of a wider trend in society to only refer to disabled people now as "vulnerable" or "with pre-existing medical conditions".  If the government or businesses used the term disability, they would then have to acknowledge their legal duties under the Equality Act 2010 to provide Reasonable Adjustments. 
I'm disabled. Vulnerable is not a label I identify with. My impairment doesn't make me vulnerable or the subject for someone's pity. I have learnt to adapt in a world that doesn't always meet my access needs. Like many disabled people, I use aides and adaptions in my home and when I go out. Disabled people are adaptable, resilient and resourceful, we're not super heroes, we are simply getting on living our lives.
It is not our impairment that disables us, it is the society we live in. Many disabled people need Reasonable Adjustments under the Equality Act 2010, to provide us with access which is on par to non-disabled people. It is not preferential treatment. For example, if there is a flight of stairs only people who can access the stairs can use it, however, put a ramp in and we can all use it. Likewise, many of us need help with shopping. The search for those elusive online home delivery slots has brought me to tears many times and regularly impacts on my mental health. 
Covid-19 has highlighted that we're not all in this together, long standing structural inequalities, barriers to access and societal attitudes have highlighted that disabled people, and many marginalised groups, are disproportionately affected. Disabled people's rights can't be forgotten, as once something is lost it will be harder to reclaim it later, and that's why it is so important to me to challenge this with the supermarkets.
I was the first disabled person to raise this issue with Chris Fry, specialist disability discrimination lawyer. I thought I would be an isolated case, an anomaly, but now there are over 300 disabled people who have come forward.
This was written by Tina, one of our Euan's Guide Ambassadors. Since writing about her experience, Tina has managed to get on Tesco's priority list and has received a home delivery. It was through Chris Fry's negotiation that Tesco agreed to give priority to disabled people and disabled people have been invited to contact Tesco to get their name added to the priority list.
Our Voices of Covid series is designed to give people a platform to share their stories and experiences of Coronavirus. If you are interested in getting involved, please do get in touch and we can discuss it with you.