Voluntary Arts Week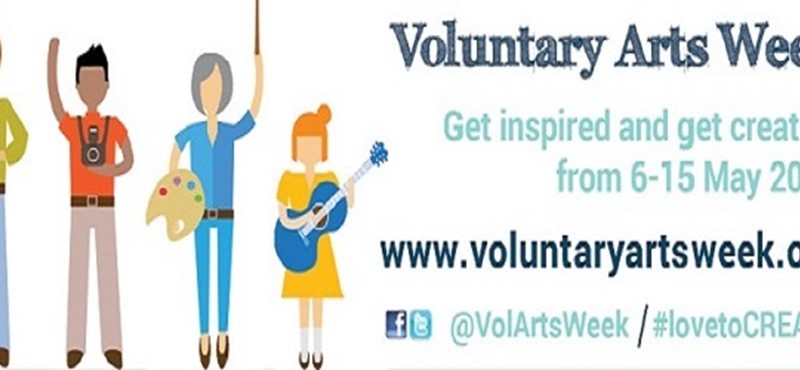 Things are about to get a little more colourful and crafty this May as Voluntary Arts Week returns to towns and cities all across the country. Look out for taster sessions and events held by local communities and cultural groups between the 6th-15th May, and don't be afraid to express yourself!
With disabled access in mind, we helped Voluntary Arts Week put together some top tips and an accessibility checklist for groups taking part; so you'll spot accessibility icons on the event listings to help you decide which creative activities you'd like to try. Of course, there are far too many exciting activities to choose from; but here are some of our top picks for accessible events during Voluntary Arts Week 2016!
Fantasy Fish Yarnstorming, York
How good is your knitting and stitching? Help craft giant Fantastic Fish at a knitting, stitching, pompom making and finger knitting workshop in Rowntree Park on 26 May 2-4pm. Taking place a little after Voluntary Arts Week, the fish will all be part of a birthday party installation before being taken apart and sold individually in aid of the York Flood Appeal. This event lists level access, wheelchair access and an accessible loo for those taking part! Find out more >>
Eco Tribe Woodland Drum Circle, Swansea
A free event where you can make music with others using drums and percussion, even if you are an absolute beginner! This musical event on May 8th is inspired by nature, and refreshments will be provided throughout. It all takes place at the St Madoc Centre in Swansea, and the organisers have said there will be relaxed performance, wheelchair access and accessible toilets. Look forward to campfire storytelling at the very end for young people! Find out more >>
Scarecrows at Re-Create, Cardiff
Get crafty with recycled materials in a scarecrow-making workshop in Cardiff! Perfect if you have an allotment or back garden to take your feisty creation home with you. Don't forget to bring a few old clothes along to dress your scarecrow on May 6th. You can expect level access and a good environment for assistance dogs, say the organisers of this event. Find out more >>
Stained Glass with Mulberry Craft, Boston
Have you ever made a stained glass pattern? Try out easy stained glass techniques with Mulberry Craft on May 8th! There will be tea and cake for guests at Algarkirk Village Hall who list level and wheelchair access plus an accessible loo. Find out more >>
Reaching Out, Gravesend
An event for visually impaired people, Reaching Out is an art project inspired by St. George's Church, its history and Pocahontas! The project is creating artworks that will inspire a new choral piece, 'Remnants of a Name', and all art materials will be supplied for those taking part. You'll be using specialist embossing foil to make tactile tiles on May 7th, and you can take your artistic tiles home with you if you wish! The church is described as having level access, wheelchair access and an accessible loo. Find out more >>
Learn to Knit or Crochet Workshop, Glasgow
Head along to Glasgow's Tramway for a free workshop on 8th May which will show you how to knit and crotchet! The panels you'll create will become part of a commemoration piece recognising the 100th anniversary of the involvement of the Glasgow Pals Battalions in the Battle of the Somme. The piece will be displayed outside the People's Palace throughout July and August 2016 with each panel representing a member or the three Battalions. There will be wheelchair access and an accessible loo for these workshops. Find out more >>
Trad Talk: Crossing the Boundaries, Edinburgh
The Scottish Storytelling Centre as part of Trad Fest and Voluntary Arts Week are hosting a talk called 'Crossing the Boundaries'. The talk questions how we can enable voices that are hidden from mainstream society to be heard. The Centre is wheelchair accessible and has a hearing loop for visitors. Find out more >>
Will you be taking part in Voluntary Arts Week 2016?
Don't forget to submit disabled access reviews of any new venues you visit! Write a review >>