Swindon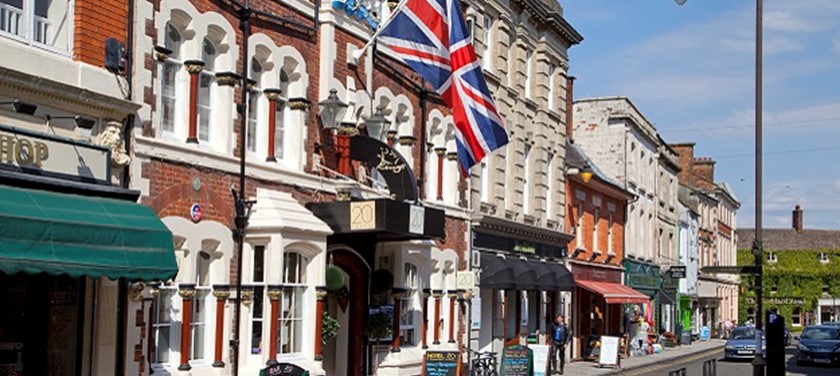 Swindon
Once famed for being the world centre of railway engineering, Swindon is a large town in south west England that is today a charming cultural centre with festivals ranging from the Swindon Festival of Literature to the Summer Breeze Festival. The town is also the setting of the best-selling book by Mark Haddon, 'The Curious Incident of the Dog in the Night-Time'. Here are the best accessible places to eat, see and do in Swindon.
Let the train take you there

It seems appropriate to travel to Swindon by train, and it just so happens that Swindon Train Station has a 4 star review on Euan's Guide. Signage in this station is very good with clear text and strongly contrasting colours. When you arrive, there is a taxi rank nearby and numerous, frequent buses passing by.
Tuck in to some good food
Swindon is full of cosy restaurants and pubs to fill yourself up on a hearty meal. The Cakes and Ale Café and Bar has a 3.5 star review and according to one reviewer is 'well worth going to for a proper high tea with a glass of prosecco'.
For something a little different, The Rosemary Restaurant offers several difference menus including a Modern British Dinner Menu and a Japanese Dinner Menu. One of our reviewers gave this restaurant a 4.5 star review and said the accessible toilets were particularly good.
Experience a traditional pub with a thatched roof at The Harrow Inn. Despite this building's age, staff will do anything they can to make it as accessible to as many people as possible. One reviewer gave this pub four stars saying 'they welcome muddy boots and muddy paws – muddy wheels are no issue!'.
Reboot at the Museum of Computing

Take yourself back to the early days of computers and learn all about consoles, calculators, robots and more at this curious museum. The museum is only open on Fridays and Saturdays but was awarded a 4 star review on Euan's Guide for friendly staff and good access.
Go back to the time of the Great Western Railway
Explore the fascinating world of steam train engineering at the 5 star Euan's Guide rated attraction, STEAM, Museum of the Great Western Railway, which has 'put a lot of thought into accessibility'. This attraction has exhibits to appeal to all ages and features access facilities including an induction loop, accessible dog bowls and free disabled parking.
Have you visited Swindon?
If you've been to Swindon before, could you help use review places to stay and things to do in the town? We'd love to hear a little bit more about the following places:
• Jurys Inn
• Swindon Museum and Art Gallery
• Wyvern Theatre
• Roves Farm
Last Updated - October 2015
Image courtesy of Visit Wiltshire