Dublin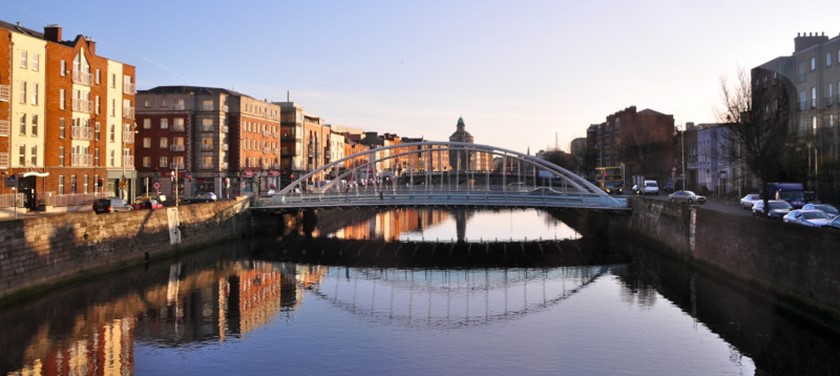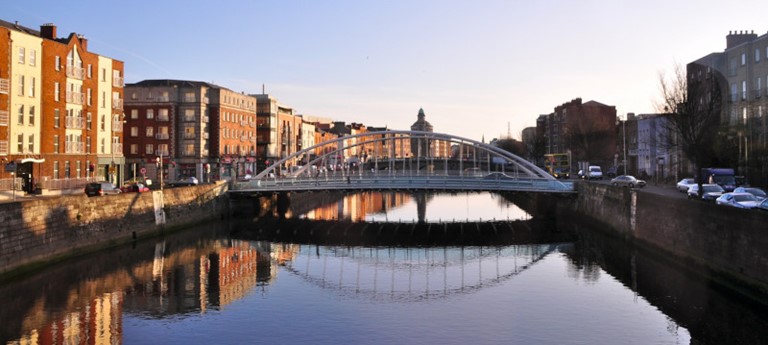 Travel to the home of Guinness and experience Dubliners at their best in any of the capital's thousand or more pubs! This east coast capital is a stylish European destination with true Irish influence and charm. Dublin is split across the River Liffey, and you'll come across a fascinating north-south divide between the two parts of the city. Head to the north for a stronger Dublin accent and a livelier social scene; but don't miss out on the sights and shopping in the gentler south. Don't forget to look out for the Spire of Dublin on O'Connell Street, one of Dublin's newest monuments, lighting up the night sky.
Getting here and around
Coming in by plane:
If you are requiring assistance at Dublin airport you can contact Dublin airport assistance service, OCS, to arrange this. OCS must be contacted at least 48 hours in advance of your flight.
Within Dublin airport there are a range of disabled access facilities available
Disabled parking is available within the short and long term car park
Accessible toilets and lifts are available throughout both terminals in both arrival and departure lounges
There is a series of induction loops to facilitate the amplification of passenger announcements
There is a changing places facility in the arrivals lounge of terminal 1
There is an assistance dog relief room located in terminal 2
Contact details and further information on accessibility are available from the Dublin airport's website, which you can access here.
By Bus:
If you're coming into the city via train the most central train station is Connolly Station. If coming from Belfast on the train and you need assistance you can book by calling the Contact Centre on 028 90 66 66 30. Booking assistance should be done at least 24 hours before you travel so they can make sure a member of staff can deploy ramps, help if you're carrying luggage or need help finding your seat. If using the buses this route, you can book assistance on the same number and they will make sure an accessible bus is there for you – these have ramp or side lift access and tie downs so you feel safe throughout your journey. Buses coming from Belfast come into Busaras which is also very central and has a Luas stop outside.
The Luas:
The Luas is Dublin's public transport tram system. It has two lines, the Green line connecting the South of the city to the North and the Red line connecting the South west of the city to the Docklands. Each tram has a wheelchair access through the double doors in the middle of the tram. There is space for 4 wheelchairs on each tram. Each tram makes audio announcements and has electronic displays of each stop. Luas stops on an elevated track have lift access aswell as designated accessible parking.
Travel assistance can be requested on the Luas by contacting the customer service office. Details of the Luas accessibility can be found here.
DART:
Train stations vary in their accessibility. Iarnród Éireann (Irish rail) have created Hub stations to assist with accessibility on their services. Depending on where you are travelling, the hub station in that zone can be contacted to arrange assistance or for guidance on specific accessibility of each station. A list of contacts for Hub stations can be found here on the Iarnród Éireann website.
Accessible Taxis:
There are a number of private accessible taxi companies in Dublin which can be contacted directly for bookings. You can find the Wheelchair Accessible Vehicle (WAV) Register on the Transport for Ireland website.
Get some rest by the Docklands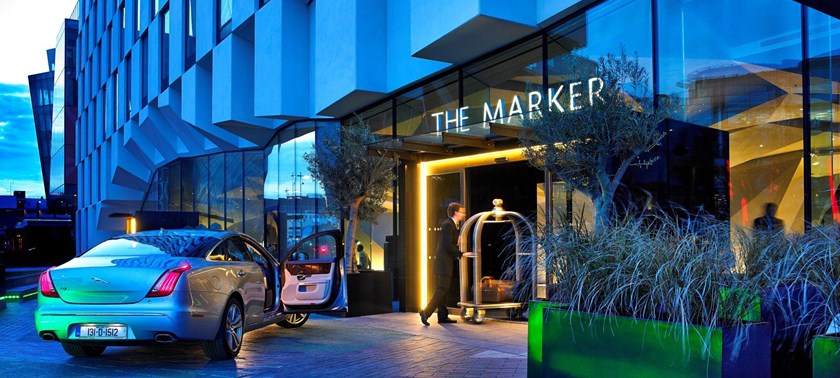 Visitors to Dublin can choose from a range of accessible hotels. The ultra-modern Marker Hotel offers both luxury and accessibility with its thirteen adapted rooms and level access throughout the striking dockland building.
Reviewers also recommend the centrally located Academy Plaza Hotel. The hotel has adapted rooms, large lifts and convenient access to the city centre from its location off O'Connell Street. The hotel has earned a 4.5-star rating from a mobility scooter user who would "definitely use this hotel" for their next Dublin trip!
Another recommended hotel is the Sandymount Hotel on Herbert Road. Only 400 metres from the Aviva Stadium, the Sandymount Hotel is ideal for sports fans. The hotel reflects this with its sports-themed bar and popularity with rugby fans! A wheelchair user and rugby fan wrote that "I love visiting the Sandymount Hotel, I have done so for Rugby on multiple occasions, it's always so welcoming and the atmosphere is always great." The hotel has accessible rooms with wet rooms.
Find out what Dublin has to offer
The Irish capital is packed full of attractions and museums for the visitor to explore. Dublin Zoo has a 5 star review with one reviewer saying, 'I was pleasantly surprised by the quantity of accessible toilets and I didn't find anything that I couldn't get to or enjoy'.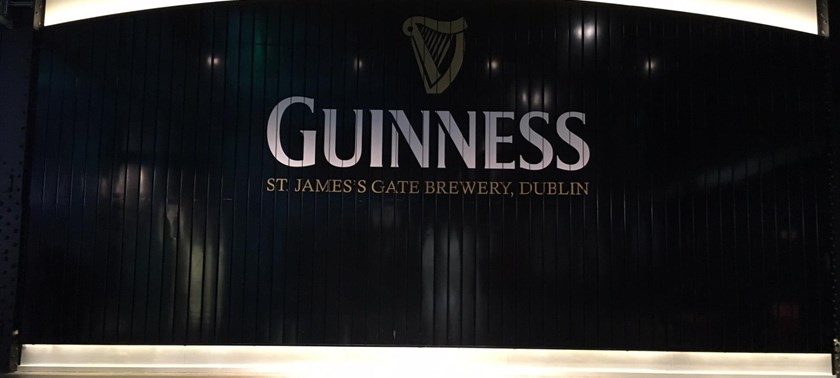 The Guinness Brewery at St. James' Gate offers visitors the chance to see how Dublin's world-famous beer is madefrom start to finish. You can even pull yourself a pint while enjoying panoramic views from the Gravity Bar built on top of the brewery! The museum is wheelchair-accessible, and the bar has an accessible beer tap so that wheelchair users need not miss out on the highlight of the trip! Rated 5 stars by Euan's Guide reviewers, the Guinness Brewery is one of the most popular Dublin attractions on Euan's Guide!
To see the Book of Kells and the library's magnificent Long Room, visit Trinity College near College Green. One reviewer sums it up as the 'Old College with Good Access.' There is also a Changing Places toilet nearby in the art block's ground floor. Or learn more about the story of Irish emigration at EPIC The Irish Emigration Museum, one of our reviewers said that this interactive museum was their favourite museum yet! 
Dublin also boasts the first Irish whiskey museum in the world. Situated across from the famous Trinity College, The Irish Whiskey Museum has a 5 star review for its friendly staff and accessible layout. A reviewer wrote, 'I was surprised to find something based in an older building to be accessible but they do indeed have a lift!'.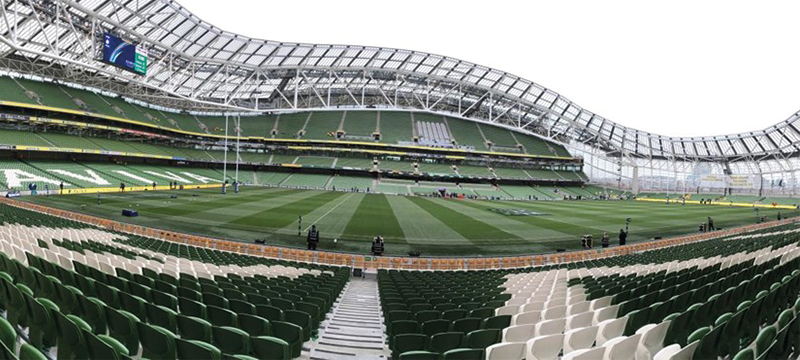 For rugby lovers, a trip to Dublin is not complete without a visit to the Aviva stadium. One reviewer says that the venue is easy to get to by the DART and there are five accessible entrances. There are also 230 spaces for wheelchair users throughout the stadium and food kiosks have lowered counters for easy access.
Buy a round
If you want to make friends, you're going to have to experience Dublin's pub scene. The Black Sheep pub is great place to enjoy some craft beer. One reviewer gave this venue 5 stars saying, 'in my humble opinion, The Black Sheep is one of the most perfect pubs in Dublin'. They have a good food menu and a selection of board games to keep you entertained as well.
Blackbird Rathimes is another pub worth trying for its kitsch style and great staff. One reviewer wrote, 'Before I had even found a table, one of the barmen came over to me to say that I could get access to the beer garden through their kitchen. It is near impossible to find an accessible beer garden so this is great news'.
In Dundrum check out the Candlelight Bar for cocktails, or close by, The Goat is a gastropub with good disabled access including accessible parking.
Gin lovers should also give 4.5 star The Gin Palace a go, but if you want to experience club nights in Dublin, Button Factory is a 5 star rated music venue in Temple Bar where 'the majority of the tables have moveable chairs'.
Have you visited Dublin?
We'd love to have more reviews of this city so we can help to open up Ireland's capital to disabled people, their friends and families! If you are a local, or just passing through, please send us your reviews and photos.
Last Updated - January 2021