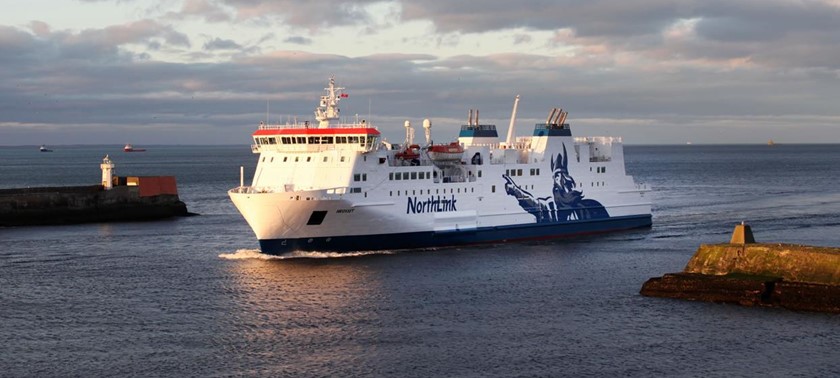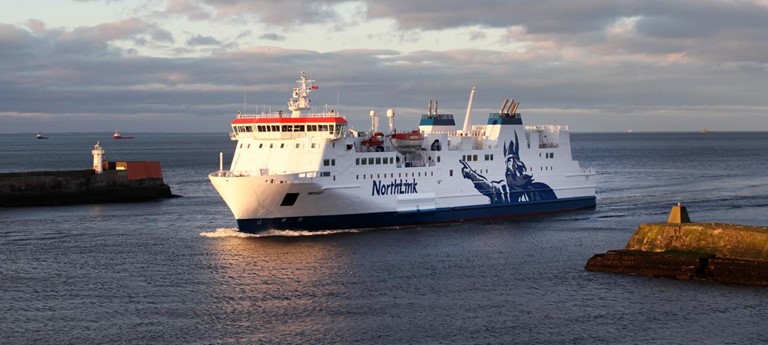 Great, enjoyable and accessible ferry.
1 like
Visit date:
This review is especially helpful for those who have or use the following: Wheelchair
Overview
Writing this review as somebody who travelled to Aberdeen from Edinburgh on the train, with a mobility impairment and a speech impediment. We got the train from Haymarket (Edinburgh) to Aberdeen railway station, getting the train at 15.30 and coming into Aberdeen at 17.50. The boat left at 19.00 so we were giving ourselves a little bit of leeway. The ferry terminal is literally a 10-minute walk away (best route is taking the station exit into Union Street Shopping Centre, and walking through to the back of the centre) and head to straight to the boat-shaped object at the port. Joking aside, it's a bit of a worry however when you don't know where you're going and you think the boat will go without you, but I assure you that it's very close and taxis are situated right outside the train station – you can get a taxi right to the door of the ferry terminal. When we reached the terminal, it was very calm and the people who checked us in where very cheerful, informative and communicated clearly and respectfully. Here you check-in, receive your boarding passes and they will answer any questions that you may have. The terminal itself has a as lift up to the deck and a ramp that leads you onto the ferry. When you enter you are on the deck where the cabins are. Here you will be met by people who check your tickets as well as telling you how to get to your cabin. Going over we did not stay in an accessible cabin but we were lucky enough to have a Premium Outer 2 berth. The cabin was good. It had two single beds and one could be doubled up as a sofa. The room came with a TV with a selection of recently released films. I found the room to be very dark when the lights were out, and when you're on a boat you may not want to be going around looking for a light switch, it might be an idea to identify the light switches a bit better when lights are off, or install a 'night light' to provide minimal lighting. The door to the shower had a lip and it was rather awkward to get into the bathroom – though I appreciate it was not an accessible room. I woke up at 3am and it was rather rough. We opened the blind and just saw the waves crashing against the boat and it was beautiful. All the accessible cabins are in the inner of the boat and I feel that is a shame. However the outer cabins are much louder, and we did both get a much better night's sleep in the inner cabin. The shop, restaurant, bars, sitting areas are up a deck, either accessed by stairs or lifts. The whole upper deck is on one level and has wide aisles. The doorway outside deck has high lips on the bottom so it's a bit tricky if you want to experience the outdoors. I can't see how it would be possible for a wheelchair user. The restaurant was pleasant place to have your dinner and breakfast, here a number of tables chairs and arm chairs are laid out. The staff were very helpful, chatty and respectful. The menu has vegetarian and gluten-free options. The Magnus' Lounge is where I would recommend to eat, as it is a bit more spacious and there are tables with seats removed for wheelchair users. Depending on your ticket, it may cost a bit more to access, but for this you get free tea, coffee and biscuits at any time, newspapers and magazines, and a free continental breakfast. On the first night, we were pretty tired so we had a meal, then went to the cabin, watched a movie and went to sleep. In the morning, we woke when the ferry docked and went for breakfast, had a shower. It was very small and was a bit awkward for me, but this was not an accessible room. Though I would not think I would need an accessible room. Although the ferry arrives very early, breakfast is served until 09.00, so if you are travelling by car you can disembark, park nearby and go back to the ship for breakfast if you wish. On the way back, it was more relaxing as we knew what to expect. We had a fantastic day in and around Lerwick but were quite tired so we headed back to the ferry at 18.30. The ferry terminal is only about a ten-minute walk from the centre of Lerwick – very close, and I you can catch a bus outside to the centre of the town. The terminal itself is accessible with step-free entrances, lifts and a good sized accessible toilet. It was not busy when we checked in and it felt very calm and organised and they answered questions we had with a smile. The walk up to the ferry from the terminal is pretty much the same as on the Aberdeen side. With going up a lift to the about 100-meter ramped entrance to the deck where the cabins were, also met by some cabin crew who directed us to our cabin and to answer any questions.
Transport & Parking
Access
The accessible cabin was excellent, much more room than the one the previous night. There was a hoist, and the shower-room / toilet was huge. There is a lip on the door into the shower room but this has been fitted on both sides with a solid ramp. One problem I had was that the room was so large I found it difficult to manoeuvre around the room as there are few hand-holds to steady myself when the boat was moving. The bathroom was the same, but it had nice modern tiles and a decent roomy shower, and the room had two bins- one for clinical waste. The only issue we encountered was that the powered door into the room did not seem to be working. It apparently needs set up by a crew member, and on this occasion, they could not get it working. The door into this cabin is larger than other cabins to accommodate a wheelchair, which also makes it much heavier. With the power assist not working, I was unable to open the door on my own. One suggestion I would have here is that the door assist is checked and set up on any accessible cabins prior to guest arrival. After dinner, we decided to go the cinema on the upper deck, they had a selection of titles currently showing at regular cinemas. We payed £5 each to see 'Goodbye Mr Robin' which was great, and the seats were very comfortable. The sailing was pretty rough but as we were watching the film we didn't really notice but when I got up after the film I did a comedy fall down to my knees. On the way, back down we walked backed very slowly holding onto the handrails provided on the corridors. There is no designated wheelchair bay in the cinema room and sitting a wider wheelchair in one of the aisles would have been tight for space. However, the screen is not huge (we sat in the front row) so a wheelchair user could enjoy a film seated at the front of the room. The experience back was pretty much the same as going out and there's little to add. The whole trip was great, and it was much more accessible for me as I expected. I still would have felt uncomfortable travelling alone because of being unsteady on my feet. If on my own, I would have needed a crew member to help me get around the boat, and there would have been a good chance of me falling in the cabin during rough weather. I feel that this is largely unavoidable as the Northlink can't control the North Sea! So my recommendation would be that, if you are unsteady on your feet or have limited mobility, while you certainly could travel on your own, it would be worth taking a travelling partner and sharing a cabin if at all possible.
Toilets
Staff
Anything else you wish to tell us?
Every staff member was incredibly friendly and helpful. Speaking to a regular Northlink passenger we met at dinner, the crew are always like this, which is great to hear. For us travelling on public transport once in Lerwick and beyond was easy, quick and stress free. Shetland is notoriously quite wet and very windy (our experience backs this up), so again if you are not completely confident walking on your own and you wish to go exploring, having someone at your side is highly recommended! The Shetland Islands are absolutely beautiful, and quite unique- very different to anywhere else I have been in the UK. We cannot wait to go back to again, and when we do we will definitely get there by ferry! I would thoroughly recommend the experience to other disabled people who are thinking of making the trip!
Photos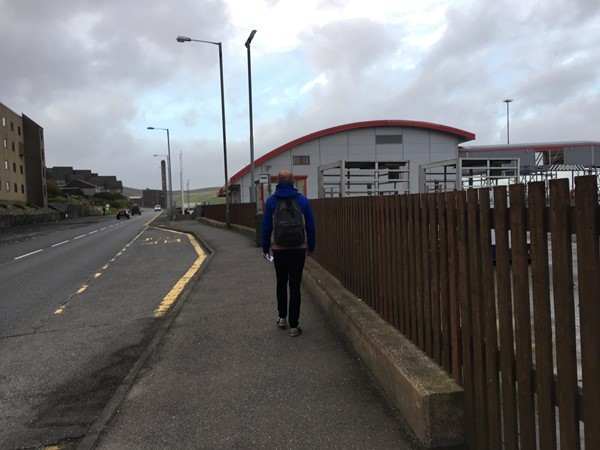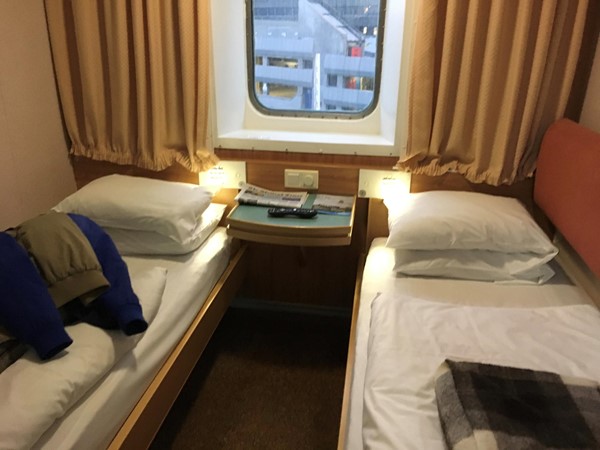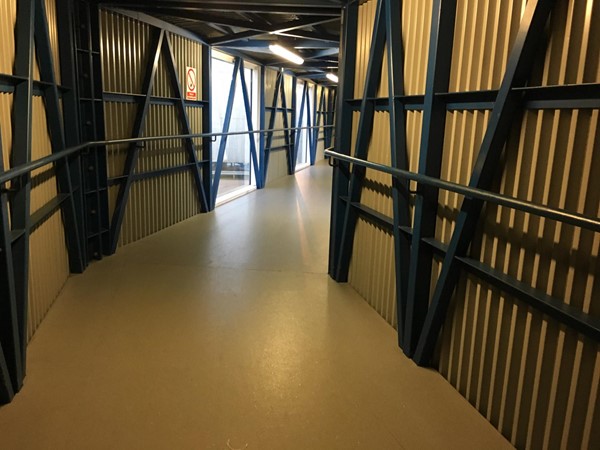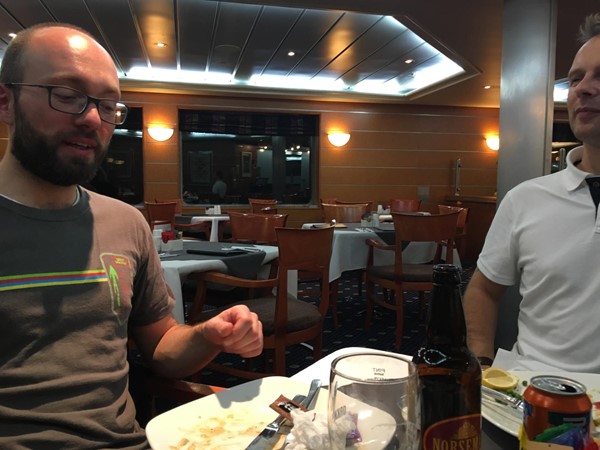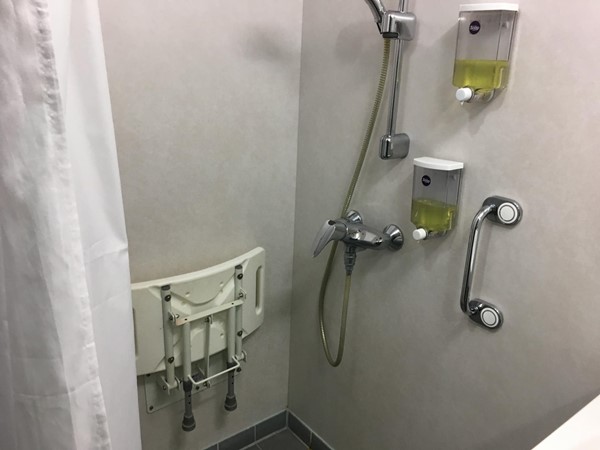 We've had 2 reviews for MV Hrossey