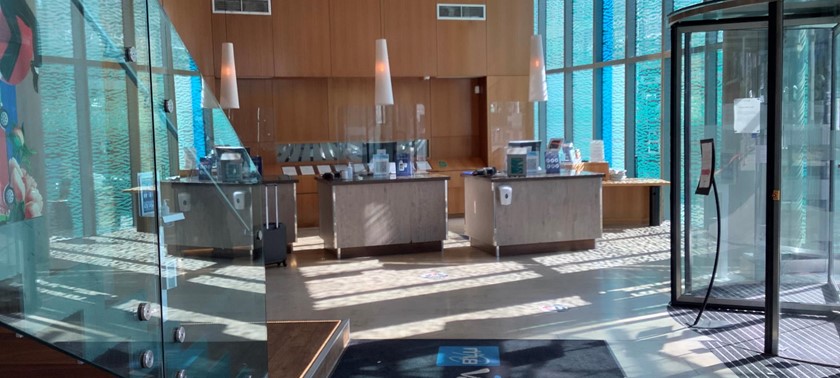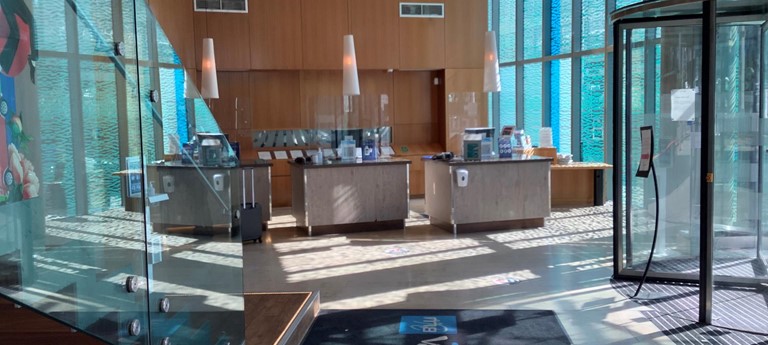 Radisson Blu Hotel
12 Holloway Circus Queensway, Birmingham, B1 1BT, United Kingdom
|
0121 654 6000
|
Website
Disabled Traveller staying at Radisson Blu hotel Birmingham.
Visit date:
Overview
Very disappointing approach to hotel, the area is dirty, unkept paths and uphill push to reach hotel (photo 1) from New Street station, the area was awful, not impressed at all, there's road works everywhere during September 2021, pot holes and ramps to fight, not impressed. Entry into hotel was easy enough through an opened wide door (photo 2) and direct into reception (photo 3) which is very basic. The staff were all friendly and helpful. However, there was litter everywhere around reception area, no one turned up to clean anywhere, the tiled floor could do with a mopping. and it was same the next day. The lounge and bar is next to reception (photo 4) comfortable enough, but we found chairs were too close together and difficult to get through gaps, but there was a space to leave wheelchair or powerchair The public disabled toilet is near reception, (photo 5) but floor area needed cleaning up, wide door with pull handle to get in (photo 6) but it's nice and big, I could spin wheelchair in there and it had grab rails and pull cord. (photo 7). There entrance for lifts was wide, easy enough to move around (photo 8) and three good big lifts (photo 9) but we found using lifts frustrating. You have to put your room key into slot and pull it out again to then press the floor button you need, but it did not work every time, I was in and out trying door key, reporting it to reception, and having key reset, very frustrating. When you do arrive at the corridor for rooms it was very nice looking in warm wood colour (photo 10) then most unusual, you pulled your room door open into corridor area. Entering disabled room (we had disabled room 0512 ) it had a long passage (photo 11) passing toilet, and the disabled room was very attractive, nice deco, and quite large (photo 12) Bed very comfortable and a good nights sleep given. By the entry door was a nice square area to leave wheelchair in,(photo 13) so it was out of the way. The bathroom is a good size although WC pan is rather close to sink, (photo 14) and it's a good walk in shower (photo 15). What impressed us as well is the excellent lighting in the room, and two long mirrows at each end of room. However there is no desk to work on you use round table instead, but it had a nice ottoman it base of bed. We both felt this was one of the best disabled rooms we have had over the years. Breakfast is taken in the restaurant (photo 16) with views over city buildings, easy enough to find room for my wheelchair, although I prefer to sit in seats provided, as I am able to stand, and the breakfast selection was ample, and well prepared (photo 17) and the seating is quite comfortable (photo 18). Our final thoughts Very disappointed by the appearance of this hotel and the area it stands in. The hotel floors were dirty and unkept. The lifts were frustrating as the card system did not always work. The disabled bedroom however was excellent, clean, and plenty of room to move about, we felt it was one of the best we have had so far. Either we are both perhaps to fussy, but we felt we would not particularly recommend this hotel, although once inside and moving about it was quite good, but not suitable for power chairs, as certain areas are a bit tight. But it is very handy for the main railway station, and once work completed on the roadworks, it might be a lot easier to get from hotel to station, and that would be a plus for disabled people.
Transport & Parking
We did not like the look of nearby car park, non for hotel itself, but it is near, but would be worried about leaving the car here, it's a rough looking area.
Access
Once you have got over the unlevel ground, entry into hotel was easy enough, via wide opened door (photo 2) but if it's closed, there is a bell to have staff open it for you. Everywhere in hotel is level, and good wide lift corridor, (photo 8) big lift, (photo 9) and wide corridors to your room. (photo 10). If only visiting on day trip, there is ample seating in lounge area, narrow gaps as chairs to close, but wheelchair space by bar. Ordering a drink may be a problem, due to COVID it's not opened very early.
Toilets
Public toilet is near reception, pull handle door to get in, big area, could spin wheelchair around. It had grab rails and pull cord. However, it was very untidy, paper and bits on floor, seat needed a wipe, dirty W.C, (photo 7) and this seems the norm around public areas.
Staff
All staff we met where friendly, going out of their way to offer support and help, reception very polite and all knew what they were doing.
Photos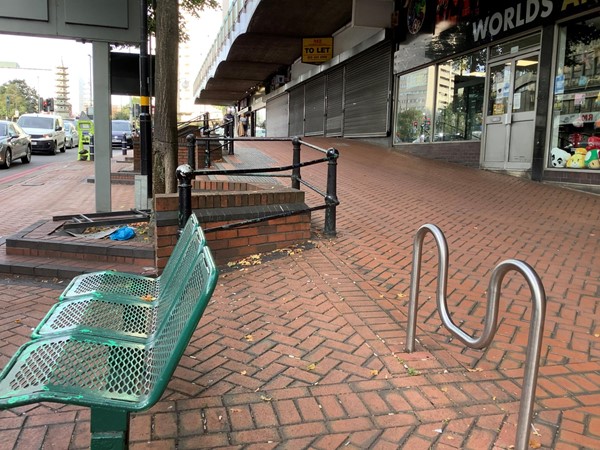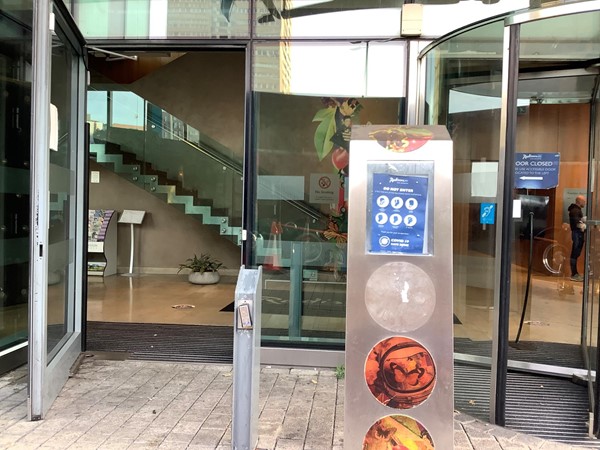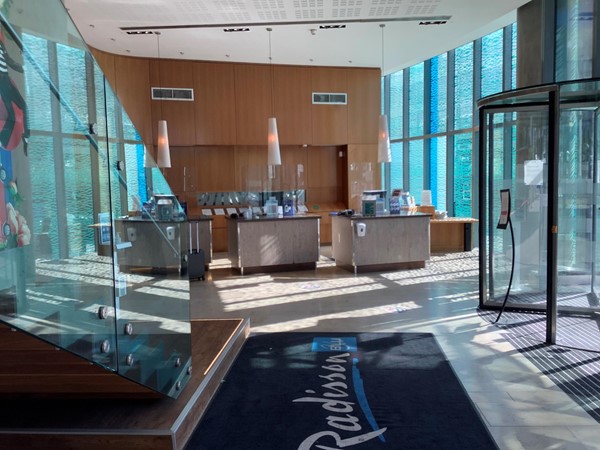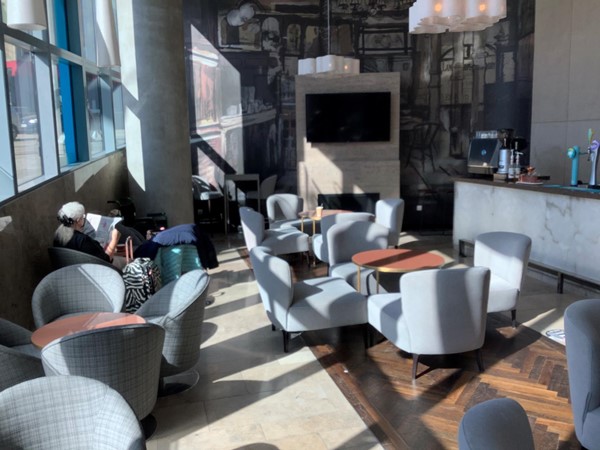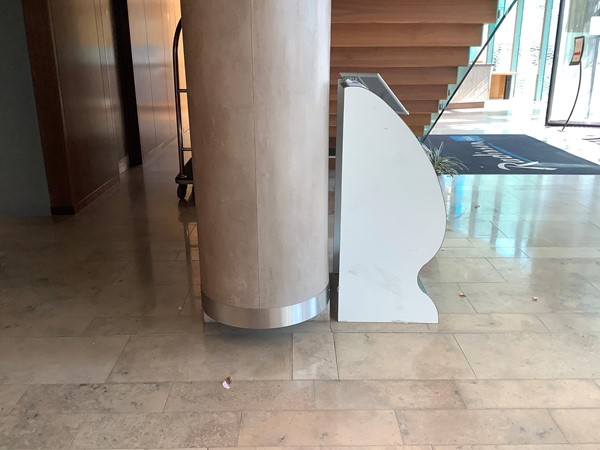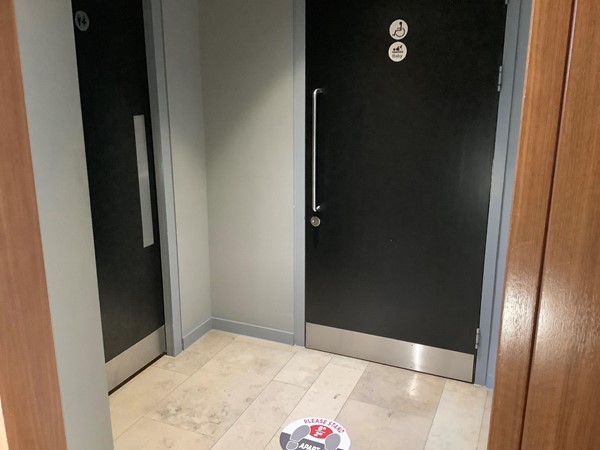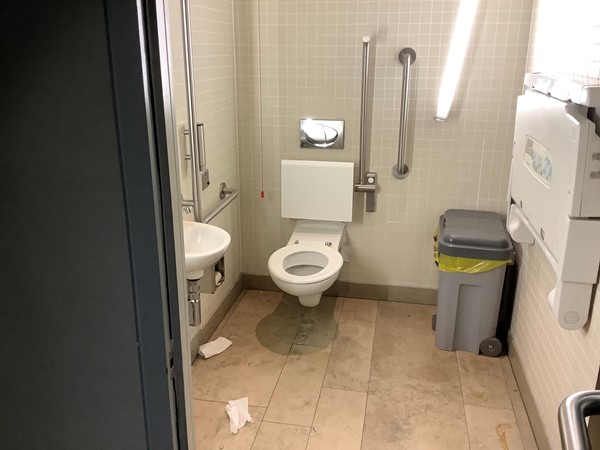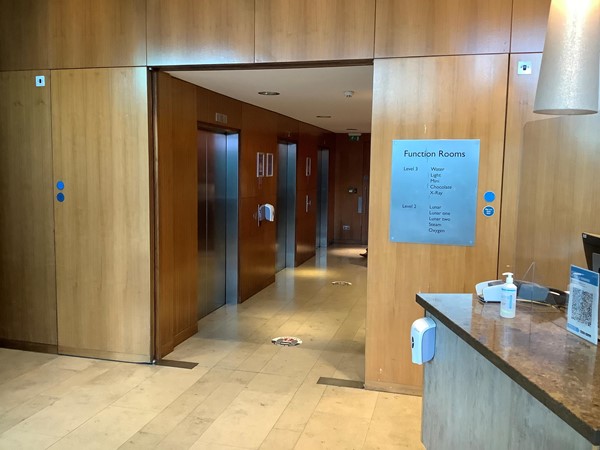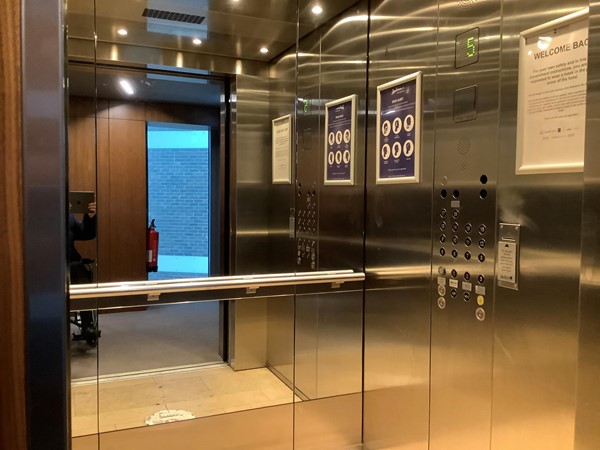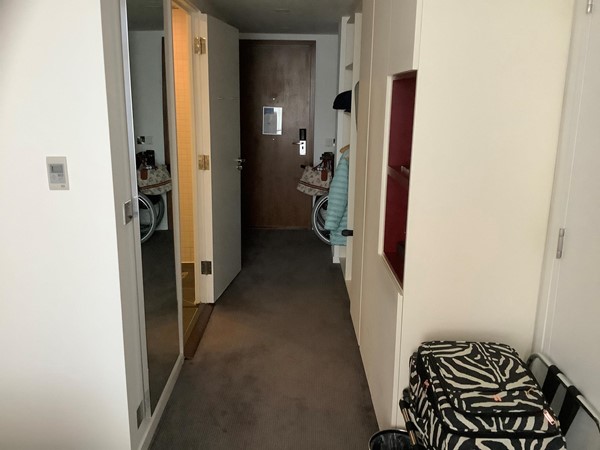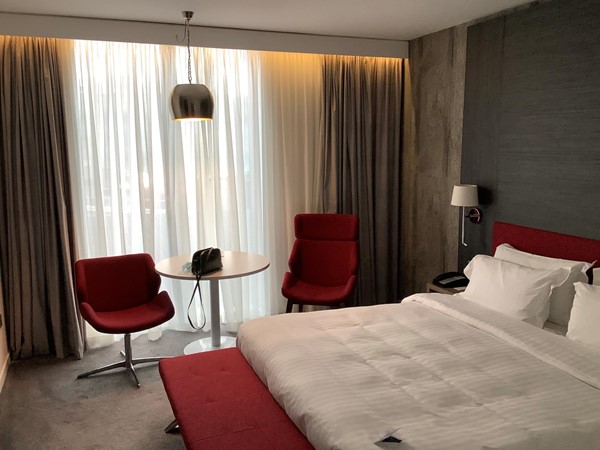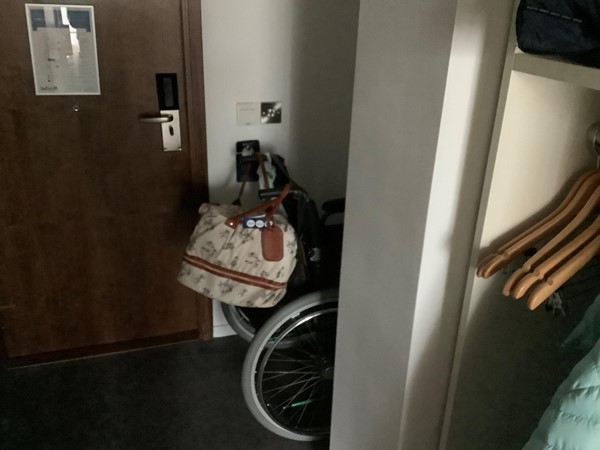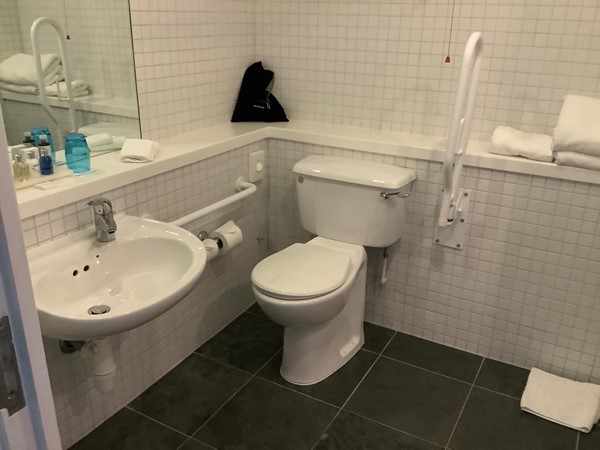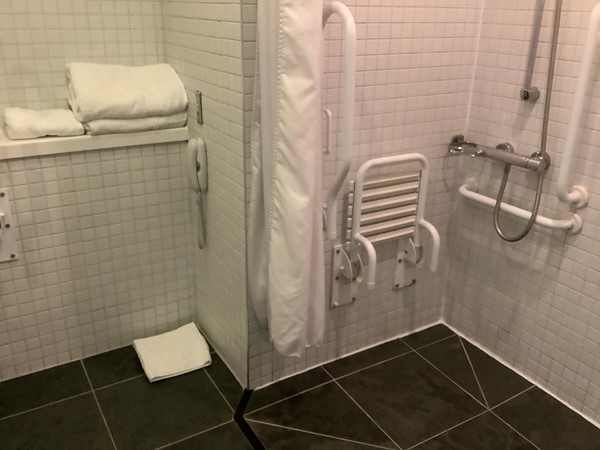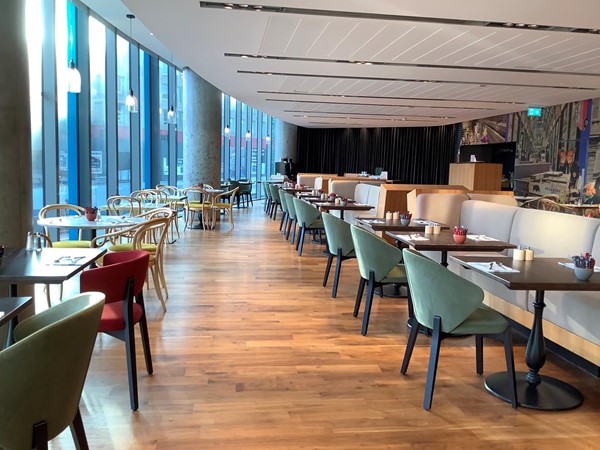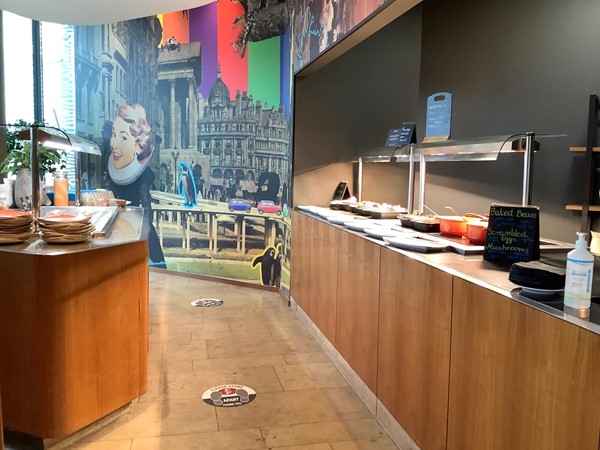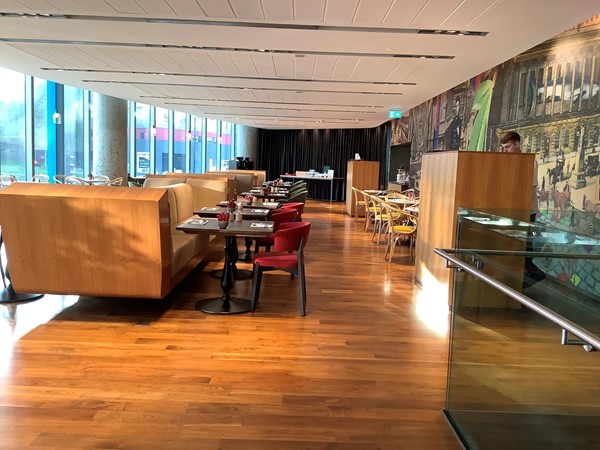 We've had 1 review for Radisson Blu Hotel