The Peat Inn Restaurant with Rooms
Peat Inn, Cupar, KY15 5LH, United Kingdom
|
01334840206
|
Website
A Five-Star Experience
1 like
Visit date:
This review is especially helpful for those who have or use the following: Powerchair
Overview
The Peat Inn has existed on the same site since the mid-1700s and has an uninterrupted history of offering hospitality for around two hundred and fifty years. The present owners are chef and food columnist, Geoffrey Smeddle, and his wife, Katherine. They have built on a long-standing, fine reputation as one of Scotland's premier restaurants. The restaurant has won numerous awards, including one Michelin star, a grade of 8 out of 10 in The Good Food Guide, as well as coming 20 in their top 50 UK restaurants. The menu is seasonal, using only top quality, Scottish ingredients. Everything is beautifully presented and delicious, and the atmosphere in the restaurant is very relaxing. It all makes for a very special experience.
Transport & Parking
On-site parking is free for customers. The car park is situated at the front, side and rear. Guests can be dropped off at the front of the restaurant if required. There are 25 parking spaces. Although there is no specific designated Blue Badge parking, you can let staff know when you book and a space at the front of the restaurant will be reserved for you. The car park surface is gravel (very thin), but it is usually possible to park to avoid having to negotiate it. We had drivend to the Inn and parked in the side car park, reversing in so that the ramp of our WAV reached the monobloc path. The monobloc path goes from The Residence to the restaurant, around the perimeter of the car park. Restaurant staff are extremely attentive and are on hand to assist if asked. For full details and maps of how to reach the Peat Inn are available on the website. As it is situated in a rural setting, it is not on a bus route so arriving via your own transport or by taxi is essential. The nearest railway stations are Leuchars (7.8 miles) and Cupar (6.7 miles). Taxis are available at the station. If you need an accessible taxi, it's best to book in advance with Williamsons on 01334 476787. Moffat and Williamson bus company runs a Flexibus service - details are available from www.go-flexi.org or telephone 01382 540624
Access
Although it is a 300-year old coaching inn, the owners have tried hard to make access as good as it can possibly be. The level access entrance porch door has a clearance of 26 inches, then a sharp left turn leading into the reception area. On our visit, the wheelchair user was in a Sunrise Quickie 6-wheel and she is a very experienced driver. She managed with relative ease, but anyone with a larger manual or powered wheelchair might struggle to manoeuvre. Previous diners using a wheelchair have opted to phone ahead to check access and one keen diner even visited ahead of booking to make sure she wasn't disappointed. Staff are more than happy to discuss your access needs in advance to ensure you have a positive experience. The reception/ bar and restaurant are on ground floor level and have level access throughout. There are no doors between each of the 3 dining areas. The reception area has comfy chairs and fixed, padded, bench-type seating, all without arms. A seat with arms can be made available and all tables and chairs in this area can be moved around if required. The reception/ bar area has wooden flooring and there is short pile carpet in the dining rooms. Diners can enjoy aperitifs and canapés in comfort whilst choosing from the menu and are then escorted to their table once their meal is ready. All dietary requirements can be catered for with prior notice. Lighting throughout the building is natural daylight. There are wall lights, and candles on tables throughout the restaurant. For guests staying in The Residence, there is good lighting throughout the car park and between the bedrooms and the restaurant. There is a monobloc path from The Residence to the restaurant with a slight gradual slope from the Residence. There is a manual, double glass door at the entrance to The Residence, with a very small raised lip. A member of staff is normally on duty at reception between 8.30am and 8pm to assist if required. There are eight suites in The Residence, seven of which are split level with bedroom and bathroom on the lower floor plus a separate living room on the upstairs mezzanine level. The corridor and rooms are carpeted. There is also a fire door half way along the corridor, which shortens the distance from The Residence to the car park and the restaurant. At the far end of the corridor, there is one level, designated accessible room with lots of space to move around, plus a luxurious, en suite wet-room. There is a small, raised lip of 1.5 cm to shower entry. There are lever taps on the washbasin and bath, with horizontal and vertical, colour-contrasted grab rails around the shower. The floor is tiled and there are down-lights throughout bathroom. All bedroom furniture can be moved to suit guests' needs. The wardrobe has a pull-down rail for easy access.
Toilets
The toilets are behind the reception area, including a unisex accessible toilet. There is level access from the reception/ bar. The accessible toilet is small but it accommodated us both - one in a Sunrise Quickie power-chair plus a carer. The wash-hand basin was low enough to allow access for the wheelchair user. Grab rails were black to contrast with the walls. There is no red cord but the working bar is opposite and staff are close by.
Staff
In advance of your visit, staff are more than happy for you to phone ahead to discuss your access needs. On arrival, the restaurant staff met us at the door and were extremely attentive and ready to help if necessary. As each course was served, serving staff explained what we were about to eat. In The Residence, a member of staff is normally on duty at reception between 8.30am and 8pm to assist if required and nothing appeared to be too much trouble during our visit.
Anything else you wish to tell us?
We would highly recommend a visit to the Peat Inn. It was a fantastic experience. Although it is a 300-year old coaching inn, the owners have tried hard to make access as good as it can possibly be and the helpful attitude of their staff goes a long way in overcoming any barriers you may meet. The Peat Inn has an Accessibility Guide, which can currently be found on www.fifetourismpartnership.org/site/assets/files/4909/access_statementforthe_peat_inn_restaurant_with_rooms.pdf but it should appear on their own website fairly soon. There is a large, lawn/ garden, with mature shrubs and trees, on a slight gradual slope. The garden area is accessed by a level pebbled/ gravel footpath. Both restaurant and residence guests can sit in the beautiful gardens to enjoy a drink. There are charging facilities for battery powered wheelchairs. Wi-Fi is available throughout The Residence and restaurant. Contact Information Address: The Peat Inn, Peat Inn, By St Andrews Fife, KY15 5LH Telephone: 01334 840206 Email: stay@thepeatinn.co.uk
Photos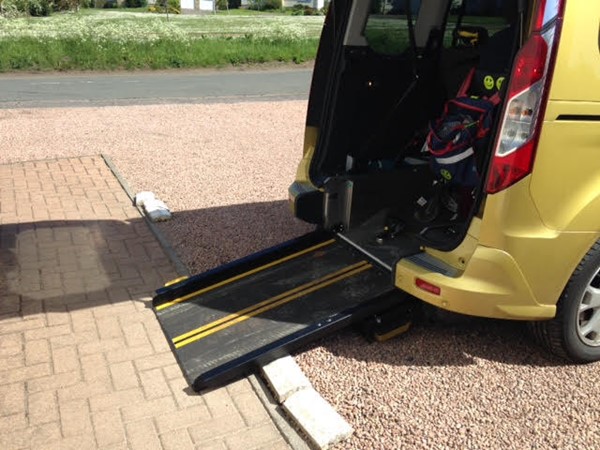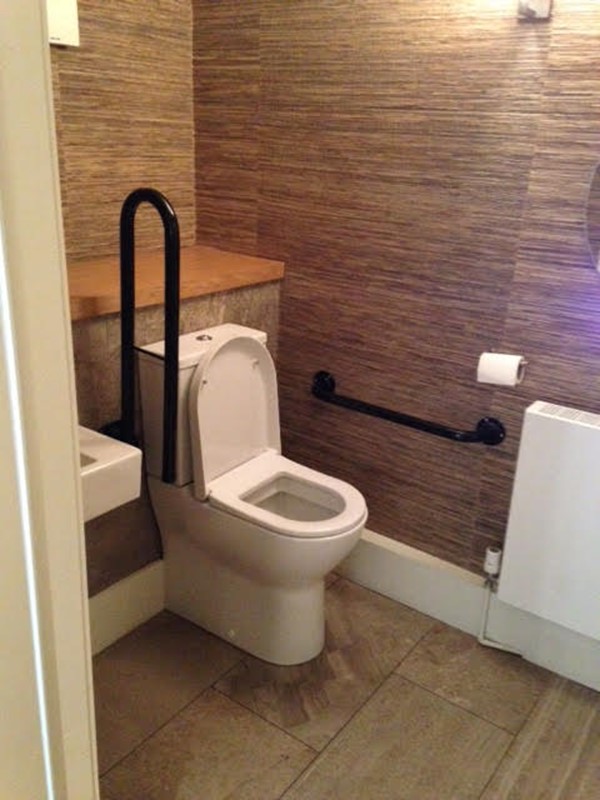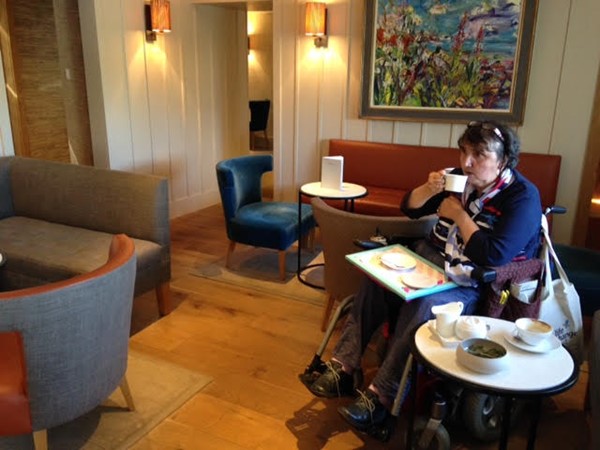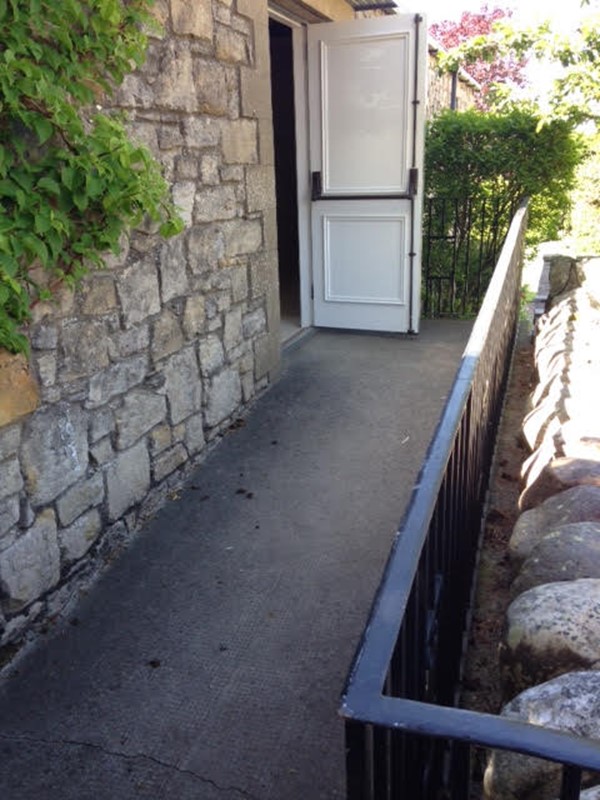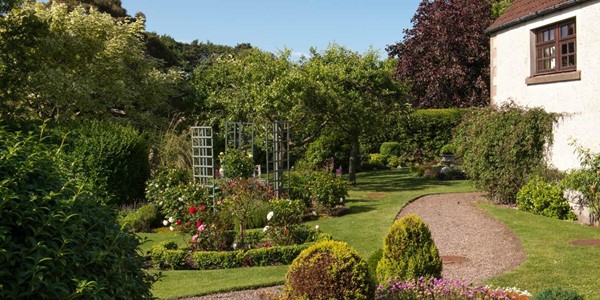 We've had 1 review for The Peat Inn Restaurant with Rooms