Agatha Christie – must see accessible places to visit across the UK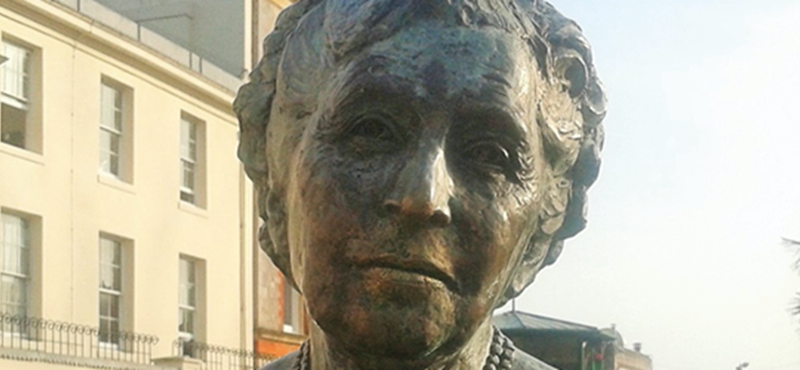 I'm Tina, London Ambassador for Euan's Guide. I have a mobility disability and walk with a crutch. I'm a huge Agatha Christie fan, the world's best-selling author, who is best known for her crime fiction stories and plays. I lead Agatha Christie's London walking tours and I have presented papers at Christie Conferences. One of my favourite things to do in my spare time is to visit locations associated with Agatha's life. Join me on a disabled accessible tour in Agatha's footsteps.
Devon
Bust of Agatha Christie, Park Street, Torquay
Photo of the bust of Agatha Christie pictured above.
Agatha Mary Clarissa Miller was born on 15th September 1890 at her family home called Ashfield in Torquay. Sadly, the house in Barton Road was demolished in 1960s. However, in Park Street, near Torquay Harbour there is an elegant, bronze bust of Agatha, by Dutch sculptor Carol Van Den Boom-Cairns. It's a very tactile sculpture, with Agatha's gently curling hair, her strong facial features and a double row of beads around her neck. There is level access to her sculpture.
The Agatha Christie Gallery, Torquay Museum, 529 Babbacombe Road, Torquay
Photo: Entrance to Torquay Museum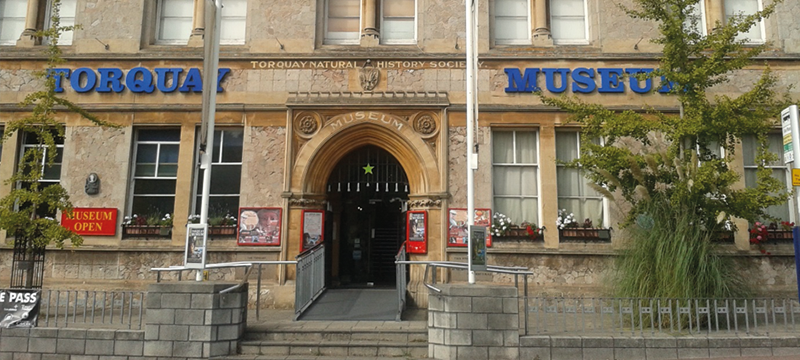 Torquay Museum is a real treat for any Agatha fan. It has an Agatha Christie Gallery which displays some of Agatha's personal effects, photographs and the chance to see Poirot's art deco study, which includes furniture and props from the David Suchet - ITV adaptation of Poirot. There is also a well-stocked shop selling new and second hand copies of Agatha's books. The museum also hosts an annual Christie Day during the Agatha Christie Festival. The museum is filled with interesting artefacts and has a delightful café serving delicious, reasonably priced food. There is step free access with ramps and lift, and an accessible toilet. There's large print guides and pre-bookable signed gallery talks. One of the outstanding things that makes this place so nice to visit is the welcoming and helpful staff.
Read more about the Agatha Christie Gallery in my Euan's Guide review here.
Grand Hotel, Torbay Road, Torquay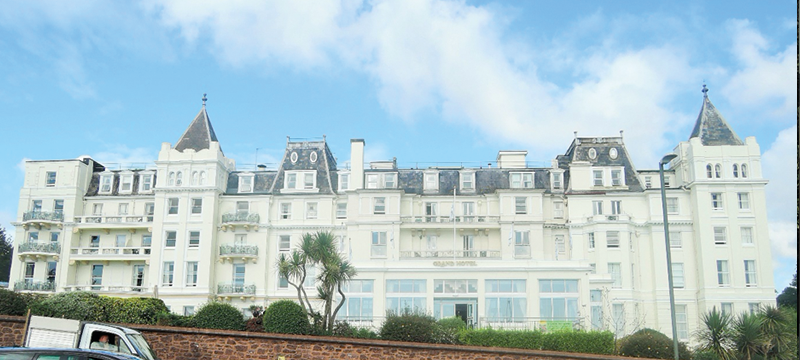 Photo: Exterior of Grand Hotel
Agatha married her first husband Archie Christie on Christmas Eve 1914, when he was home on leave from serving in World War I. They spent their honeymoon in the Grand Hotel in Torquay. This large hotel is located on the sea front and has step free access, with ramps and lifts serving all floors. The communal areas include a restaurant, bar with a separate eating area and a library, which are well-appointed and there is an accessible toilet. However, when I last visited in 2017, I was disappointed with my disabled accessible bedroom, and I while I highly recommend the hotel, I would advise anyone with access needs to contact the hotel prior to staying to ensure the accommodation is suitable for them. The Grand Hotel is also the starting or finishing point for the Agatha Christie Mile, a self-guided walk which has several plaque along the route highlighting the area's connection with the Queen of Crime. Although it is advertised as being wheelchair accessible, please note that the road up to Torquay Museum and also the one to the Imperial Hotel are both on quite steep hills.
Read more about my experience at the Grand Hotel in my Euan's Guide review here.
Greenway, Greenway Road, Galmpton, near Brixham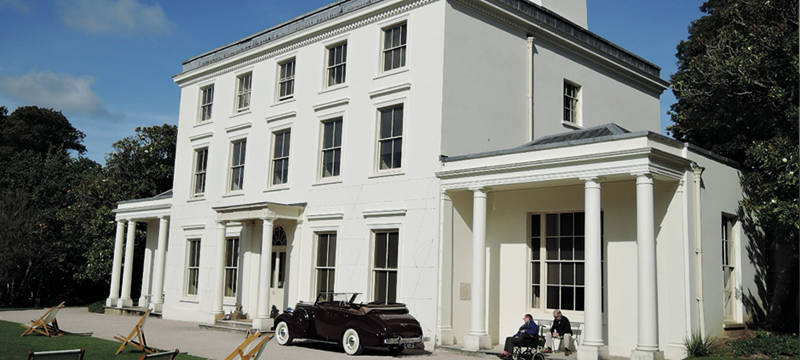 Photo: Exterior of Greenway
Greenway was Agatha's holiday home with wonderful views overlooking of the Dart Estuary. Although Agatha didn't write here, she would read through her manuscripts. The house and extensive gardens are now managed by the National Trust and this is the only home owned by Agatha which is open to the public. The Christie family have kindly donated lots of personal items and the house is laid out as it would have been in the 1950s. This gives the house a delightful family feel and makes it an extra special place to visit. There is step free access to the ground floor of the house but the upper floor is only accessible by stairs. There are accessible toilets. Braille and large print guides are available. Only the gardens adjacent to the house are accessible as much of the grounds are on a steep slope, making it if difficult for people with a mobility impairment. There's also a step free café and shop. I love spending time at Greenway and it's a place of pilgrimage for many Agatha Christie fans.
Read more about Greenway in my Euan's Guide review here.
Edinburgh
St Cuthbert's, 5 Lothian Road, Edinburgh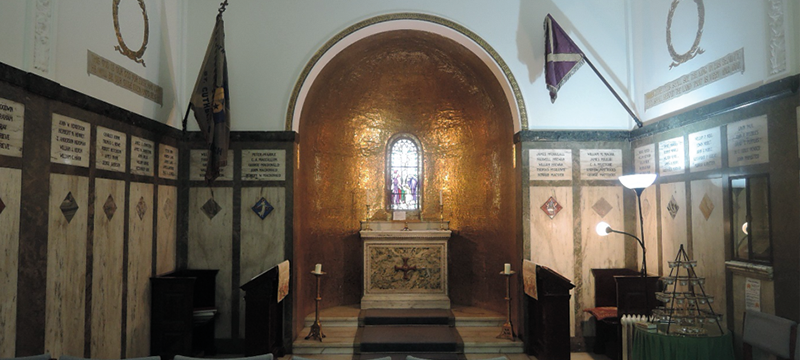 Photo: Memorial Chapel
On 11 September 1930, Agatha married Max Mallowan, an archaeologist and her second husband, in the beautiful Memorial Chapel inside St Cuthbert's Church. In Agatha's autobiography she names the church St Columba's, so I had to do my own detective work to discover the real location. There is step free access into the main part of the church via a ramp, but unfortunately the Memorial Chapel is only accessible by a small flight of stairs. There is also an accessible toilet.
Read more about St. Cuthberts in my Euan's Guide review here.
London
Agatha Christie Memorial, on the junction of Cranbourn Street and Great Newport Street
The Agatha Christie Memorial is in the heart of London's Theatreland. The Memorial by Ben Twist on-Davies, is designed to resemble a large leather-bound book with an oval opening in which there is a bust of Agatha. This is again a very tactile sculpture, with the wording and images raised. At the bottom there is a row of smaller books with the names of several of her books written on the spine in different languages, including braille, a reminder that her work has been translated in to over 100 different languages.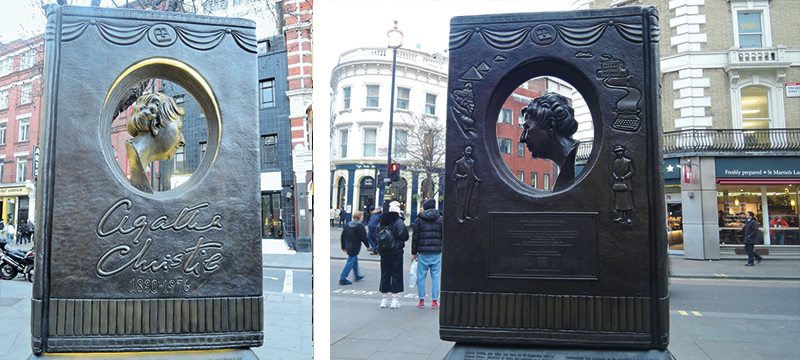 Photo: The back of the Agatha Christie Memorial
The detail on the opposite side, from left to right, depicts Hercule Poirot, the Orient Express, the pyramids, a mousetrap, a country house, typewriter and Miss Jane Marple. The Memorial is just around the corner from Leicester Square tube station, (which is not a step free station),however Tottenham Court Road tube station, which is step free is nearby. Alternatively, there are lots of buses that stop outside Leicester Square tube station. The Memorial is located on a wide stretch of pavement, at the intersection of two roads and there is level access.
The Mousetrap at St Martin's Theatre, West Street
Photo: Exterior of St Martin's Theatre
The Mousetrap is a classic whodunit and the audience are sworn to secrecy at the end not to reveal the murderer's identity. It holds the record for being the world's longest running play and is popular with locals and tourists alike. There is an annual change of cast and many Agatha fans visit on a yearly basis. Although St Martin's Theatre is a historic building, with the use of a temporary ramp at the entrance, there is easy, step free access to the foyer and the back row of the dress circle. There is an adapted toilet at the dress circle level.
Read more about my experience at St. Martin's Theatre on my Euan's Guide review here.
Witness for the Prosecution at County Hall, Belvedere Road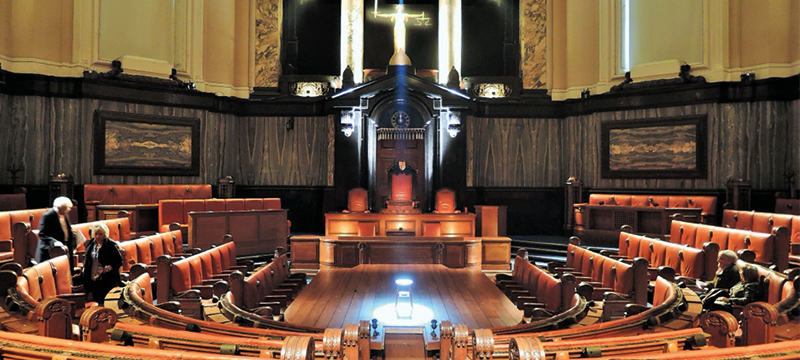 Photo: The stage and the stalls
Witness for the Prosecution was reputedly Agatha's favourite amongst all the plays that she wrote. It is staged in the Council Chamber of County Hall, the former home of the London County Council, rather than a traditional theatre. It's an impressive setting and a very appropriate given that most of the play is set in a courtroom. There are lifts which provide step free access to the back row of the stalls, as well as an accessible toilet.
 To find out more about the County Hall have a read at my Euan's Guide review here.
 There are many other UK Agatha Christie locations I visited before I became disabled, but I haven't included them here as I feel unable to comment about their access.