Paul Ralph: I'm a storyteller, I see reviews as people's stories
Pottery collector, storyteller and access expert, this week we caught up with Paul, Access & Inclusion Director at Euan's Guide, to hear his story about what goes on behind the scenes at the charity.
Behind the scenes with Paul Ralph
A history-aficionado, it's no surprise that Paul has just returned from the National Museum of Scotland. "I was having a look at their new Changing Places toilet which is quite exciting in my world," he says as he joins me at a vintage table inside the UK's largest tech incubator. Indeed, we can often be found talking about toilets at Euan's Guide HQ!
Known for his love of tech, Paul first tells us about his other great passion: pottery. "I'm a pottery collector. I'm really, really fond of heavy pottery styles, but I like pottery when it's been painted, illustrated and brought to life with seascapes and landscapes. That's my passion."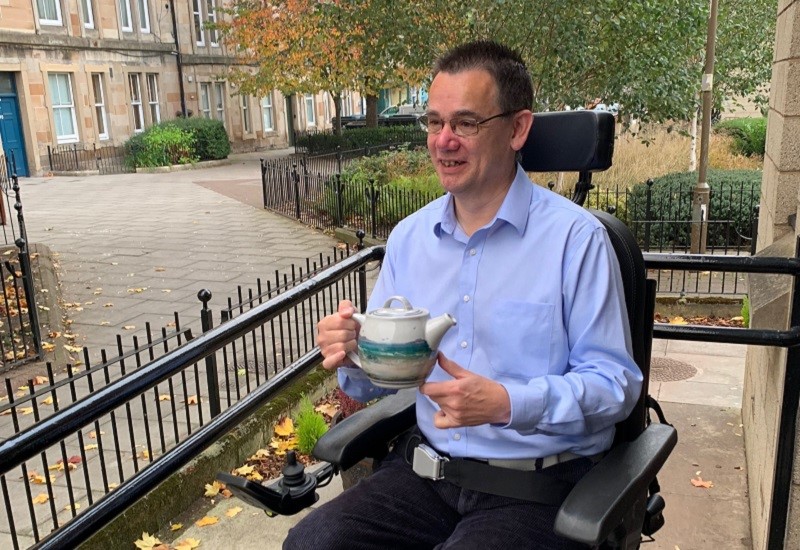 So, how did a history-loving, pottery-collecting explorer become engrossed in the world of technology and computing? "I'm giving my age away when I say my passion for tech comes from before the time that everyone had computers. It stems right back to even the 1970s when computers in those days were enormous garage-like boxes living in offices, and people never saw them! I got taken on a visit one day to see one of these enormous machines and I just thought, this is the future, little did I know! Later, people started getting computers in offices and I couldn't wait to get one of my own."
It wasn't until much later that Paul's Euan's Guide story began after encountering a Tweet by Euan and his small team. "I remember Euan's Guide before Euan's Guide was a website. I remember it clearly. Euan and the team were exploring the concept and they'd already come up with an idea of what a review might look like. I can remember they tweeted and said has anyone visited, funnily enough, the National Museum. It simply said, 'could you write a review?', and the link took you to a basic website form. I followed the link and I wrote the review. That turned into an email conversation which eventually turned into a meeting to discuss the whole concept and how it might work."
Over five years later, I ask Paul what a typical day looks like for him now. "A typical day for me is hard to describe because every day is different. Much of what I'm doing is as much reactive as it is planning in so far as I get to look at many of the questions that come in and deal with some of the more complex issues. Many of those questions have nothing to do with access reviews and are to do with life in general, 'where do I get a Blue Badge?', 'how does this work?'. What I love about the spirit of Euan's Guide is that we do our best to answer those questions. Some would say we don't have to, but hey ho, why not!"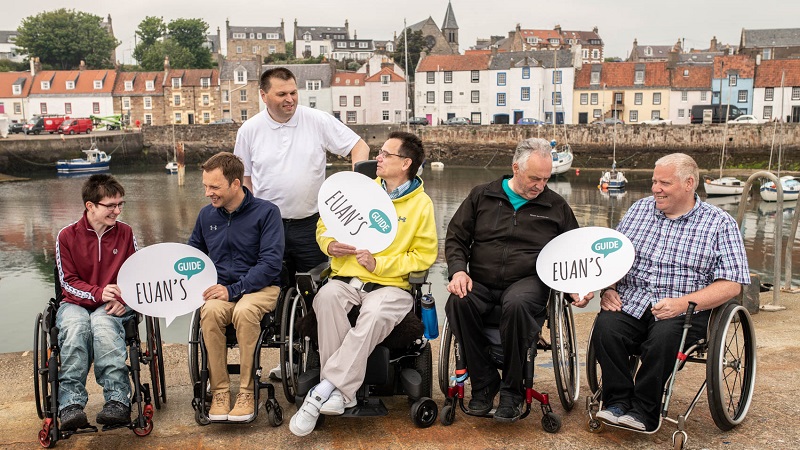 We begin speaking about Euan's Guide projects from Red Cord Cards and events, to castles and festivals. Paul recalls a recent project which has stuck in his memory, "I think one of the most memorable projects was with the Ambassadors, and it was the day we did the #MapTheMile – going out onto the Royal Mile in Edinburgh with each team being given clues to find the places they had to go to. This whole thing required a lot of coordination and organising behind the scenes, but it just seemed a seamless experience. We finished, funnily enough again back at the National Museum with Euan, having hot chocolate and muffins and watching the Ambassadors comparing notes about where they'd been and what they'd seen."
When using Euan's Guide, Paul has no doubt about what his favourite feature of the website is. "My favourite feature is the ability to search for places and spaces and to apply what I'll call the powerchair filter." The filter feature on Euan's Guide lets people search for reviews written by others who have similar access requirements to them.
"When I apply the filter, I can identify with those people and I know that if someone has identified as a powerchair user and written favourably about somewhere, I don't have to think about it. I know that place is going to work for me and that just makes my life so much easier. For me, I will visit somewhere on the strength of one review, and sometimes even on the strength of a few words and lots of pictures.
"Pictures are in my world the deal breaker. Sometimes it's difficult to describe the nuances of somewhere, particularly accessible loos, but if you have a picture you can see whether it's a left transfer or a right transfer, you know where the grab rails are, you know how it's going to work. Pictures are very powerful."
It was through the 'powerchair filter' that Paul visited Blackpool for the first time on the back of one reviewer's experience. "He wrote a series of reviews about Blackpool, and there was enough for me to see he'd been on the pier, been to the Tower, been to the zoo…and they were all positive reviews. I suddenly thought it sounded so much fun to just go and see what would happen.
"His reviews presented so much information that I felt the trip would work, there would be so much to do, and so it became a kind of a destination; not just one place, but a sense that if I went there for a week I could have an amazing time, and I did. I went back the following year, and I have plans to go back again."
Ultimately, the thing that excites Paul the most as he comes to Euan's Guide HQ each day are the reviews. "I'm a storyteller, I see reviews as people's stories. I love coming into the office and seeing that there's a new story from somebody about somewhere. What puts the icing on the cake is when you see posts on Facebook or Twitter as people talk about how reviews have made a difference to them. We get that sense that we're coming to the office and we know that somewhere along the line, we're making a difference."
Meet the Euan's Guide team!