Reviews in the Loos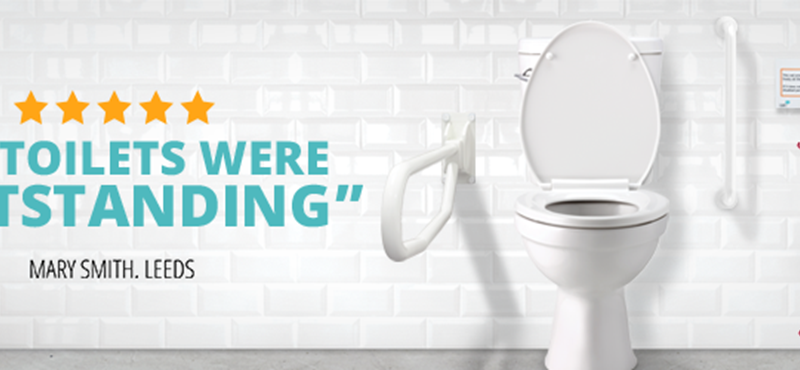 Ok, we'll admit it, we're obsessed with toilets! Our phones are full of photos of them and we talk about them on a daily basis. We know that to some people this might sound bizarre, but we also know that we are not alone. This is because having access to toilets when out and about is so important to all of us and far too often many of us are still having to use facilities that just aren't up to scratch.  
Disabled people often require additional space or equipment when they visit the toilet, which is why we have accessible toilets and Changing Places facilities. However, the misuse or lack of these facilities can still often create a barrier preventing disabled people from being included and participating freely in activities many people would take for granted. Here are just a few of the issues that people can face which we have tried to highlight in some of our recent campaigns.

We want your reviews of accessible toilets and Changing Places facilities!
We're tired of hearing about places where people can't even open the door, and places where poor design or faulty equipment makes toilets dangerous or hard to manoeuvre. We're taking matters into our own hands and asking for you to join us in a campaign to highlight the fantastic loos out there as well as the pitiful ones that you've experienced. Here's how you can get involved: 
Share your review on social media
Take a picture or film a short clip giving your review of an accessible loo or a Changing Places facility. Rate the toilet out of 5 stars and give a reason for your rating. Use #ReviewsInTheLoos and tag @EuansGuide in the post. You'll find us on Twitter, Facebook and Instagram. You might also want to tag the place that you are visiting to tell them whether you thought their toilets were great or if they could be improved.

Write a review on Euan's Guide
To help others know where all the brilliant (and not so brilliant) toilets are, write a venue review on Euan's Guide. This gives you a chance to add additional details about the loo and the overall venue accessibility.
Our website is full of disabled access reviews which make it easier for disabled people, their friends, family and carers find accessible information on places they'd like to visit. Reviews are also sent to venues and this can often be a positive and powerful opportunity for education and change.
Contact the venue to let them know your thoughts on their accessible or Changing Places toilet
You might also want to consider contacting the venue directly to give them your first hand experience. Explain what made the toilets stand out in a good or bad way. Everyone loves to hear good news and it could lead to them rectifying any issues you raise.
Share your story
Want to share your story but don't have any photos or videos? We'd still love to hear about your experience with good and bad loos, join the conversation online using #ReviewsInTheLoos.
Together we can make the world more accessible one review at a time!