The accessible way to taste whisky in Edinburgh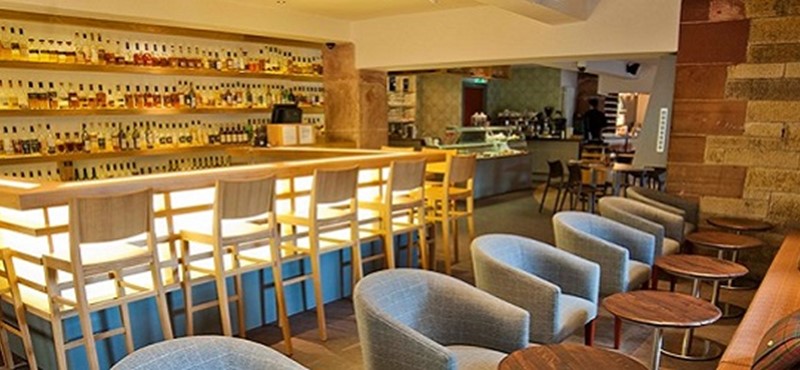 Tucked away at the top of Edinburgh's Royal Mile is The Scotch Whisky Experience, a place where you can hop in a barrel and become a part of the whisky making process! It's a magical Scottish attraction which has been rated highly by disabled access reviewers on Euan's Guide, and we wanted to find out a little more about this sensory experience in Scotland's capital. Here Gillian Beaton tells us about wheelchair access, sign language tours and multi-sensory activities at The Scotch Whisky Experience!
One visitor said The Scotch Whisky Experience had 'fantastic wheelchair accessibility throughout'. How have you achieved this in an old building at the top of Edinburgh's Royal Mile?
The Scotch Whisky Experience has been located here for 29 years. Over the years, we have continually invested into the attraction with new tour areas, refurbished shop, Amber Restaurant, bar and function rooms. Whenever we have renewed an area, accessibility is at the fore-front of our plans. Just this year, we refurbished two of the touring areas, both with accessibility in mind. We can now accommodate additional wheelchair users on the tour. Our tour also includes a sensorial experience of both smell and taste, as well as visual. All till points and bar areas have a lowered serving area.
Reviewers all mention the whisky barrel ride saying that it is wheelchair accessible, but there's much more to it than that. In what other ways has this unique introduction to The Scotch Whisky Experience been made accessible?
We do have an accessible barrel which takes a wheelchair and has an accompanying seat for the wheelchair users companion. The barrel ride is available in 18 different languages, with an additional two soon to be added – British Sign Language and American Sign Language. There is an induction loop on each barrel and in addition the narrative is available in large script with a torch and magnifying glass if needed. (The barrel experience is darkly lit). There are a number of aromas throughout the ride, representing the smells that are produced when whisky is made. Our staff are always on hand to help if assistance is required.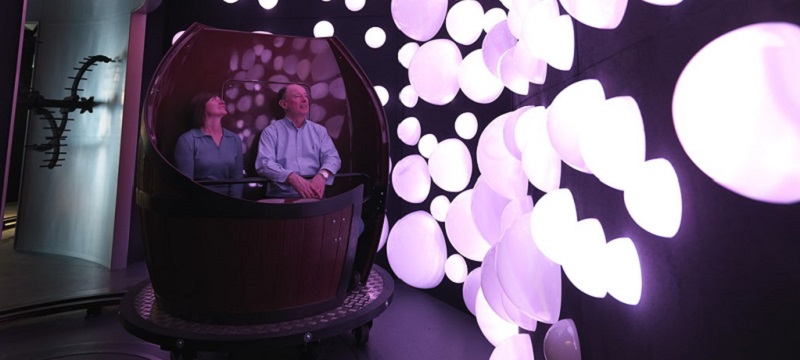 Photo: Whisky barrel ride.
How can visitors expect their senses to be engaged at The Scotch Whisky Experience?
Within The Sense of Scotland Room on our tour, visitors are given a postcard with a map of Scotland and the five whisky producing regions are highlighted by a 'scratch and sniff' card and colour coded mechanism. On this card, infographics and text as well as colour has been used. High contrast colours and thick lines enable those with a sight impairment to be able to distinguish between the regions. Research has gone into the colours and pantones so that those with a colour impairment will be able to differentiate between the regions.
Can you tell us a little more about the palate discovery experience?
All adult visitors can choose a whisky based on the aroma they liked best from the 'scratch and sniff' aroma card and presentation about the different regions. A tutored whisky tasting is carried out within The World's Largest Collection of Scotch Whisky and the five steps to appreciating Scotch whisky are followed from the colour, body and nose through to palate and finish. This is a highly sensorial experience for all to enjoy and our tour guide (or audio translation) talks through the different five steps, allowing the visitor to enjoy each in turn.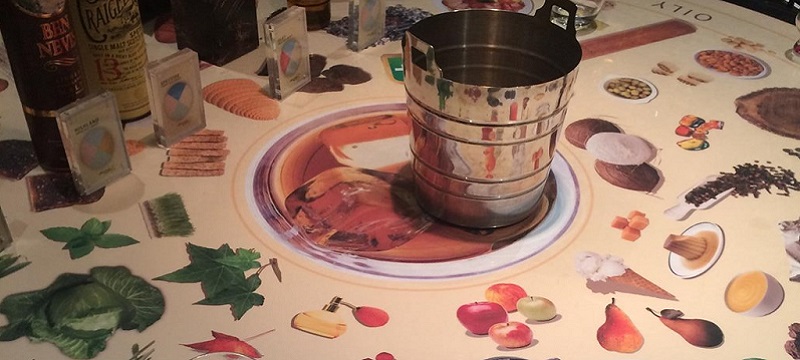 Photo: Palate discovery table.
We were excited to hear that you will soon be incorporating British Sign Language and American Sign Language into your tour! Can you tell us more?
Working with Tonwelt, who are a full-service audio-visual company based in Berlin, our tour is conducted in 18 languages currently, with the addition of BSL and ASL coming soon. We recognised from our visitor demographic that we needed these additional languages. Our audio-visual guide has a sleek design, similar to a smart phone. The BSL/ASL was filmed using professional signers and is shown (with sub-titles) on the screen of the hand-held device.
The American signers we used were Peter Cook, an internationally-known deaf storyteller and poet. Peter is also WSET certified scholar specialised in wine and spirits so was the perfect choice for us. Robert G. Lee has been an ASL/English Interpreter for 30 years. He currently lives in England and teaches, researches and publishes on various aspects of interpreting. We are extremely proud to be the first Scottish based (and perhaps UK based?) attraction to offer our tour in ASL.
Our British Signers are Scottish-born Joseph Sheridan who is Head of SignPost Scotland and is responsible for managing ITV's on-screen sign language services in Scotland. Our second signer, Alex Duguid is an expert and native user of British Sign Language and is a regular presenter of ITV's signed programming including Emmerdale and Coronation Street. He is also a BSL tutor and assessor.
80% of our visitors are from over-seas, so we also recognised that we needed to invest in some of the most popular languages being available by sub-titles so that our international deaf customers out-with the USA are able to enjoy our tour in their own language.
The variety of tours at The Scotch Whisky Experience is impressive! Do you currently offer any Relaxed tours for visitors who may enjoy a quieter environment?
We do not currently offer relaxed tours for visitors who may enjoy a quieter environment, but can recommend our Morning Masterclass tour which is for smaller groups than our standard tour. We can also offer private whisky tours which can be arranged in advance. Our standard silver and gold tours run throughout the day, but quieter tours tend to be in the morning.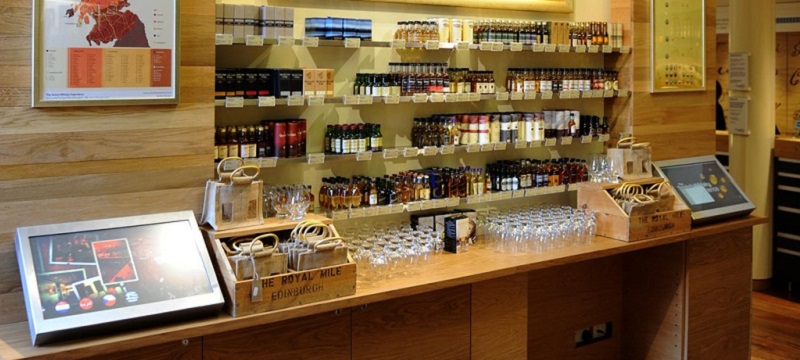 Photo: The Scotch Whisky Experience shop.
Looking forward, what do you think will be The Scotch Whisky Experience's next steps in disabled access?
We have recently purchased an EvacChair and staff are currently being trained in its use should we ever have the need to use it.
Staff training is important to us. We will continue to train our staff so that they feel confident when dealing with disabled visitors enabling us to continually provide a 5-star service to all our customers. From induction, all our staff undertake the online VisitScotland accessibility training and throughout the year we run accessible training sessions for our staff.
We are considering ways we can improve and welcome any comments on improvements we could make. Our outreach work with accessible advisor and reviews on Euan's Guide give us a superb insight into the individual needs of our visitors. The more reviews, comments and suggestions the better helping us to make all the adjustments and improvements that we can.
You might also enjoy:
Edinburgh's best pubs and bars with disabled access
Reviewer Story: Emma experiences an Edinburgh Bus Tour!
Have you been to The Scotch Whisky Experience? Write a review >>
Locations: Edinburgh