Tom Williams in Edinburgh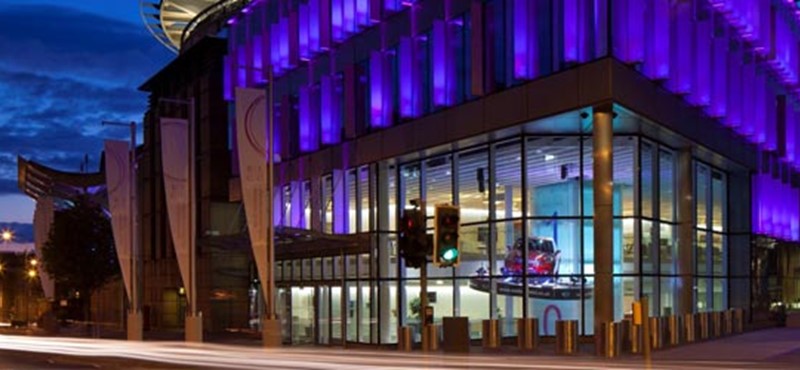 Hello, Thomas Williams here - your intrepid guide to all things on wheels. Euan's Guide have asked me to consider my journey to their home as their next blog. What do I mean? Edinburgh of course. I visited Edinburgh this August for my annual pilgrimage to the Guardian International Television Festival - a who's who celebrity spot for those who work in the television industry.
I don't know many hotels or hostels with hoists in Edinburgh. Can any readers let me know in the comments below if they know of any? Therefore I have to take two staff in order to manoeuvre myself into bed. So that gives me a wider selection. I use the conference accommodation booking service 'Marketing Edinburgh' to find one for me. In the last three years I have stayed at Apartment 23 at Smart at Iq on Grove Street - a 10 minute wheel to the EICC (Edinburgh International Conference Centre which incidentally gets 4.5 stars on Euan's Guide). Although lacking a hoist the rooms at Smart at Iq have a larger area for a kitchen than others I have used, a level access wheel-in shower and emergency pull cords for assistance. Unfortunately this particular hostel is only open in the summer but there is another Smart at Iq hostel in another part of the city near the Old Mile that can also accommodate my needs.
When I first started coming to Edinburgh four years ago I found it difficult to get taxis to get round this marvellous city. I have gradually found that, rather than booking taxis on an ad hoc basis, it is much better to ring up the taxi company a few days before hand and book a series of journeys in advance. The taxi company I used in August was City Cabs and previously I have used Handicabs but their buses, the only vehicle able to fit my chair and myself in, are only available between 9am and 5pm so can't cover all the late night parties!
After planning for a while it was now time to venture up to Edinburgh to the newly refurbished Edinburgh Waverley Station. Previously - before the adaptations - you would arrive on the taxi rank that was outside of the station concourse and have to then walk for miles to the rail assist reception. After the refurbishment there is now a dedicated drop off area with a lift directly up to the platform level. There is a help button at the bottom if you need help operating the lift. Well done Network Rail!
Edinburgh was very busy as the TV festival combined with the last few days of the official festival and the Fringe. On the first night I decided that I wouldn't follow my original plan and go to George Street for something to eat but instead walk round the corner to Nandos because I thought it would be easier. However I hadn't taken into account the plethora of high kerbs I would encounter in the city. I had forgotten the hammer and chisel mentioned in the Albert Hall blog! Maybe with all the distraction of the independence referendum, kerb evaluations had been put on hold for a while!
I had already prepared a timetable of chosen events for the TV festival beforehand. Unfortunately this involved walking to the EICC through the kerb-assault course every morning! I had arranged to meet some friends from the industry throughout the week. For those who have not read my previous blog I did a Media Studies with Television degree and developed a model of employment for those with disabilities predominantly wheelchair users.
I attended a variety of sessions using the very helpful EICC staff to accommodate my way around the building. It is very accessible venue - every suite has an area normally designed for a wheelchair usually at the front of the suite, accept in the Pentland where you get a whole row at the back and you get the best view. I understand that the EICC is also a fringe venue (no. 150) - so check it out even if you are not inclined to attend the tv festival!
I attended one session very pertinent to Euan's Guide - a session on onscreen disability portrayal where the 'When Harry Met Sally' famous restaurant scene is enacted by Rick Edwards and four disabled female actors play the Meg Ryan part in order to prove that disability doesn't make any difference. This was then analysed by a number of industry professionals including Arthur Williams, who used to be a marine but has come to fame as an eminent Natural History and War Documentary presenter courtesy of his break presenting the Channel 4 Paralympic coverage. Disability is no barrier! Also present was the actor Kurt Yaeger a below-the-knee amputee who receives roles as an able bodied actor even though he is disabled. The audience also included Storme Toolis who plays Holly Griffin in New Tricks who criticised the lack of disabled onscreen actors and particularly the rarity of showing disabled people having sex onscreen.
Although not directly related to this blog - time to do a bit of celeb spotting. I attended a session where Dynamo demonstrated 'the art of astonishment' (the title of the session) in which he showed tricks for audience members, turned lottery tickets into cash, made cards appear at random and even allowed the audience to take a selfie with himself - mine is below.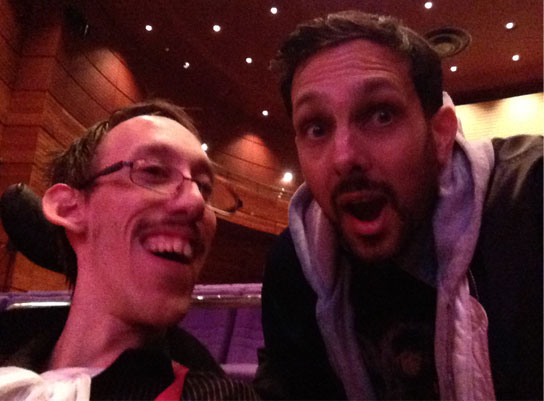 Feeling a bit bored with the festival - you can go to one too many 'meet the controller' and television programme preview sessions, I decided to go and soak up a bit of Edinburgh fringe and see one of my favourite comedians Lawrence Clerk, who has cerebral palsy like myself and Storme mentioned earlier, perform as part of the fringe. He is famous for taking out the piss..out of his spasms and other problems, for comedic effect. His show was entitled 'Moments of Instant Regret' and during it he extolled the virtues of using his 'inner chimp' that used to comment when he felt patronised. He is doing this show at Dadafest in Liverpool in December.
As usual Edinburgh threw up lots of interesting characters and I would strongly recommend a visit to this splendid city - despite the lack of drop kerbs. Next time I hope to be lifting the lid on why wheelchair users have such a hard time in Britain's favourite game - football.
Thomas Williams
Locations: Edinburgh