A glimpse of reality?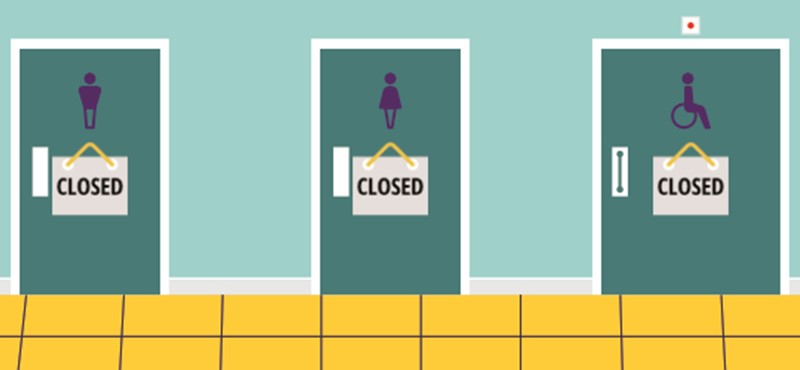 Zoe shares her thoughts on accessible toilets - and the lack of them.
One of the interesting changes to come from the impact of lockdown is how everyone has had to adapt to a new way of life, whether they are a disabled or non-disabled person.
As disabled people we often gain a variety of new skills through being disabled. We have to learn to adapt and problem solve to find ways to manage difficult access situations. Is there level access? Is there accessible parking nearby? Is there an accessible toilet? These are just some of the questions we have to ask on a daily basis just to go about our daily lives. 
Since the beginning of lockdown in March non-disabled people have had a brief glimpse of what it feels like not to have full access to public services and facilities which they so often take for granted. Shops were closed, public transport and personal travel was limited, public toilets were and still are closed.  Non-disabled people have had to adapt to a 'new normal'.
As lockdown measures have begun to ease more people are venturing further afield to spend time with family and friends. However, in many tourism hotspots around the UK the public toilets remain closed. This is of course, to prevent the spread of COVID-19. I must admit I do have to chuckle to myself at the number of non-disabled people who have expressed their anger and frustration on social media at being denied the basic right to go to the toilet. In reality this is a challenge that 13.9 million disabled people in the UK are faced with everyday.
What are the barriers?
There are many barriers faced by disabled people when using accessible public toilets. Are they truly accessible? Can you access them as a disabled person on your own or whether you have the assistance of a carer or Personal Assistant? Many toilets which are considered to be accessible are often very cramped and don't have enough space to turn around, they don't have enough handrails or adult changing facilities or a hoist. Often the facilities that are available in so called accessible toilets are in the wrong place and in the wrong position to be easily reachable.  These are just a few of the challenges faced by disabled people when they need to use an accessible public toilet.
In the recent Euan's Guide Covid Concerns and Precautions Survey it was shown how important it is to have proper access to accessible toilet facilities for disabled people. 72% of participants said that they were concerned about venue toilets and public toilets being shut.   This is an added worry on top of being able to find a truly accessible toilet.
How can we improve the situation?
Euan's Guide work to highlight the importance of truly accessible toilets and the safety of everyone who uses them. We are keen to work with venues and reviewers to promote the creation of more Changing Places toilets where possible. Here are our top tips on what to think about when you are assessing the accessibility of your venue's disabled toilet.
What is a Changing Places toilet?
A Changing Places toilet is a fully accessible toilet with some additional equipment included to make it accessible to everyone. The additional equipment includes a height adjustable adult changing bench, a ceiling mounted tracking hoist, a peninsular toilet which allows for easy movement of more than one Personal Assistant. Follow the link for more information on Changing Places toilets.
Calling for help in an emergency
A red emergency cord should hang in every accessible toilet from the ceiling to the floor within reach of the toilet without getting tied or tangled up. By pulling the cord the disabled person causes an alarm to sound to alert people in the building that they urgently need help. We encourage everyone to be aware of and to leave the red emergency cord hanging freely to the floor as it is a lifeline to a disabled person who needs help in an emergency.
Through our Red Lifeline Campaign we produce Red Cord Cards that can be attached to the emergency red cords in accessible toilets around the UK to ensure the safety of everyone using accessible toilets. The text on the card reads: 
'This red emergency cord must hang freely all the way to the floor. If it does not, it may prevent a disabled person from asking for help.'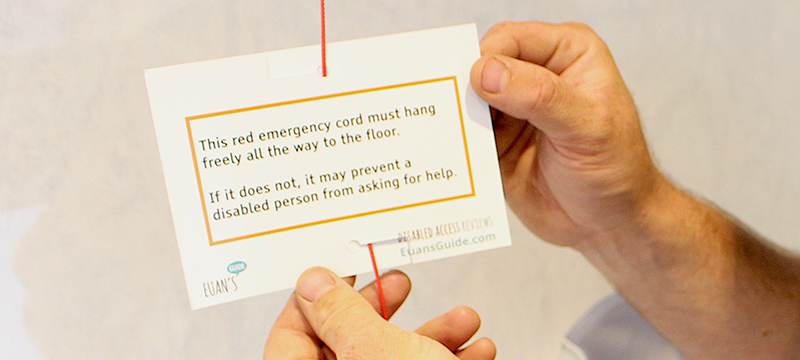 We have sent out over 60,000 Red Cord Cards to date. Click here for more information or to order your own Red Cord Cards.
Final thoughts
I hope one of the more positive changes to come out of lockdown and the coronavirus crisis will be that non-disabled people are now perhaps more aware of what it is like not being able to access the toilet. I hope also that venues who are trying to attract more customers will take into account the toilet facilities that they have available on their premises and where possible try their best to improve them to make them accessible for everyone.
Useful links
Changing Places
Information from PAMIS on Changing Places toilets, which have amongst other facilities an adult changing table and hoist to make them accessible to everyone.
The Changing Places Toilet Map
Thanks Zoe! This blog is part of our Voices of Covid series, where disabled people can share their Covid-19 stories and raise awareness of topics that are important to them. Zoe is a Reviewer Engagement & Outreach Coordinator at Euan's Guide. Please contact us if you would like to find out more about this blog series, the topics Zoe discussed in this blog or about reviewing on Euan's Guide.