Aberdeen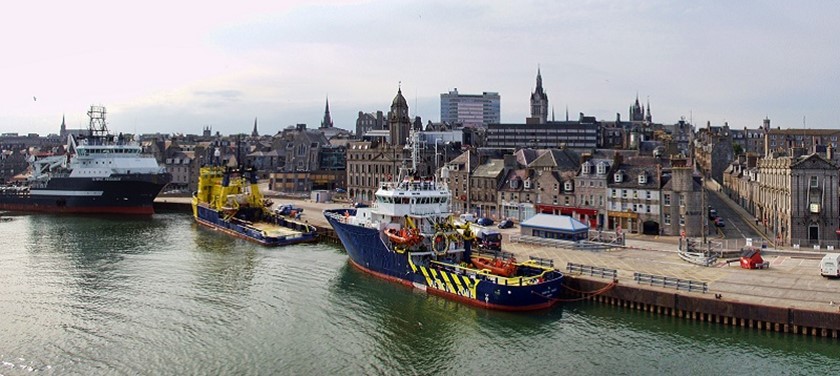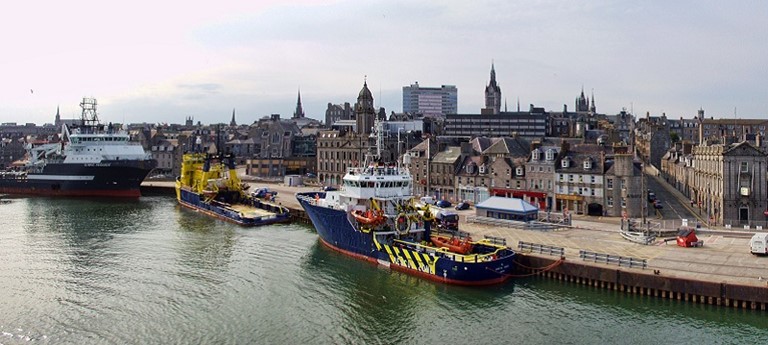 Perched on the stormy and drizzly, yet somewhat majestic northeast coast, Aberdeen is Scotland's third-largest city affectionately known as the 'Granite City'. The muted tones of granite grey sparkle in the sunlight, but when thick sheets of cloud descend upon the city, an illusion of buildings blending into sky occurs. Don't let the harsh weather deter you, as Aberdeen is well-accustomed to supplying a warm, fun-filled and entertaining respite to the northern chill.
Arrive by train
Aberdeen Railway Station is conveniently located close to the city centre and has numerous pick-up and drop-off points for buses, taxis and cars. One powerchair user visiting the city had a great experience saying:
"Arriving and departing from the station was surprisingly good as a powerchair user. Assistance was on hand for both journeys and lifts, and easy access was available to the platforms. The entrance and ticket office had automated doors and it was easy to see the arrivals and departures boards." 
Stay at an accessible hotel
Aberdeen is an important city in the petroleum industry, so it comes as no surprise that there are numerous hotels to meet the demands of delegates and professionals visiting on business. Reviewers on Euan's Guide who have visited the city have had good things to say about disabled access in some of Aberdeen's major hotels!
Hilton Garden Inn in the city centre has a 4.5 star review for "great access, a lovely room and very accommodating staff". If you're bringing your own car, you can book an accessible car parking space at the hotel when you make your reservation.
Near the harbour, the Aberdeen Douglas Hotel has a 4 star review, although one reviewer recommends letting staff know if you have access requirements in advance. The hotel has been described as "beautiful with helpful staff, wheelchair accessible rooms with wet floor showers".
If you prefer to stay in self-catering accommodation, one wheelchair user wrote about the Royal Athenaeum Suites in the heart of the city. They loved their stay, however they noted that while the suites were well-deigned for a wheelchair user and accompanist; access would not always have been easy for an unaccompanied wheelchair user.
"We were pleased to see that there was an emergency evacuation intercom for wheelchair users on the landing close to our room."
Visit this unusual museum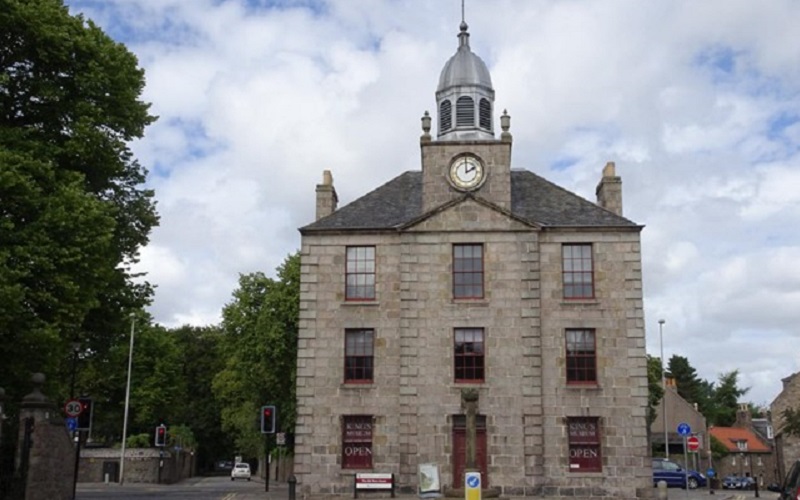 King's Museum is housed in the Old Aberdeen Town House and is curated by Aberdeen University students who install temporary exhibitions throughout the year. One wheelchair user visited during a 'Sunset Song' exhibition which illustrated rural life in north east Scotland either side of WW1. After their visit, they wrote:
"There is level access from the entrance hall to the two exhibition rooms and to the accessible loo. Admission is free and there is a box for donations." 
Eat at Moonfish Café
If you explore the any of Aberdeen's historic streets in the Merchant Quarter, you might stumble across Moonfish Café, a modern British restaurant with seasonal food and the added bonus of an art gallery! One wheelchair user loved the bistro and gave it 5 stars saying it was:
"Easily accessible – just a short stretch of cobbles to negotiate if approached from Union Street. We enjoyed a three course evening meal, and the dishes were all subtle and excellent, as was the wine our waitress recommended." 
Cruickshank Botanic Garden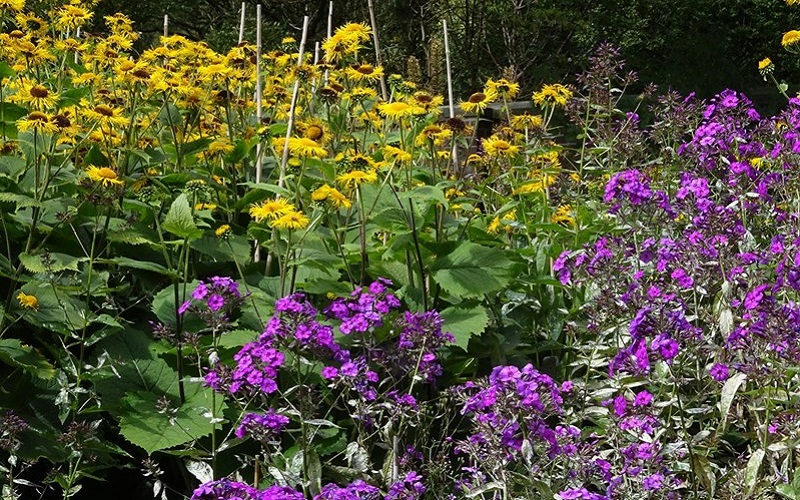 Located in the King's College campus of the University of Aberdeen, Cruickshank Botanic Garden is a colourful escape from the grey granite city buildings. While the sunken garden and the arboretum are not wheelchair accessible, there is lots to explore elsewhere in the garden. One wheelchair user loved visiting, and said:
"The entrance from the Chanonry is made a bit tricky by a short stretch of cobbles. Otherwise paths are smooth and slopes gentle." 
Shop for souvenirs
As one of Scotland's largest cities, there are many shops to browse in Aberdeen! Union Square Shopping Centre has a 5 star review as it is "easy to get around, with good facilities and great loos". There are also various restaurants inside the centre if you're in need of a refreshment.
Another shopping centre to try is Bon Accord & St Nicholas Shopping Centre in the heart of the city. This shopping destination received a 4 star review as "disabled access was good with open shop fronts, easy to wheel surfaces and large lifts to the different floors".
Aberdeen Maritime Museum
Aberdeen has had a long relationship with the sea, and the Aberdeen Maritime Museum tells it all! Admission is free, and while you're visiting you can enjoy impressive views across the city harbour. One reviewer loved it describing it as:
"A fascinating museum almost all of which is wheelchair accessible, with great views of Aberdeen harbour and a pleasant café." 
Old Aberdeen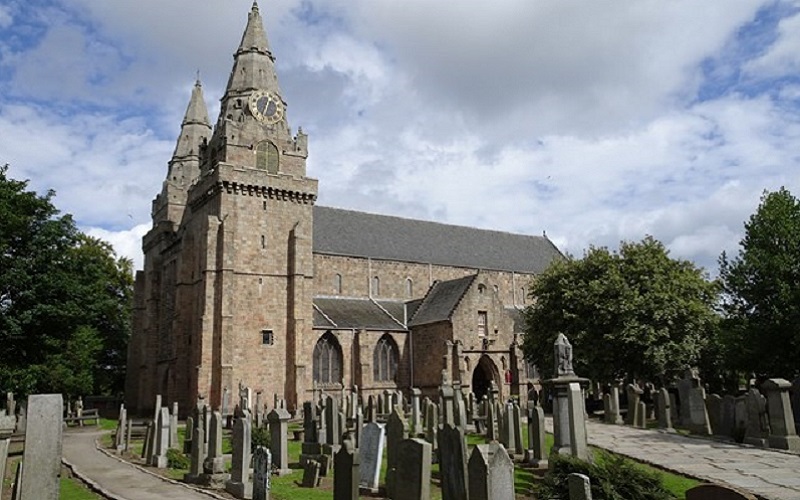 Aberdeen's Medieval streets and historic areas are worth exploring if you enjoy stories from the past! St Machar's Cathedral in the north of the city dates back to the 12th century and remains a place of worship today. One reviewer loved admiring the cathedral and said:
"With the exception of the gallery and the area at the east end where the communion table is located, this beautiful and peaceful building is fully wheelchair accessible."
"There's plenty to see – stained glass windows, beautiful modern banners, a 20th century granite font with a carving of St Machar and a wooden ceiling decorated with the coats of arms of bishops, kings and Scots nobles." 
His Majesty's Theatre
Catch a show and spend an evening out at His Majesty's Theatre – the perfect rainy day activity! One theatre-fan loves this venue and goes regularly. She told us:
"The staff go above and beyond to help you. One time I was at the theatre and there were two ladies with their Guide Dogs there. At the interval, the staff came with the ladies' drinks, bowls of water for the dogs and then took the dogs out quickly for the toilet. I thought this was so great." 
Explore Stonehaven
A short drive or coastal train journey south will take you to the pretty harbour town of Stonehaven. A good time to visit is at New Year's Eve, or Hogmanay, when the town's famous fireballs ceremony takes place. You can wander along the harbour and try to spot seabirds in the distance before heading indoors to warm up with something to eat. The Ship Inn overlooking the harbour has a 4 star review for level access and is a good place to try seafood.
Have you been to Aberdeen?
We want to hear about your favourite accessible venues! Write a review >>
Last updated – August 2017