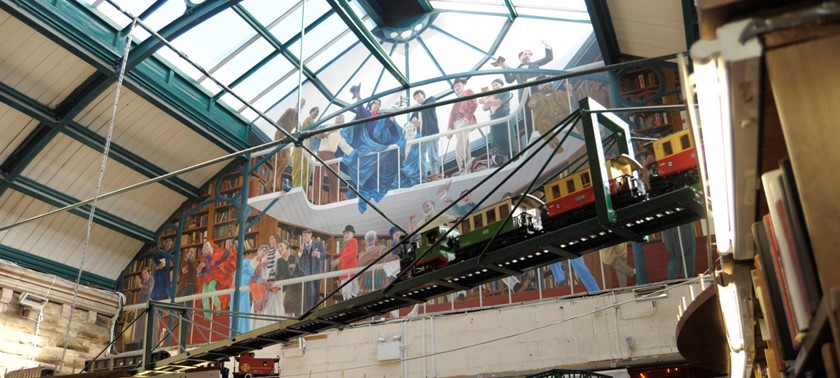 My Favourite Place!
5 likes
Visit date:
Overview
Calling any fellow bookworms.... you HAVE to visit Barters Books! It is one of the largest second-hand bookshops in Britain, and created in what was once a Victorian Railway Station. This does nothing to convey the atmosphere of the place though, and it is the relaxed cosiness which is its greatest appeal. Squishy armchairs gathered round open fireplaces, helpful staff, tea and coffee for customers with just an 'honesty box' for paying, pet dogs are welcome; you are actively encouraged to make yourself at home and while away several hours here! PS. Don't forget to visit the café!
Transport & Parking
Barters is at one end of Alnwick, which does have a train station and bus service. It can be reached on foot, and has quite a steep sloped footpath up to it. This does have a handrail. If coming by car, it has its own car-park on the same level as the entrance. It is not a large car-park and can be quite tight when it is busy. There are two disabled parking bays directly outside the front door. Alternatively, there is some parking on the streets around it.
Access
It is a flat entrance from the car-park, and remains on one level throughout. The floors are smooth and mostly concrete. Generally the main passageways are quite wide, there are a few areas round some of the bookshelves which become narrower, but could be negotiated in a wheelchair, even if it meant reversing! The book cases are big, which means -whether sitting or standing - you may not be able to reach every shelf! There are always staff around who are willing to help you if required... and probably other customers would help you out too, its that kind of place. All dogs are welcome in the bookshop and the 'Waiting Room' which has tables and chairs for customers wishing to eat. In the other dining areas in the 'buffet station' only assistance dogs are allowed.
Toilets
Not much to say, was a standard disabled toilet. It does also get used as a baby changing area, and by other customers (as invited to by a sign on it), but then there aren't a great number of male/female toilets either. At busy times, it perhaps would be useful if they had a few more toilets, but space in the building is limited. The emergency cord is now sporting a new 'Euans' Guide' card!
Staff
Staff seem to want to work there, and to care about their customers (even the four-legged ones!) They are constantly busy putting more books out, but if you ask for help, they are more than happy to take the time to do so. However, you never feel 'hassled' by them, or that you're in the way, you are welcome to stay as long as you want. In the café area too, staff are friendly and while they will clear away plates etc you have finished with, you don't feel rushed to move.
Anything else you wish to tell us?
Have something to eat at the café/buffet car - big portions, good food - my fav is the macaroni cheese, or just pot of tea and a yummy cake! If you are a book lover...be prepared to be in Barters for a lot longer than you had planned! (you can never own too many books!!) Watch out for all the original and local features being restored in the building, and of course for the toy trains going round the tracks.
We've had 5 reviews for Barter Books