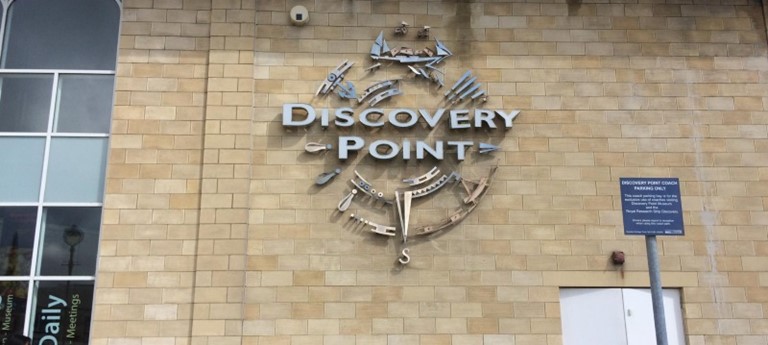 Good access, friendly staff, a great way to spend a few hours
Visit date:
This review is especially helpful for those who have or use the following: Hearing Aid, Walking Aid, Sign Language, Wheelchair, Powerchair, Mobility Scooter, Hidden Impairment
Overview
On arrival at Discovery Point, you're met with the magnificent view of the ship which is docked between the Discovery Point building and the V&A Dundee. It's a stunning view, and there were plenty of people around taking photographs without it feeling overly busy. The physical disabled access at Discovery Point is excellent. The staff were incredibly welcoming and helpful. Everything is on a flat level with automatic doors in and out of the building both at the front reception and where you access the ship outside. There's an open doorway into the café where there are vegan and gluten-free menu options and space for manoeuvring, the same goes for the gift shop though I imagine it could be a bit of a squeeze in the shop on busy days. There's a lift behind the reception desk which takes you to the events / meeting spaces upstairs. There is a hearing loop system for the meeting rooms, but currently not in the exhibition / gallery space, nor captions / audio description – though I was assured this is in the pipeline as they're awaiting the arrival of their new system.
Transport & Parking
There's a public car park right next to Discovery Point, and there's a multistorey car park across the main road, behind the train station which is more of a distance away. It would be nice for those who can manage a five or ten minute walk / ride, especially on a nice day like I had. Discovery Point is located next to the Premier Inn and V&A Dundee so it's a great spot for staying or visiting other attractions. There isn't any dedicated Discovery Point parking. There is a loading bay right out front where taxis can drop off/pick up, and a taxi rank right across the road outside the railway station, which is just a minute's walk / ride from Discovery Point.
Access
There are some spaces that are narrow widths that might make it a bit tight for wheelchairs / powerchairs / mobility aids but mostly there was enough space to move around the exhibition and galleries. There is a theatre room which doesn't appear to have any space for wheelchairs. If you use a wheelchair / powerchair you'd be in front of the first row of seats, which is quite close to the big screen. Any spaces to the side of the front row is blocked by the first step up to the rest of the rows of seats. Access to the ship isn't particularly wheelchair friendly. The 'walkway' on to the ship is narrow and has metal bumps all the way along, I assume in an effort to help non-disabled people or crew to use as steps. The gaps between these are about the size of a man's foot! Access would depend on the type of tyres and dimensions of the wheelchair / powerchair, and height of the footplates etc. This is the sort of thing you'd only be able to figure out once you were there, I think. If you can access the ship, there are some narrow passing widths at some points on deck – the side of the ship curves upwards which reduces flat ground beside elements of the ship, reducing the width further. I think you'd need quite a narrow wheelchair / powerchair to get on board and be able to move around on deck. Access below deck isn't possible unless you can manage fairly steep steps, but you can see inside the rooms on the upper deck – there is a step over into the rooms so a wheelchair user might not be able to get inside the rooms / cabins. These issues aside, most people would be able to enjoy some of what Discovery Point has to offer.
Toilets
There's one accessible toilet which was spotless. There's an outer door which didn't seem to be automatic, but I'm sure the staff would assist if need – they really were lovely. The toilet was incredibly clean, the red emergency cord was hanging freely to the ground. The toilet is placed in a corner though, which could make transferring difficult for some. The accessible and men's / women's toilets were never far from reach – there's plenty to look at in the exhibition / gallery space but it's not a very long loop around back to the shop and reception desk, so you could go right around, go to the loo, and catch up again by going back around. One thing I thought was really considered – on the back of the toilet doors there is a list of the Changing Places toilets and their locations in Dundee.
Staff
The two members of staff at the front reception desk were helpful and friendly and had no issues with me asking about their disabled access. They were happy to help and show me around. I got the feeling if you asked them for assistance they'd do everything they could to make it work / help.
Anything else you wish to tell us?
There was a sanitiser station on entering, beside the toilets. I didn't notice any others. No mask wearing, but the venue and toilets and cafe were very clean.
We've had 5 reviews for Discovery Point