Dundee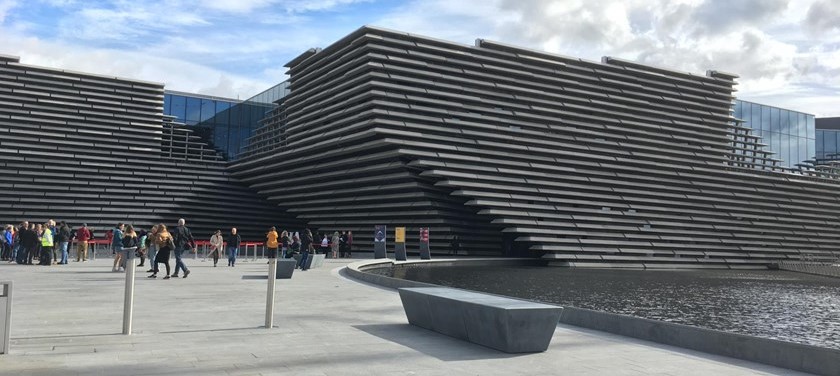 Named Lonely Planet's 'Best in Europe 2018', Dundee is being dubbed Scotland's 'coolest city' for its creative residents, stunning waterfront and status as a UNESCO City of Design. It's also a city full of accessible highlights! Don't forget to look out for the comical bronzed figure of Desperate Dan City Square, home to the much-loved publishing firm, DC Thomson. For inspiration and the city's accessible highlights, don't forget to download our guide to Dundee & Angus! 
Getting there
Dundee can be reached by train, and the city's railway station has impressed reviewers. One passenger gave the station 4.5 stars saying they 'wheeled into the station, through the barriers, straight into the lift (a massive lift that can take 66 people or several wheelchairs!). Wheeled straight out of the lift onto the platform.'
Getting to know Dundee
Hotels with good disabled access
For a room with a view, Dundee's Apex City Quay Hotel looks over the River Tay and is within easy reach of the city centre. The hotel has 'lift access to all levels' and step-free access into the main entrance. Also looking over the Tay is Malmaison, a fashionable hotel with positive reviews on Euan's Guide. One reviewer said, 'we had an accessible room, where the bathroom facilities were excellent.'
One of the city's newest hotel, Sleeperz, is located directly above the train station and is part of the city's major waterfront redevelopment project. This hotel is ideal for transport links and there are 'six accessible rooms throughout the hotel' and 'lift access to all floors.'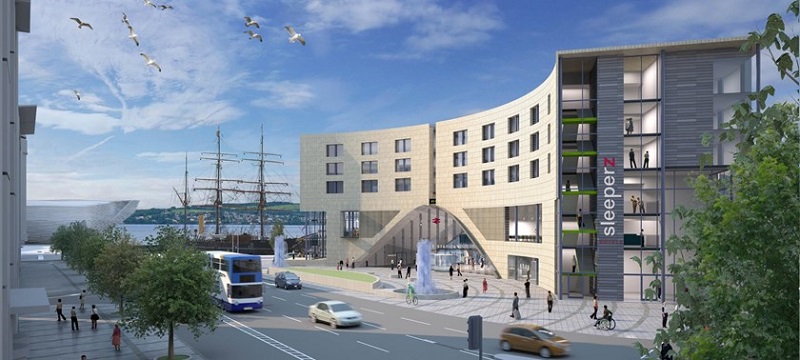 Also on the Dundee waterfront, the Premier Inn is close to the train station and city centre. One guest reviewed the hotel saying 'There was an accessible toilet in our room witch was perfect with a walk in shower.'
Holiday Inn Express on Dock Street is an affordable, modern hotel close to the train station. One wheelchair user who stayed here told us 'Having stayed in this hotel before, we knew what to expect and were not disappointed. The wetroom was well laid out with a raised toilet with supporting handrails. It was nice to have a separated hand basin beside the toilet to avoid having to go over to the main basin.'
Explore Dundee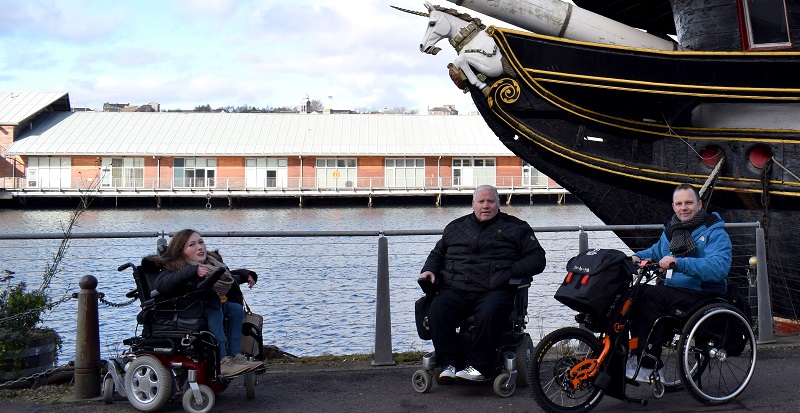 Photo: Euan's Guide Ambassadors at HM Frigate Unicorn.
Opposite the train station is the new V&A Dundee Museum which features permanent and visiting exhibitions - perfect for anyone interested in design! One reviewer notes that there is 'Lots of room to admire the building from the outside' and says the 'restaurant on level 2 was very pleasant.'
Head to Dundee's historic Victoria Dock where you can view HM Frigate Unicorn, the oldest British-built ship afloat. Visually impaired visitors are invited to touch a number of the ship's artefacts, and all guests can enjoy an audio-visual presentation and virtual tour of the attraction. With limited access to the Gun Deck, wheelchair users are admitted free of charge to HM Frigate Unicorn.
At the University of Dundee you will find the Dundee Botanic Gardens and Coffee Shop. This has been described, by one reviewer, as 'very accessible gardens and glasshouses. Good quality café with helpful staff.' The café is open 7 days a week and offers light meals and refreshments in a pleasant environment.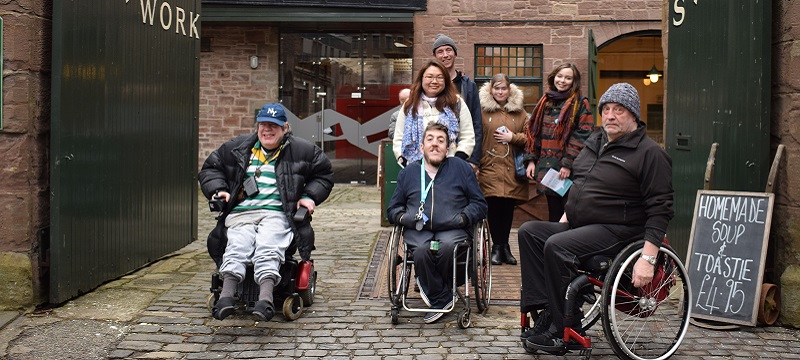 Photo: Euan's Guide Ambassadors at Verdant Works.
To learn all about Dundee's jute industry history, head to the Verdant Works and speak to volunteers who once worked in the mill! One visitor wrote 'There were ramps in places, lifts and accessible toilets. Lots of interactive exhibits, a fantastic tour given upon arrival and then demonstrations of the equipment.'
Places to eat and drink in Dundee
Dundee is packed full of cafes, restaurants and bars! If you like Chinese food, you could give City Harbour Chinese Buffet Restaurant a go. One reviewer gave this venue 4 stars saying, 'the staff are very friendly, attentive and helpful. They will help you collect food from the buffet if necessary.' Alternatively, you could visit Manchurian Restaurant, a 5-star rated venue on Euan's Guide. One person told us 'the food is tremendous!'
By the waterfront, Discovery Quay is a restaurant that offers amazing views as well as great food. One reviewer told us it had, 'great access with a step-free front door.' 
For a livelier atmosphere to set you up for a night out, Forgan's is a popular restaurant in Broughty Ferry. One reviewer described it as 'wheelchair accessible' with level access and an automatic door, and there's an accessible toilet at ground level. Alternatively, try Collinsons Restaurant which can be found on Brown Street. It's described as a 'perfect place for a wheelchair user to have a great meal out with friends,' and has been rated 5 star on Euan's Guide.
Don't forget to stop by Fisher & Donaldson for a famous fudge donut! 
Entertainment
Dundee's Rep Theatre is a highly respected venue that is home to one of the UK's foremost theatre companies, Dundee Rep Ensemble. The theatre lists good wheelchair access including a push-button door at the main entrance and ramp up to the box office. If you're looking for a concert, Caird Hall is the city's main auditorium. One reviewer gave this venue 4.5 stars saying, 'there's parking underneath the hall and a good sized lift to get up to the main area'.
The Odeon Luxe has had very positive reviews since being upgraded in 2019. One reviewer tried out the new luxe seats and 'couldn't believe how comfy they were, like sitting on a cloud!' They say that since the upgrade there is more space to move around and the cinema has showings with audio descriptions, captions and Autism Friendly screenings on Sunday morning.
Dundee Science Centre has been described as 'Accessible and interactive' with fun for all the family! This centre is an entertaining as it educational, and they also take part in outreach work and festivals which have been designed with ease of disability access in mind.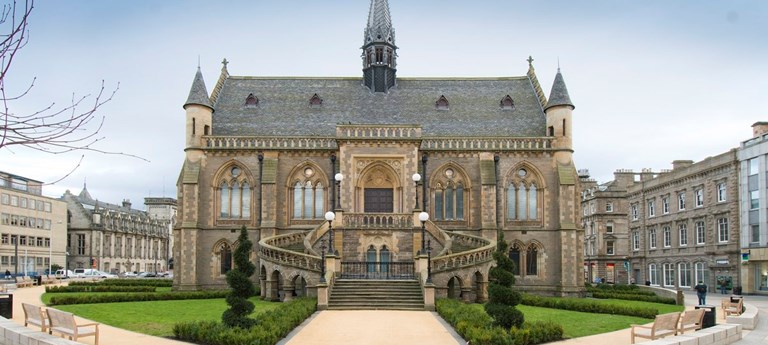 Art enthusiasts might like to visit The McManus, located in a spellbinding Gothic Revival-style building. Here you can gain a fascinating insight into Dundee and explore the venue's many galleries. One person gave the McManus a five star review saying there was, 'good signage, level access, automatic doors, and a lift to all levels.' Alternatively, check out Dundee Contemporary Arts for regularly changing exhibitions, cinema and more!
Borrow a wheelchair ramp
Dundee Access Group now has ramps that can be borrowed for the use of wheelchair users.  They are 4 feet (1.2m) long and are ideal for getting the user up a 4-inch (10cm) step. If you are in the Dundee area and would like to borrow one, call in to Shopmobility behind the Overgate Centre or phone 01382 228525.
Have you visited Dundee?
We'd love to hear from you about disabled access at venues in Dundee! Write a review today >>
Last Updated – October 2022