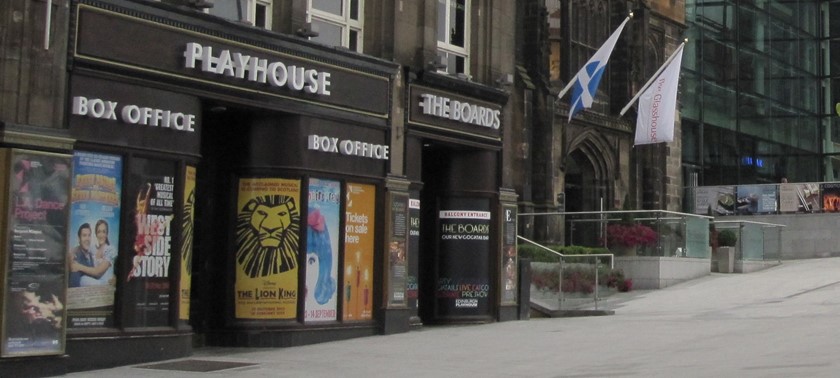 Edinburgh Playhouse
18-22 Greenside Place, Edinburgh, EH1 3AA, United Kingdom
|
0800 912 6971
|
Website
Staff training needed
1 like
Visit date:
This review is especially helpful for those who have or use the following: Walking Aid
Overview
I have mobility issues, use an elbow crutch for walking and can't stand for more than 2 or 3 minutes at a time without experiencing significant pain. There is ONE disabled toilet in the entire theatre and it's located IN THE BAR! As in, the toilet door opens directly into the bar were people are drinking. No corridor, no kind of separation whatsoever. Bar customers can hear exactly what is happening in that toilet and it's a horrible feeling to know that strangers are acutely aware of what you're doing in that toilet. Being disabled is embarrassing enough because people tend to point/stare/make comments so imagine the added embarrassment and humiliation you feel when you have to make your way through a group of people who have heard you use the toilet. As I said, there is only 1 disabled toilet for the entire theatre which meant there was a massive queue of disabled people waiting to use it in the interval. There were 2 ladies in front of me in the queue who had no obvious disabilities but, as the sign on the disabled toilet door says "not all disabilities are visible". These 2 ladies were accosted by a woman behind me who wanted to know if they were aware they were in the queue for a disabled toilet which is not for able bodied people. The ladies who were being verbally attacked answered calmly and eloquently that they were in fact disabled and therefore entitled to use the disabled facility. The other woman wouldn't let it go and basically demanded to know what their disabilities were. Her behaviour was shocking and upsetting but the 2 ladies in question handled it with grace, despite the fact that this debate was taking place in a crowded bar which suddenly went very quiet as people listened in. I can only imagine how awful these ladies felt when, on reaching the head of the queue, a member of Playhouse staff named John displayed exactly the same ignorance as their earlier attacker by telling them the disabled toilet is for disabled people only and asking if they were in fact disabled. Again the ladies were very dignified in their response, pointing out to John that, as the Playhouse sign says "not all disabilities are visible". These ladies were forced once again, in full view and hearing of a huge group of strangers, to explain their disabilities and justify their right to use the one and only disabled toilet provided. I have been to the Playhouse many, many times over the years but yesterday was the first time since my accident and therefore the first time I've had to make use of the disabled facilities - or should I say the lack thereof. I will not be back.
Transport & Parking
We travelled to Edinburgh by train and got a taxi from Waverly station to the theatre. The lift at Waverly was out of order so we had to walk up 2 flights of stairs to reach the taxi rank which is situated quite a distance away from the station. After the performance, we waited in a lengthy queue for a taxi.
Access
No lift. Stalls are down 5 or 6 flights of stairs so only circle is available for disabled people and the views of the stage aren't great.
Toilets
Staff
See above.
Anything else you wish to tell us?
I visited this venue many, many times before my accident and yesterday was my first visit as a disabled person. I won't be back and will be discouraging anyone I know with a disability to avoid the place at all costs.
We've had 11 reviews for Edinburgh Playhouse