Edinburgh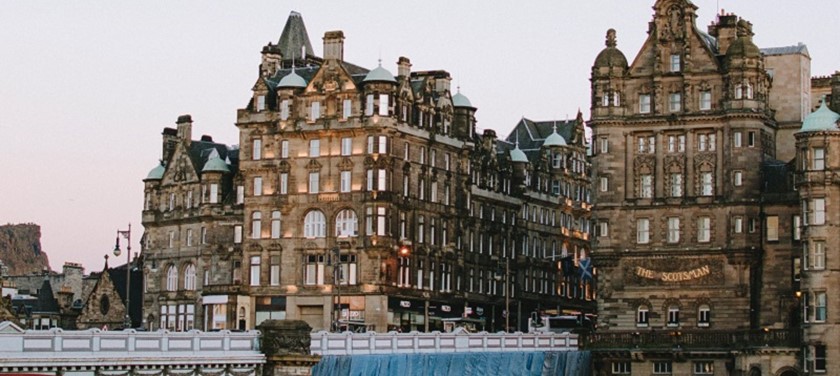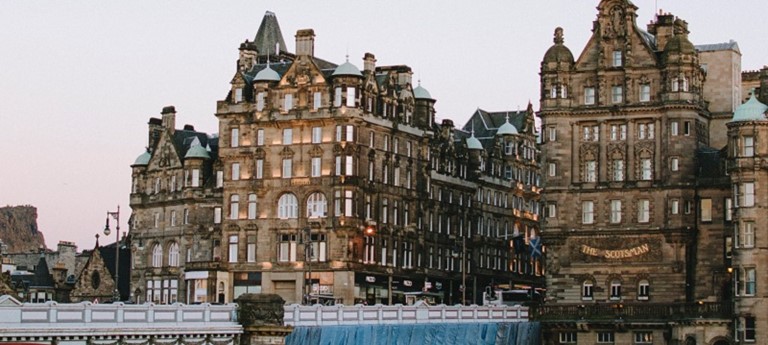 Scotland's capital and the Festival City, Edinburgh is the second most popular tourist destination in the UK after London. Situated in the Central Belt on the southern shore of the Firth of Forth, Edinburgh juxtaposes cityscape with countryside, seaside with riverside and old with new making it one of the most diverse and exciting cities to explore in Europe.
Getting around
Edinburgh is not a large city which can make finding your way around a bit easier. Buses are the most popular form of public transport in the city, and Lothian Buses have two 5-star reviews on Euan's Guide! "The buses lower to the ground with a ramp that comes out, allowing for easy access. The wheelchair area at the front of the bus is relatively easy to manoeuvre into depending on how busy the bus is."
Alternatively, the city trams can take you along the length of the major shopping area, Princes Street, out to Edinburgh Airport. One passenger reviewed Edinburgh Trams saying: "It's so great to be able to turn up and get on the tram to any of the stations. The wheelchair space area is marked on the platform so it couldn't be easier. It's a joy to travel on this system."
If you're travelling elsewhere in Scotland or down to England, Edinburgh has various railway stations including Edinburgh Waverley and Haymarket, and is also served by daily national coach travel into and out of the city at Edinburgh Bus Station. There is also an accessible bus service which links the airport and the city centre and it has a 5-star review.
If you have come from afar or just want to be a tourist in your own city, Edinburgh Bus Tours can show you around all the great sights in Edinburgh. One reviewer praised how their 48-hour ticket could have them revisiting any of the stops on their holiday.
Where to stay
There are numerous hotels with 5-star disabled access reviews across Edinburgh for a comfortable stay. Waldorf Astoria, known by locals simply as 'The Caley', is a former Victorian railway hotel which sits proudly on the west end of Princes Street in the shadow of Edinburgh Castle. A great choice for travellers on a city shopping break, one reviewer told us that "having seen many hotels across the globe, the Caledonian will remain a lasting memory". Another reviewer was equally impressed saying: "The accessible bedroom was a surprise in that the door opened to reveal so much space".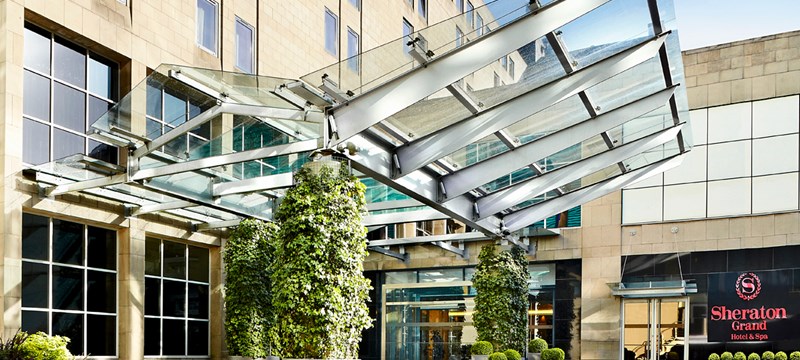 Photo of: The entrance of the Sheraton Grand Hotel and Spa.

If you're after a city spa break, the Sheraton Grand Hotel and Spa is well worth a visit. Located in the spacious Festival Square, this is also a prime location for concert-goers and travellers keen to experience the hustle and bustle of Edinburgh's nightlife. This hotel has been rated 5 stars with one reviewer saying: "The spa turned out to be amazing as there was an accessible changing facility, an accessible toilet, access to the gym, access to the swimming pool, and to the various treatment rooms". Another reviewer told us: "moving around the building there were wide colourful corridors which aided my navigation as a visually impaired person and provided visual clues".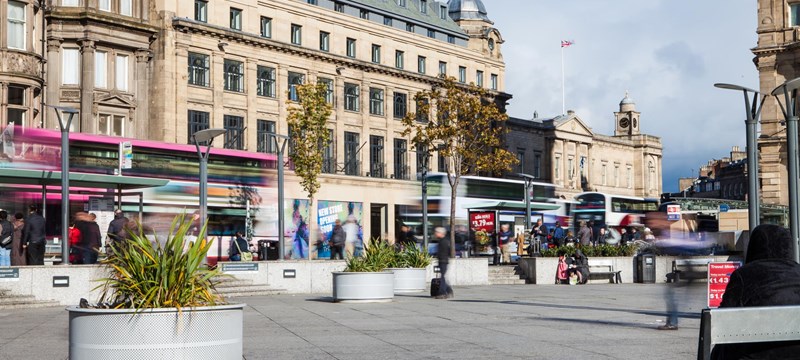 Photo of: A view of Princes Street from the Princes Mall entrance.
The DoubleTree by Hilton on Bread Street, just a mere five minutes away from Princes Street, has been rated 5 stars from several reviews for its disabled access. One reviewer said: "All in all, a great hotel with a very positive approach to welcoming disabled guests."

For traveller's after a budget hotel, Motel One on Princes Street has also been rated 5 stars for disabled access. It's also very centrally located making it the perfect base for exploring Edinburgh's attractions. One reviewer told us: "This particular hotel certainly has more accessible bedrooms than most others in the city, and they are all of a spacious and well-appointed standard". Another reviewer said: "I was surprised at the size of the hotel and how good the facilities are".
Sometimes it's more comfortable to have a home away from home, so a stay in an Edinburgh apartment might be more up your street. Staycity Serviced Apartments in the Fountainbridge area of Edinburgh have been rated 5 stars on Euan's Guide. One reviewer told us "it was great to find apartments designed to be wheelchair accessible", while another reviewer said, "if you don't want a hotel room and like your own space, then these apartments are a great option".
There are many more accessible Edinburgh hotels to explore on Euan's Guide!
Places to visit with great disabled access
Visit Edinburgh Castle where "the experience exceeds the expectation" according to one reviewer who gave it 5 stars. If you're visiting at lunchtime be prepared to hear the one o'clock gun! For other attractions fit for royalty, you could also try the Royal Yacht Britannia or The Queen's Gallery, both with 5-star reviews.
If you'd rather explore some of Edinburgh's more recent fittings, why not wander around the Scottish Parliament Building, the 'landmark for 21st century democracy' which has numerous accessible features including accessible formats and a Changing Places Toilet.
Art lovers should give one of the city's many art galleries a try. The Scottish National Gallery of Modern Art includes paintings by Matisse and Picasso and this impressive gallery has several highly rated reviews on Euan's Guide. Alternatively, you could visit the National Museum of Scotland which also features natural history and science and technology exhibits, among others.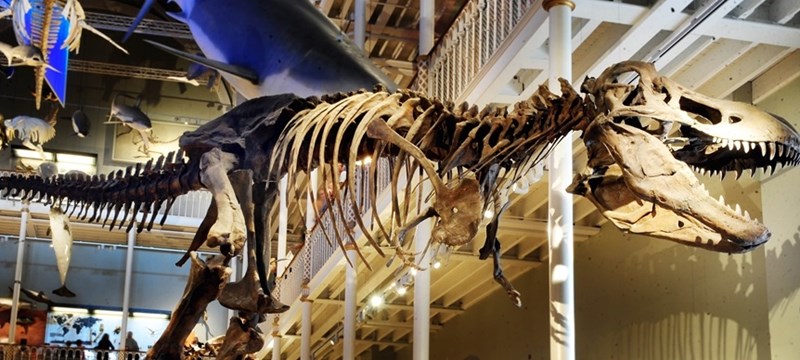 Photo of: T-rex exhibition at National Museum of Scotland.
The more outdoorsy among you may wish to explore Edinburgh's Royal Botanic Garden or Edinburgh Zoo, home to the UK's only giant pandas, Tian Tian and Yang Guang. Both of these attractions have 5-star reviews on Euan's Guide, although be aware that Edinburgh Zoo can be steep in places.
Edinburgh's food and drink scene
Edinburgh has more Michelin star restaurants than any other city in the UK outside London. It also boasts numerous independent cafes and coffee shops which are perfect for a break between exploring.
The Kitchin at the bottom of Leith has a 5 star review by one reviewer saying that "the food was fantastic and the service was amazing, a real experience!". More centrally, the family-run restaurant, Timberyard, also has a 5-star review and is good for people looking for gluten free options.
If you want to continue the Scottish theme, why not get involved with some whisky history and tasting? Johnnie Walker Princes Street is an immersive experience with welcoming staff, great access and as one reviewer mentions, "the most fabulous Changing Places Toilet" they have seen in a while. You will be captivated by the extensive tour and storytelling about all things Johnnie Walker.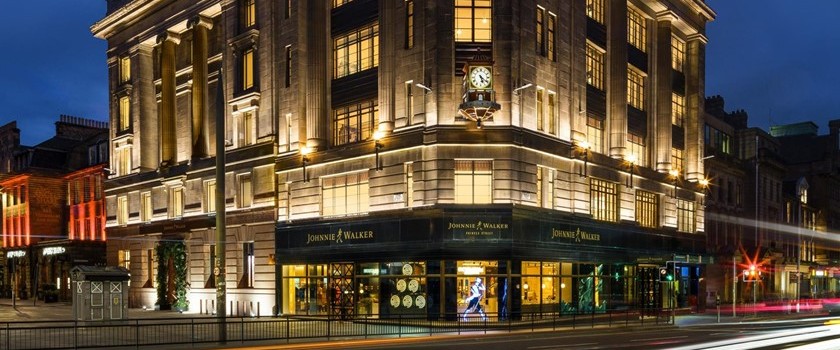 Photo of: The outside of Johnnie Walker Princes Street.
For daytime treats, Mimi's Bakehouse at The Shore in Leith has award-winning cakes as well as afternoon and before-noon teas. There is also a Mimi's Bakehouse attached to the City Art Centre just outside the back entrance of Edinburgh Waverley Station on Market Street. Both venues are rated well over 4 stars, with one reviewer enjoying "all the amazing creations" on the cake counter.
Read more about food in Edinburgh:
BYOC: The easy access restaurants winning over wheelchair users in Edinburgh
Nightlife
Edinburgh's Grassmarket and Cowgate areas are where you'll find most crowds on a night out, but if you're looking for dancing and stylish nightclubs then George Street is where to go! Leith is another part of the city where you'll find a mix of pubs and bars as well as plenty of restaurants along the waterfront.
Down at the Cowgate, you might want to pay a visit to OX184 with its chilled out and welcoming atmosphere. One reviewer called it "smoky and relaxed" but it's the accessible toilet that gets the thumbs up here.
Prefer a nightclub? Revolution Edinburgh might be the answer! It has a 4-star review on Euan's Guide and is a loved by locals and students for group outings. One reviewer wrote: "The bar is spacious and has a number of low seating tables and chairs (good when out with friends who are not wheelchair users, you don't end up staring up at bar stools!). There is a lift down to the nightclub."
Read more about nightlife in Edinburgh:
Edinburgh's best pubs and bars with disabled access
Read our Student Hangouts guide on Edinburgh:
Edinburgh's best places to go between studies
Accessible shopping
Shopping enthusiasts can spend hours exploring hidden treasures in Edinburgh's Old and New Towns. Multrees Walk is home to high-end fashion stores and the luxurious department store, Harvey Nichols which has 5 stars for five floors of shopping.
Head over to the iconic Princes Street where tech lovers can peruse the sleek Apple Store, and fashion savvy shoppers can head to The Dr. Martens Store for some "accessible shoe shopping".
The brand new St James Quarter boasts the largest retail and leisure district Edinburgh has ever seen, with many floors hosting shops that will have you finding exactly what you're looking for. The accessible shopping centre had one reviewer "very impressed with the wide open spaces and many lifts." You will even find a Changing Places Toilet here.
Bargain hunters should try Ali's Cave on Lothian Road, an accessible emporium, for bits and bobs to fill their baskets. Ali's Cave got a 4-star review for having "remarkably good access for a shop with so much on the shelves".
For a more organic shopping experience try the renowned Edinburgh Farmers' Market on a Saturday morning which sits beneath the impressive backdrop of Edinburgh Castle on Castle Terrace and has a 4-star review one Euan's Guide.
Photo of: The Edinburgh Farmers' Market in action.
Sport and leisure
Edinburgh has numerous sporting grounds and leisure centres for locals and visitors to enjoy. Murrayfield Stadium is the home of Scottish Rugby and has been praised for its great access, including its Changing Places toilet. 
For those who love a swim, the Royal Commonwealth Pool has a 4-star review and offers a variety of different facilities for visitors. One swimmer told us: "There is step free access to the building via the ramp on Holyrood Park Road. There are further disabled toilets in the changing village for swimmers."
Alternatively, horse-lovers can visit Musselburgh Racecourse which received a 4.5-star review. One visitor said: "Really styllish modern racecourse, good transport to the venue and all areas are signposted. The access to all toilets is easy, exit and entrance, and staff are not only friendly but knowledgeable."
The festivals
There's a good chance that no matter what time of year you visit Edinburgh, there will be a festival underway! Most of the excitement takes place in August, and we've got all the disabled access information for the city's major festivals right here on Euan's Guide. There's something for everyone when the Edinburgh Festivals are on, from one of the biggest cultural festivals in the world to hearing from the best-selling authors.
Check out our guide to the Edinburgh Festivals
Have you visited Edinburgh?
Help other visitors by reviewing places with great access! We'd love to read about your experiences. Check out our guide to reviewing, or submit a review here.
Last updated - October 2021