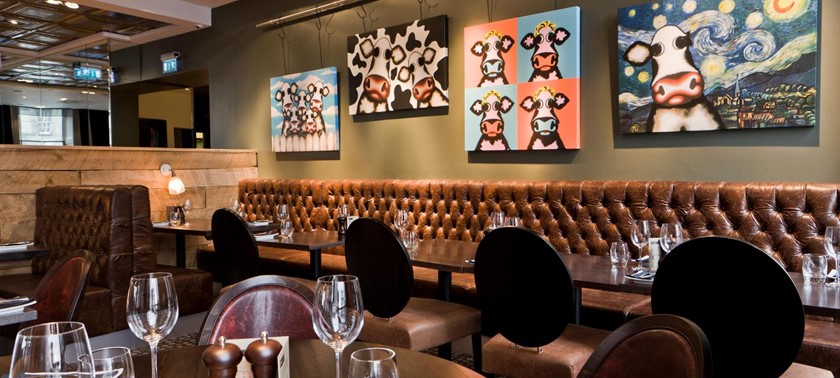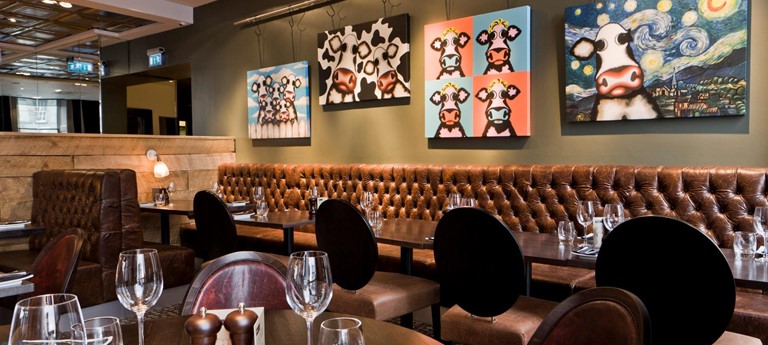 Kyloe Restaurant & Grill
1-3 Rutland Street, Edinburgh, EH1 2AE, United Kingdom
|
0131 229 3402
|
Website
Dinner with a view!
Visit date:
This review is especially helpful for those who have or use the following: Wheelchair, Powerchair
Overview
I visited Kyloe and had a lovely evening. Access wasn't all plain sailing and I probably would not have coped myself in a powerchair. I also reviewed the restaurant downstairs - the Huxley - as you have to go through this restaurant to get to Kyloe. Some descriptions of access are the same.
Transport & Parking
We came by bus. The restaurant is on the corner of Lothian Road and Princes St so there are many bus options and also a tram stop a few minutes walk away. I am unsure about parking.
Access
There are two large steps to get in. A ramp is sitting at the door but my dad had to go inside and let staff know we had arrived so they could deploy the ramp. They didn't put it down properly the first time so please take care when you come that everything is safe before attempting the ramp! Once inside it is level access but the areas are quite cramped. The path to the toilets goes up a small ramp or step. The ramp is winding and tight and I struggled to turn the corner without scraping the walls. Oopsy! You go up this ramp to go into the lift for Kyloe. Now the lift... yikes. It is a very small lift and I had to drive in at a weird angle and take off my foot rests, and even then I couldn't fit. My dad managed to lift my chair and shimmy a few inches so that I could fit. He then had to walk up stairs. When leaving the restaurant I reversed in and this made it slightly easier, however I still had to take off the footrests and pull my legs in.
Toilets
On the Kyloe floor there is a gender neutral bathroom but these do not have accessibility features. I used the toilet in the Huxley downstairs. This is taken from my review for there: " The toilet is a decent size. No Changing Places nearby that I can note. The toilet is not locked so no need to ask staff for a RADAR key. The red cord was not hanging to the floor however."
Staff
Very helpful and welcoming and did not make me feel awkward with the ramp/lift scenarios!
Anything else you wish to tell us?
You get temperature checked at the Huxley's bar. When seated the staff explains that all areas are cleaned before we arrived and there is hand sanitiser on the table.
We've had 1 review for Kyloe Restaurant & Grill