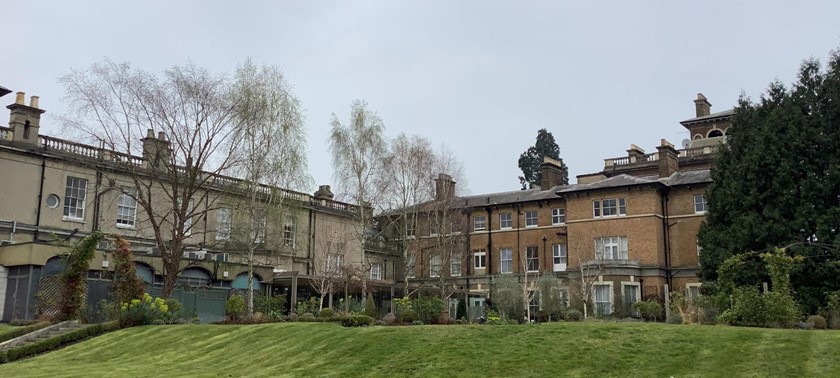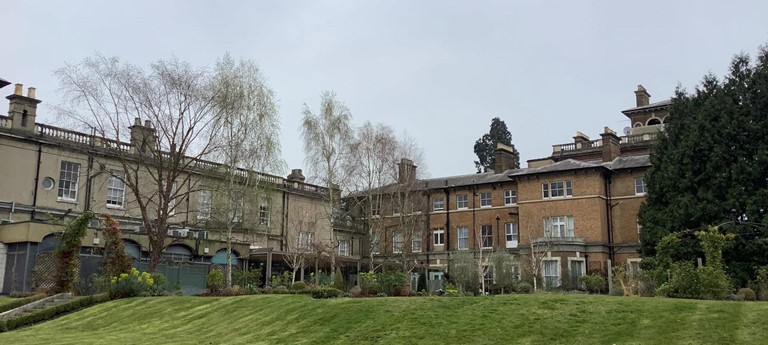 Oatlands Park Hotel
146 Oatlands Drive, Weybridge, KT13 9HB, United Kingdom
|
01932 847242
|
Website
Disabled Traveller at a top rated hotel, offers PART ONE of two parts.
Visit date:
This review is especially helpful for those who have or use the following: Walking Aid, Wheelchair, Powerchair, Mobility Scooter
Overview
Built as a hotel in the 19th century, it still retains an elegant timeless luxury, one of the finest 4 star hotels in Surrey, overlooking the Broadwater lake, and here you will find manicured gardens, while the hotel itself boasts 144 refurbished contemporary stylish bedrooms, some with beautiful views over the countryside. This historic house stands on the site of a Royal Palace that belonged to King Henry V111, and became a hotel in 1856, set in 10 acres of grounds which has been added to over the years in a variety of styles, with wooden panelling being a highlight along corridors and stairs. A large domed glass roofed lobby bathes the area with natural light, while large windows will impress you. (Parts of the historical notes below are our own research, and added too by kind permission of Oatlands Park, who allowed us to use parts of their historical notes they provide for guests to read) History indicates that the original house on the estate, Oatlands Palace, was built by sir Bartholomew Read, but following his death in 1505, his heir allowed Katharine of Aragon to use it as when when needed, but following her death, and then other successive Queens who lived here, it became known as a Royal house. By 1537, King Henry V111 bought Oatlands estate, and a large luxurious palace was built for his fourth wife, Anne of Cleves, and it became a much loved Tudor palace, and was the most modern and comfortable of all the royal country houses. The imposing red bricked building was built with gateways, octagonal towers and open courts, but Henry only visited occasionally. His wife Anne of Cleves proberbly never even lived here as only married for a short while. After King Henry's death, Edward V1, and then Queen Mary became residents of the palace. But it was King Henry's daughter, now Queen Elizabeth 1st who spent a lot of money and time to make the house more comfortable, as a hunting lodge. Following her death her successor King James 1st and his Queen, Anne of Denmark, also spent a lot of money in reconstructing the building, and formed "The Kings Silk Works" where silk worms were bred to provide silk for weaving. Now his son the next owner King Charles 1st appointed a John Tradescant the elder as "Keep of his Majesty's Gardens" and he brought many rare plants from around the world, and planted some of them in the gardens. In 1647 King Charles 1st is imprisoned here until his execution. When King Charles died, his son Henry, who was born at Oatlands, took over charge, and again developed the property, and the ancient Cedar tree alongside the main drive is believed to have been planted 1640/1650 in his memory, when he received the title pDuke of Newcastle. However, the civil war meant that the palace was demolished by Oliver Cromwell, then in 1649 the whole estate was sold to Robert Turbridge, and by 1660 nothing remained standing except a few garden walls, and much of the materials from it were used to build the locks and bridges of the Wey Navigation canal, the first canal to be built in England. But records did show that in 1652 a small hunting lodge still stood here. By 1689, Arthur Herbert, Earl of Torrington gains the property, but when the Earl dies in 1716 the estate is bequeathed to the 7th Earl of Lincoln, and he laid out the long lawned terrace that still remains today. His son, Henry, Duke of Newcastle rebuilds and enlarges the house, and the coat of arms at the main gate is in honour of the Duke. An interesting part of history is now mentioned from records of Oatlands, that in 1716 the property is leased to the son of King George 111, who was prince Frederick, who is believed to be "The grand Old Duke of York" in the nursery rhyme. Then following the English civil war, much restoration took place, but after a fire broke out in 1794 the present gothic style hotel was built. After the death of the Duke in 1827, the estate was then bought in 1827 by Edward Hughes, before he pulled down large parts of the building, making many alterations, but to cover his debts it was put up for auction and leased as three parts of the original property, to the poet Lord Francis Everton, who lived here until the 1850's, and during 1856 James Watts Peppercone, who had also bought parts of the house, used it as the South Western hotel, when the Tudor Wing is added. In 1916 the war department requisitioned Oatlands, and used it for a period as a casualty hospital for the New Zealand forces that were serving in France. Following World War One it was bought in 1924 by mr M.F.North and mr R.W.Black, and they developed it as North hotels, and a restaurant was added along with a ballroom. Barclays associate hotels then owned the property until mid 1986, and then Oatlands investment Ltd acquired the hotel in 1986 as it gained a grade 11 listing along with the grounds, which are included in the register of Gardens and Parks of special historical interest. So what is the hotel all about ? Well, the very historical and delightful hotel has 144 bedrooms, now refurbished which offer a choice of old or new styles, some very classy, elegant, with rich fabrics, individually designed with timeless character and charm. The Mulberry restaurant has that classic sense of elegance in a modern design, with pillers, a high ceiling and well appointed furnishings, and the room overlooks the Broadwater lake and parklands. The 1509 bar, so named after the year King Henry V111 was crowned, specialises in intriguing cocktails. La Terrazza is the entertainment spot to aim for with live music events. The hotel is well able to look after disabled, with a ramp at the entrance if needed, with two accessible bedrooms with a wet room, and handrails and pull cord. It has a lift, and is wheelchair friendly throughout, just an old bit here and there, and disabled public toilet is available for you. OUR REVIEW A very pleasant driveway led up to the hotel (photo 1) where we saw a lovely area with the beautiful blossom tree guiding us towards the car park (photo 2) and what we assumed would be the famous old Cedar tree of 1640/50 planted in honour of Henry, the Duke of Newcastle. (3) Three disabled bays lay outside the entrance to the hotel, (4) with its beautiful facade, where a pull handled double door awaited, with an inner push door took us into the delightful reception lounge (5) Immediately a feeling of luxury invites you in, (6) and this is a very pleasant large open space, plenty of seating, room for wheelchair to move around and be placed out of the way when needed with very plain deco but suited it well and gave it that very plush appearance, while the reception desk sits in this delightful setting (7) but it's a very plain reception desk, overlooked by three clocks telling the time in three different countries of the world, New York, London and Paris (8). A beautiful chandelier which looked so in place (9) over the attractive wrought iron work on the landing, and below a view of one of the many Olive trees they have in . A grand piano stood in an annexe close to reception, (10) where you can imagine light music being played in the evenings. Beyond, a pleasant practical Bar ready to serve a drink or two (11) with a comfortable pleasing area to sit and enjoy, while your drink, or perhaps a coffee will be brought over to you (12). The disabled public toilet stands near (photo 13) which was very clean, practical, appealing colour scheme, with hand rails, a toilet roll holder at chest high that's so easy to get a hold of (14) and you have room to spin the wheelchair. The beautifully wood panelled passages can be seen in many areas (15) while being led towards the restaurant, (16) which is opulent and inviting (17) and this morning they are preparing for a lunch (18) looking delicious. Near to the restaurant, we found a private dining room (19) which of course can be used for your private particular occasion, and hanging all around you are paintings with water as their theme, (20) highlighting the beautiful room. OUR FINAL THOUGHTS A delightful, luxuriant hotel, mainly wheelchair friendly, spotlessly clean throughout. We enjoyed our early afternoon visit very much, and we highly recommend you to also visit this elegant hotel.
Transport & Parking
Following our short drive through built up areas, we arrived at this beautiful historical hotel, with nicely laid our grounds that immediately impressed us, and found a couple of disabled bays right by the hotels entrance. The attractive entrance was all on the level, with a double pull handled door that led us into the hotels reception area.
Access
Most of the hotel is available for you, we found a few steps here and there that maybe prevented us from getting to some areas, but nothing to disturb us. A lift is available anyway, so if staying overnight, then there is no problem for you. Lots of seating around if you need to rest, and coffee is always waiting for you.
Toilets
Public disabled toilets are provided, very clean and well maintained, with just enough room for you to get your wheelchair into, mind your fingers, and you have enough room to spin the chair around.
Staff
All where very friendly and helpful, we were escorted around the hotel by a very pleasant lady, Hannah Elver, of the hotels management who tried her best to advice us about the hotel, and the gentleman on reception was more than kind, and he too escorted my husband around the grounds by willingly pushing his chair for him, what more could we ask. All the staff were also excellent, and saw to our every need.
Photos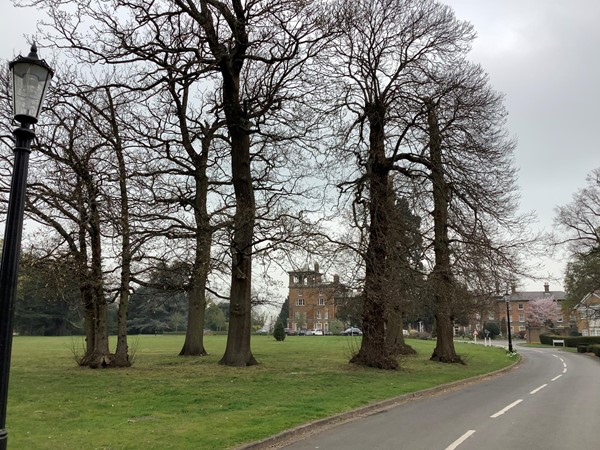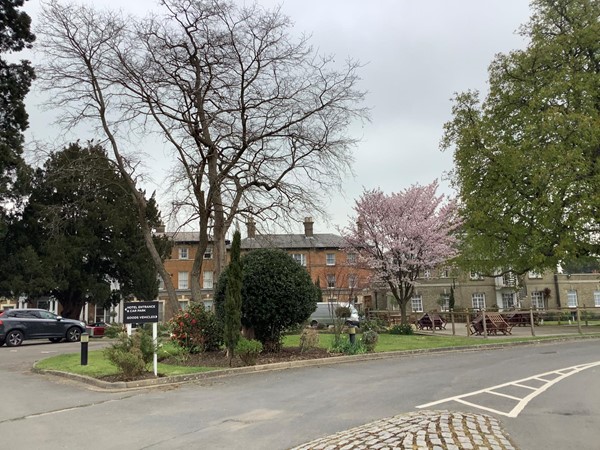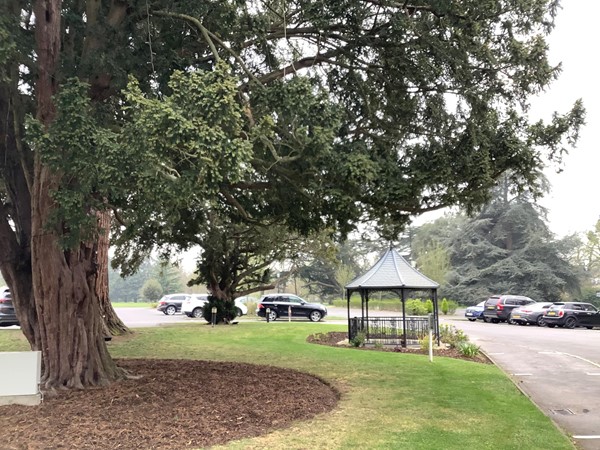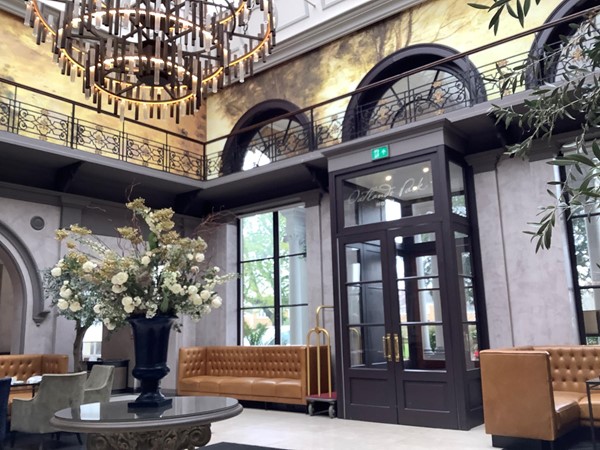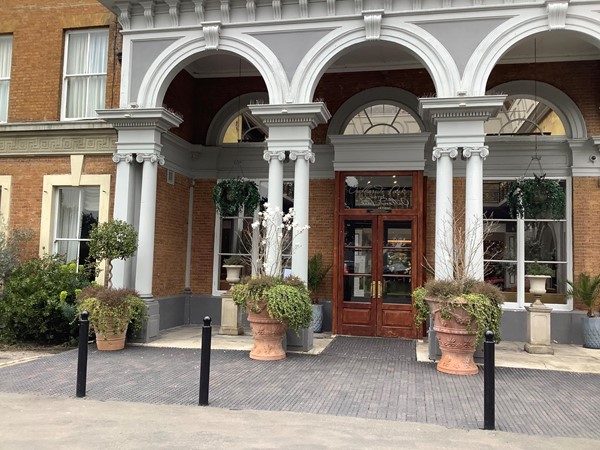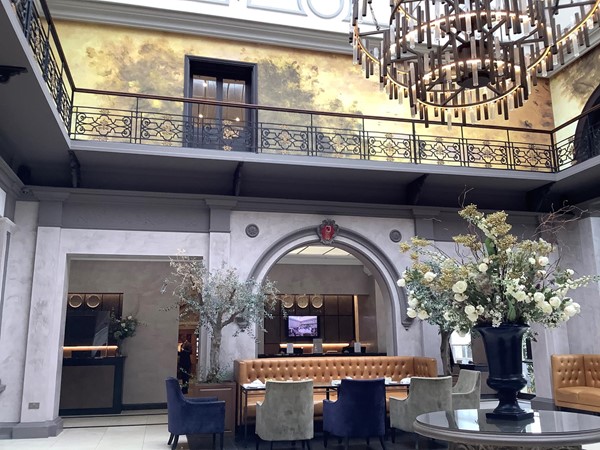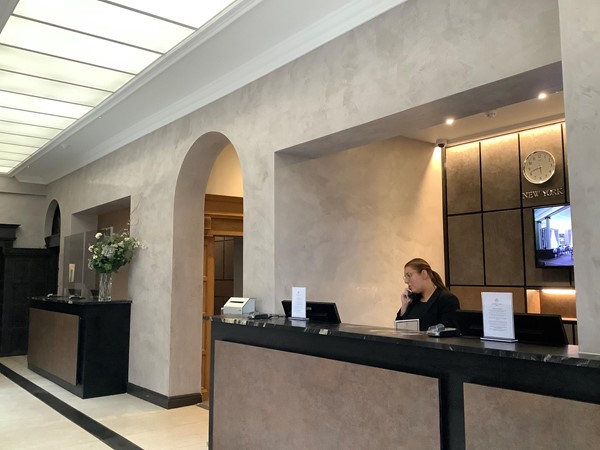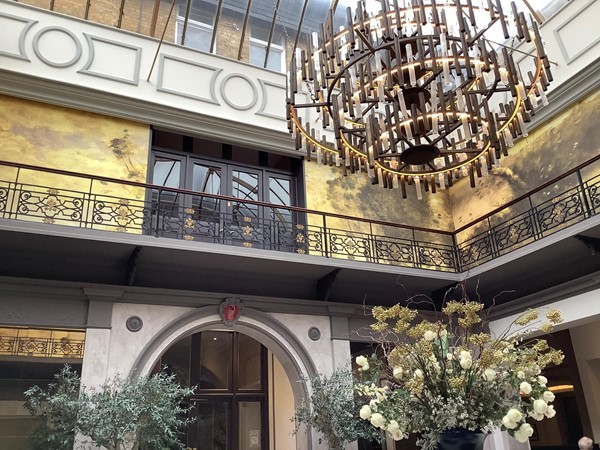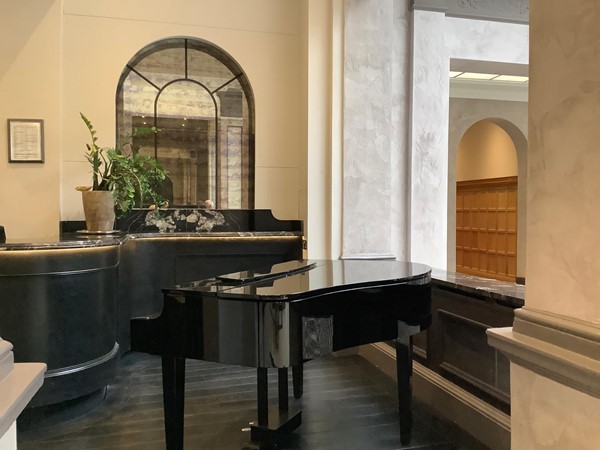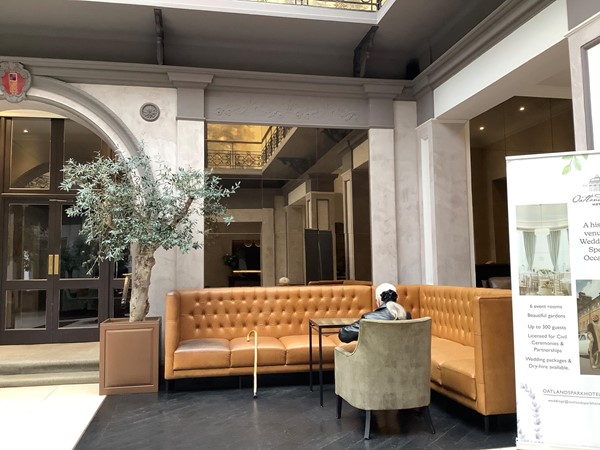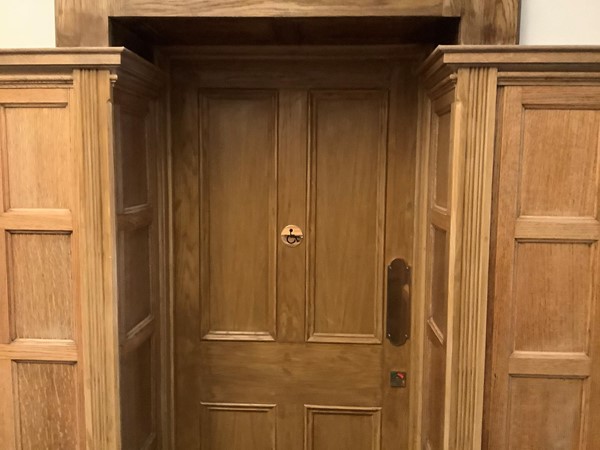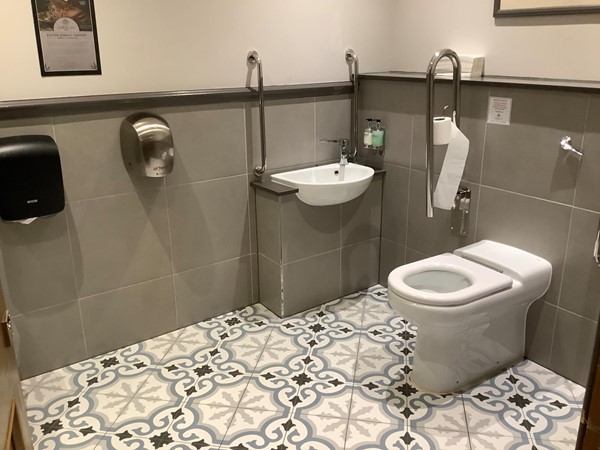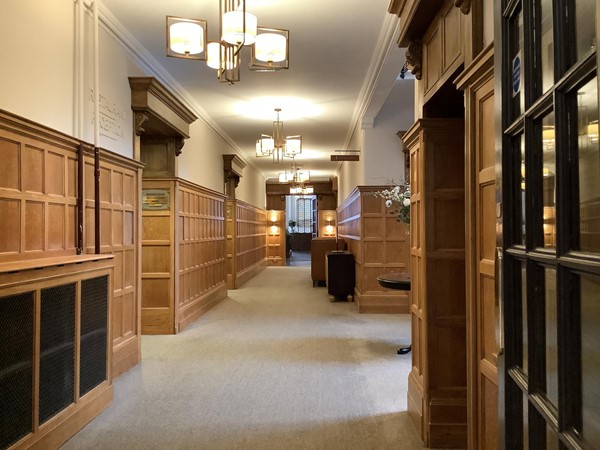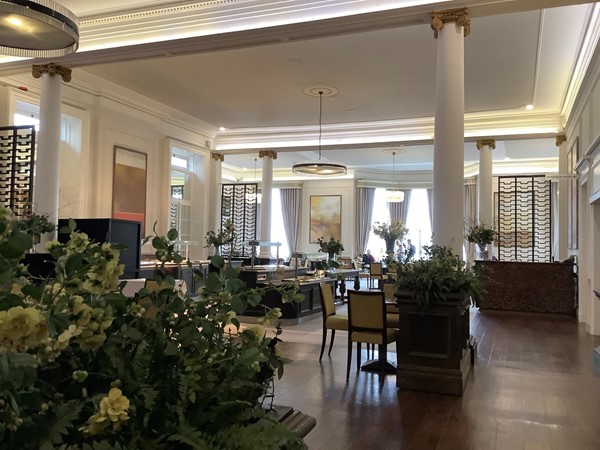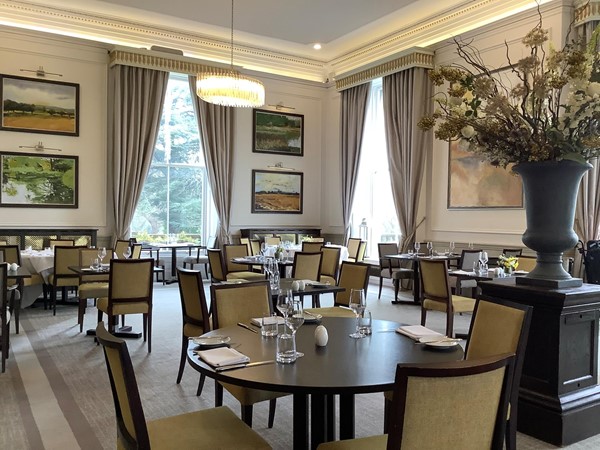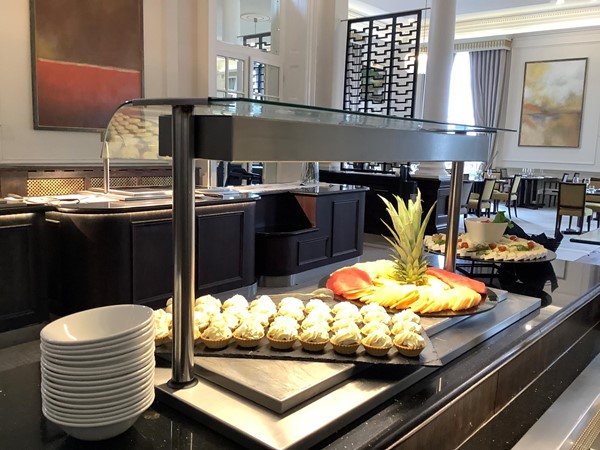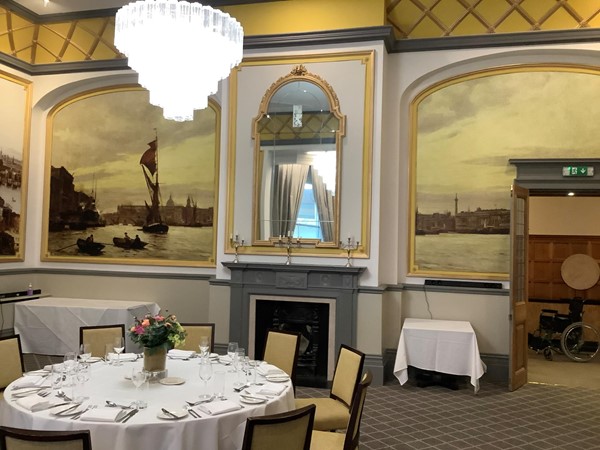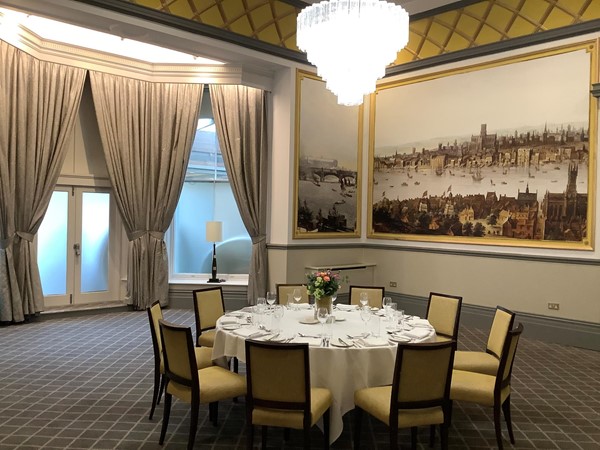 We've had 2 reviews for Oatlands Park Hotel