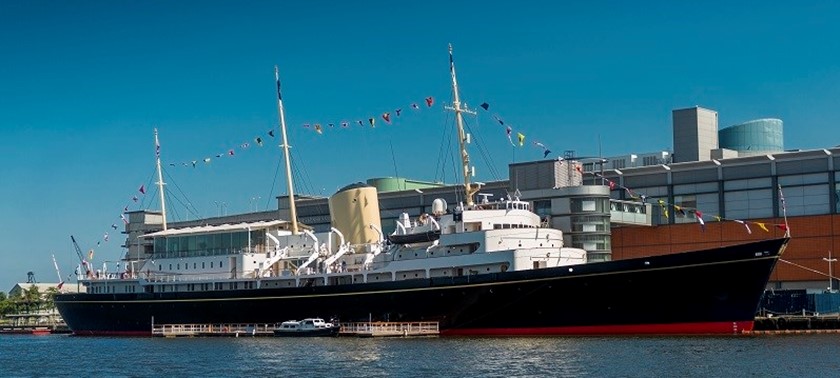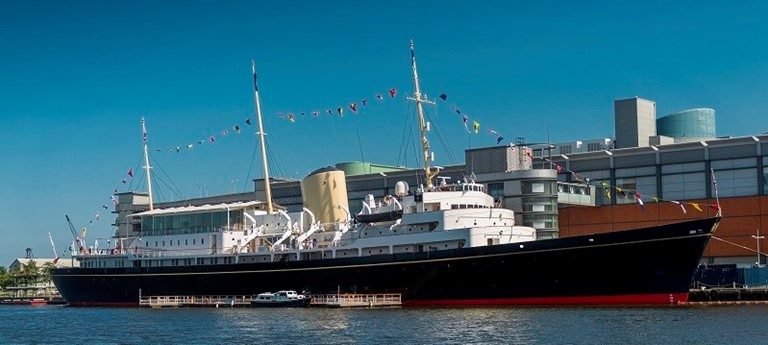 The Royal Yacht Britannia
Ocean Terminal, Edinburgh, EH6 6JJ, United Kingdom
|
0131 555 5566
|
Website
Accessible Museum on Water
2 likes
Visit date:
This review is especially helpful for those who have or use the following: Powerchair
Overview
This wheelchair accessible 1950s yacht served the Royal Family for over 44 years and is now docked in Edinburgh at Ocean Terminal a great 5-star visitor attraction whilst being available for special events.
Transport & Parking
I parked in multi-story car park attached to the Ocean Terminal Shopping Centre where the Royal Yacht Britannia is located. We parked on level E which was recommend because that is the level you enter the Royal Yacht Britannia box office on. There was plenty of accessible parking on this level of the multi-story car park however, it was very dark when driving around and difficult to see the parking spaces. I noticed later on that the lights are environmentally friendly lights that go on when you get near them which is good but, I feel it was quite dangerous, especially walking/driving out with the car with other cars driving around. Due to not being from this area I don't know anything about where or what public transport is available but, there is plenty of information available on the Royal Yacht Britannia website.
Access
The ticket office, onshore museum and gift shop at Royal Yacht Britannia is all level access for wheelchair users. Due to getting complementary tickets for my visit I didn't physically use the ticket desks so, I can't 10%5 comment on how suitable the height of them are for wheelchair users. Although looking through the window after my visit, I could see they were quite high. Writing and items in the onshore museum are displayed at a great height for wheelchair user, and the area is very spacious to move around in. The gift shop is also very spacious, the tills are a little high but manageable for wheelchair users to speak to staff. When visiting the Tea Room as a wheelchair user you have to go a different way than all other visitors and take a very small old lift. Directions weren't very confusing when we visited as an arrow was pointing in the opposite direction, lucky a staff member was nearby and took us to the Tea Room. The lift has two doors that you have to go through to enter it, the inner one which is electronic and the outer one which you have to open manually by pulling two doors apart. I have my carer with me to help open the door, but I can imagine someone on their own would struggle. The measurement for the lift is 670mm and no wheelchair wider than this can get in. I was extremely surprised at how accessible each level of the Royal Yacht Britannia and that I was able to get access to all areas, I was able to get through all doorways and corridors. A wheelchair can't be any wider than 670mm though. There were wooden planks at either side of some doorways due to the threshold being raised which were manageable to get over in my wheelchair however, due to my upper body strength I needed someone to support my chest going over them. One room had a separate entrance for wheelchair user due to the width of the standard entrance, this was very easily displayed. The only problem I would say is that in the … room I wasn't able to see what was inside due to there being information in the way. Whilst you walk around the Royal Yacht Britannia you carry around a telephone to listen to information regarding the history of the Royal Family traveling on the Royal Yacht Britannia. These are available with a neck strap or wrist strap to be able to carry them around easier.
Toilets
There was an accessible toilet on every level of the Royal Yacht Britannia which I was extremely surprised about, especially the size of them. Within the tea room that accessible toilet is very tight to move around in. I struggled to turn around and I can imagine it would be difficult for someone to transfer out of their wheelchair, especially if someone is assisting them. There is a fire evacuation chair in the Tea Room toilet that takes up some of the room, I don't know if this is able to be moved someplace else? All other accessible toilets were surprisingly very spacious on the Royal Yacht Britannia. The only thing I noticed was that one of the accessible toilets, I think it was on level 1 of the yacht, the floor was a little uneven. I felt weird driving on it, I don't know if it's because you're lower down and closer to the water as well but, I think it would be a little difficult to transfer from your wheelchair. This can't be helped though because it is an old yacht, I was just extremely surprised how many accessible toilets there were. I wasn't able to look at the accessible toilet in the ticket office/museum are before you go on to the yacht but, I can imagine it would be similar to the other ones. I put up Euan's Guide emergency red cord cards in as many of the accessible toilets that I could however unfortunately I ran out of them during my visit. There is no Changing Places toilet at the Royal Yacht Britannia or Ocean Terminal. The closest one is at Royston Wardieburn Community Centre which is a 13 minute drive and approximately a 53 minute walk away from the Royal Yacht Britannia.
Staff
All staff were very friendly during my visit the Royal Yacht Britannia and could not be more helpful with any enquiries we had. However, I did feel that some members of staff did speak to my helper instead of me. This annoys, especially because I responded to a question and they continued to ask my helper first. I feel the best thing to do is always speak to the visitor with a disability first and if they are unable to communicate then themselves or whoever they are with will tell you this.
Anything else you wish to tell us?
I would like to thank Royal Yacht Britannia for inviting me along for the day to visit this amazing wheelchair accessible yacht, I would highly recommend that you go for a visit.
Photos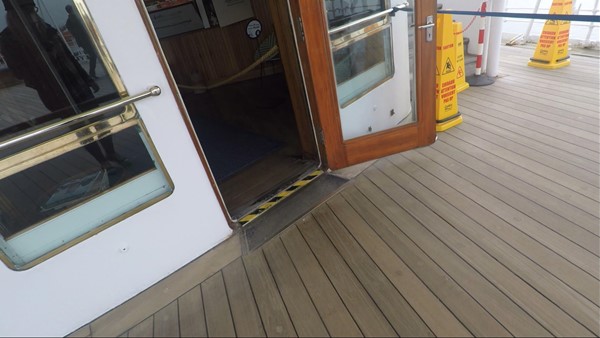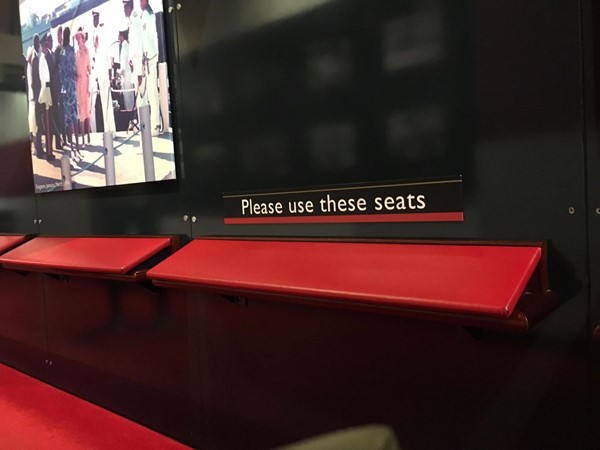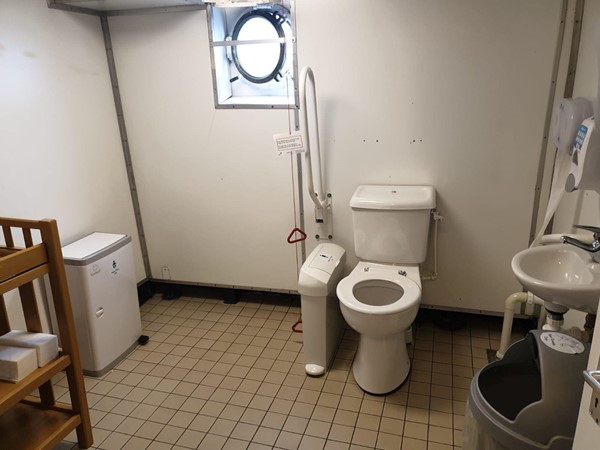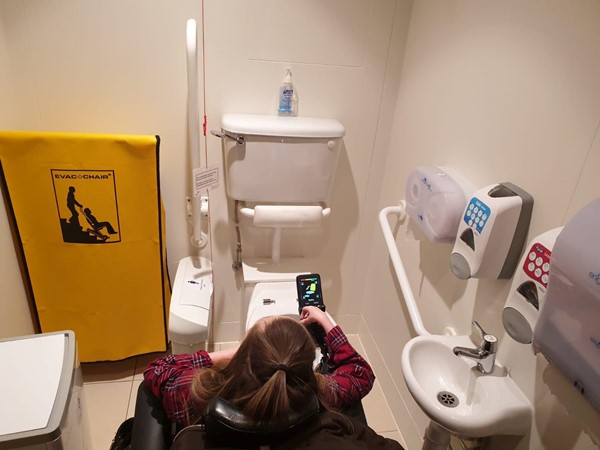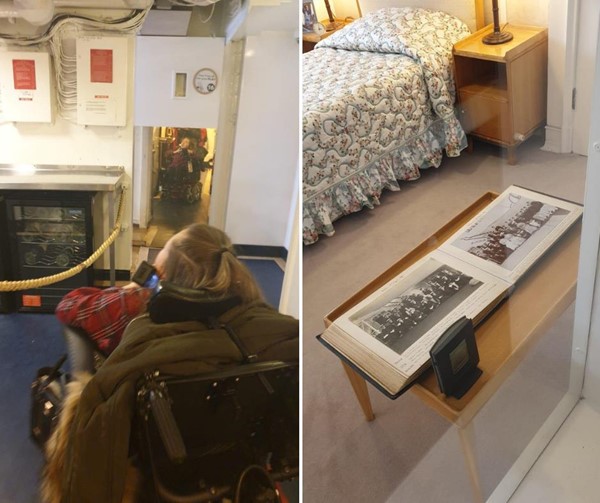 We've had 5 reviews for The Royal Yacht Britannia