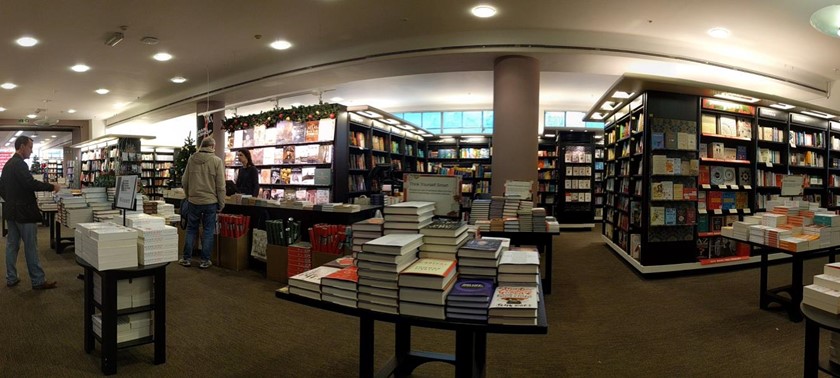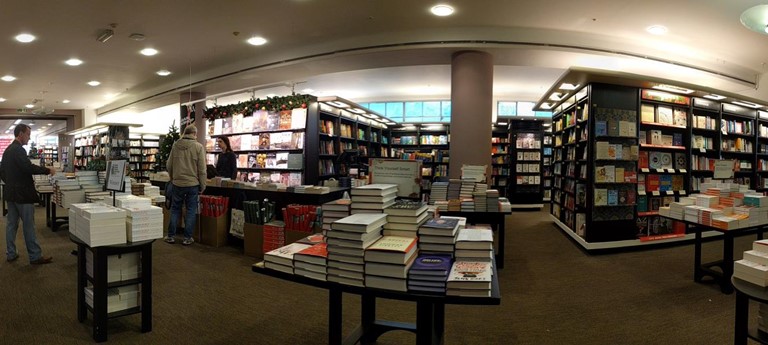 Broken lift at stepped main entrance, back entrance awkward
Visit date:
This review is especially helpful for those who have or use the following: Wheelchair, Powerchair
Overview
A poor rating because of difficulties getting into the shop
Transport & Parking
Many bus routes serve Piccadilly and stop right outside the shop. Green Park tube station is step-free and just a few blocks away. But check before you travel - the lifts at Green Park are notoriously and infuriatingly unreliable.
Access
To get into main entrance of this Waterstones flagship bookshop in Piccadilly, you would have to descend a small flight of steps. A brand new platform lift (see my photo below) has been provided alongside these steps for anyone with wheels or with mobility difficulties. However this lift, although brand new, was broken on the day of my visit. I was not able to get into the shop via the front entrance. At the back entrance staff will deploy a portable ramp for you to enter the shop, but there is no doorbell or other way of alerting staff to your presence outside and your need for a ramp. So access to the back entrance is difficult. Good but unreliable lifts between the floors - and they are terribly slow, their entrances are horribly narrow, and staff pile up stuff around the outside of the lifts, making it hard to get in and out if you're using a wheelchair. The display tables are often much too close together to allow a wheelchair to pass between them. This makes navigation around the shop really difficult, and some areas simply cannot be reached in a wheelchair because of the tiny gaps between tables obstructing the way.
Toilets
There is a spacious and comfortable accessible toilet on the 5th floor, adjoining the bar/restaurant. It's very good and there is even a decorative display of beautiful round objects in one corner (see my picture below).
Staff
Lovely staff, always friendly and helpful. Two stars lost because they cram the display tables much too close together, making it very hard for a wheelchair user to pass between them, and because they don't fix lifts promptly.
Anything else you wish to tell us?
This is an excellent bookshop, but the multiple barriers for wheelchair users make it very unattractive. Currently, I really dislike shopping there. The following things would make a much better experience for wheelchair users, and would make me spend much more money at this bookshop, rather than resorting to a famous online bookshop: (1) Keep the lift at the front entrance in reliable good working order, and repair it PROMPTLY if it breaks down (2) Don't obstruct the entrances to the between-floors lifts with clutter (3) Put a doorbell at the back entrance so that wheelchair users can alert staff to their need for a manual ramp (4) Train staff to listen for, recognise, and respond to the doorbell (5) Leave adequate space around display tables so that wheelchair users can access all areas of the shop.
Photos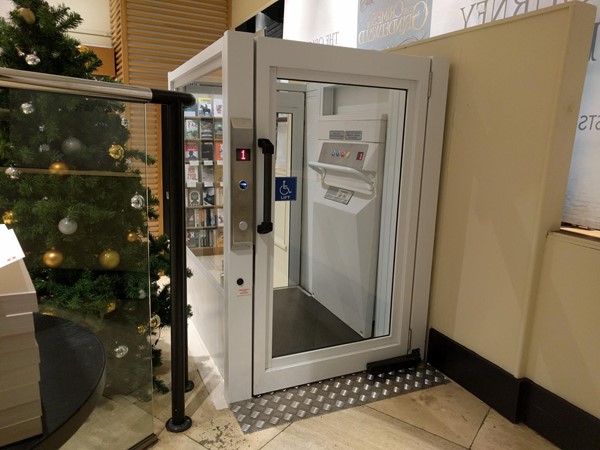 We've had 2 reviews for Waterstones