Find and Share Changing Places Toilets on Euan's Guide
Many people don't give a second thought to visiting public buildings. But many disabled people are unable to participate in activities others take for granted as standard accessible toilets fail to meet their needs.
Changing Places Toilets are more accessible than standard accessible toilets as they have additional equipment and enough space for a disabled person and up to two carers. They have a centrally placed toilet with room to manoeuvre either side, plus a height-adjustable adult-sized changing bed and a tracking ceiling hoist. Over a quarter of a million people use changing places toilets across the United Kingdom.
Finding Changing Places Toilet's on Euan's Guide
If you want to find a Changing Places Toilet on our website, it's easy! Just type in your desired location in the search bar or click on the tab on the top right saying "Near Me." Use the filters on the left to show places with a Changing Places toilet. Finally, browse through the results to see the reviews people have shared and the information that venues have provided.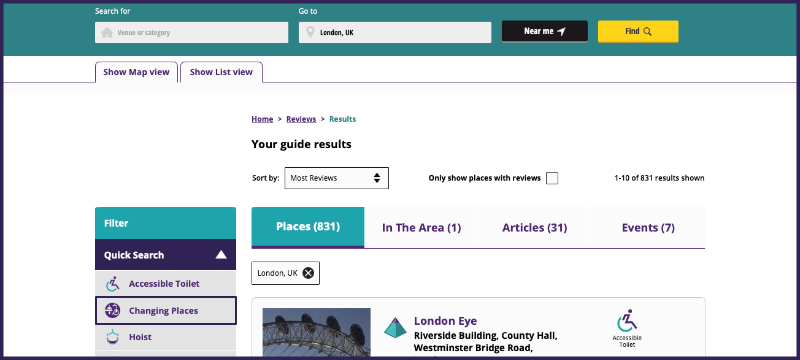 Image Of: The Euan's Guide reviews page, with the changing places icon on the search bar on the center-left, with a black outline around it.
You can browse all the locations with changing places toilets on Euan's Guide by following the link below:
If you can't find a suitable toilet on Euan's Guide, have a look at the Changing Places Toilet Map.
Help us fill in the Gaps!
There are over 1,500 changing toilets across the UK, but we only have a quarter of them reviewed on Euan's Guide. You can help us change that. Reviews give people a clear idea of what to expect. They support facilities that care about accessibility. Your review will save people the time and effort to find accessible places to visit.
 Firstly, log on to your account or create a new one. You'll be asked to fill out a short form where you can describe how to get to the toilet, the venue's staff, the equipment available, and your overall experience of that loo. Add as much detail as you want. The idea is that other disabled people and/or carers can use your review when planning a long or short trip out.
Adding a review means anyone on the site looking for information can easily access it. This shows that you care and give people the information to decide if a place is suitably accessible.
For more information, check out the Changing Places section on Euan's Guide at https://www.euansguide.com/changing-places 
For more detailed information about Changing Places Toilets across the UK, visit the Changing Places Consortium website at http://www.changingplaces.org/
You can contact Scotland's Changing Places team by email at pamischangingplaces@dundee.ac.uk and the Muscular Dystrophy UK team for England and Wales by email at c.lucas@musculardystrophyuk.org
More Safety Tips