Loos You Love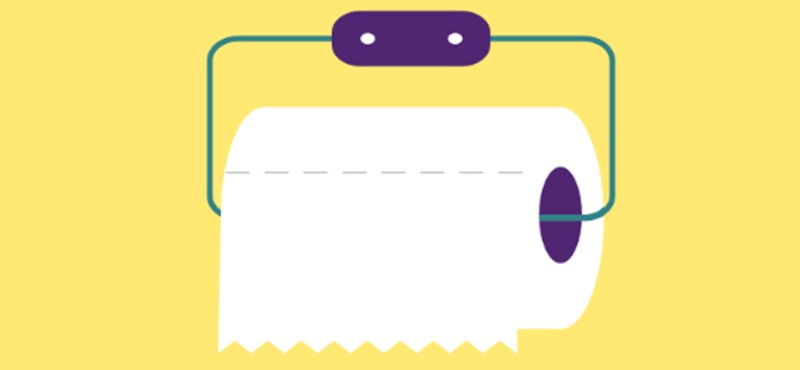 Last month we asked you to share some accessible loos and Changing Places toilets that you felt deserved a shout out. Over the next two blogs we'll share the selection of 21 loos that come recommended by you! In this blog we'll look at all the suggestions that came in of places that have a Changing Places toilet and then we'll continue the list looking at some of the places with nice accessible toilets you wanted to share.
Please note: The majority of venues mentioned here are currently closed due to Covid-19. Please check the current restrictions and venue's websites before visiting.
This list is just a bit of fun looking at places who are on the right tracks. We know that everyone has individual access requirements, so while an accessible toilet might be great for you, it might not be the best example for someone with different access requirements. It goes to show just how important it is for venues to listen to their disabled customers and to share detailed information and pictures ahead of time, so people know what to expect. It is one of the reasons why so many people have found the reviews and images people have shared on Euan's Guide to be useful.
16 Unforgettable Changing Places Toilets: 
1. Tesco stores across the UK
Image of: Changing Places toilet at Tesco Watford Extra
Unsurprisingly Tesco made the list, it was suggested on Instagram and it is clear to see why. Tesco has steamed ahead of all the other major supermarkets having opened 100 Changing Places toilets in their stores across the UK.
2 / 3. Mobiloo / Pamiloo
Who can forget these mobile options making venues and events that do not have a Changing Places toilet more accessible? These portable toilets are designed with accessibility in mind and include adult-sized changing bench, hoist and a friendly attendant!
4. The Manx Museum, Isle of Man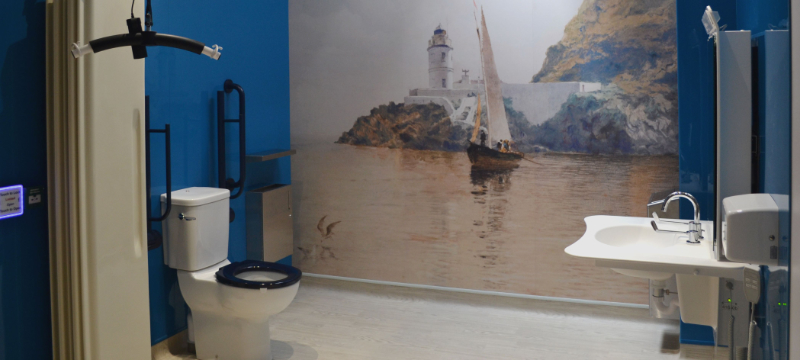 Image of: The Changing Places toilet at the Manx Museum
This award winning toilet was suggested by Beth. It was the Isle of Man's first publicly accessible Changing Places Toilet and won Aveso's People's Choice Changing Places Awards 2018/19 for the Overall "Best Registered" Changing Places toilet. And just look at the stunning feature wall!
5. Wellcome Collection, London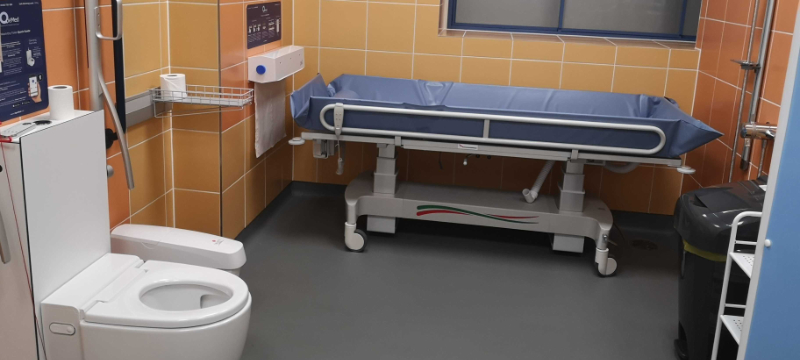 Image of: Changing Places toilet at Wellcome Collection
The Wellcome Collection was nominated for its sheer number of toilets, including a Changing Places toilet on the ground floor. ADR made this suggestion adding that "each toilet seemed to have a slightly different design and layout, so if you have time to look around you could find the one you like best. And it was great to see that baby changing had its own separate room rather than being squeezed into the accessible toilet."
6. Fell Foot Park, Windermere
Chris from Anyone Can put forward this Changing Places toilet as "it makes visiting and interacting with the Lake District possible for so many." Adding: "More excitingly we're working on making our powerboat into a portable floating toilet with support bars for when we run bushcraft and camping activities." Wow! We can't wait to hear more about that new development.
7. The SSE Hydro, Glasgow
SSE Hydro is the largest entertainment venue in Scotland. There are accessible toilets on all levels here, which have been described by one reviewer as "exquisite". They have a Changing Places toilet on level 2, which is accessed via the foyer lifts.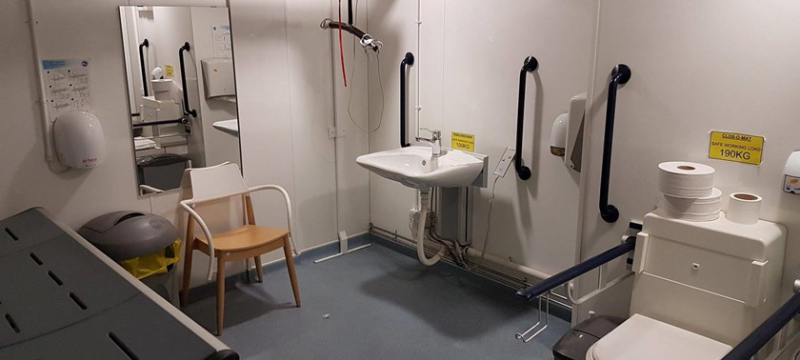 Image of: Changing Places toilet at IKEA Edinburgh
This Changing Places toilet has been mentioned by lots of reviewers who have found it useful and conveniently located near the store entrance.
9. Dorchester Library
Located on the library's lower ground floor, this Changing Places toilet was suggested by Sally in Wessex. She said that it was quiet, spacious, clean and warm, and "perfect for [Dorchester] residents and visitors". Have you been to Dorchester Library before? Leave a review on Euan's Guide to share what you thought of its disabled access.
10. The Atkinson Arts Centre, Southport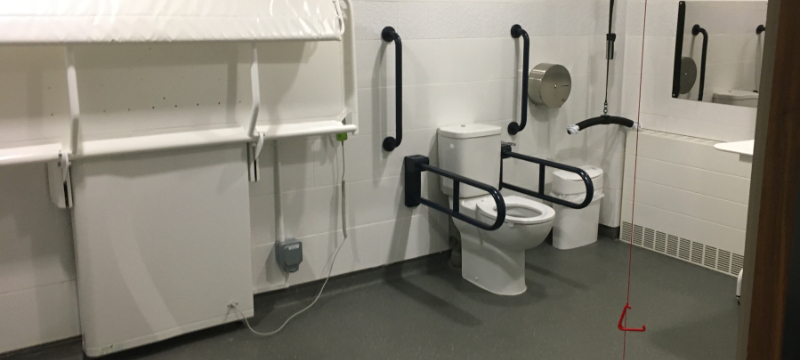 Image of: The Changing Places at The Atkinson
Matthew Hurst suggested The Atkinson's Changing Places saying "it is a fantastic new facility for the residents and visitors of Southport." He appreciated all the facilities found in the Changing Places, including lighting around the mirror and "a remote control for hot and cold water".
11. The Lifeboat, Formby
Matthew also suggested The Lifeboat, the first of two Wetherspoons featured on this list. It is also the first Changing Places in Formby. We'd love to hear more about what you think of disabled access at The Lifeboat, be the first to leave it a review!
12. The Booking Office, Edinburgh
Having access to a Changing Places toilet can make all the difference. Claire suggested this one thanks to its convenient location in the centre of Edinburgh right next to Waverley Station. Speaking of the Changing Places toilet inside the Wetherspoons branch, Claire said: "It's very spacious and there is an entrance to the bar beside the Changing Places so you don't have to go through the bar to get there.
13. Central Station, Glasgow
Another suggestion from the team came from Zoe, she suggested Glasgow's Central Station, which has its own Changing Places toilet, making travel by train easier.
14. Kings Cross Station, London
One of London's busiest stations, this Changing Places toilet was also put forward thanks to its convenient location.
15. V&A Dundee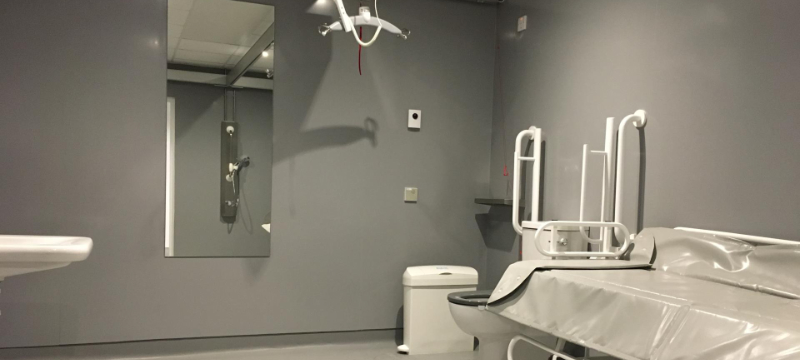 Image of: Changing Places toilet at V&A Dundee
This modern build museum has a Changing Places toilet on the first floor, which is accessed by a lift. It was nominated for being "very spacious", however, the nominator did say that it needs a code to enter rather than using a RADAR key.
16. Intu Bromley - The Glades Shopping Centre 
This was another Instagram suggestion, and it looks like this Changing Places has been here for some time but is yet to be reviewed on Euan's Guide. We'd love to hear your thoughts if you've been to this shopping centre!
More of your loo recommendations!
Let's keep the positivity going! Leave a comment to tell us about any loos you remember that have stood out for all the right reasons! Or better yet, leave a review so anyone searching on our website can find your recommendation.
| | |
| --- | --- |
| | Written by Abby Richards, Communications Manager |
Keep reading:
Part 2 - Accessible Toilets