Is your festival accessible?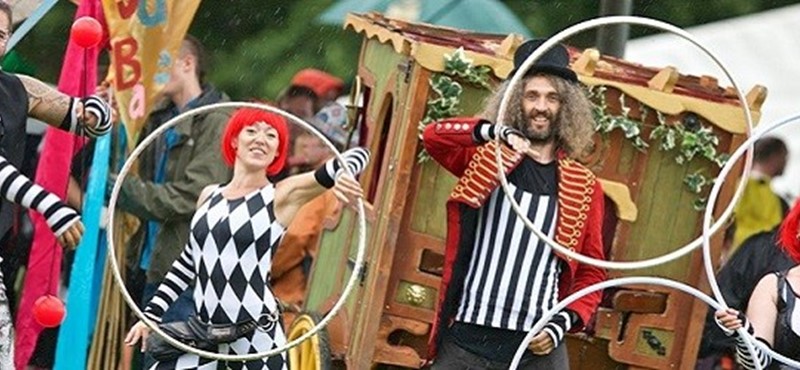 It's almost festival season; long summer nights, arts, music and camping await, and if you've planned it right, your festival could be an unforgettable event with flawless disabled access!
Alternative programme formats
Programme launch dates and line-up announcements are exciting moments in the lead up to any festival. It's important to make sure everybody can enjoy the big reveal by having accessible formats of any brochures, videos or details that you release. This could mean having large print, easy read or captioned versions of information, as well as a dedicated access line which people can use to find out more about specific events. This is particularly useful if you have adapted events such as Audio Described or BSL-interpreted performances that people may be interested to learn more about!
List on Euan's Guide
Easy to find disabled access information is one of the most important things to get right if you're organising a festival. Take the stress out of festival planning for your guests by listing essential information such as whether there are accessible toilets, how to get there, and what to expect when they arrive on Euan's Guide. If your festival is a bit bigger and is held across multiple venues, get in touch with us about a dedicated landing page on Euan's Guide to share your information all in one place!
Read more about the work we do with festivals >>
Raise staff awareness
"The staff are mostly volunteers, and they are all friendly and helpful, nothing is too much trouble. There is a small team who man the disabled campsite, as well as the disabled access viewing platforms, and they are really helpful." – Review of Womad Music Festival.
Every festival is different, and while some may have a small team of volunteers, others may have a huge network of people coordinating different parts of the event. Either way, it's important to help your staff understand what disabled festival-goers may require when they visit. Things to think about include whether your staff know how to work equipment such as foldable ramps, are familiar with the locations of accessible toilets, and understand good customer service.
Arrange accessible transport
Depending on how remote your festival is, you may need to think about arranging transport, including accessible transport, to your site. Whatever you decide to arrange, the most important thing is to make sure you publicise this information far in advance! Inform guests if they need to book a seat on a shuttle bus, whether there are any wheelchair accessible spaces, if there are taxi alternatives, or what local public transport is like.
No matter where your festival is, car parking is another consideration to get right before guests begin to arrive. Make sure there are plenty of accessible parking spots, and that these are near to relevant places such as ticket collection points, campsites or event venues.
Create accessible campsites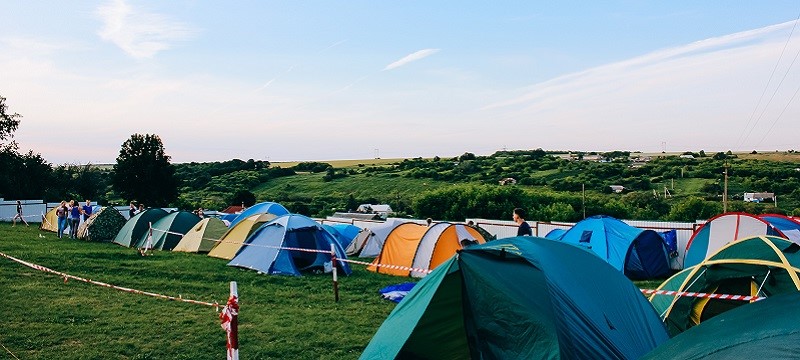 If your festival is remote and invites guests to stay overnight, you can create a memorable accessible camping or glamping experience! Ensure that accessible campsites or areas are on level ground and unlikely to be compromised by bad weather. Leave plenty of space between tent pitches, and if you can allow people to park their vehicles beside tents, then do. The closer accessible campsites are to major event stages or venues, the better. Especially if people are returning to tents at night when it's a bit darker – you could also help them out by keeping paths well-lit and stewarded, and by loaning torches to disabled festival-goers. Consider constructing various accessible glamping pods if you offer luxury camping as well.
"The camp has pathways to access the yurts, there is one yurt that has been made specifically wheelchair friendly, it has been levelled and has a ramp for the door way. It is a traditional Mongolian yurt, the adaptations have been made around its traditional design. There is also a ramp into the barn which has kitchen, bathrooms and seating area." – Review of Caalm Camp accessible glamping.
Construct accessible viewing areas
"At the main stage, there is a special wheelchair-user viewing platform which offers a great view of the main stage, without having to battle with the crowds! At the other stages, there are also designated areas for wheelchair users to enjoy the music from. I always have an amazing time every year I go, without any hassles!" – Review of Wireless Festival.
Whether you're organising a music festival, an arts event, comedy shows or an event with guest speakers; if there's a stage there needs to be an accessible viewing area. This is important for wheelchair users who are at seated height and whose view may be obstructed by standing festival-goers in front of them. How you create your viewing area is up to you, but the best ones are raised platforms with seats for friends or carers there too. For an even better experience, have stewards positioned there to help with collecting food and drink from food stalls during performances and events. It's also handy to have accessible toilets nearby.
Place accessible pathways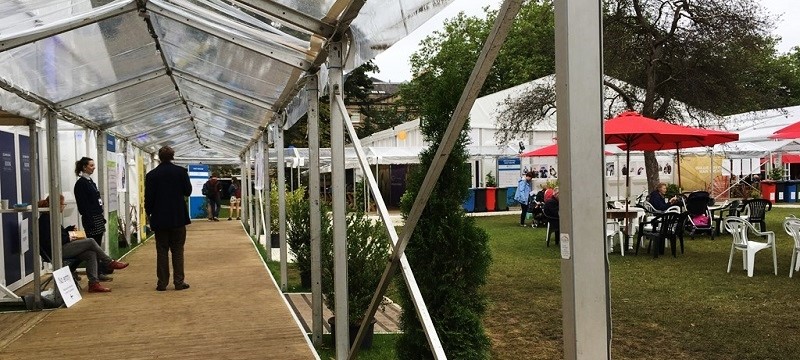 Photo: Pathways at Edinburgh International Book Festival.
"The central area was grass and thought had even been put into how you get off the boardwalks and onto the grass area – gentle ramped edges did the trick perfectly. Some areas of the grass had plastic style boardwalks as well to make getting around easier." – Review of Edinburgh International Book Festival.
Outdoor festivals usually require a little more planning, especially when conditions underfoot can deteriorate quickly with a change in weather or large crowds! Test-run your festival by identifying the routes most likely to be used by people as they move between events, accommodation, toilets, and food and drink areas. These major routes are the best places to fit accessible boardwalks or pathways for people, especially for those using wheelchairs, crutches or anybody who requires a stable surface to walk on. Edinburgh International Book Festival being in rainy Scotland went the extra mile and put shelters above their pathways!
Signage, maps and apps
It can be a pretty unpleasant experience getting lost at a large festival! Help out your visitors by placing clear signage and waymarking to important facilities such as accessible toilets, event areas and first aid tents. If you have a festival map, why not send this out with tickets and festival passes? It can help people familiarise themselves with the layout before they arrive. And, if you're feeling particularly creative, why not create a festival app with directions, events and essential information? This is also a great way to update festival-goers if an event has been cancelled – you could save them making the journey to see a performance that's no longer happening!
Food and drink stall
We know that you don't necessarily have complete control over the food and drink vendors who work at your festival; and we also know that many of these outlets are in food vans with very high counters. This can make getting food and drink a little trickier for wheelchair users who are at seated position – and this is where your access stewards can make a huge difference. If you can have staff or volunteers available to assist at food and drink stalls, do it! Of course, if you are constructing your own food and drink villages or stalls, avoid making them very tall. Instead, have low counters which make it possible for everyone to talk to vendors and see what's on offer.
Don't forget charging points
Batteries don't last forever, and for powerchair users charging points are an essential. It's useful to have various places around your festival for people to charge their equipment. First aid tents are a good place to set up power points indoors.
Toilets, Migloo and Mobiloo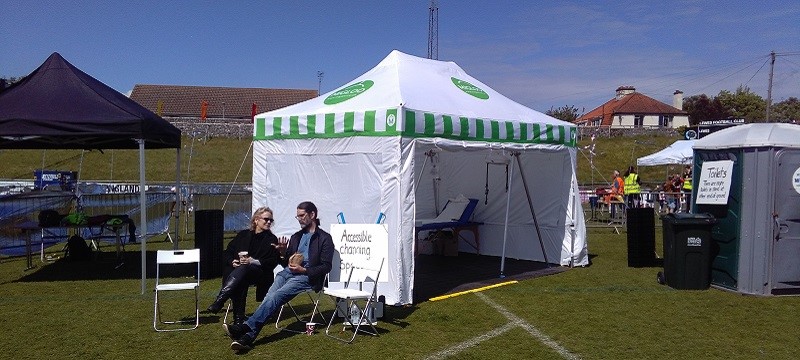 Photo: A Migloo Changing Places tent that can be hired for festivals.
"The accessible loo – for me was one of the highlights – I've never in many years of visiting pop up venues as a powerchair user seen a loo with such a good ramp access and an automated door. No more acrobatics to try and balance on a ramp and open a door! Once inside there was space to have a party…beautifully clean, spacious and well appointed. A loo that goes the extra mile to be accessible." – Review of Edinburgh International Book Festival.
We love this review of the accessible toilet at Edinburgh International Book Festival! They were brilliant at providing an accessible cabin for festival-goers to use. There are other options too, including Mobiloo and Migloo which both offer accessible toilet and changing facilities for festivals and events. Mobiloo is a vehicle, while Migloo is a pop-up tent – both of which are listed on the official Changing Places website. Include a facility like this at your festival, and you really will be winning at accessible festival planning!
Prepare for bad weather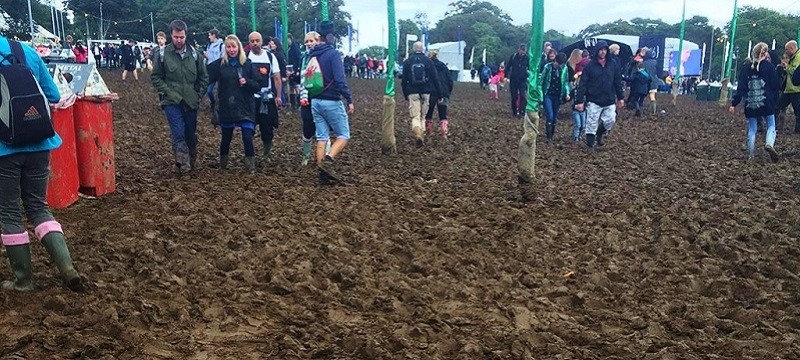 Photo: Muddy festival.
Outdoor festivals have all the fun! There's no saying how the weather will turn out on the day, but you can do your best to be prepared in advance. This is where those sturdy paths become really important if you don't want your guests to be stranded in a mud bath! It's also good to have plenty of ponchos, sheltered areas, and warm places available for guests to escape the cold and the rain.
You might also enjoy:
Do your staff have disability awareness
Top tips for outdoor attractions
Making your music venue accessible