Making your music venue accessible

Lights? Sound? Disabled access? Buying tickets to a live gig is always exciting, but for many people it's the music venue that can make or break their night. Attitude is Everything have now released findings showing that the number of disabled fans attending live gigs was up by 26% in 2015, a very exciting revelation! Make your gig venue legendary - check out these tips to make access easier for all music fans:
Make sure everybody knows about your events
If you've got a gig guide or events listing for your venue, it's helpful to make it available in different formats so that everybody knows what's coming up. Use contrasting colours, large print and symbols in your printed promotional material; and don't forget to do the same with any online versions! If you have video trailers on your website for events, can you add captions to these?
Read more of our accessible marketing tips >>
Share your access information online
Websites are usually the first place music fans will go to find out about upcoming events, but it's also where they'll go to check how accessible your venue is. Create a page on your website dedicated to accessibility, and don't bury it beneath other pages and items. Ideally, your access information should be one click away from any given page. Check out Attitude is Everything's 'Access Starts Online' campaign, and you can always add a Euan's Guide widget to link to your listing and display your most recent access reviews!
Make it easy to buy tickets
Only having one route of acquiring accessible tickets, such as by phone, isn't ideal. This is because not everyone can or is comfortable using a phone, so it's important to have alternative options made easily available. Online booking is one of the best options, but email and face to face are also good! If you have a box office at your venue, consider fitting a hearing loop to aid communication with hearing impaired customers.
Share your access information directly
Once somebody has bought accessible tickets to a gig at your venue, take this opportunity to make sure they have all the information they need. This will help to ensure everything runs smoothly for your customer. Handy information at this stage includes details about where to park, information about getting into the venue, and a description of what will be available to them once inside.
Check how easy it is to get into your venue
Nobody wants to be late to a concert because they can't get inside! Have any necessary equipment such as portable ramps nearby, and make sure staff know how to use them. Have somebody by the door, and always give a warm welcome. Read our top tips for making it easier to get into your venue here.
Keep your staff aware
Reviewers regularly tell us how staff have been the highlight of their experience at all kinds of venues! The right attitude and confidence using equipment such as portable ramps or hearing loops is how your staff will win over customers. Make sure all staff know what arrangements have been made with disabled customers, particularly if it has been agreed that a steward will be available to assist with bringing drinks from the bar or helping a disabled person move through a crowd.
Designate an accessible viewing area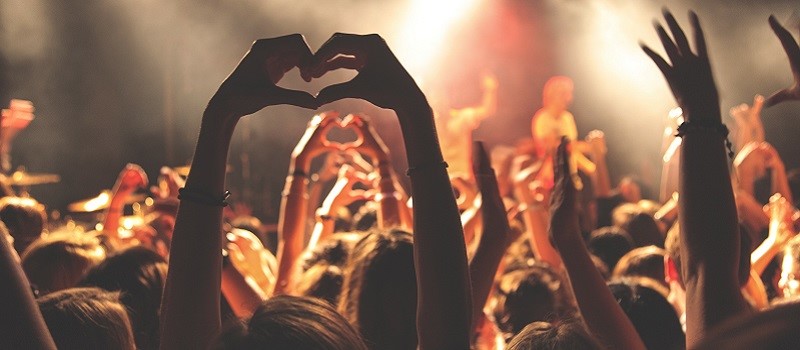 A designated viewing area is essential to ensuring that disabled people will get a good view of the stage. Wheelchair users will get the best vantage point if they can access a raised viewing platform, while hearing impaired visitors may need to have a good sightline of captioning or a BSL interpreter, as well as the performer. A great addition to any gig venue is a hearing loop or infrared system in the room. It's important to remember that everyone's needs are different, so one accessible viewing area might not suit all. The best practice is to speak to your customers and find out what works for them.
Check your signs
Concert venues can be dark places, and for visually impaired people this can make it trickier to see writing on signs. Signs directing to toilets, bar areas, entrances and exits need to be illuminated and clearly visible, preferably with highly contrasting text and background colours. Take a look around your venue from different vantage points to check how easy it is to spot your signs.
Join the Attitude is Everything Charter of Best Practice
Did you see our feature with Manchester music venue, Band on the Wall? They're one of the city's most-reviewed venues and disabled music fans love to share their experiences of easy access at this venue's gigs. Band on the Wall were also the first small venue to achieve the Attitude is Everything gold status – a serious recognition that puts them on a par with massive music scenes such as Glastonbury Festival. If your venue is committed to providing excellent access for disabled customers, why not check out Attitude is Everything's Charter of Best Practice and sign up? You'll get helpful and detailed advice to take your venue's accessibility to the next level!
You might also like:
Striking the right note: Disabled access information at live music venues
How to make your outdoor event sparkle
See all of our top tips for venues here.