London Student Hangouts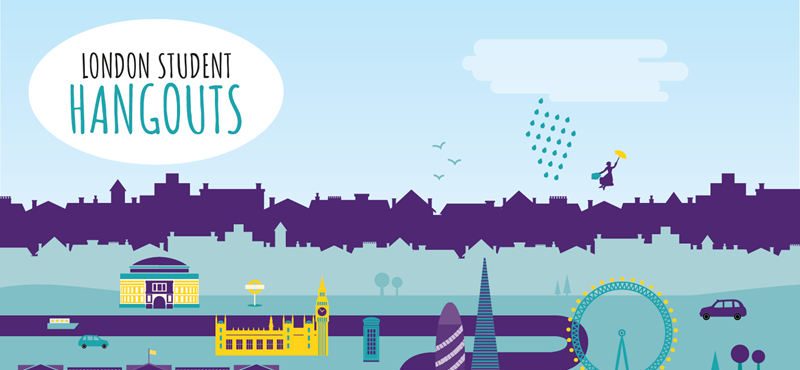 The student lifestyle is normally all about books, classes and wishing it was the weekend. Now that the academic semester has begun, we can't forget to socialise. Euan's Guide will be your favourite website because we will save you from all the boring planning so you can find great places to go. London is known for being tourist central, but we have some of the best spots for you.
In the heart of London's theatre-land, you have The Counter at The Delaunay. Next door there is also a traditional Viennese café, one might see an all-day brasserie, but we see pastries all day near Covent Garden.
Satisfy your sweet tooth in a relaxed atmosphere with their varied menus. To have a look at them, follow the in-text link 'Menus' to find what's right for you. Whether that be popping in for a spot of lunch, or to enjoy their plentiful selection of puddings.
TinaHodgkinson said: "It was so lovely to be back; not only were the cakes and staff as amazing as ever but we both felt very safe and were able to relax."
This venue is Covid Confident, which you can read about in Tina's review by clicking here, and highly recommended for its accessibility. Tina adds: "The entire restaurant is on the ground floor and has step-free access. There are some free-standing tables and chairs outside and more inside. The doors are manual but opened when we arrived. There is a large glass counter with an impressive cake display."
The Counter at the Delaunay is a place where you can get lost in a good book or enjoy some wine time later. Its added bonus of being within walking distance of several theatres only promises more ways to procrastinate, as is a student's nature.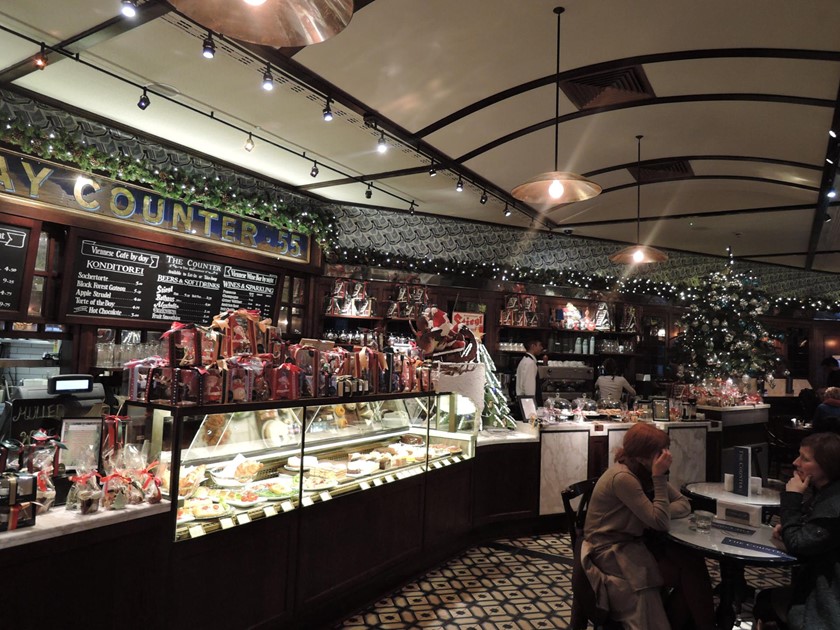 Photo of: Interior area of The Counter with food on offer on the left and people sitting at a table on the right.
Established in 1970, the Serpentine Galleries is a free contemporary art gallery. Here, you can go deep into their diverse exhibitions, and sometimes an artsy day out is what every student needs.
There are transformative experiences like the experimental Park Nights 2021, that takes place in the Serpentine Pavilion in 2021. It is a live platform that presents new works across art, music, film, theatre, dance, literature, philosophy, fashion, and technology. Ciick here to find out what is on at Park Nights.
Audiences were wowed by multi-instrumentalist, singer-songwriter and composer, Aga Ujma, who presented a new performance in July titled 'Sun Was Glazed in Rainbow' that is based on personal stories. If you're interested in what Park Nights has to offer, find out 'What's On' by following this link.
DaisyDoo reviewed the venue, commending their accessibility: "Level access throughout – it's not a big space so you can navigate it quickly. There's a great shop too – if you're shopping for a quirky present it'd be a good place to go."
Also, the venue itself seems like quite the show, DaisyDoo said: "It was a lovely cool space, and the art was great!" Read their review by clicking here.
There is truly something for everyone and there's no reason not to lose yourself in the world-renowned exhibitions of art, architecture, and design. Once you're finished living the life, sit down for a bite at The Magazine Restaurant, which located in the Serpentine North Gallery. Not only that but this venue is within walking distance from Hyde Park.
It's time to distract yourself from all those deadlines and immerse yourself in some culture. The Wellcome Collection is student friendly, being a free museum and library.
The great thing about the Wellcome Collection is that the exhibitions are temporary and like to explore different facets of life, including mental health, infectious diseases, and climate change.
Lately, exhibitions have been all about emotion. The 'Tranquility' exhibition lasts until January 2022, helping you take a deeper look at feelings of peace and balance within your life. The 'Joy' exhibition looks at euphoric experiences if you need something a bit more colourful.
There are lifts throughout the venue, but the great accessibility doesn't end there. ADR complimented their diverse efforts to make the Wellcome Collection enjoyable for all: "I liked the mix of video, visual, written and audio materials in each exhibition. All of the exhibitions had large print guides. There were some great tactile objects in the 'Medicine Man' and the 'Being Human' exhibitions."
ADR spent hours looking around at the exhibitions: "There were loads of interesting things to see as well as great spaces to sit and relax or grab a bite to eat."
There's always more to do when it comes to the Wellcome Collection, whether it be listening to stories about when monarchs healed the sick or embracing the Happiness Quest series. Want to read ADR's review? Click here!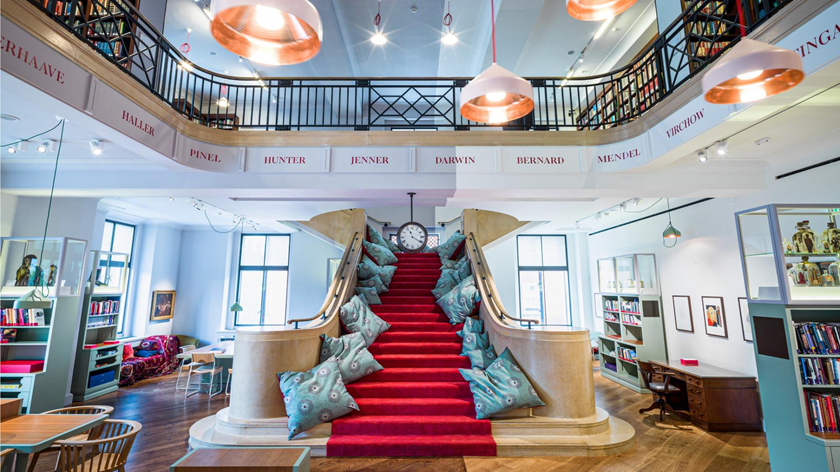 Image of: One of the many exhibitions in The Wellcome Collection.
Five Guys is an American chain restaurant praised for its burgers. If you want the American diner aesthetic, look no further than the establishment near Wimbledon on The Broadway.

This restaurant is burgers galore, hot dog heaven and fries all around. It has a menu with something for everyone without the fancy fuss: whether that be your classic cheeseburger or a bacon cheese dog.
This place doesn't mess around when it comes to the classics. But just to add a little more of that wow-factor, there are dessert shakes that'll blow your mind. To get a real feel for what's on offer, check out Five Guys menu here.
Squirrelpot rated the accessibility on their visit: "Altogether excellent for wheelchair users. Step-free entrance and enough space to manoeuvre around once you're in. There are wheelchair-friendly tables."
To use the accessible toilet you need a RADAR key, however, the staff will unlock the door if you don't have it at this venue. After a long day of being a student, it might be time to sit down for a bite and a milkshake – and a good catch up with friends!
Read Squirrelpot's review of Five Guys by clicking here.
For an underground experience, try out Café in the Crypt. This hidden venue is a real crypt of St Martins, at the edge of Trafalgar Square, that has been a favourite for tourists and locals for over 30 years.
This historic place is brought to life through Wednesday jazz nights. If you're a music lover then this is a double win because the diverse range of music creation will blow your mind. Listen to music from the Baroque and classical periods in the 20th and 21st centuries performed in candle lit spaces, creating a brilliantly fantastical atmosphere.
Wheels_of_Steer rated the accessibility of this hidden gem in their review, which can be viewed by clicking here: "The Café in the Crypt of St Martins can be accessed from a very new lift on the street besides the church. The lift is roomy enough to turn around in if you want to exit it forwards."
Also, Wheels_of_Steer said the venue is arranged spaciously: "Turn left to go into the café; the floor is made of slightly bumpy stone slabs but is easy enough to cross in a wheelchair. The café tables are all spaced apart well, allowing easy traversal between them. They are all of normal height and thus can be reached from a wheelchair."
If you're in the mood for a little mystery and fun, this could be a fantastic place to meet with friends. Being so close to Trafalgar Square means bus, taxi, and tube access is plentiful in the area. Definitely don't miss the opportunity to dine and dance in your seats, keep an eye on what's going on in the Crypt.
Have you been to any student hideouts recently? Write a review on Euan's Guide or explore many more reviews today.
| | |
| --- | --- |
| | Written by Iman Mackenzie, Communications Intern |
Locations: London