New accessible underpass nears completion at Loch Leven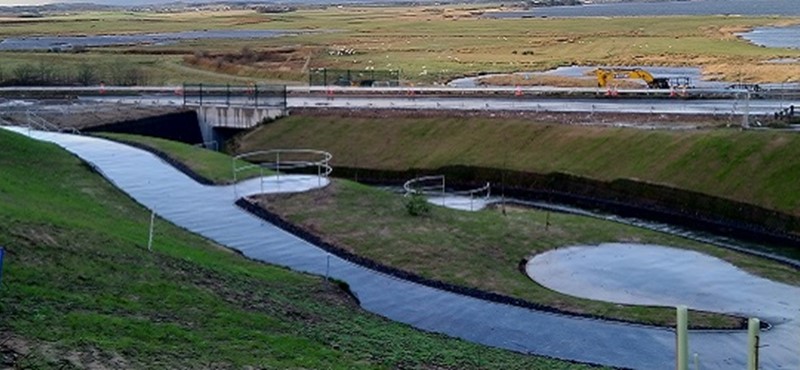 They say you shouldn't wake a sleeping giant, but the opposite is true at Loch Leven in Kinross-shire, where miles of pathways have been made accessible to disabled people looking to enjoy Scotland's countryside.
The £800,000 project will connect the Loch Leven Heritage Trail circling the loch with the 'Sleeping Giant' hill path; a trail that leads from Lochore Meadows Country Park in Fife to RSPB Scotland's Loch Leven reserve (formerly known as Vane Farm). The current link between the two paths is a 35-year-old underpass which takes visitors under a busy road, but the steep steps at each end make this a no-go route for some. Now, gentle slopes will make the wheelchair accessible routes around Loch Leven and the RSPB Visitor Centre accessible to anybody looking to explore the reserve and surrounding area!
One visitor highlighted the need for change in their Euan's Guide review of the Loch Leven Heritage Trail in 2017 saying, "The 21km trail around Loch Leven is a great walk for all the family, or bike ride. The wheelchair friendly path is pretty much flat and smooth […] We went as far as the Vane Farm (just over 1/3 of the way) underpass. Very disappointed that it wasn't wheelchair accessible due to the two flights of stairs that need negotiated."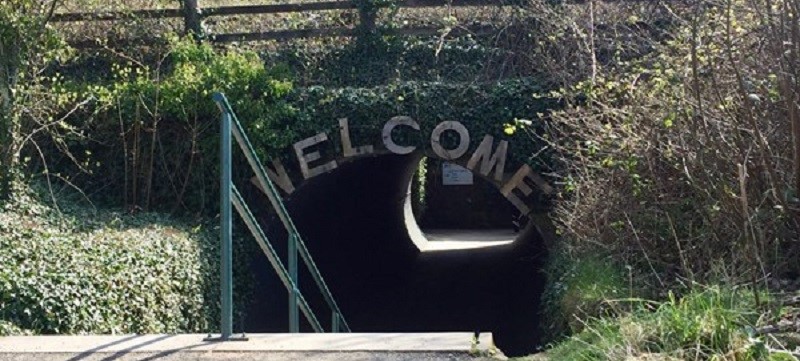 Photo: The old underpass with steps leading to it.
With the underpass project nearing completion, we spoke to the Visitor Operations Manager at RSPB Scotland Loch Leven, Karen Caldwell, to find out more about the new underpass and the reserve.
Can you tell us more about the new accessible underpass that is being built here? How is it transforming the route?
We think that everyone should be able to access and experience the spectacular wildlife and scenery around Loch Leven.
The Loch Leven Heritage Trail provides an accessible, barrier free route around the loch, welcoming more than 200,000 visitors a year. The RSPB Scotland reserve at Loch Leven hosts part of the trail, and our visitor centre and car park are key facilities for trail users. But the two are separated by a busy road so a new underpass has been built with gentle slopes at each end that will be easy for everyone to use. When finished, it will open up miles of path network to anyone exploring on foot or by bicycle, buggy and wheelchair.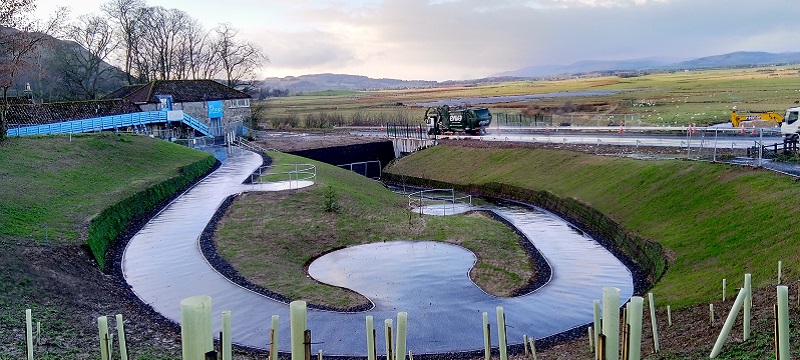 Photo: The new sloping pathway down to the underpass.
While the Sleeping Giant path is a challenging hill route, the Leafy Loop path is considered one of the more wheelchair accessible trails in the reserve. What can visitors expect to see along this trail?
The Leafy Loop is a short accessible path which takes visitors through a quiet wooded area, and is perfect for a spot of fresh air. It's quarter of a mile long and is wheelchair friendly. Here you are likely to see red squirrels scurrying about and a variety of woodland birds. Jays, whilst difficult to spot, can often be heard screeching amongst the trees.
The visitor centre's Wild Challenge rucksacks for families sound intriguing! What are these and what do they contain?
The Wild Challenge encourages children to get outdoors and connect with, and learn about, nature through a series of fun and engaging activities. We have backpacks available that have some great stuff inside, including bug viewing pots and spotter sheets, to help you and the family get stuck in exploring in nature! They are available to hire for the day from the visitor centre for £3.
One Euan's Guide reviewer spoke about an adjustable telescope for wheelchair users. Where can this be found, how does it work, and what kinds of things can you spot looking through it?
Our café has several telescopes available to visitors. These are at varying heights and adjustable so you can get the best view. This is a fantastic spot to view the wildlife over the loch whilst enjoying a great cup of coffee. During the spring months you might spot nesting lapwing and in the autumn whooper swans and thousands of pink-footed geese which come here from Iceland for the winter. You are very likely to see ospreys fishing over the loch in the summer months too.
When exploring the reserve, how accessible are the hides?
With the addition of the underpass our wetland trail, which leads to our hides, will be accessible for everyone. We have had a new door made for our Gillman Hide to make it more accessible wheelchair or mobility scooter users.
Where is the trail's nearest Changing Places toilet?
We are hoping to install our own Changing Places toilet in the future but, in the meantime, the nearest one can be found at Lochore Meadows Country Park, a short drive from the reserve.
What's the one tip you'd give to visitors looking to spot wildlife?
Come and chat to our friendly team at the visitor centre to find out what wildlife has been seen around the reserve that day. We have a sightings board in our reception area so you can see at a glance what's about, and our staff can advise where the best vantage points are. They can also help you with bird and wildlife identification if you need it!
Tell us what you think!
If you know of any trails or paths that have good accessibility, we want to hear about them. By adding a review of a trail you've explored to Euan's Guide, you're making it easier for disabled people to find great places to go! Add a review.