Reviewer Story: Wheelchair accessible Paris and Amsterdam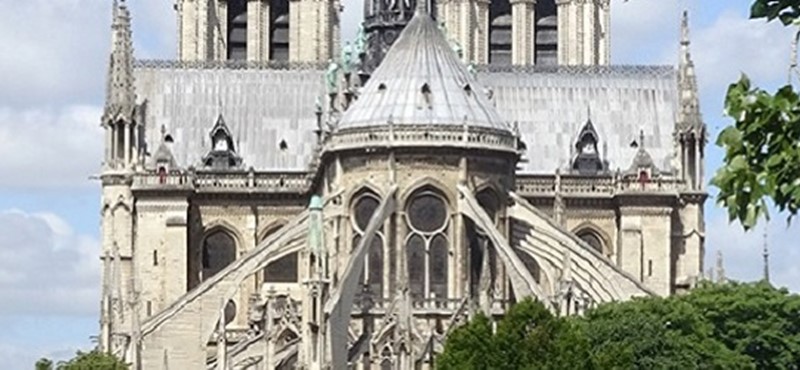 Wheelchair users planning a trip to Paris or Amsterdam will enjoy this new Reviewer Story by David and Susan! When they're not exploring museums in Britain or sailing over to Europe to visit the more off-beat attractions, David and Susan share their top tips for navigating foreign cities using public transport systems. Getting around unknown places as a wheelchair user suddenly seems a lot less daunting!
Wheelchair accessible Paris and Amsterdam
Planning is the key to enjoyable wheelchair travel but, as Scotland's national bard put it, "The best laid schemes o' mice an' men gang aft a-gley." Train to Newcastle, overnight crossing on the DFDS ferry to Ijmuiden, a wheelchair taxi to Amsterdam organised by Accessible Travel Netherlands, a comfortable ride to Paris on the Thalys Express – all went smoothly, except that the North Sea was a bit rough. Then, at the Gare du Nord, there was no ramp. It took twenty minutes to get off the train and reach the ticket barrier, by which time the wheelchair taxi we had booked with G7 had left without us. The accompanist's mobile was temporarily on the blink, there were no wheelchair-friendly taxis on the rank, so we piled onto a bus, arriving late at our Airbnb apartment. Our host Frédéric, himself a wheelchair user, couldn't have been nicer and we were soon comfortably settled in.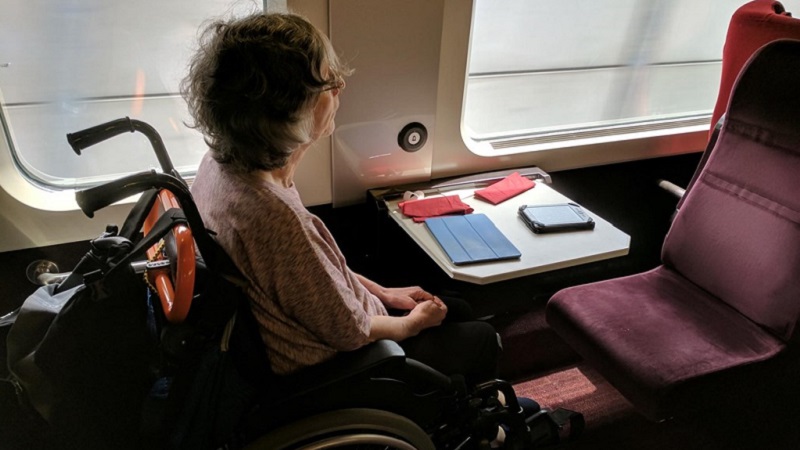 Photo: On board the Thalys Express.
Some properties on Airbnb which claim to be wheelchair-accessible aren't, either because the bathroom has only a bath or the kind of shower cubicle which is so high off the ground that you need crampons and an oxygen mask to get into it. Frédéric's apartment is splendidly adapted, with a wet room, a shower chair/commode and an excellent kitchen. The apartment is in the 20th Arrondissement, a bus ride from the historic centre, but we'd seen many of the principal sights in previous visits, and were keen to explore the less well-known areas. It was great to come home after a day out and enjoy an apero in the spacious terrace garden.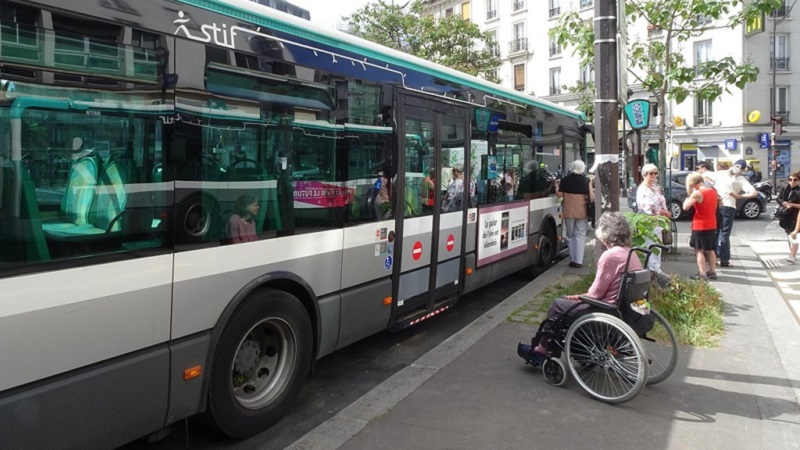 Photo: Using the RATP Buses.
Forget the Metro. Only Line 14 is wheelchair accessible. We got around on buses and trams. RATP, Paris' public transport authority, have an excellent app which would have been very useful had a pickpocket not acquired the accompanist's phone on day two. Fortunately, wheelchair girl has an iPad, so we could plan the next day's exploration each evening. Sunny weather enabled us to make the most of Paris' parks and gardens, including the Coulee Verte René-Dumont, Parc de La Villette, the Berges de Seine and also the Jardin des Plantes, Parc de Bercy and the tranquil gardens of the Archives Nationales in the Marais.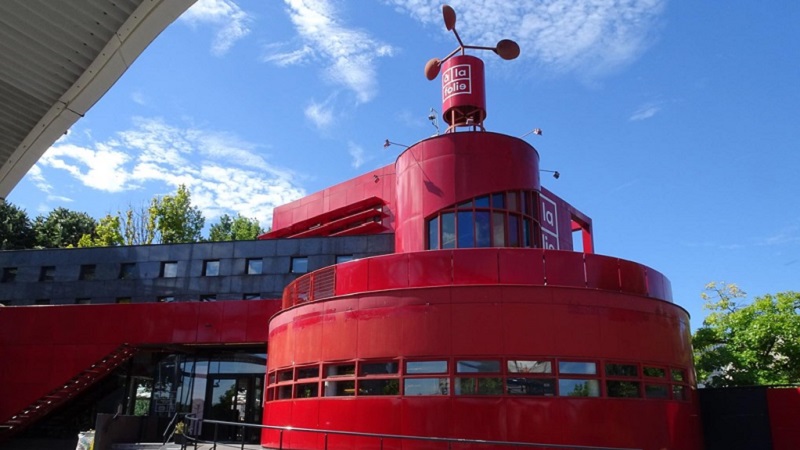 Photo: One of the follies at Parc de la Villette.
The accompanist had forgotten how hilly Paris is – self-propelling wheelchair users might find some parts of the city hard going. Pavements are generally good, but there aren't always drop-downs and some streets are cobbled.
Eating out is one of our pleasures, and Paris has a great deal to offer. In fine, warm weather, the choice for wheelchair users is extensive, as many cafes, bars and restaurants which are not otherwise accessible have outdoor tables. In addition to Bar Express, we enjoyed eating in this way at the Crêperie au Beurre Salé in the Rue Ledru-Rollin after a leisurely wheel/walk along the Coulée Verte René-Dumont. We also ate well at the Bistrot du Metro in the Rue de Bercy. The fact that many restaurants and bars do not have accessible loos isn't a problem. Paris is well-equipped with Sanisettes which are wheelchair accessible and free. If you want to research eating places in advance, the Paris Tourist Office website lists all the eateries which have earned the Tourisme et Handicap label.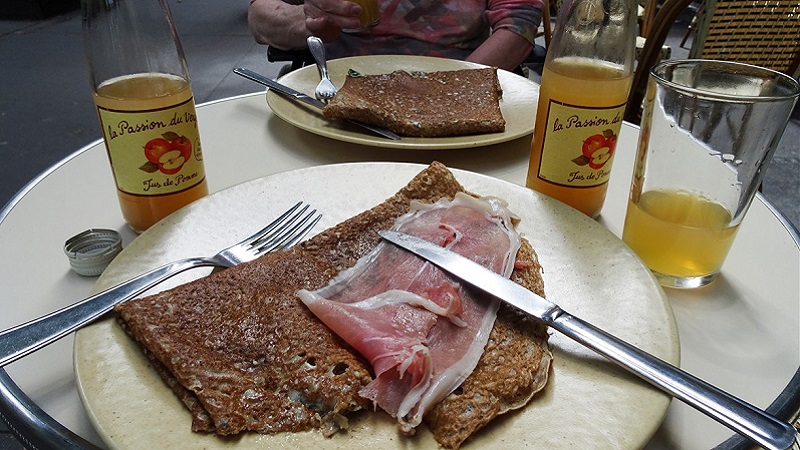 Photo: Lunch at Creperie au Beurre Sale.
On the return journey, we enjoyed three nights at the Doubletree Hilton Hotel in Amsterdam. Our adapted room was splendid, but the bed was too high for wheelchair girl, who has short (though perfectly-formed) legs. A request to Reception resulted in a porter bring up a folding stepladder and then, once the accompanist had explained the problem more clearly, returning with a stylish wooden box which was just right.
Amsterdam's cobbled streets and pavements can be quite challenging, but buses, most trams and the metro system are wheelchair accessible. Rather than revisiting the places we enjoyed and reviewed last year, we spent one day exploring the eastern docklands, a wonderful mix of restored and modern buildings, and another day enjoying the Van Gogh Museum.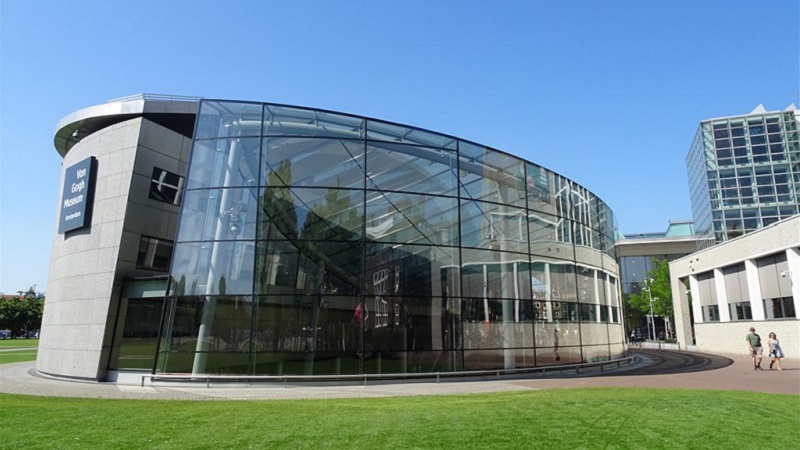 Photo: The Van Gogh Musuem.
What would we do differently? Not a lot, because we had a great time. Be more on our guard against pickpockets. Don't rely on the station from which you are departing arranging a ramp at your destination. Before the return journey the accompanist phoned both the Gare du Nord and Amsterdam Centraal station to request the use of a wheelchair ramp, and there were no problems. What could others do differently? It would be great if it was possible to book wheelchair spaces on trains online. Other passengers can book their seats in this way. Why should wheelchair users have to make phone calls?
Would you like to write a story for Euan's Guide?
If you write reviews on Euan's Guide and have a story to share, get in touch. We're always on the lookout for new Reviewer Stories!
Locations: Paris