Turning a 1000-year-old castle into an accessible attraction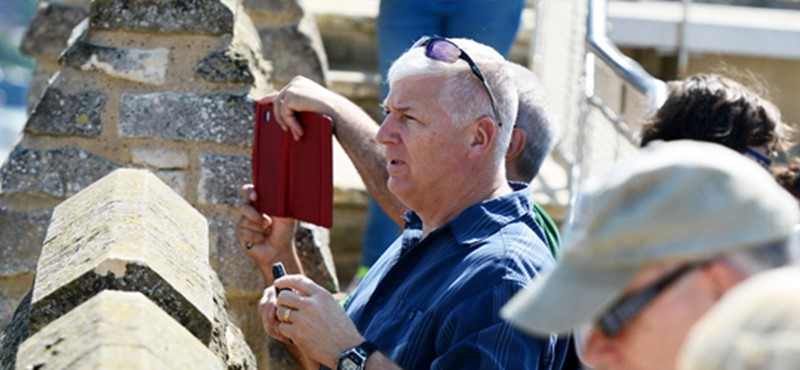 Lincoln Castle is perched at the top of a steep, an unimaginably steep, hill. It's also close to a thousand years old, and was built by none other than William the Conqueror. Despite all of this, the enthralling castle has a 4.5 star review on Euan's Guide, and wheelchair and powerchair users regularly wander along the Medieval Wall Walk. We loved what we were hearing, so we got in touch with Lincoln Castle to find out more about the incredible attraction sitting on top of Steep Hill.
One reviewer said Lincoln Castle has 'excellent access for powerchair-users'. What was disabled access like before and after your refurbishment was unveiled in 2015?
On the 1st April 2015, we reopened Lincoln Castle following a significant period of redevelopment. Lincoln Castle Revealed saw £22 million invested into the heritage visitor attraction. A number of changes were brought about as a result of this project – our Medieval Wall Walk was completed to provide visitors with a 360-degree circuit, our Victorian Prison was restored and open to the public for the first time, and a state of the art subterranean vault was built to house the 1215 Magna Carta alongside two guest documents. The visitor experience was greatly improved and accessibility significantly so. Most importantly, an external lift now provides wheelchair users and visitors unable to use stairs access to the East section of our Medieval Wall Walk. This section of the wall offers the most glorious views of our magnificent neighbour, Lincoln Cathedral.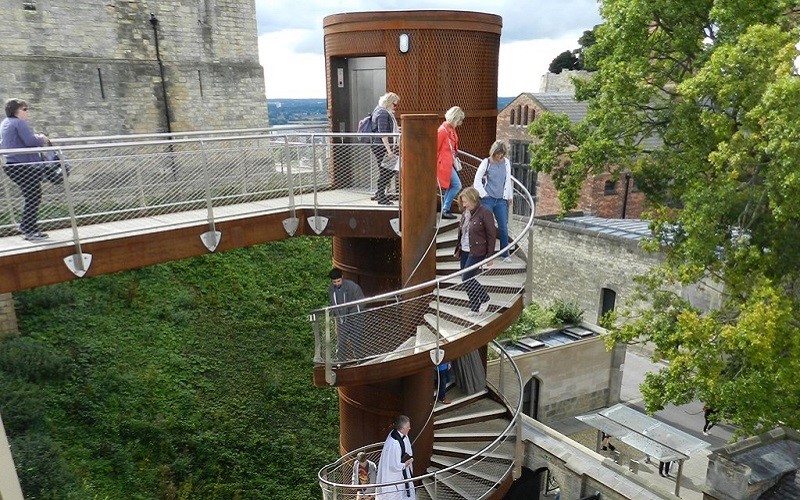 Photo: The turret-shaped lift and winding staircase.
The Medieval Wall Walk is very impressive. The turret-shaped lift and the various formats of the guide available are great examples of ways to make an experience accessible. What is the most creative or interesting way accessibility has been incorporated at Lincoln Castle?
The external lift is a showstopper. Where else are you able to experience a Medieval Wall Walk with such spectacular views? Although the east section is the only fully accessible section, our audio guide has an accessibility tour where you can experience the full guide from this single section of wall walk.
What were the biggest challenges to overcome in making such an old castle accessible?
As a scheduled monument and a listed building, it is difficult to make significant changes that do not compromise the historical significance of the site. Through close liaison with Historic England and with the expertise of conservation architects, accessibility was considered at every opportunity and as much of the attraction as possible was made accessible for the first time. Where there were significant limitations, alternative solutions were explored – for example a wheelchair viewing platform of our incredibly unique Prison Chapel.
The Magna Carta is undeniably one of your biggest attractions. How has this part of the experience been made accessible for visitors?
A lift gives access to the document room and our 210-degree state of the art cinema.
Top tip! You can also get transcripts of the Magna Carta films. Watch out for low lighting in this part of the castle; this kind of lighting is a conservation requirement.
Do you run any accessible events such as BSL-Interpreted tours or Relaxed tours?
We have Morning Explorers sessions (and easy read guide) where we open the attraction one hour earlier for a bespoke experience suitable for families who have children or family members with autism.
What's next for Lincoln Castle in terms of access and inclusion?
We constantly strive to ensure that we offer an excellent visitor experience at all times to everyone. A big driver for any new developments is visitor feedback so if you have any suggestions let our Visitor Experience Team know!
Write a review of Lincoln Castle
You might also enjoy:
Used to be something else…hotels and cottages with history!
Top 6 accessible castles in Britain
Venture into the homes of these eight famous people
Locations: Lincoln