Weekend Getaways We Loved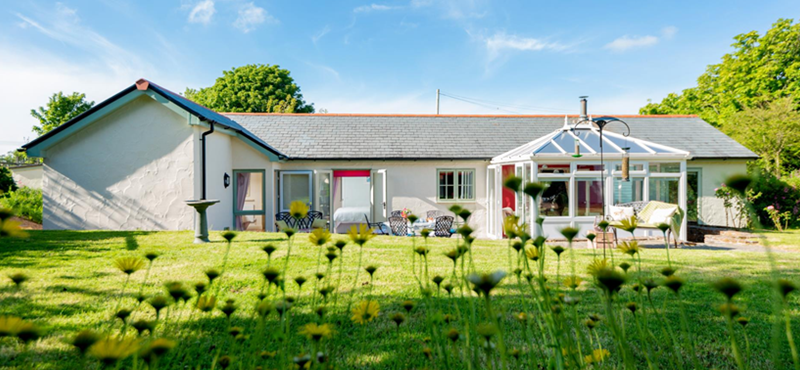 Holidays are where memories are made. They're important for family bonding time or to escape from the real world. Going abroad can be nice but sometimes accessible holidays in a homelier environment are just better.
During lockdown, we were able to appreciate what our country has to offer, and Euan's Guide has the reviews to show it. There are so many cottages, cabins, and lodges to relax and chill in while admiring our countryside.
You might even recognise a couple of them below, as we reflect on where our reviewers have been and what they've been doing to help you choose a holiday destination soon.
We heard about Sara's Cottage from reviewer Sueadams, who took a week-long holiday in Cornwall. Amazing us with her description of the gorgeous wildflowers down the long driveway and the lovely kitchen, it is the perfect place to make and tuck into a Sunday roast.
Sueadams was amazed at the accessible accommodation: "Parking outside the cottage was on level ground, no gravel and a very subtle ramp into the front door. The accommodation is all on one level, so much thought has gone into everything. The doors are wide and the rooms are spacious."
Sara's Cottage can be found in Truro, a cathedral city in Cornwall. You can fill your days in the small city with picnics at Trebah Garden, film dates at the Plaza Cinema or even a tour around Truro Cathedral, where you can fully admire the Gothic Revival Architecture and take a step back in time.
When visiting, you have your pick of beaches to watch the sunset over. On Perranporth Beach the golden sand stretches beyond the eye can see. Breathe in the fresh air of the ocean and bask on a towel under the sun. Afterwards, you can visit the beach restaurant The Watering Hole, so no need to end your fun when the evening comes.
For an environmentally friendly getaway, take a trip to Ludlow. This cabin was constructed with the intent of minimising the impact on the environment. Staying here might encourage you to try out sustainable technologies such as the wood pellet stove, solar water heating and an induction hob.
There's so much greenery to admire in this flourishing environment. Nestled in an unspoilt meadow you can enjoy the gorgeous countryside of the Shropshire Hills and Welsh Marches. Spend your days out in the open gathering fresh ingredients in Ludlow and return to the cabin for a cosy night around the fire pit by the river.
During their stay, LizM commented that the good accessibility made for a wonderful experience: "The owners have created good access with wide doors, all accommodation on one level and a walk-in shower. The lounge and kitchen are all one area and very spacious to move around. Outside there are two seating areas, both flat and level so easy to walk using walking aids or by wheelchair."
If you fancy distracting yourself from the world altogether you can order a takeaway and enjoy some board games. Make sure you pack the family favourites to get the best out of your stay! Unless this is a solo visit, then bury your nose in a good book and enjoy the peaceful haven that is Ludlow Ecolog Cabins.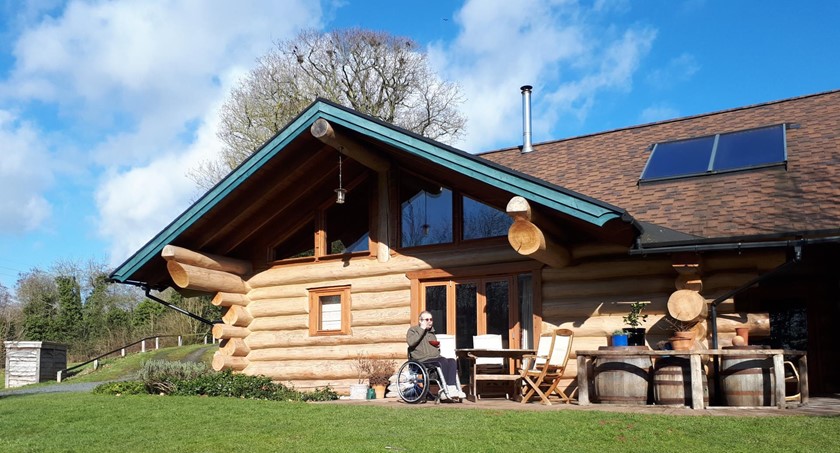 Image of: One of the cabins at Ludlow Ecolog Cabins.
Hexam is a British beauty with charming markets, picturesque parks and a haunting history where you can find your own grand accessible getaway. Stay in the Norwegian style accommodation The Hytte, where you'll find the grass on your roof and beneath your feet.
There's no lack of space with four bedrooms to choose from and eight beds, making it the perfect place for you to host a family gathering. On those cold days, you can gather round and warm yourselves up by the magnificent Norwegian log burner. Spend your evenings on the decked veranda gazing at the open countryside and be swallowed by the magnificent 'Bingfield sunset'. Once you're ready to rest your feet after your days of exploring, you can enjoy a soak in the hot tub.
Our reviewer Rollo was impressed by the accessibility of this hidden gem: "It is fully kitted out for disabled people with a wet room, rise/recliner chair, hospital beds and a portable hoist if needed."
Nearby you can walk the historical Hadrian's Wall, the former defensive fortification of the Roman province of Britannia. Take a leisurely walk to one of the many castles, including the Alnwick Castle which might be best known as the ancient castle of the magical Hogwarts School in the Harry Potter series.
Located in the Kingdom of Fife and 20 minutes away from some of the best coastal experiences in Scotland lies Cupar. This former royal burgh has a tight-knit community and you'll be happy to hear that accessible accommodation can be found at The Rings cabin.
The Rings is a fantastic place to go to refresh. You can do that in the comfort of the 16-bed cottage, one of the six cabins or take a chance on wilderness camping. No one can say you don't have options in Cupar!
Jacquiebaird was impressed by her stay at The Rings: "The cottage is so accessible and spacious, every room was no problem to move around in my powered wheelchair. The bedrooms are beautiful, each one has its own unique design and before you go can be configured to suit your different needs."
You can sit on the wraparound deck with a glass of something delightful to enjoy the stunning views. You can even hire a barbecue for those sunny days too! Being in the centre of everything means all sorts of fun activities are available to you. Take a daytime trip to St Andrews Castle or a visit to the Fife Folk Museum, or even a detour to Anstruther Fish Bar for some of the best fish and chips money can buy.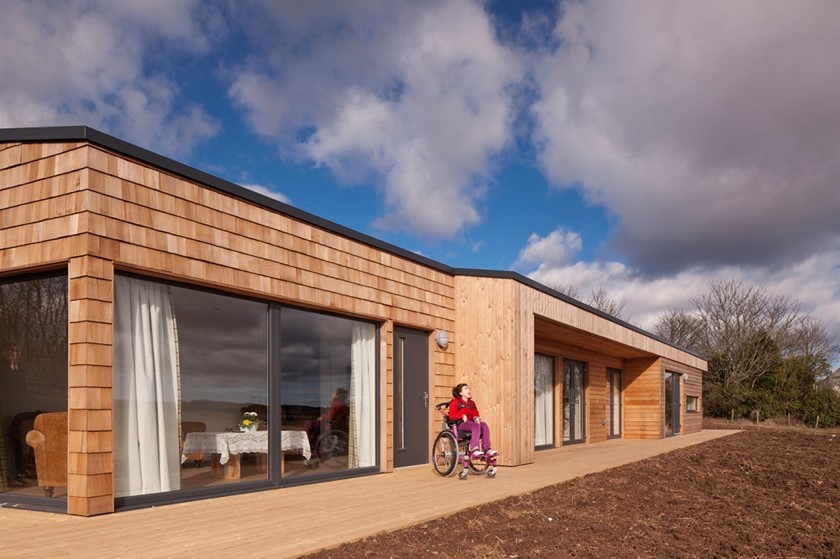 Image of: The Rings cabin in Cupar, Fife.
Buxton is recognised as a spa town, so you know visitors are in for a treat. Funkiestmum enjoyed a family holiday to Hope Cross Cottage at Vicarage Farm, nestled in the ancient farming hamlet of Wheston. The farm is settled in acres of wonderfully landscaped private gardens, located next to coastal paths and trails that allow visitors to enjoy uninterrupted view across the many local fields.
When our reviewer Funkiestmum holidayed in Hope Cross Cottage, there was an admiration for the relaxing features: "The cottage is beautiful and a real pleasure for both disabled and able members of our family. My children loved seeing the cows in the garden and playing in the park area."
Hope Cross Cottage was designed specifically for disabled visitors in mind and sleeps up to four guests. This lovely stay is a spacious one, with a kitchen that opens onto a large patio where you can sit to take in the magical views over the dales.
Wheston is a quiet getaway with a thriving culture of its own. The hamlet is over a mile outside the market town of Tideswell with its famous church known as 'The Cathedral of the Peak' and its equally famous Well Dressing Festival held annually in June.
Tucked away in the Tamar Valley, Todsworthy Farm Holidays is surrounded by the endless greenery of Cornwall. This accessible adapted holiday home is all about the traditional family farm getaway. It's the perfect place for adults to relax but the farm aspect also makes it fun for children too.
Tibizzle72 thoroughly enjoyed the stay at Todsworthy Farm Holidays and said in their review that it is the greatest wheelchair adapted place they have ever stayed in: "Perfectly converted and equipped for specialist needs (profiling beds, mobile hoist, even a lazy boy chair in the lounge!), but also really nicely done and with super friendly owners."
Todsworthy Farm Holidays go out their way to make their venues accessible. Reviewers highly recommend either the Cider Press cottage or the Hayloft cottage for an enjoyable stay.
In the true nature of farm life, the Tamar Valley is home to a wide variety of birdlife. Anyone interested in this natural feature will hear buzzards calling to each other, swallows flitting across the skies and house martins quietly nesting.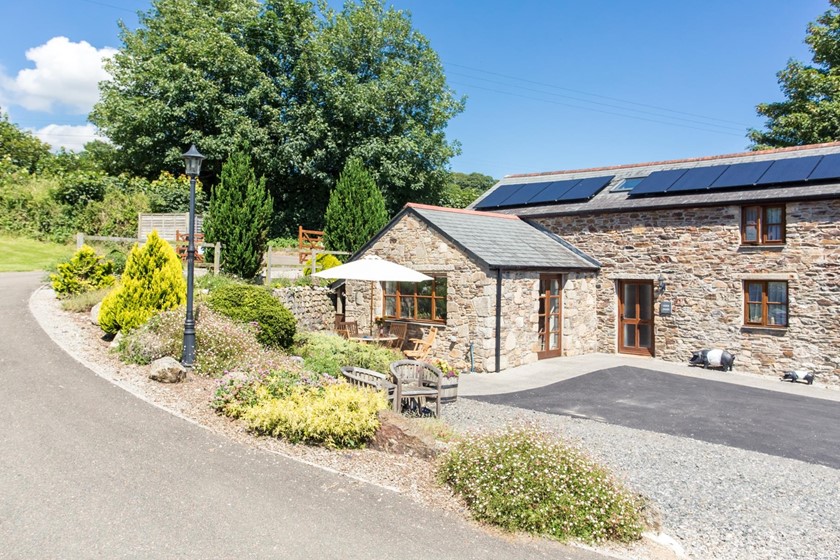 Image of: Todsworthy Farm Holidays in Cornwall.
Step back in time with a trip to the historical delight of Abingdon–on–Thames. When you visit the Abbey Guest House, there will be delights everywhere to entertain yourself with, from the gorgeous architecture to the famed River Thames itself.
The proudly accessible B&B has a choice of seven en-suite bedrooms. This includes the ground floor 'easy access' room that has a wet room. The first floor 'family accessible' space also has a wet room and the 'allergy friendly' option.
Zaktosh had a welcoming stay in the quiet venue: "Great facilities for wheelchair users. A wheelchair traveller on their own would manage especially around the bathroom. There is a choice of facilities in the rooms depending on what you need to manage. Terry is very welcoming and serves a great breakfast. Nothing is too much trouble and is very knowledgeable regarding Oxford and the surrounding area. Highly recommend."
Abingdon-on-Thames is a market town that is rich in culture. Days out include at the Abingdon County Hall Museum looking at exhibitions, touring the ancient St Nicolas Parish Church and back to the Abbey Guest House for a beverage. It truly does offer the home-away-from-home experience.
These are just a few places you can visit and stay at, perhaps treating yourself to a short weekend away at the end of this year or making it an extended one in 2022. You can check the availability and more information of each venue on our website or leave a review of your experience.
| | |
| --- | --- |
| | Written by Iman Mackenzie, Communications Intern |