What's inside an accessible toilet?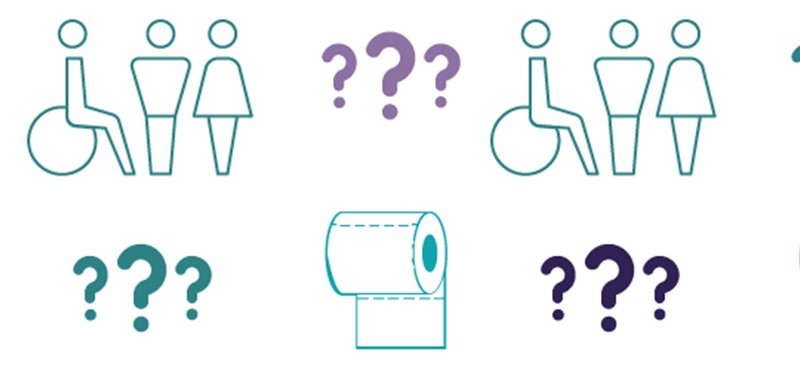 Accessible toilets come in all different shapes and sizes, and reviewers have told us what's good and what's bad about the accessible toilets they've used. We all talk about red cords, transfer space, too many bins, and mirror height…but what does all this mean? Here's our quick guide to knowing what's what inside your venue's accessible toilet!
Toilet
Toilets in accessible loos are positioned higher than standard toilet seats. This is because wheelchairs tend to be higher too, and it's important that the two seats are level to make transferring as easy as possible.
Some reviewers may write that the flush 'was on the wrong side' of the toilet. This is because in accessible loos, the flush ideally needs to be on the side away from the wall. This is so that people can reach the flush from a seated position in their wheelchair where the transfer space is.
Grab rails
These are essential to help people maintain balance either when standing or when transferring between a wheelchair and the toilet. The best fold down rails are secure but also easy to raise and lower when sitting down. Often reviewers will complain about missing grab rails, or rickety fittings which can make balancing quite precarious!
Emergency red cord
Red cords are one of the most talked about features in disabled access reviews on Euan's Guide! Emergency red cords ensure the safety of people who are vulnerable to falling. This could be wheelchair users as they are transferring, or anybody who is at risk of losing their balance. In a situation where somebody does fall, the emergency cord must be in a position where it can be reached from the floor, and this is why lots of reviewers lower their ratings of venues who have emergency cords tied up out of the way. A Red Cord Card can help fix this problem, so if you see one of these appearing in your venue's accessible toilet, it's a good idea to leave it there!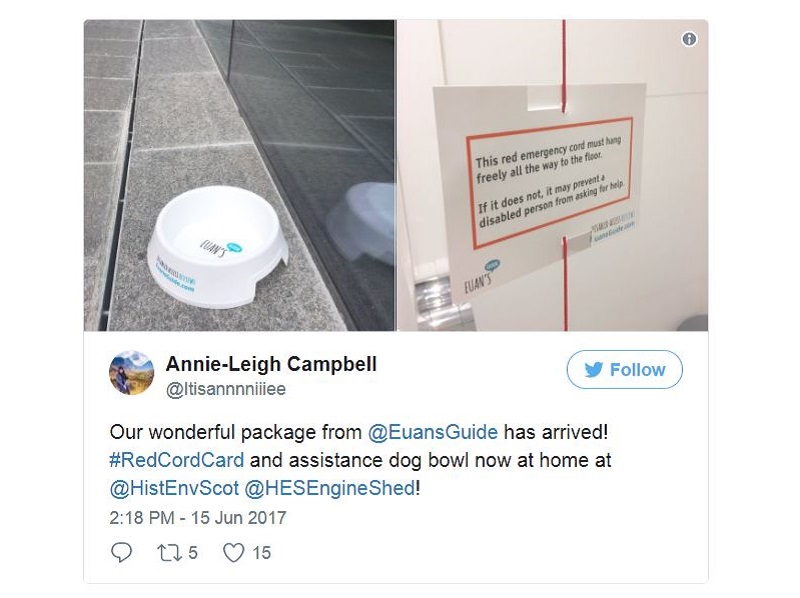 Sink
Sinks in accessible bathrooms are positioned as close to the toilet as possible, and they are fitted at a height that allows a wheelchair user to position their legs beneath. A top tip from reviewers is to have paper towels right beside the sink; otherwise wheelchair users will have to use wet hands to wheel their chair to wherever you have positioned your hand drying facilities.
Mirror and a shelf
The best accessible toilets have a mirror that can be viewed by people who are both standing and sitting. It's a good idea to fit a shelf too, as people often need somewhere to place those essential bits and bobs when making a visit. This needs to be within easy reach as it could be needed for catheter equipment or for other requirements.
Good lighting
A brightly lit accessible loo with an easy to see and reach light switch is a must! If the lights are not automatic, a good tip is to make sure the colour of the light switch contrasts with the wall so that visually impaired people can find it more easily.
Coat hook
Coat hooks are regularly fitted high up on doors to accommodate long coats, but this can be difficult for wheelchair users to reach. Nobody wants to put their clothing on the toilet floor! Add a second coat hook that can be reached from a seated position.
Disposal bins
These are essential, but they can also be a nuisance. Disposal bins should be an appropriate size for the room they're in – too big and they're in the way! In addition, avoid using accessible toilets as storage rooms, particularly for high chairs.
Space
Toilets come in all shapes and sizes, but the bigger the better when it comes to accessible loos. Reviewers will often write about how much space they had to move around, how wide the door was, and whether it opened inwards or outwards. Top tip, an outward opening door is better! It means there's more room inside the toilet to move when leaving and entering the room, and nobody is likely to get trapped.
Signage
If your toilet is difficult to find, people are likely to drop a star when they review you! Good clear signage is important, as is ensuring there is a clear path to the toilet door. More and more venues are beginning to use signage that represents invisible disabilities too. Grace's Sign is a good example of this.
Radar Key
Radar Key locks are great because they allow you to keep your accessible toilet locked at all times. This prevents people from using it when they shouldn't, and it means disabled people won't have to come looking for a staff member to unlock it when they need to use it. Most disabled people have their own key which they'll carry with them, but if you have installed a Radar Key loo make sure you keep a spare key handy for those that have forgotten!
Changing Places Toilets
If you've been reviewed on Euan's Guide, you might have seen some people mention Changing Places Toilets. What are they? A Changing Places toilet is a fully accessible toilet with the following additional equipment: a height-adjustable changing bench, an overhead track or mobile hoist; a peninsular toilet, privacy screen and enough space for up to two carers as detailed in British Standard BS800: 2009. These toilets should be provided in addition to standard accessible toilets, especially in very large venues visited by high numbers of people.
You might also enjoy:
What makes a good accessible toilet?
How complete is your Euan's Guide listing?