Lincoln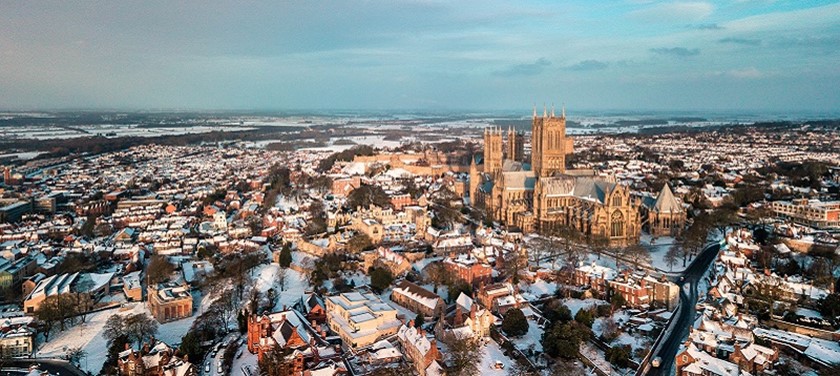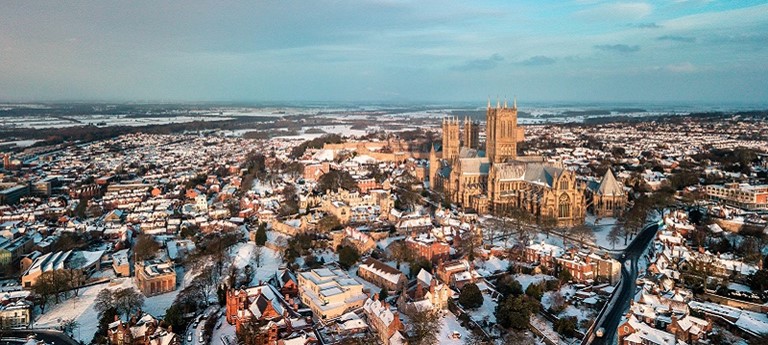 A cathedral city and home to one of the four remaining Magna Cartas, Lincoln is a history-lover's delight in the East Midlands of England. Visible for miles around, Lincoln and its triple-towered cathedral protrude high above the never-ending flatlands below. As if out of a storybook, the city is charmingly split into 'Uphill' and 'Downhill', the two sprawls either side of 'Steep Hill'. Lincoln's two main points of interest can be found in 'Uphill' in the Cathedral Quarter where the towers of the gothic Lincoln Cathedral loom over the steeply dropping buildings below.
Fall asleep beneath Gothic spires
Situated minutes from the Cathedral Quarter yet in blissfully rural surroundings, Lincoln Canwick Premier Inn Hotel has been rated 5 star by one reviewer on Euan's Guide: "Flat entry throughout with automatic doors into reception from the outside. Very friendly staff. The room was larger than average and in twin layout there would be room for a hoist in bed and bathroom (possibly not to travel in hoist to bathroom with hoist legs extended wide)."
The Castle Hotel is another good option if you'd like to stay even closer to the castle and cathedral. One guest who uses a wheelchair told us they stayed in a "fully accessible room on the ground floor, with access to hotel reception and dining room via step free (though sloping) outdoor path." 
If you're travelling for business, you might like Hotel Ibis in the south of the city. The hotel has a 4 star review on Euan's Guide for easy access to the main foyer and meeting rooms.
Travel back in time to Lincoln's dramatic past
If you're just passing through, Lincoln's major tourist attractions can be explored in half a day with the castle and the cathedral attracting most visitors. It should be noted that Lincoln's 'Steep Hill' which connects 'Uphill' and 'Downhill' is cobbled and unsuitable for some vehicles. It has been declared inaccessible for wheelchair users by the tourist board, however there is the Walk & Ride Steep Hill Shuttle Bus and other bus services which can take visitors up to the hilltop attractions!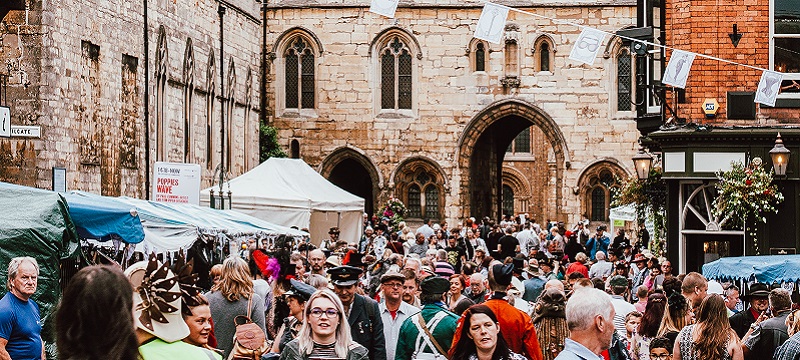 The dominating Lincoln Cathedral is magnificent in scale with a medieval, cavernous atmosphere inside. It was also one of the filming locations used in the Da Vinci Code in 2005! One powerchair user visited and described the architecture as beautiful and that it was 'well lit' with 'ramped access throughout'.
Opposite Lincoln Cathedral, across Castle Hill – which is not a hill but a short, cobbled street – is Lincoln Castle, home to the 1215 Magna Carta displayed in a modern cellar exhibition. The ancient castle was one of William the Conqueror's first, and today it is a sublime spot to take in the city and the miles of flatlands beyond. One visitor wrote that the castle has 'excellent access for powerchair users' and said:
"Millions of pounds refurbishment includes many access features including a hoist in the toilet. We used the easy access castle bus which departs from the garden centre and drops off a few blocks from the castle. Only a few cobbles into the grounds, otherwise flat and smooth terrain."
The castle walls can be accessed by a turret-shaped lift where wheelchair users can view the sweeping landscape through openings in the walls at a lowered height. A lift is also available to reach the Magna Carta underground.
History was dramatic in the recent past too, and you can learn all about it at Lincoln's International Bomber Command Centre! One visitor said "there was lots to see and good accessibility," and that "most videos have subtitles so hearing-impaired people can understand what is being said."
Get lost in the city's food and drink scene
A city steeped in history attracts lots of visitors, and as a result Lincoln is thriving with good restaurants, bars and coffee shops! On Guildhall Street you'll find The Mailbox, a bar and restaurant serving breakfasts, brunch, burgers, hot dogs, cocktails and more. It's also a great place to go solo, as you can use their wifi, printing facilities, and phone charging points if you need to get a little work done (or print those missing train tickets!). There's even a Virtual Juke Box which lets you add music from your phone to the bar's playlist.
"This place has level access up to the bar and has a disabled toilet. This place is popular with younger people and they have games consoles which people can play on. All of the bar area is accessible."
On the High Street there is a Côte Brasserie restaurant which has been described as a 'great French restaurant' with 'good access all round' by one powerchair user. Closer to the waterfront is a Chimichanga Restaurant which has been given 4 stars for accessibility by one reviewer who said staff have 'good disability awareness'.
A smaller, Italian restaurant, can be found on St Benedicts Square and serves homemade dishes, pizzas and ice-creams. Bar Unico also popular with coffee drinkers who like to indulge in a little Italian coffee culture! They often host music nights and special set-menu evenings which you can look out for on their social media feeds. One reviewer said it was a 'bit of a squeeze' but that it was 'worth it for the service'.
If you're braving the impressive slopes of Steep Hill, one reviewer has recommended trying Widow Cullen's Well for a traditional English pub feel. It's been described as an "accessible pub with very good beer in Lincoln old town," but if you're using a wheelchair, powerchair or mobility scooter take extra care on the hill outside. It really is quite tremendous! 
Escape the city 
If you've covered all the city's main attractions and fancy a break from the cobbles, Whitby Nature Park is near Lincoln and has various trails to explore. A powerchair user who enjoyed the park described it as a "nature trail with good wheelchair access." 
Local insight
We asked one of our reviewers, RonaMorris, to give some tips for accessing Lincoln's attractions and venues.
"I would say bring a radar key as a must, most pubs have radar keys for the loos. Most disabled parking spots have raised not dropped kerbs on one side,drives my hubby mental. The best cab firm for assistance is Direct Cabs, if you can get in a car normally and are cheapest, the best one for wheelchair only is marks specialised transport. MJR taxi service is lovely but he doesn't work evenings unless by prior arrangement. I wouldn't recommend Bail Gate area it's pretty but all cobbles. So a castle tour is out although Charlotte House is beautiful. Central Lincoln is ok but again cobbles Marks and Spencer's and Debenhams have disabled loos. Personally, I shop in Newark because it's faster for me to shop there than Lincoln as I'm 3 miles out of Lincoln itself. Even the cathedral would be a nightmare for a wheelchair user as cobbles and very uneven paths. Book ahead ask about facilities in advance is my best advice especially in hotels. Lincoln is pretty, but old and not wheelchair friendly. The train station is very well equipped lifts disabled loos etc and assistance available on request. The lawns is on the flat so that would be ok. It's like a large greenhouse with fish tanks."
Changing Places
Changing Places are available at:
Can you add to our Lincoln Guide?
We'd love to have more reviews of Lincoln! If you have been somewhere that has great accessibility, please help by writing a review.
Last updated - August 2018