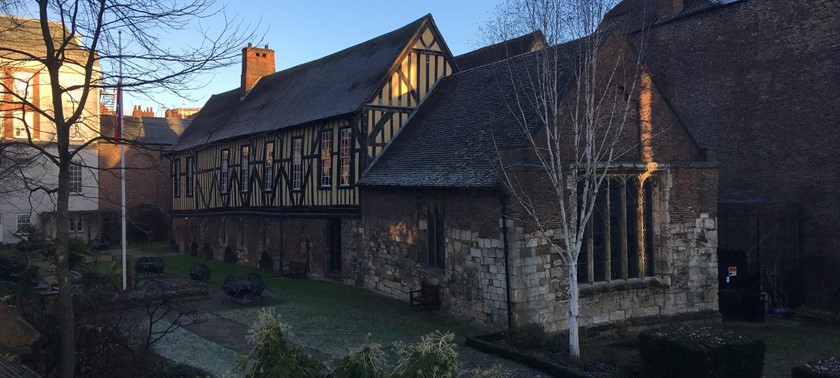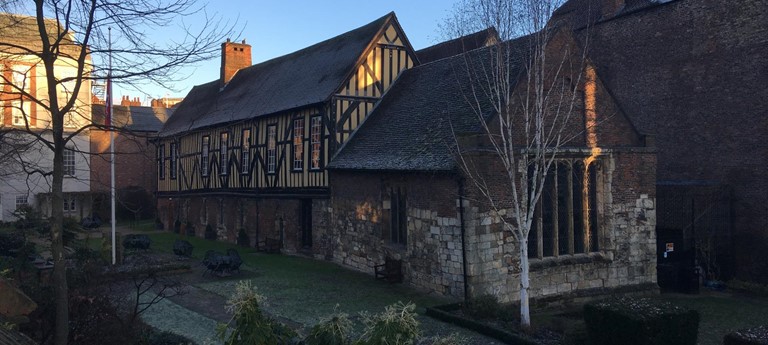 Venue Description
Discover one of the finest original medieval guild halls in the world, still home to the Merchant Adventurers whose 660 year unbroken tradition of entrepreneurship, wealth and experience has built York: from the 14th century, via railways and chocolate to the 21st century Science City.
Accessibility
There are two entrances to the Hall: The main entrance is via Piccadilly. To access the Hall there is a set of 17 stairs, the most stairs you have to go down in one go is 12. The stairs have a rail on one side and are made of stone flags. The path to the Hall is also made of stone flags. The accessible entrance is via Fossgate. There are signs attached on either side of a red door. The entrance is down a passageway. It is 118cm wide at its narrowest point. Light levels are slightly darker in this area. There is a ramp made of stone flags which is 112cm wide or there are 3 steps down. The door will open inwards automatically and can be opened by pressing the grey button on the red sign to the right of the door. The Hall consists of one building on two floors. The Hall is fully accessible to wheelchair users via the Fossgate entrance with a ramp into the building and with level access across the ground floor. A platform lift is available to take visitors to the first floor where there is one ramp; the rest of the Hall has level access. The lift is a platform lift, it is 113cm wide. The lift's maximum weight is 300kg. It can take one wheelchair user and one other person or two people.
Accessibility Guide
Accessibility Guide Link: https://www.merchantshallyork.org/visit/
Toilets
There is an accessible toilet on the ground floor with step free access. The doorway is wide enough for a manual or power assisted wheelchair. There is an internal space of 1500mm to enable a wheelchair turning space. There is a grab rail and there are easy turn taps. The door locking device is quite small but there are plans to replace the lock with a device which is easy to operate by most users.
Staff
Information about the staff has not been added for this venue.
COVID Precautions
Last updated:
We kindly ask that all visitors and customers to the Hall and Merchants' Coffee House continue to wear a face mask or face covering, unless exempt. Our staff will be doing the same All areas are cleaned regularly and hand sanitiser is available.
Assistance dog facilities
Other assistance dog facilities
We welcome assistance dogs trained by the following accredited organisations. Autism Dogs CIC Canine Partners Dog A.I.D Dogs for Good Guide Dogs Hearing Dogs for Deaf People Medical Detection Dogs Service Dogs UK Support Dogs The Seeing Dogs Alliance We can provide water if needed.
The venue says it has...
Audio Described
Accessible Format
Carer Discount
Dedicated Seating
Disabled Access
Large Print
Accessible
Toilet
Covid Precautions