York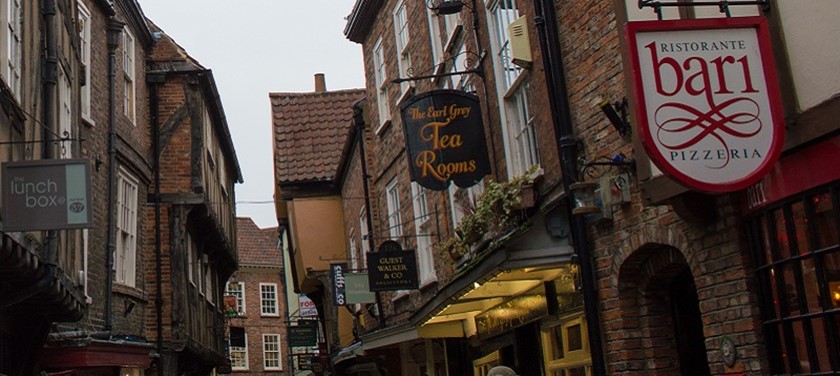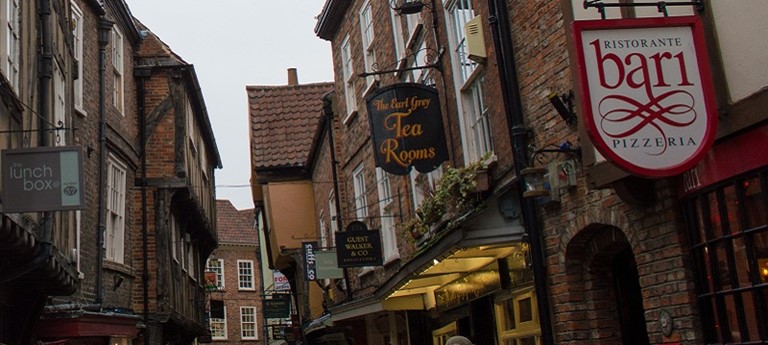 Towering above the crooked and shadowy lanes of York, the city's iconic landmark, the Minster, is a magnificent gothic structure that will offer you a first glimpse of the medieval metropolis. Contained within thick stone walls, York is a fun city with an air of quirkiness, yet it's difficult to shake off that feeling of being watched as it is said to be England's most haunted city…
Getting there
Conveniently located on one of Britain's major east coast rail network lines, York is the ideal city to travel to by train. The city's railway station is among the highest reviewed venues on Euan's Guide for accessibility with 4 stars overall. One reviewer told us: "York Train Station has provided a large variety of features to allow the station to be fully accessible". There is a taxi and drop-off bay immediately outside the main entrance to the station.
Wake up to the sound of York's bells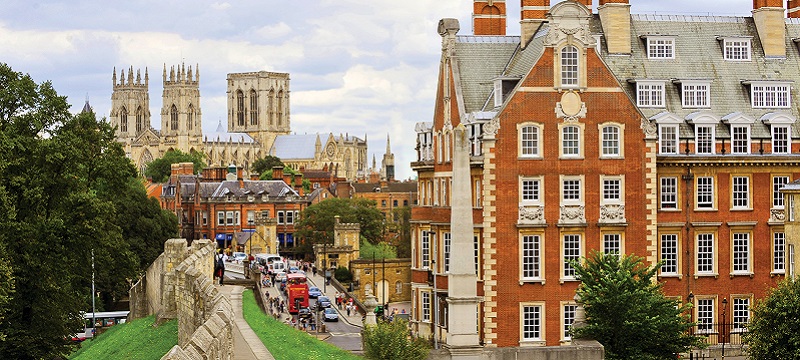 Image of: The city walls and The Grand Hotel and Spa.
A rather large but pleasant alarm clock awaits visitors to York, especially if you choose to stay near the Minster! The Grand Hotel and Spa York is a luxury hotel with a superior reputation and an interesting history. One guest wrote about it saying it was: "a fine old building converted to an hotel. They have more than one disabled-friendly room, superbly equipped for wheelchair-users. Nice staff and high-quality food. Very central".
Hilton York Hotel has a 5 star review with one reviewer saying: "there are rooms provided for disabled guests which have a thought through design for optimum accessibility". Another reviewer also recommended this hotel for its fantastic afternoon teas.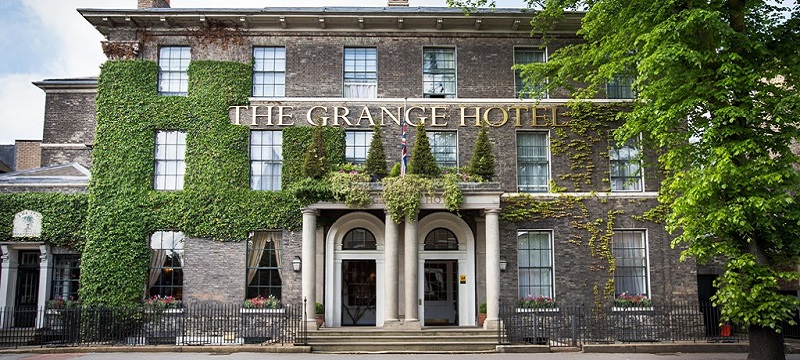 Image of: The Grange Hotel's entrance.
For even more luxury, The Grange Hotel is an elegant building close to York's historic centre. The boutique-style hotel is listed on Euan's Guide saying: "We have 11 bedrooms on the ground floor, 8 are level access. One of these bedrooms has a four poster bed which is quite a high bed and not suitable for people with mobility problems. The Junior Suite has a large bathroom with a wet room shower". Be the first to write a review for this hotel and let us know how you found it by following this link.
For a stay near to the railway station, the The Principal - formerly the Royal York Hotel - has a 4.2 star rating and is directly across from York Railway Station with only a short walk to the city centre. One reviewer told us: "there are disabled rooms which are very well equipped. The bathroom is large and has grab rails, shower seats and a low bath".
If you're keen to stay close to the city walls, the Best Western Monkbar Hotel has a 4 star review for good access. A reviewer wrote: "the disabled rooms are situated directly across from the main entrance. There is a ramp leading to the disabled bedroom and a wider door to access". Also within the city walls is Holiday Inn York City Centre that has been rated a 3.5 star rating on Euan's Guide. One guest wrote that the accessible room had: "a spacious wet room with sturdy grab rails & an emergency pull cord that reached the floor, & plenty of room to manoeuvre".
Of course it wouldn't be York without a chocolate-inspired hotel! Hotel Indigo in the city 'reflects the history and chocolate heritage of York' with its quirky confectionery rooms. You can expect wall panels that look like chocolate, and jelly-mould style lights! One guest loved staying and said it was: "very wheelchair friendly quality hotel with spacious wheelchair facilities".
Look out for lucky cats
Hidden around the city streets are twenty-one lucky cat statues. Keep an eye out for these as you're wandering around! A traditional York story, the original Cat Statues were dotted around buildings hundreds of years ago to scare away plague carrying rodents. You can try to find the cats on your own, or you can download the full cat trail here.
Medieval high-street shopping
York is a top shopping destination and offers something a little bit different from your typical high-street stores. While popular fashion stores line the major shopping streets, there are lots of other hidden gems selling unique items throughout the city. Browns Department Store is well worth a visit, and it has a 4 star review on Euan's Guide. One reviewer wrote: "staff were all extremely friendly and helpful. Staff went out of their way to show me where the lift and stairs were and took me to these places as the store is quite big".
Dig up some history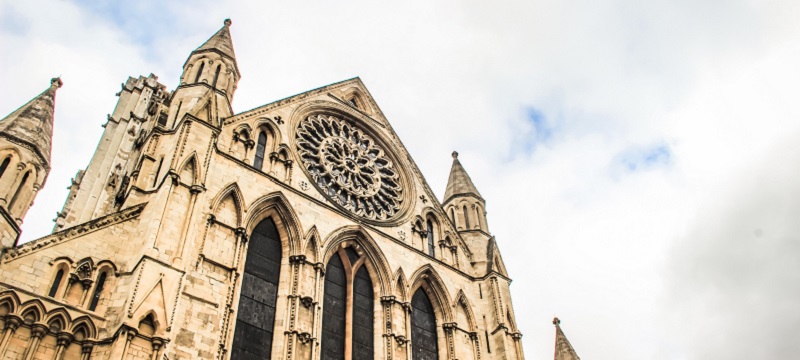 Image of: The Minister.
A trip to the Minster is on most visitors' trip bucket-lists, and it also happens to be another top reviewed Euan's Guide spot! One reviewer wrote: "very spacious area within the cathedral, no problems manoeuvring unless it's a peak time and very busy, but there's lots of room for wheelchairs".
Museum enthusiasts might also want to visit Yorkshire Museum which has a 4.5 star access review on Euan's Guide. "This is a great attraction which has plenty of space for wheelchair access and provides plenty of seating throughout". The museum is home to five galleries of exciting displays including archaeological treasures and birds and fossils. If the weather's sunny, you could always join locals and visitors in York Museum Gardens in the medieval ruins of St Mary's Abbey: "the paths are all wide and although some have a steeper gradient they aren't too steep".
York Castle Museum is a top place to visit for history enthusiasts! Here you can walk down a recreated Victorian Street and learn all about the city's vibrant past. One visitor wrote: "this is a lovely museum and well worth a visit. There are just 4 gallery rooms on first floor which are not accessible to wheelchair users as they are in part of the original old building where it is not possible to install a lift. However there is still plenty to see and contains a lovely cafe and gift shop to browse around". 
Make your way to Tower Street where you'll find the York Army Museum. Here you'll learn about over 300 years of The Royal Dragoon Guards and The Yorkshire Regiment history with stories, exhibits and events. One visitor wrote: "visited York Army Museum with my boy who loves anything like that. With ADHD, sometimes museums can be a short or rushed visit, but the opportunity to handle objects, learn all about them and dress up in costumes and equipment was a real attention grabber".
If you prefer to get a little more hands on, DIG – An Archaeological Adventure has plenty of tactile exhibits. One reviewer wrote that the attraction "is conveniently accessible whether travelling by public transport or driving and parking".
Go on a chocolate trail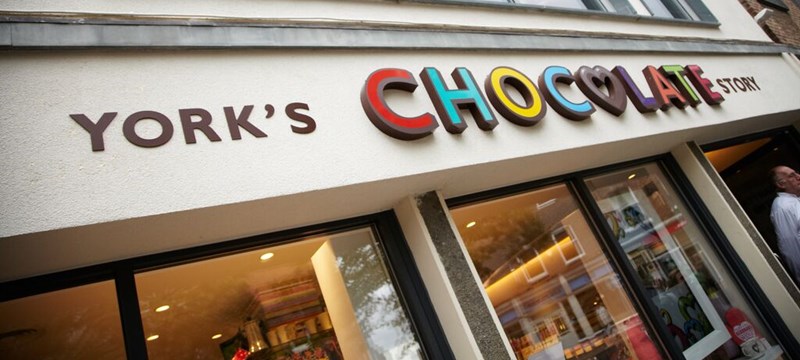 Image of: Exterior of York's Chocolate Story.
York is considered by many as the home of chocolate, and in some ways the rivers and railways certainly helped bring chocolate to the city and to the world. York's Nestle Rowntree factory even made thousands of chocolate bars for the Charlie and the Chocolate Factory movie blockbuster! To celebrate the city's chocolatey heritage, there is a dedicated York Chocolate Trail to help you find the best chocolate in the city. York's Chocolate Story is part of the trail and has listed its disabled access information on Euan's Guide.
Learn about locomotives
With over one hundred locomotives, York's National Railway Museum is a top visitor attraction that documents over three hundred years of railway history. One reviewer gave this venue 4.5 stars writing: "it has many ramps to enable you to see in the drivers' can of some of the steam engines and a ramp that takes you inside one of the carriages of a bullet train".
Wander around York Art Gallery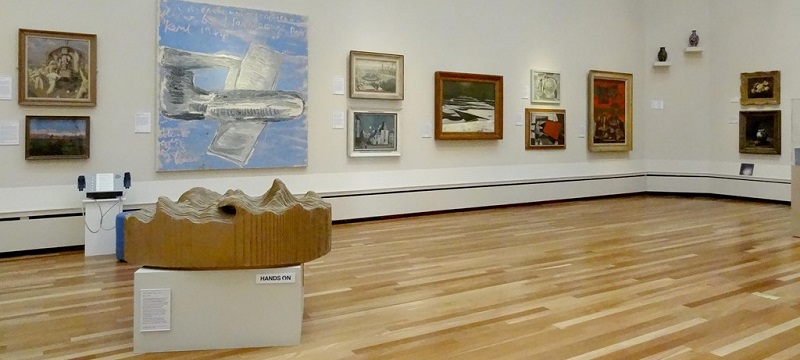 Image of: An exhibition inside York Art Gallery.
Art lovers should save some time to explore York Art Gallery which has a 4.5 star rating on Euan's Guide. One reviewer told us: "the gallery, having been closed for some time, has been reopened to not only reveal the original Victorian ceiling, but wide corridors, lift access and good toilet facilities".
Visit Vikings!
JORVIK Viking Centre is one of the UK's most popular visitor attractions as it takes guests on a journey through Viking streets and brings them face to face with Vikings themselves! You might even catch a whiff of some home-cooked stew from inside one of the Viking homes. One reviewer gave this attraction 5 stars saying:
"There are little carts that take you round the Viking Centre, they have one cart that has a lowered floor specifically for wheelchairs. The staff were fantastic and helped me through the centre and onto the cart, they were very friendly and made sure I didn't miss a thing. I didn't book to go either, I just turned up".
A good time to visit is during the Jorvik Viking Festival in February when hundreds of Vikings descend on York to demonstrate battle-drills.
Feast for foodies

Image of: The exterior of The Cross Keys.
The York Annual Festival of Food and Drink is held every September, but if you're looking for a bite to eat at any other time of year, fear not! York has plenty of food and drink venues to enjoy.
Pig and Pastry is a 3.2 star rated café described as being "extremely inviting for all types of custom, including those in need of disabled access". Your Bike Shed is another café in York with a twist! A bicycle themed restaurant, Your Bike Shed has 5 stars with on reviewer writing: "it's bright, spacious, warm and has a lovely atmosphere. Very good food and drinks".
If you're looking for some cosy pub grub in the evening The Cross Keys has a 4 star review as, "'it is wheelchair accessible and has a small yard enabling customers to sit outside". You could also try The Blacksmith Arms on Main Street which has been described as: "a welcoming local pub, serving home cooked meals with a friendly atmosphere. Disabled parking is provided adjacent to the beer garden to the rear of the pub where disabled access can also be located".
You can visit Revolution Bar which has a 3.7 star rating and is said to have "a large open plan floor and a ramp entering into the building which allows wheelchair users to easily access the building, as well as being able to freely move around when on the flat surface." The staff are also described as being "always pleasant and very helpful. They made my visit a good experience and would always be around to lend a hand if required."
York Arts
Something a little different musically can be experienced in a converted medieval church in the middle of York. It's home of The National Centre for Early Music and numerous music festivals throughout the year. One visitor wrote: "it is a brilliantly accessible venue with a ramp and then heaps of space inside".
For those interested in a bit of theatre, York Theatre Royal underwent a recent refurbishment that locals are describing as a huge improvement to accessibility! One visitor wrote: "the Theatre Royal has been refurbished and is now more accessible, including automatic doors and the foyer more spacious. The stalls are now raked but the first few rows are step-free and there are designated wheelchair spaces in the stalls and Dress Circle, which you can now access by lift".
Ghost story before bed…
Reportedly England's most haunted city, a ghostly night tour is a must! The York Ghost Bus Tours has been rated 3.5 star and you can see a video review of the attraction here. Even the bus itself is said to be haunted…
Have you been to York?
We would love to hear more about York! If you have visited the city, please share your reviews and photographs of disabled access features with us.
Header image: The Shambles, an old street in York's city centre.
Last Updated - January 2021