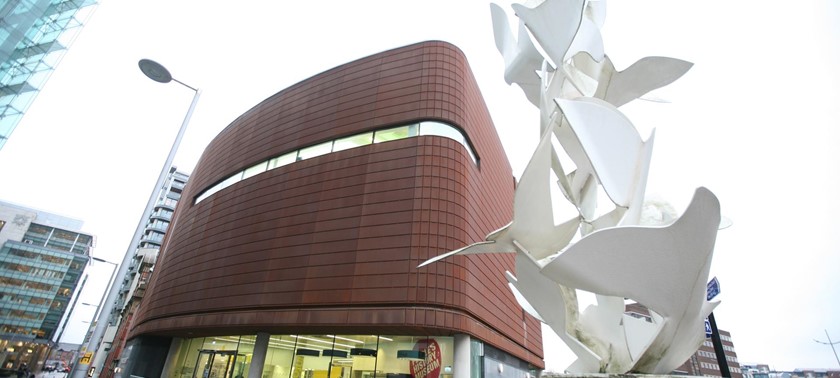 Venue Description
There have always been ideas worth fighting for. Join a march through time at the People's History Museum following Britain's struggle for democracy over two centuries. Meet the revolutionaries, reformers, workers, voters and citizens who fought our battle for the ballot. Gather amongst their magnificent banners and discover how time off was won (and spent). Enjoy our main galleries, Changing Exhibition Gallery and Community Gallery, along with interactives and activities for visitors of all ages. Browse our shop for unique books and gifts and round off your day with a bite to eat in our cafe bar The Left Bank.
Accessibility
Ramps to the main entrance Main entrance has automatic opening option The museum is fully wheelchair accessible. Please be aware that entrances to some of the galleries are by fairly heavy glass doors which our Front of House staff will be happy to help you with Lift access to all floors. All lifts in the museum are wheelchair accessible and the main lift near reception also has audio announcements The main galleries are designed to provide a range of sensory experiences, including several different audio, visual and touch elements
Accessibility Guide
Accessibility Guide Link: http://www.phm.org.uk/visit-us/access/
Accessible Performances
For full details of upcoming events visit - http://www.phm.org.uk/whats-on/
Awards List
The museum is Accredited by Arts Council England. In 1998 it was awarded Designated status by the Department of Culture, Media and Sport, which recognises the museum as having pre-eminent collections of national importance. For a list of awards visit: http://www.phm.org.uk/about-us/awards/
Toilets
There is also an accessible WC in the Engine Hall on the ground floor, an accessible WC on the lower ground floor and an accessible WC on the second floor of the museum. All of these WCs are free access, unisex and accessible by lift with no steps or ramps. All accessible WCs have red alarm cords in case of emergency. All WCs are brightly lit with ceiling spot lights and includes emergency lighting; have non-slip floor surfaces, either tile or vinyl; have lever taps. See our access statement for full details of measurements and location of grab rails
Staff
Some Front of House staff have received Disability Awareness Training, with the possibility of training other staff. All staff undertake equality and diversity training which includes aspects of disability awareness. There are visual and audio alarms present in the case of emergency or evacuation. As part of Health and Safety, staff are trained to assist with evacuation of the galleries.
COVID Precautions
Information about COVID precautions has not been added for this venue.
Assistance dog facilities
Assistance dog exercise facilities
Nearest public park is Peel Park in Salford (1 mile away). Dogs can be taken off-lead if they are under control (confirmed by Salford City Council Dog Warden, Jan 2016)
Other assistance dog facilities
We have a water bowl for dogs
The venue says it has...
Accessible Format
Dedicated Seating
Disabled Access
IR Induction Loop
Induction Loop
Large Print
Disabled Parking
Access Statement
Accessible
Toilet