Manchester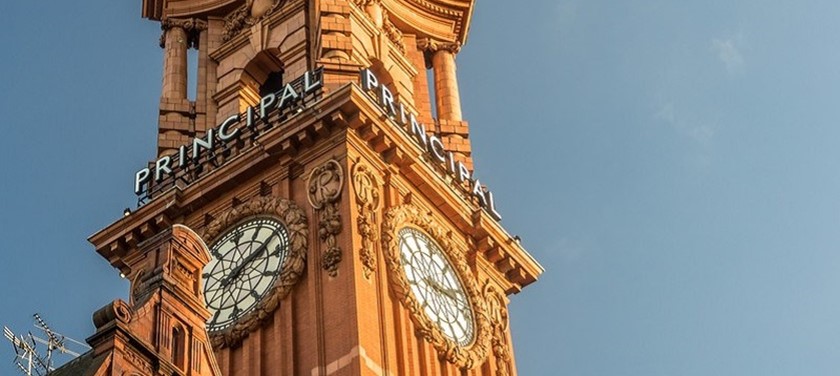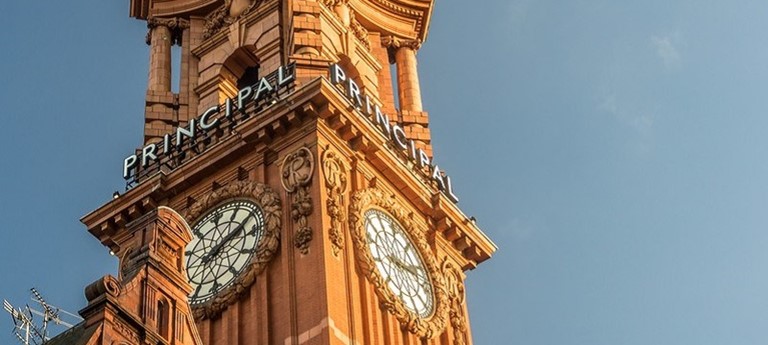 Famous in the 1980s for the Madchester scene, today this large city is splashed with artsy warehouses and towering glass skyscrapers. Manchester's symbol of the working bee is a perfect reminder of the city's hard-working past, especially during the Industrial Revolution. There are cultural venues at just about every turn, but if you're a football fan, your visit will probably be more concerned with the presence of the city's world-famous football clubs! Whatever your reason for visiting Manchester, be sure to check out these accessible venues along the way.
Getting there
Whether you are commuting, on a city adventure or trying to get through the evening rush hour, Manchester is a city that is well served with its accessible transport links. The train stations can be big and busy - but don't be put off! Manchester's train system has impressed one Euan's Guide reviewer who gave Piccadilly Train Station 4.5 stars for its great accessibility and friendly staff:
"We had assistance booked by Network rail and they were excellent. They carried our luggage to the train, sorted a ramp out and made sure assistance was ready at the other end".
We would love to have more reviews about accessible transport services in Manchester! Send us your reviews of train stations, bus stations and more in the city! Write a review >>
Hotels with good disabled access
From luxurious buildings to modern suites, there is a little bit of everything to choose from in this lively city. The Principal Manchester on Oxford Street is a 10-minute walk from Manchester Piccadilly. This hotel has been rated 4 stars by a wheelchair user on Euan's Guide, who commented:
"In my experience, it is really hard to find a luxurious accessible hotel room but this definitely is! A beautiful room with a queen size bed, level access shower and massive room. We stayed here a while ago and I didn't want to ever leave!"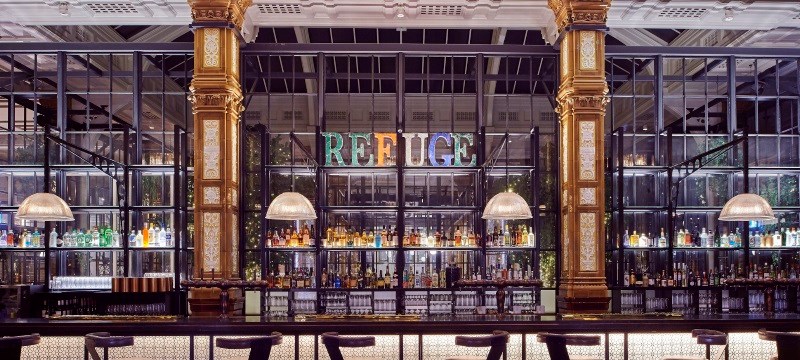 Alternatively, The DoubleTree by Hilton is right next to the train station and is another hotel that has been rated highly by our reviewers. One wheelchair user gave this hotel 5 stars for its great accessibility saying: "Looking for that extra mile? Go no further, staff all very friendly and more than willing to help".
You could reserve a room at the Velvet Hotel Bar & Restaurant situated right in the city centre and close to Piccadilly train station. This plush hotel is listed on Euan's Guide saying there is a large set of wide double doors at the entrance and there is also lift access from the ground floor from the Richmond St Entrance. Have you visited this hotel before? We would love to hear about your accessibility experience! Write a review >>
If you're visiting Manchester for the sport, you might feel more at home in Hotel Football, a 4 star rated venue on Euan's Guide! One reviewer said this hotel was, "high up the league table", and that it had, "nice flat access and space to manoeuvre".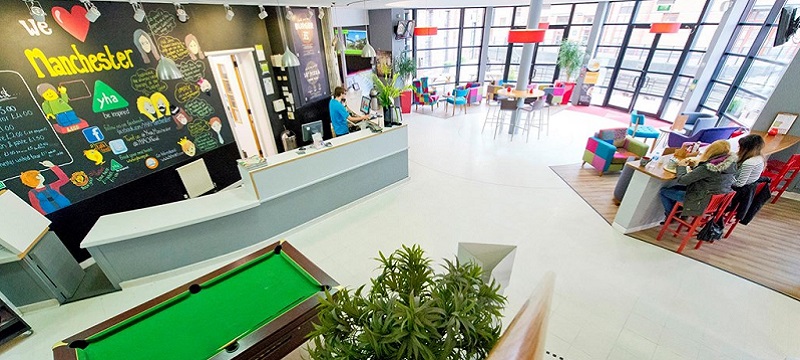 For those on a budget, Manchester has a bright and welcoming youth hostel that lists on Euan's Guide saying: "the entrance is step-free and there is a light manual door. There is step-free access to all ground floor facilities and there is a lift access to the upper floors". This hostel is a fifteen-minute walk from the city centre and nearby one of the free bus routes!
Interesting places to visit
Football fans will have plenty of reasons to visit Manchester! A visit to one of the city's massive football clubs is a must, and one reviewer rated Etihad Stadium 5 stars for its accessibility, saying: "access to seats was great, plenty of room and fantastic view. Wheelchair bays are in little groups around the ground, each one has a 'carers' seat next to it. View from block 202 is brilliant". The stadium now also has a Changing Places toilet.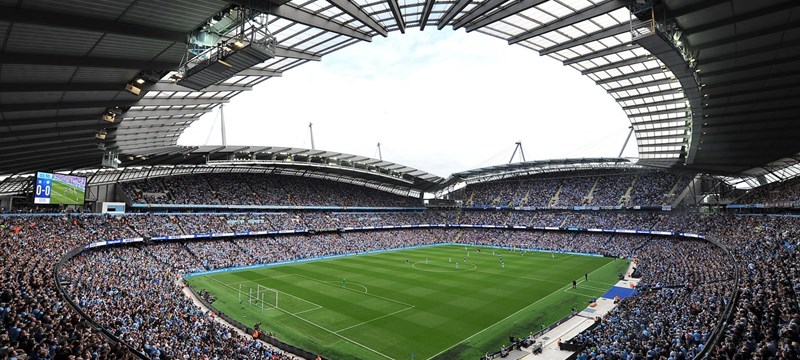 The Manchester United Museum & Tour Centre is also listed on Euan's Guide, saying: "all our staff are trained in disability awareness". A shout out to Manchester United fans, we don't yet have an access review of Old Trafford! Would you like submit one to level the playing field? Send us a review of Old Trafford >>
If you'd rather avoid sports altogether, why not check out one of Manchester's top museums? Imperial War Museum North is a striking building that has a 5 star review and lists good disabled access throughout. A reviewer that uses a wheelchair told us: "every part of the building was fully accessible and there were several disabled toilets". They offer audio described tours and object handling sessions regularly.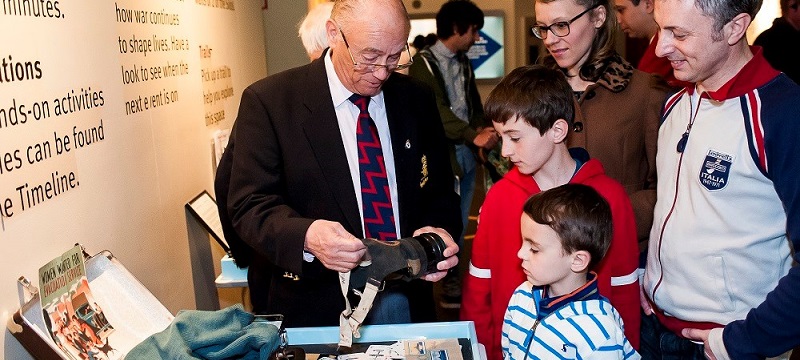 To discover more fascinating stories, the People's History Museum is a great place to learn about Britain's struggle for democracy. "There is a lift to all floors and doors weren't all automatic but the staff were very helpful and all held them open for us."
Art enthusiasts might prefer to explore venues such as The Whitworth or Castlefield Gallery. The Whitworth is a gallery in a park that offers a brief escape from the bustling city. The main doors are automatic and there are lifts to each floor. Castlefield Gallery is the place to see emerging contemporary art, and they list themselves as being "fully wheelchair accessible" on Euan's Guide.
If you're in Manchester for a city shopping break, why not check out 4 star rated Arndale Centre on Market Street? This shopping centre has numerous reviews with one reviewer saying, "the location of the lifts are useful and the disabled toilets are well kept". Another reviewer told us, "it's a good place to go as a wheelchair user as you don't need someone else to be with you for opening doors all the time or helping you with obstacles".
Where to eat
If you're out and about for lunch, why not stop by Panchos Burritos for some Mexican street food in Arndale Market? It is beside the Arndale Centre where you will find accessible toilets. If tacos and burritos aren't your thing, you could always stop for tea and cake at Teacup Kitchen instead! This café has been rated 4 stars by one reviewer who told us, "the café was large with plenty of space between tables to accommodate wheelchair users".Alternatively, for something a little different, head to Ziferblat which is a pay per minute sitting room on Edge Street!
El Gato Negro is an 'award-winning tapas restaurant and bar' in a converted town house on King Street. The restaurant uses traditional Spanish flavours alongside an impressive range of Spanish wines! One visitor told us: "you've got to try El Gato! Level access from the street, very small lip which was fine for my scooter".
For drinks, one reviewer recommend The Alchemist for the creative cocktails and accessibility for wheelchair users.
Be entertained
Manchester has fantastic night life and a buzzing arts scene! Band on the Wall is a top live music destination and one of the most reviewed entertainment venues on Euan's Guide. One reviewer wrote, "great wheelchair access and facilities, also staff were brilliant helping me to get into the venue".
Another top rated concert venue is Manchester Academy on Oxford Road. One reviewer gave it 5 stars saying, "all of the staff, and in particular the show's security staff, pulled out all the stops to make my night a night to remember!".
The Albert Hall is a venue which has been commended for adapting and accommodating for disabled customers. One reviewer was bowled over at the helpful and respectful staff that helped them with a stair climber as well as being able to order drinks and buy merchandise from a runner when they were sitting in the accessible area.
If you're looking for laughs, the Frog and Bucket Comedy Club hosts comedians from the national and international circuit! They list accessible toilets and ramped access on Euan's Guide.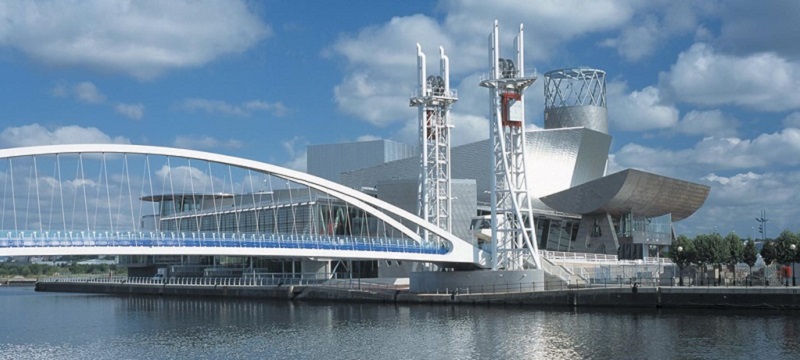 Film buffs might prefer to visit HOME, a place for people to "enjoy cinema, theatre and film all under one roof". They list regular audio described performances and BSL interpreted events on Euan's Guide. If you'd like to see a live show, The Lowry in nearby Salford has been rated 4 star on Euan's Guide and one reviewer told us it was, "a very nice accessible venue with friendly and understanding staff". There is also free parking nearby if displaying a Blue Badge.
Try sit skiing!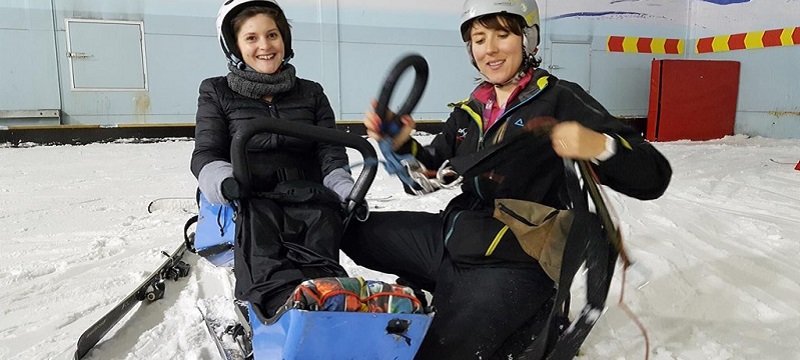 If you can handle the chill, head to Disability Snowsport UK Chill Factore for a fun day out in the snow! This venue is listed on Euan's Guide and they say that: "we work to make sure that anyone with a disability, may it be learning, sensory or physical, can ski or snowboard alongside other people". One reviewer gave this venue 5 stars for its accessibility, saying: "my first sit ski lesson was an incredible experience. I am already booking my next session! Fantastic day out for people with disabilities with supportive staff and fantastic adapted ski equipment".
Have you been to Manchester?
We'd love to read about your experiences of disabled access around this city! Send us your pictures and reviews here.
Last updated - November 2019