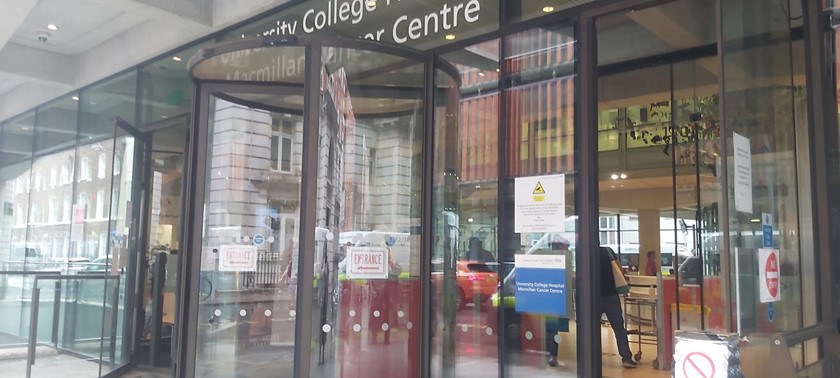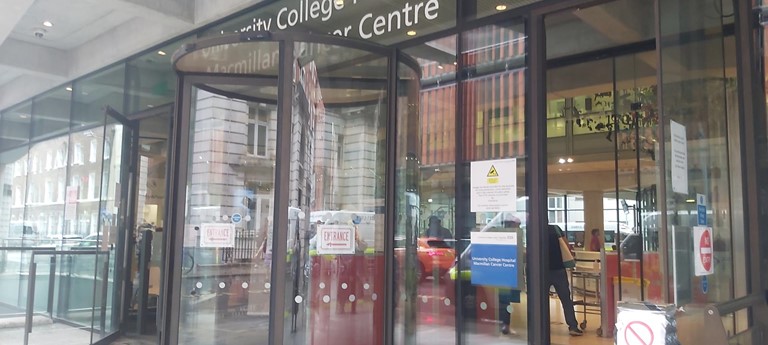 University College Hospital
235 Euston Road, London, NW1 2BU, United Kingdom
|
020 3456 7890
|
Website
Problems with disabled access
Visit date:
This review is especially helpful for those who have or use the following: Walking Aid
Overview
In July 2019, I had a planned overnight admission to University College Hospital. While I was in hospital I received excellent medical care. However, this review focuses on the accessibility problems I experienced during my stay. I submitted a complaint to the hospital and I've uploaded their response letter. While the hospital acknowledges the short fall in its disabled access, it has not given a timescale as to when they will improve this.
Transport & Parking
The nearest tube stations to the hospital are Euston Square, which is only step free westbound, and Warren Street. The nearest step free station is King's Cross. There are also several buses that stop outside the hospital entrance on Euston Road.
Access
The hospital has step free access and lifts. However, there were significant problems with the accessible toilets, see section below. When I was placed on T6 Gynae Ward there were problems with the accessible, step free shower. The shower area only had horizontal grab rails. There were no vertical grab rails and this made it difficult for me to stand and wash myself properly. The water from the shower didn't drain properly and the floor was wet and slippery, and I had to ask for assistance from staff to gather my belonging and take them to my bed and to help me back to my bed.
Toilets
When I arrived prior to my operation I was on the 2nd floor Day Surgery Ward. At the entrance to the ward were 3 toilets. None of the these toilets had grab rails or where large enough to accommodate a wheelchair user. I had to return to the ward and then be accompanied by a member of staff to the accessible toilet, which was further along the corridor. When I arrived the cardboard pan they had given me to do my urine sample in was too small for the accessible toilet, so I had to return to the ward and ask for a larger size pan. Disabled people having access to accessible toilets is such as basic need and I feel the hospital design did not cater for our communities needs. After surgery I was taken to T6 Gynae Ward where there were was an accessible toilet on the ward.
Staff
The medical and nursing care was excellent. This score is for staff attitude. While on the 2nd floor Day Surgery Ward, I had to return to the ward when I found the cardboard pan was too small for the accessible toilet. The nurse asked me to return to the toilet as he would bring me a suitable cardboard pan. I was standing outside the accessible toilet, with my crutch, and a nurse who had her coat on and was walking down the corridor, came over to me. Without asking she opened the toilet door and said to me "there you are". I then told her I was not standing there waiting for someone and I didn't need help to open the toilet door. I feel if she had wanted to be helpful, she should have spoken to me first and asked me if I needed assistance, rather than make ableist assumptions. This really upset me.
Anything else you wish to tell us?
I have uploaded the response to my complaint from the hospital. The letter from the hospital acknowledges that the accessible toilets are not well located and that grab rails should be installed. However, there is no timetable given as to when or if this will occur. The hospital thanked me for reminding them that patient should maintain their independence and dignity and I feel that this is not something that a hospital should need reminding of. This was the 2nd complaint I had put into the hospital about access. The previous one was 2018 and that has progressed to the Parliamentary Ombudsmen and I am still currently awaiting a response to.
Photos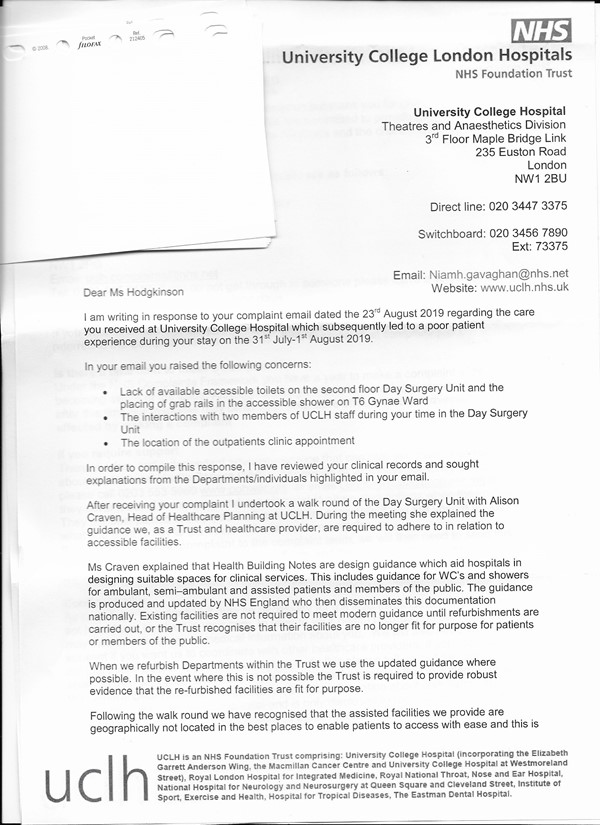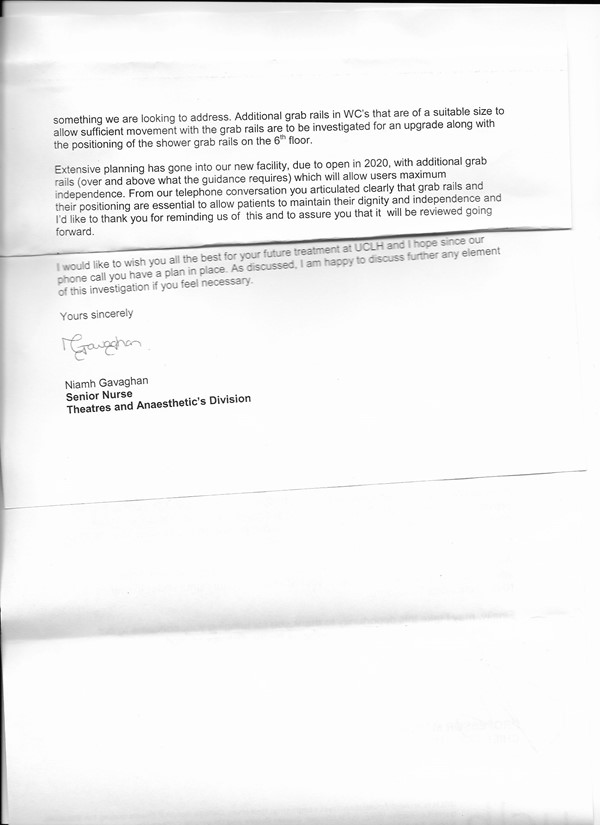 We've had 3 reviews for University College Hospital