How to Review
We're so happy you'd like to write a review! It only takes a few minutes and you can review anywhere from your local Post Office to a luxury hotel. Here's how to get started and write your first review today:
Create an account
The first thing you'll need to do is sign up to Euan's Guide. To start, press the 'Login / Signup' button in the top right hand corner of the website. You'll then be given the option to enter your email address and password if you already have a login or you can press 'Join Euan's Guide' on the left to create a login.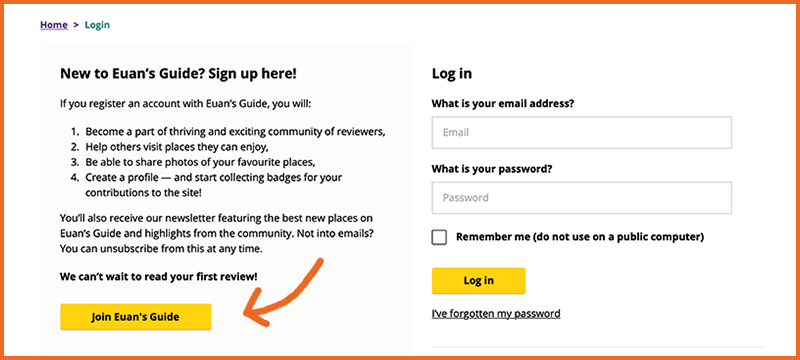 Screenshot of the Login / Signup webpage.
You will then be asked to create an account, this simply means:
Choosing a username
Entering your email address
Choosing a password (which has between 7 and 25 characters)
Agreeing to our terms and conditions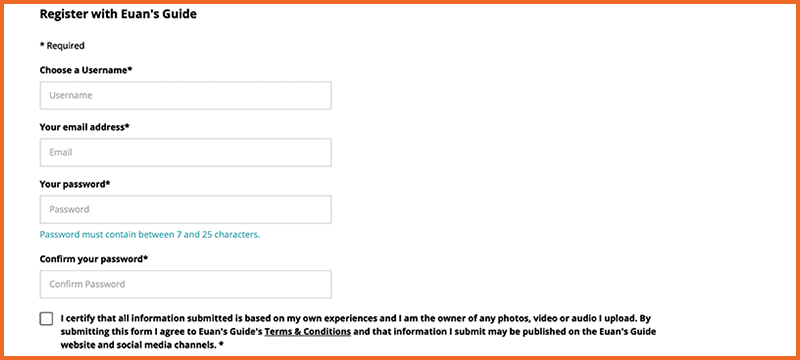 Screenshot of the registration webpage. 
You will then receive an email from us which will contain a link to follow to complete the process and activate your account. 
Start your review!
Once you are logged in on the website, click 'Write a Review' in the top right hand corner, or click 'Start your review!' below the search boxes on our homepage.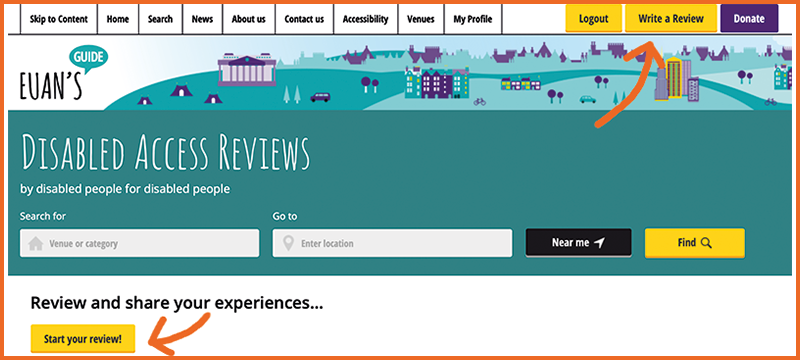 Screenshot of Euan's Guide homepage.
This will take you to the Euan's Guide review form. The form has various sections to fill in and will guide you through each step of the way. Try to share as much detail about disabled access as possible, and check out our guide to writing a good review.
Screenshot of the review form.
As well as an overall rating, you are asked to give separate ratings (out of 5-stars) for the parking and transport options, disabled access, accessible toilets and staff. People often find it helpful when reviews have more details about each of these elements written under the relevant headings. Simply click 'Add more details…' to give people more information.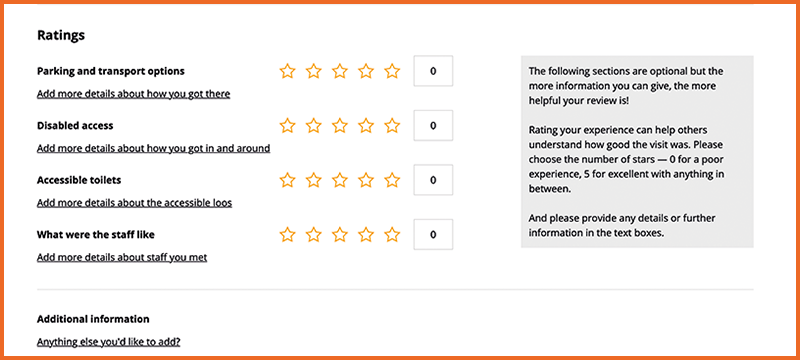 Screenshot of the ratings section of the review form.
You will also be invited to share whether your visit included someone who uses or has experience of: Wheelchair / Powerchair / Mobility Scooter / Walking Aid / Symbol Cane / Long Cane / Assistance Dog: Visual Impairment / Assistance Dog – Other /Sign Language / Hearing Aid or Cochlear Implant / AAC / Hidden Impairment / Speech Impairment / PMLD / Autism / Dementia / Learning Disability
Add photos
Your review is nearly complete! Once you have finished filling out your comments, you will have the opportunity to submit any photos that you would like to include with your review. Our most popular reviews always have pictures!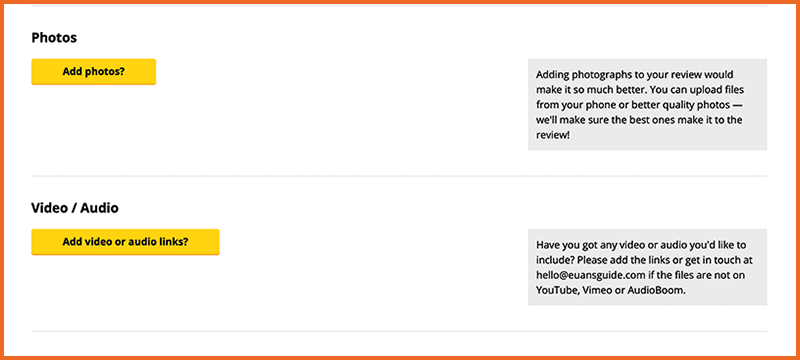 Screenshot of the media section of the review form.
This is where you will also get the chance to upload a video or audio element to your review. This could be footage of a cool access feature in action, or even you telling us your review rather than writing it!
Don't forget!
All of our reviews are checked and moderated before they are published so we will be able to get in touch and give you additional tips and guidance if that is required.
Are you ready to write your first review? Submit a review now >>