Loo-sing Business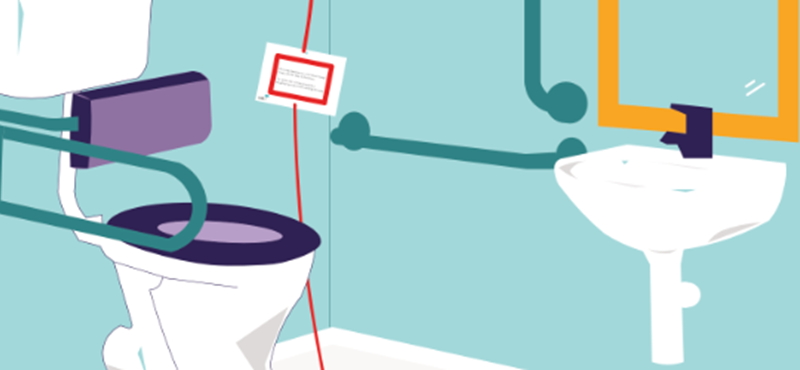 Survey reveals the need for accessible toilet improvements
Many places could still be losing out on valuable income simply by not providing an accessible toilet. Our Accessible Toilet Survey revealed that 78% of participants have avoided going somewhere that did not have an accessible toilet. These venues are potentially missing out on a portion of the £274 billion annual spending power of families including at least one disabled person.1
Even when somewhere says it does provide a toilet for disabled people it unfortunately does not mean it is going to be accessible. 78% of disabled people surveyed have come across an accessible toilet they were unable to enter. 
Narrow corridors, small spaces, heavy or locked doors, and the need to climb stairs or rely on a working lift could all be factors making a toilet designed for disabled people instantly inaccessible. A lack of Changing Places toilets also contributes to the problem. The additional facilities found in these toilets are used by around 250,000 people in the UK, yet there are only around 1,500 Changing Places installed in public places.
While the lack of accessible toilets or having toilets located in an unsuitable location will require building work to fix, there many improvements venues can make without structural changes. Things like ensuring the toilets are cleaned and checked by staff regularly, ensuring all the equipment is kept in good working order and removing any unnecessary items to help free up space.
Far to often accessible toilets are misused as storage cupboards. This can be a major tripping hazard and it can also mean that wheelchair users do not have enough space to turn around or transfer from their wheelchair to the toilet. Sometimes the problem can be overly large bins used in a small space, other times it can be much stranger, like coming face to face with Darth Vader blocking your path – unfortunately this actually happened!2
The three most common problems with accessible toilets: 
Dirty
Not enough space
Too many things in the way making it difficult to manoeuvre 
The Accessible Toilet Survey report
Accessible Toilet Survey text only Word Document
Accessible Toilet Survey Easy Read
A note on the alarm
To keep your toilet in the best condition it is important to educate staff on the equipment inside it. Explain what it is there for, how it works and how it should look. One element that is often overlooked is the red emergency cord. Red emergency cords are designed to be a way for someone inside the accessible toilet to safety and easily alert people outside the facilities that their assistance is required. It becomes useless if the alarm is not working, staff do not respond to the alarm or the cord is unreachable when someone needs to use it. Cords should be in a position that they could be pulled if someone fell to the ground. Often they are cut too short, tied up or placed out of reach. Sometimes they are not there at all. 61% of our survey participants said that they see a red emergency cord that is potentially dangerous in an accessible toilet at least once a month.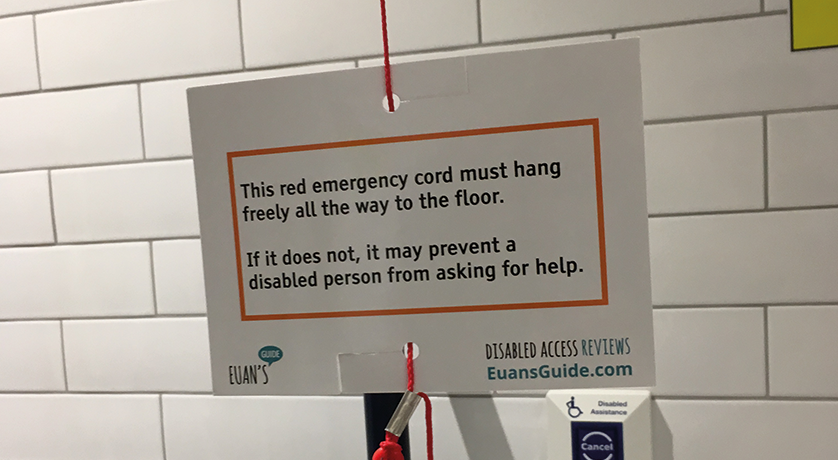 Image of: A red emergency cord in an accessible toilet with a Red Cord Card attached to it.
How individuals can get Red Cord Cards
How venues can order Red Cord Cards
Why did we write this article?
Every year around World Toilet Day (19th November), we try to highlight the issues faced by disabled people when they need to use a toilets when they are out and about. Whether it's tied up red emergency cords, misuse or indeed the lack of accessible loos out there, we use this day to raise awareness and drive change.
The more people share this article, the more places we can reach to make inaccessible accessible toilets a thing of the past.
How we can help venues
1 Figure taken from Scope.org.uk
2 A survey participant told us they found a life sized Darth Vader cardboard cutout inside an accessible toilet.