How do you make a 200-year-old ship accessible?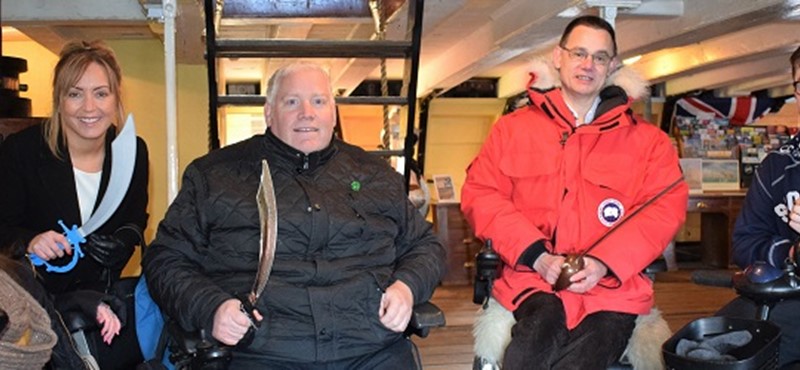 When you think of a 200-year-old ship, a vessel made for another era, you might not think 'accessible.' You'd be right, but that doesn't stop those looking after HMS Unicorn from doing everything they can to ensure everyone can enjoy Scotland's oldest ship. Anchored in Dundee, HMS Unicorn is one of the world's six oldest floating ships and now serves as a museum and attraction with a rising number of visitors interested in the Golden Age of Sail.
Curious, we asked HMS Unicorn's Learning & Engagement Officer, Andrea Campomanes, to tell us more about what they have done to make their historic ship more accessible.
'Accessibility at HMS Unicorn, especially for those with additional mobility needs, has always been challenged by the physical features of the ship, which maintain its originality and uniqueness, but conflict with our mission statement, learning and inclusion polices. Making the visitor experience on board HMS Unicorn as accessible as possible has become paramount in order to reach out to as many audiences as possible and to improve our visitor experience.'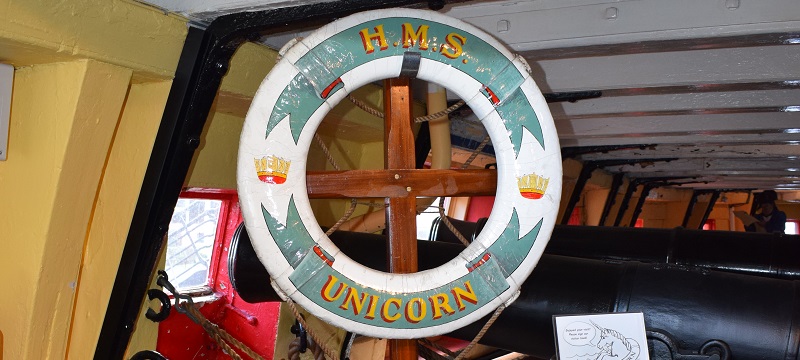 As well as updating their Euan's Guide listing and providing an Accessibility Guide on their website, Andrea tells us they began construction on accessible toilets just outside the ship that are due to open by summer 2019. 'These will be accessed by a code system provided by HMS Unicorn Front of House staff.' There is also a Changing Places facility in the nearby V&A Dundee.
'During 2018 and 2019, we have truly embraced the idea of becoming more accessible. We are a 200-year-old ship, made for another era, with steep stairs and narrow passageways, so harnessing the ways we can make it more accessible has increasingly become a priority in our operations. We have recently launched our new Accessibility Guide, available for all on our website, and we will be launching in a few weeks a virtual tour to finally tackle our wheelchair access limitations. This virtual tour will mark the beginning of an exciting journey in our tour programme, as we embrace technology to provide true experiences on board HMS Unicorn for all audiences – augmented reality games, audio recordings and more. Small improvements have not been disregarded, and we have included a large print guide for our exhibitions and a BSL tour scheduled for 2019.'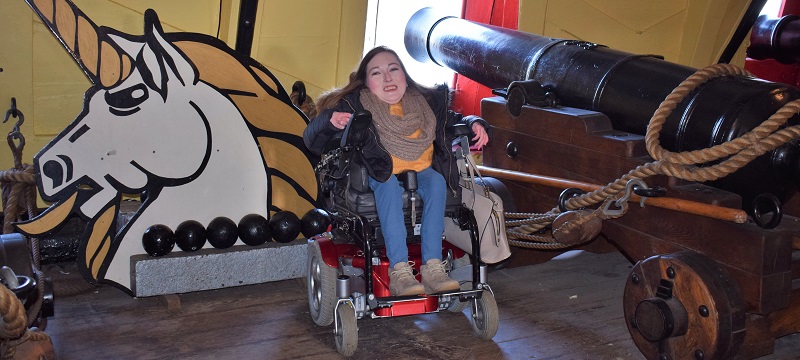 Photo: Euan's Guide Ambassador, Claire, on board HMS Unicorn.

Speaking about the new virtual tour, Andrea said, 'Our Virtual Tour will allow visitors that cannot use the stairs in the ship to visit her four decks and move around the decks as they would do on board. Some important features in the ship will be clickable, and virtual visitors will be able to interact with them! This project has allowed us to go above and beyond our expectations, as it will feature areas of the ship that are currently not accessible at all to visitors for Health & Safety reasons. The tour will be fully accessible on our website, and we are planning to launch it on the 16th March for Disabled Access Day.'
The ship is an 'autism friendly ship' and was awarded an 'Autism Awareness Award' by Angus Autism in December 2017. Andrea told us more about this recognition saying, 'All staff and a number of volunteers took part in this instructive training. We work closely with volunteers from The Inclusion Group, Dundee and regularly host visits from groups such as Options in Life and Capability Scotland. We are currently exploring hosting a workshop on Unicorn as part of Enable Scotland's 'Be the change' campaign.'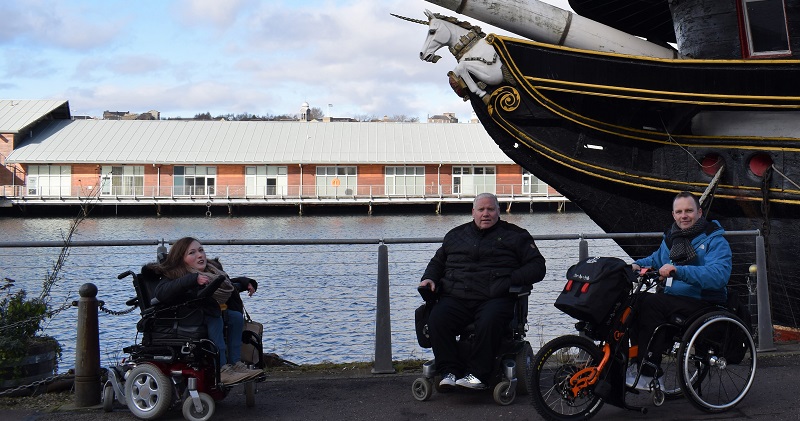 Photo: Euan's Guide Ambassadors Claire, Gary and Ryan outside HMS Unicorn.

The nature of the ship's contents makes it a wonderfully tactile attraction that's particularly good for visually impaired visitors. 'We are a fully immersive attraction and we have many sensorial objects in our displays and guided tours that visitors can interact with to complement their experience on board. This includes original features of the ship that engage the five senses, such as the wheel or ship's bell, rope samples impregnated with tar, rum barrels and gunpowder smell boxes! We are a very small team, but we try to accommodate every visitor and tailor to their needs, so we offer complimentary guided tours to visually impaired visitors without the need of booking, subject to staff availability.'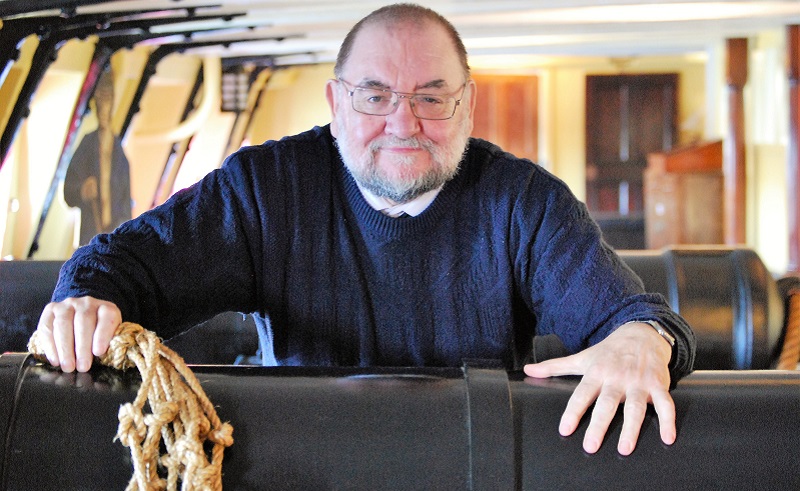 Photo: Bob holding one of the ship's tactile handling objects.
The dedication to improve HMS Unicorn's accessibility is encouraging, and it's impressive to see the highly creative and practical ways in which this small team is transforming the ship. Andrea is hopeful for the future and the improvements that are yet to come:
'We are aware that we can always do more to improve access to our exhibitions and collections. We have partnered with PAMIS to improve intellectual access to our heritage for people with profound and multiple learning disabilities and those who care for them. We hope that the improvements coming from this partnership will have a positive impact not only for visitors with learning disabilities, but also meeting the expectations of visitors with mobility and sensory disabilities, as well as visitors with additional support needs and those who care for them.'
Have you been to HMS Unicorn?
Tell us about your experience of access at this museum! Your reviews make it easier for disabled people to find great places to go. Write a review.
Locations: Dundee