York restaurants loved by reviewers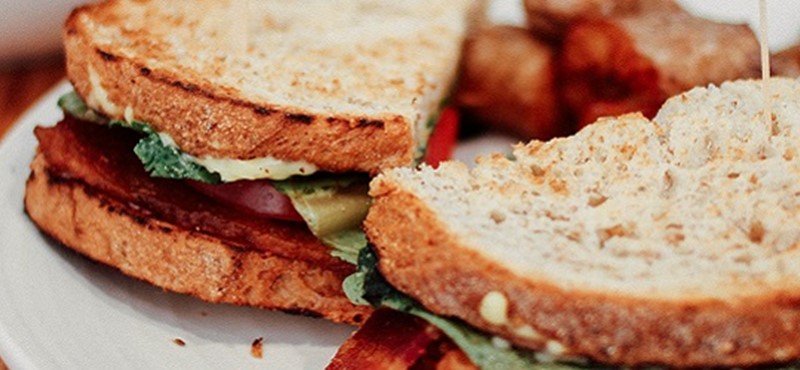 Planning a trip to York and looking for accessible places to eat and drink? We've got you covered with the top restaurants in the city recommended by visitors and the locals. Explore the medieval and gothic culture that is embedded into foundations of this city while you get a taste for the top-rated restaurants that are easily accessible!
Your Bike Shed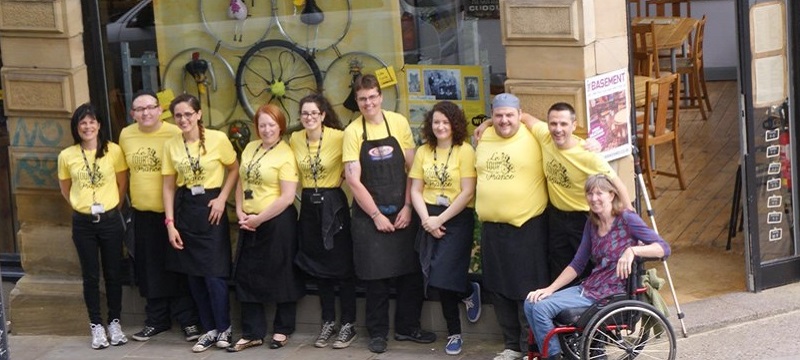 Photo: Your Bike Shed staff.
Situated in the centre of York city, this accessible café is the perfect pit stop for those who want to grab tea or coffee and hang out with like-minded cyclists. This café has been rated 5 stars by a powerchair user for great accessibility and the friendly welcoming staff:
"A fully accessible bicycle-themed cafe, which is also a repair shop, in the centre of York. It's bright, spacious, warm, and has a lovely atmosphere. Very good food and drinks."' Read review >>
Riverside Farm
If you have a car or are happy to get a bus or taxi, this beautifully converted farm is a 15 minute drive from the city centre on the A19. Riverside Farm is the ideal restaurant for families looking for a variety of dishes at a good price! Riverside Farm has been rated 4.5 stars on Euan's Guide for its accessibility and excellent staff, with one reviewer commenting:
"As a group of individuals with learning disabilities and support staff, everyone very much enjoyed their visit and the food they ordered. The venue's environment, although busy was relaxing and added to our visit positively. The pub offers daily deals which allowed some of our food orders to be cheaper, however on the whole every item on the menu is very good value for money and we would all definitely go back." Read review >>
Sutlers
If refreshing cocktails and delicious food is what you're after, Sutlers is the place to be in the middle of York! Sutlers is a friendly, wheelchair accessible bar that has a great variety of food and drinks. With over 100 gins to choose from and a menu full of Victorian themed cocktails, this venue has been rated 3.5 stars on Euan's Guide for its accessibility, with one reviewer commenting:
"'There is level access to the building through two possible doorways, though the main entrance is wider and thus easier to use. The tables on the ground floor are situated wide enough apart to accommodate wheelchairs." Read Review >>
Missoula Montana Bar and Grill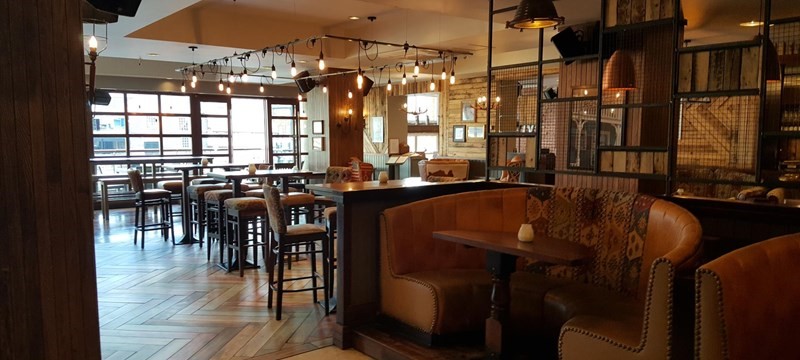 Photo: Missoula Montana Bar and Grill.
Named after Missoula City in Montana, this American styled restaurant brings something different and unique to the city of York. They serve classic American dishes inspired from the 'Big Sky Country' – such as bison, trout, beef steaks and ribs. The delicious food and drink is not only what makes this such a popular venue, the incredible views of the River Ouse is another reason why customers love this restaurant! This venue is listed on Euan's Guide saying:
"Entrance is flat into reception area. You then come to the bar which has 4 steps down, but next to the steps is a disabled access lift. Throughout the venue and the toilets are fully accessible on one level throughout after this." View listing >>
The Blacksmiths Arms
Situated in the beautiful village of Naburn just outside of York city, The Blacksmiths Arms is the perfect family friendly restaurant that serves classic pub food and has a brilliant atmosphere. This restaurant has been in existence since 1750 and is visited by both locals and visitors alike – even the HRH Prince of Wales has been spotted visiting here! This restaurant has been rated 5 stars by one Euan's Guide reviewer who wrote:
"A welcoming local pub, serving home cooked meals with a friendly atmosphere. The staff were polite and accommodating throughout the visit. Disabled parking is provided adjacent to the beer garden to the rear of the pub where disabled access can also be located." Read review >>
Rowntree Park Reading Café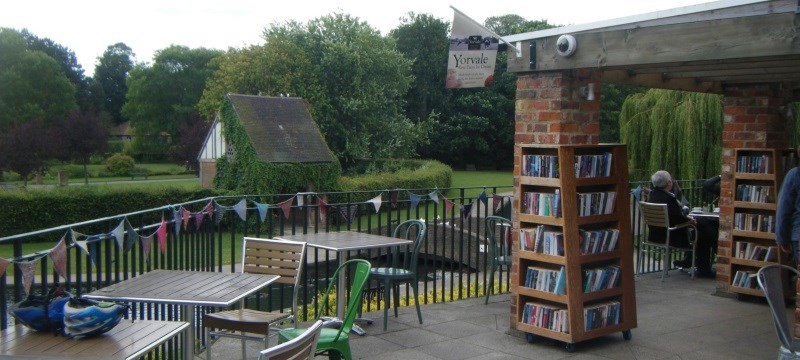 Photo: Rowntree Park Reading Café with a view of Rowntree Park.
If you're looking for a quiet spot for lunch, Rowntree Park Reading Café is the perfect place to go to work or relax. You can enjoy the scenic views from the balcony of Rowntree Park while you have a selection of over 1,000 fiction and non-fiction books, newspapers and magazines to choose from!
The friendly service and relaxed atmosphere makes this café a very popular place in York and has been rated 4.5 stars by one reviewer for the brilliant access, saying that there is a ramp up to the café and that the main door has a push button. They also commented:
"The staff are fantastic. Normally you order at the counter and then take your food and drink to the table. They always carry mine for me and I've been many times and they know I need help opening drinks and pouring tea. They also move tables and chairs for me and pop back and check I'm ok and pour more tea etc if I'm on my own." Read review >>
Got a recommendation?
Do you have a favourite restaurant in York that has good access? We would love to hear about it! Get started by writing a review >>
You might also enjoy:
The best York hotels with accessible rooms
Where to eat in London with good disabled access
Locations: York