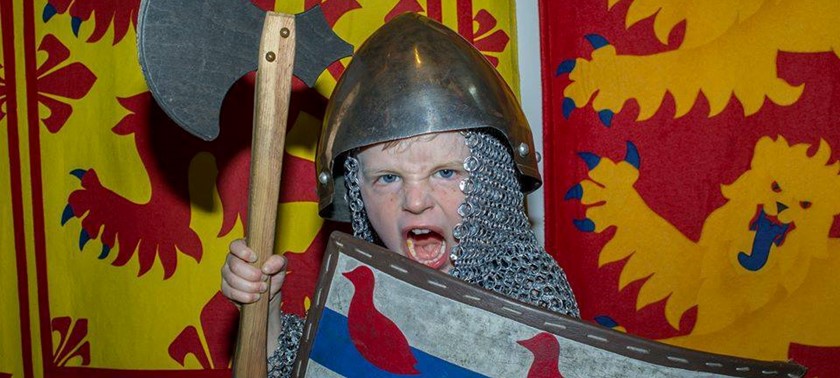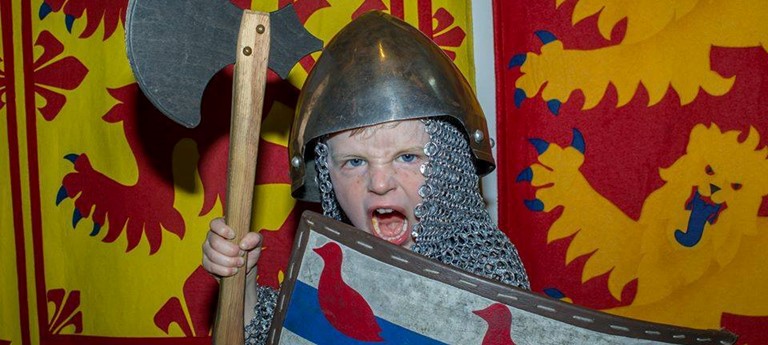 The Battle of Bannockburn Visitor Centre
Glasgow Road, Stirling, FK7 0LJ, United Kingdom
|
0178 681 2664
|
Website
Venue Description
The Battle of Bannockburn, located on the site where Robert the Bruce raised his standard and assembled the Scottish Army in preparation for the Battle of Bannockburn, is a 3D immersive experience designed to bring Scottish history to life. The experience takes you through a series of 3D films depicting the events during and surrounding the battle and culminates in a visit to our Battle Room in which you have the option to participate in our interactive battle game to try out your own battle tactics and skills! The centre also contains a cafe and gift shop, and our outdoor grounds contain a medieval physic garden, a commemorative area including a memorial cairn, and Pilkington Jackson's iconic statue of Robert the Bruce.
Accessibility
The Battle of Bannockburn Visitor Centre is presented on a single level (ground floor) therefore no stairs or lifts will be encountered during your visit. From the car park (or the main road if using public transport) there is a flat path leading to the centre's main entrance which can be accessed through a set of wide automatic doors. The Reception Desk is located to your right when you enter (within the gift shop); here you can buy tickets for the 3D Battle Experience or find out more about the site. Please note that the 3D Battle Experience is a dark and loud environment; there is very low lighting throughout the experience in order to emphasise the 3D images and there are often loud, overlapping noises from the various battle scenes (which include scenes of a violent nature). Unless otherwise requested, visitors should expect to be on their feet most of the time when touring the main exhibition; a visit lasts approximately 80 minutes. The 3D Battle Experience takes place within an open plan area. Entrance to the Prologue Film Room is through a curtained doorway through which you will be led by a guide at your allocated start time. The two 3D films in this room last approximately 3 minutes each). Following the introductory films your guide will lead you through a wide open doorway into our central 3D Area (known as 'Prepare for Battle'), which consists of large 3D screens entirely covering the walls of the circular room. In this room battle scenes will be described to you by your guide (lasting approximately 10 minutes) then you will be given approximately 15 minutes to explore this room yourself. Within this room you will find a number of tactile exhibits displaying replica medieval armour, weaponry, and clothing; touch-sensitive computer screens positioned at a low level which will show you how the next part of the 3D experience (the Battle Game) works; and interactive Character Stations which are motion-sensitive and provide you with additional information about the role and tactics of individual people who were involved in the Battle of Bannockburn. Your guide will remain with you in this room, therefore if you require any additional assistance or have any questions please feel free to ask. When instructed by your guide you will then enter the Battle Room through a doorway into a circular room with a large, low-level, virtual map in the centre where each visitor is given an allocated position to stand or sit around the map (wheelchair accessible). If you would like to observe the battle game rather than participate in it, then you may enter this area via a ramp to either side of the Battle Room and observe the game from a raised viewing gallery. Before the game your guide will show you the events of the Battle of Bannockburn in 1314 on the 3D map. They will then explain the instructions of the Battle Game. During the Battle Game each position is allocated a number which corresponds to a troop of soldiers in either the Scottish or English Armies; your guide (known as a 'Battlemaster') will give each participant a range of options of what they would like to do with their troop of soldiers on their turn (e.g. move to a different location on the 3D map or virtually attack another troop of soldiers) with the goal being to keep your troop of soldiers alive and help your army/team to 'win' Stirling Castle. You will spend approximately 45 minutes in the Battle Room then, once the game is completed, you will be instructed to exit the Battle Room via the door you entered by and your guide will indicate that you are to turn right and follow the short corridor to the Epilogue Film Room where you can watch the final 3D film of the experience (approximately 6 minutes in length) before exiting through the wide automatic door into the brightly lit café area. The café is an open plan area on a single level and is wheelchair accessible. You must queue at the counter to place your order and pay for your items. The café serves a range of hot and cold drinks, sandwiches, soups, cakes, and other snacks. Cutlery, hot drink accompaniments (e.g. sugar and sweetener), and water/milk and glasses/plastic cups can be found on a table around the corner to the right of the serving counter. Our outdoor grounds are also fully wheelchair accessible; there is a smooth flat path (which can be accessed by exiting the Visitor Centre via the main entrance/exit and turning left) and ramp leading up to the rotunda, and there is a flat, cobble-stone surface within the rotunda and around the Robert the Bruce statue. Whilst entry to the 3D Experience is via paid, timed-entry slots, visitors are welcome to explore the Battle of Bannockburn Visitor Centre's outdoor grounds and access the café and gift shop for free.
Awards List
National Trust for Scotland members enter for free Organisations holding National Trust for Scotland Educational Membership receive reduced entry prices Association for Heritage Interpretation Award for Visitor Centre/Interpretation Association for Heritage Interpretaion Award for Excellence in Interpretation Sandford Award for the Battle of Bannockburn's Education Programme Association for Scottish Visitor Attractions Award for 'Best Visitor Experience'
Toilets
The Battle of Bannockburn Visitor Centre has accessible toilets with wide doorways, safety rails/bars, and automatic hand-activated flush, taps, and hand dryers.
Staff
Information about the staff has not been added for this venue.
COVID Precautions
Information about COVID precautions has not been added for this venue.
Assistance dog facilities
Assistance dog exercise facilities
There are large outdoor grounds surrounding The Battle of Bannockburn Visitor Centre in which dogs can run freely off their leads (though fouling must be collected and disposed of in the bins provided).
Other assistance dog facilities
Water bowls are located at various points around our grounds and staff would be happy to supply assistance dogs with water within our centre upon request.
The venue says it has...
Carer Discount
Disabled Access
Induction Loop
Disabled Parking
Online Booking
Accessible
Toilet